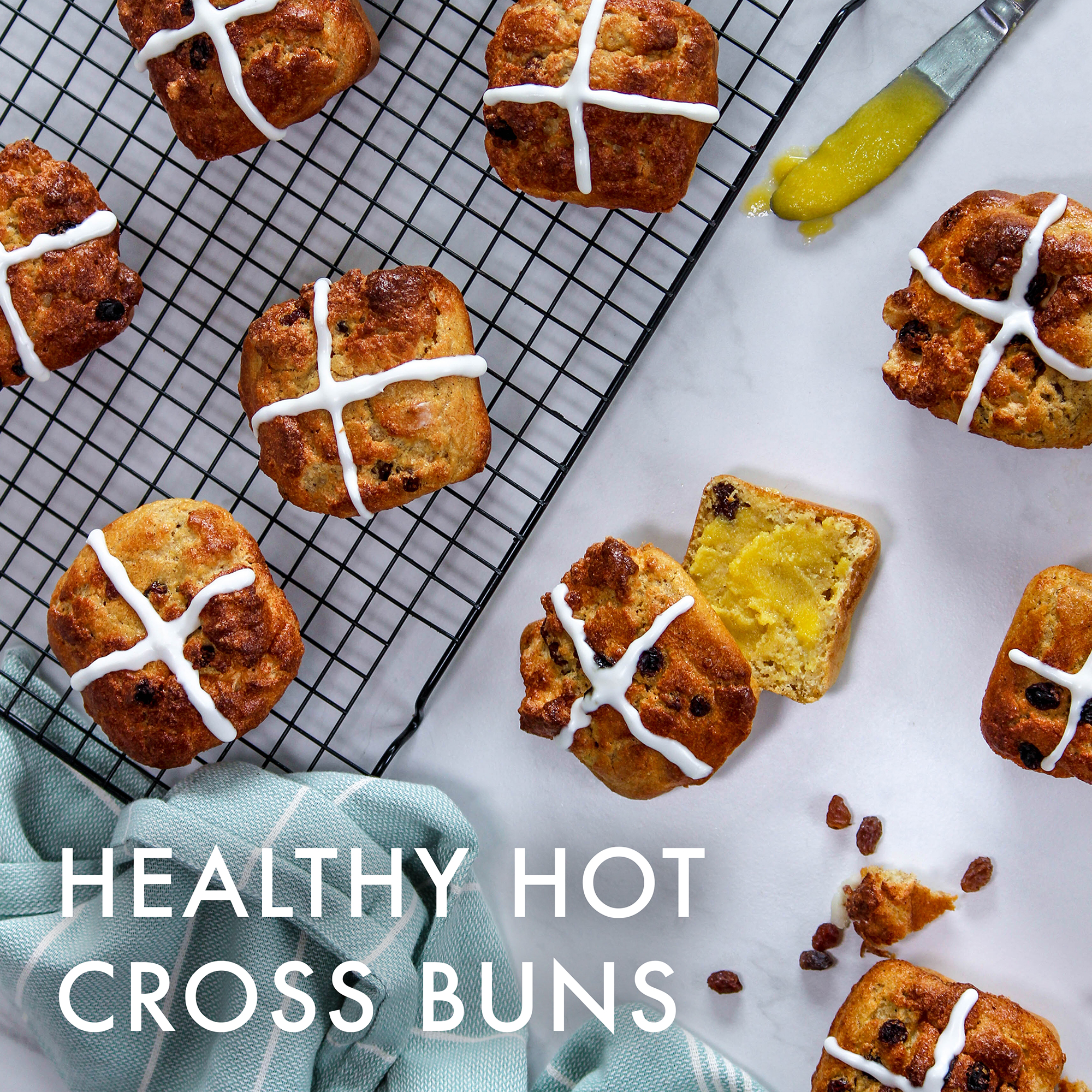 Our healthy Hot Cross Buns are here!
It took me 5 goes to get these guys right (yep, it was a labour of love!) but we finally did it!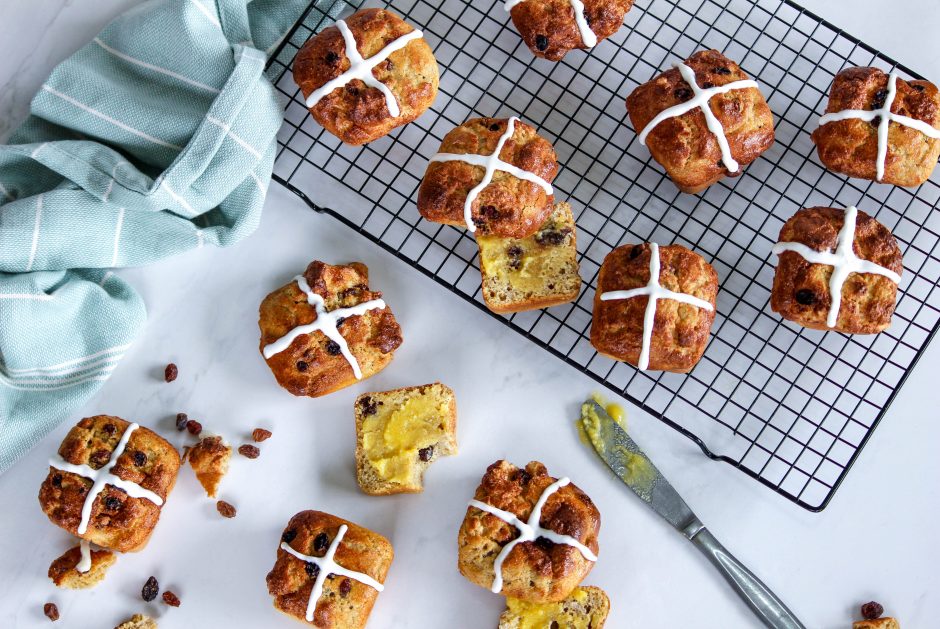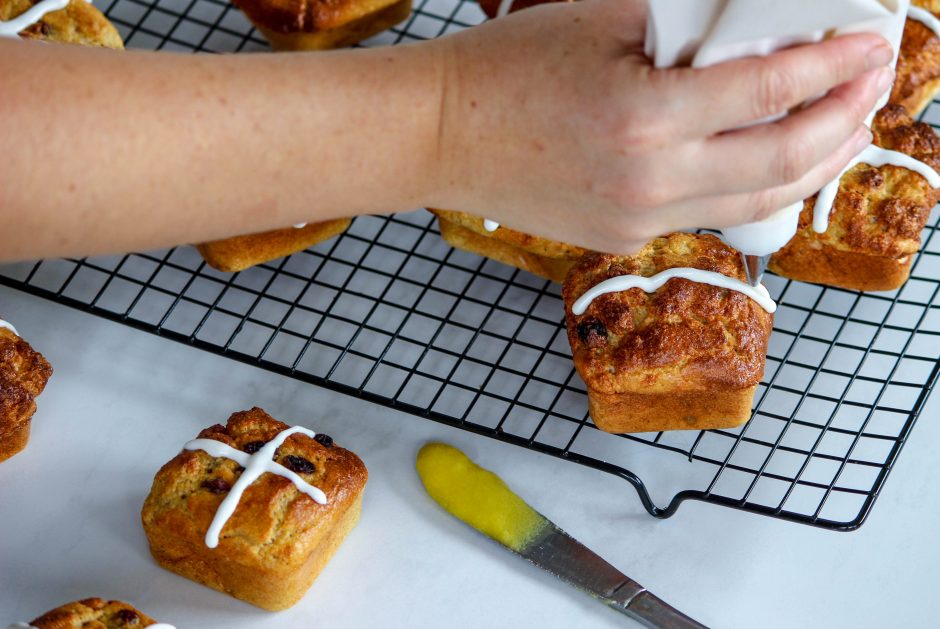 As a kid I absolutely LOVED Hot Cross Buns, smothered in conventional pasteurised butter or worse… margarine (I know…. enough said)
But just like many traditional sweet treats from my childhood, these too were just loaded with processed junk.
In fact I just went onto the Bakers Delight website to see what kind of junk we're talking…
Wheat Flour, Fruit (25%) [Sultanas, Currants, Vegetable Oil (Cotton Seed, Sunflower)], Water, Sugar, Yeast, Vegetable Oil (Canola), Glaze [Sugar, Glucose/ Fructose Syrup, Gelling Agent (440, 407, 415), Flavour], Spices, Iodised Salt, Wheat Starch, Soy Flour, Vegetable Gum (415, 412), Mineral Salt (541, 500), Flavour, Emulsifier (471 – Canola), Colour (171), Vitamins (Folic Acid, Thiamin)
Did you notice how even the 25% fruit section contains vegetable oil… come on guys, at least get the fruit part right…
Suffice to say… this is NOT the kind of stuff you want to be putting in your body. In fact even the vitamins being added to the buns are not natural forms, they're synthetic, man made vitamins. This is called fortification & is common with grain based foods especially bread, rolls & buns. The idea is vitamins like folate (a naturally occurring nutrient found in wholefoods especially leafy greens) are important, so they should be added to the food. The problem is, "folate" & "folic acid" aren't the same thing. Folic acid is synthetic & needs to be converted by the body before it can be used, this is a big task that puts a strain on the liver, which can cause excess folic acid in the blood which can ultimately lead to increased cancer risk. Folate on the other hand, is readily absorbed & utilised by the body.
So you want to be avoiding fortified foods as much as possible!
Which brings me back to our Healthy Hot Cross Buns!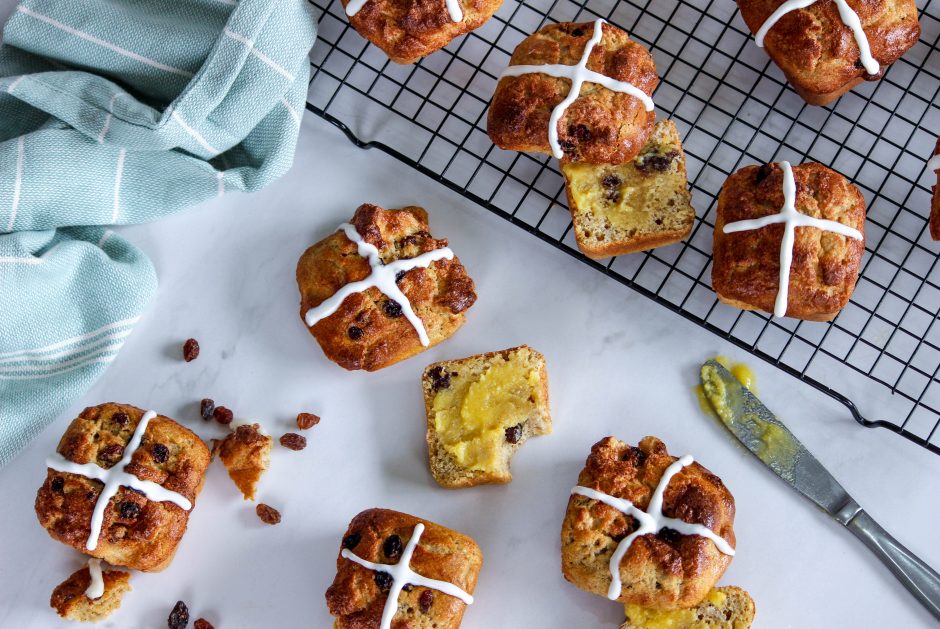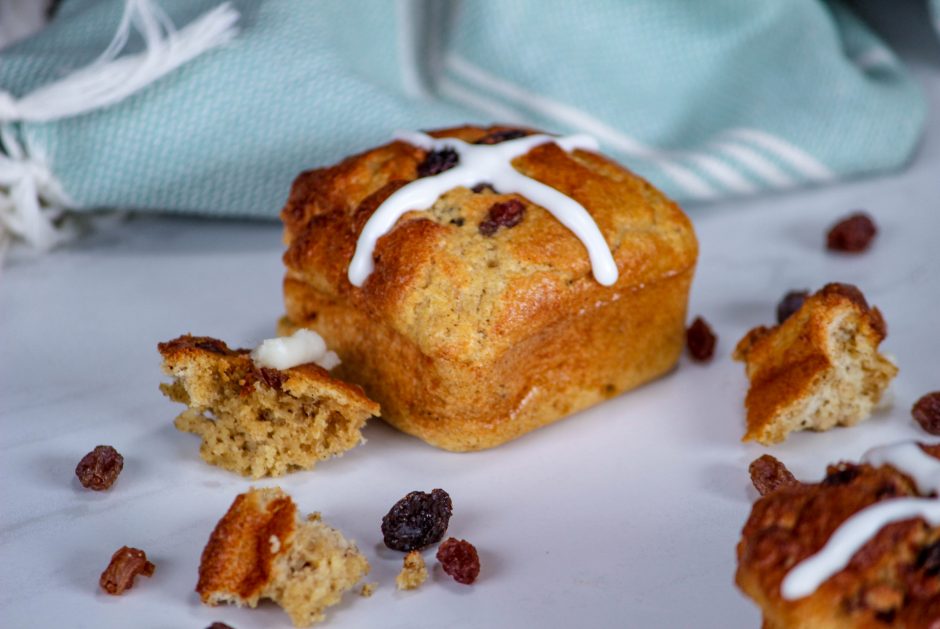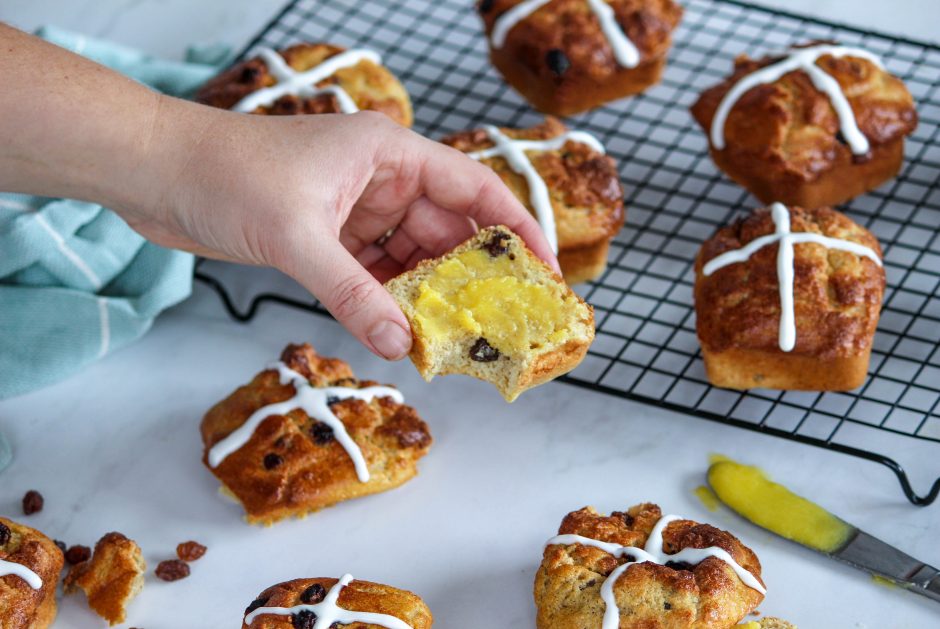 Whilst not as pretty looking as traditional HCBs (although we are a big fan of rustic!) we were so happy with the taste & texture!
And once I got the recipe right, these guys were actually REALLY easy to make.
So let's go over some notes before we get to the recipe…
– Like many of our recipes, we whip the egg whites to help with the rise of the batter & overall texture. Because we don't use gluten in any of our recipes this acts as a nice little alternative. We always use our kitchen aid stand mixer with the whisk attachment to whip our egg whites. You can always whip by hand but this takes soooo much longer… so a stand whisker was a really good investment for us.
– We've used 1/4 cup of grass fed organic ghee in this recipe but you can use coconut oil instead if you're not on the ghee train. We've only just started incorporating ghee into our meals. Ghee is clarified butter that is lactose & casein free (although a small amount of milk protein can still be present). It's loaded with healthy fats & important fat soluble vitamins A, D, E & K2. We've also 'buttered' the buns with ghee too, but again, if you prefer to exclude ghee from your diet you can 'butter' them with nut butter, coconut butter, cashew cream… of of course just eat them plain!
– The crosses are made with coconut butter & a little coconut cream… this worked perfectly & they set really nicely.. however the crosses are quite versatile.. you could also use a cashew cream if you didn't want to use coconut butter… I make our cashew cream by simply blending cashews, coconut cream, maple syrup & vanilla bean powder together in a high speed blender.
– We use a square muffin tin for this recipe to get the bun shape, this is exactly like a normal muffin tin but instead of circles they are squares… we got ours from matchbox (link is here) – you can of course use a regular muffin tin if you like, it just means that the shape will be more muffiny than bunny. 😉
Okay… let's get to the recipe shall we? 🙂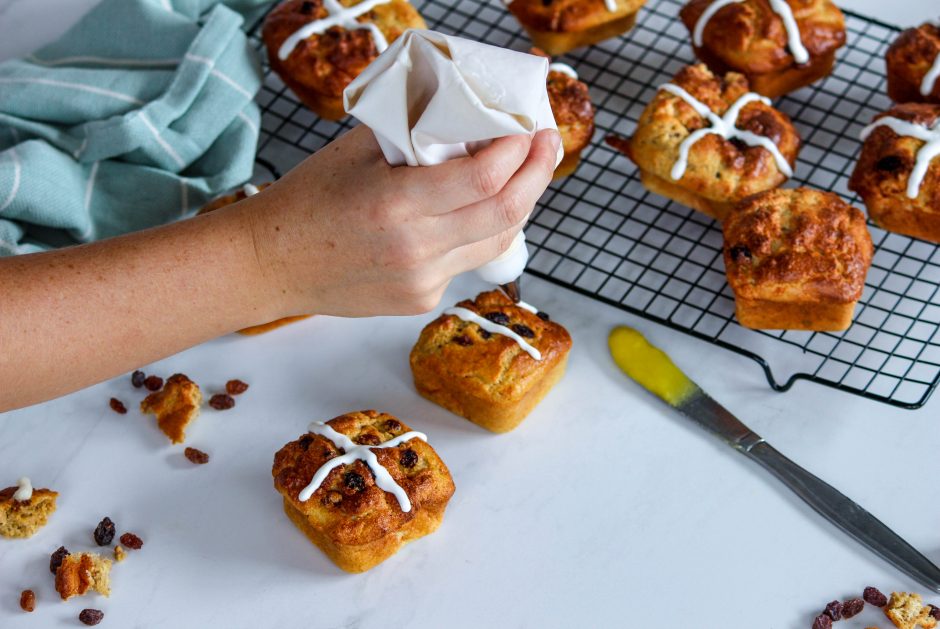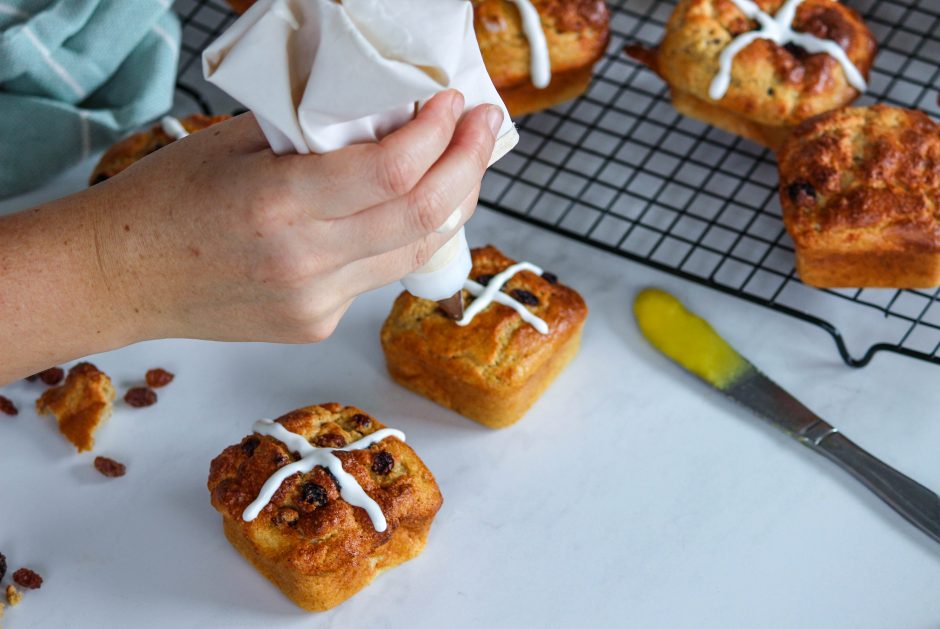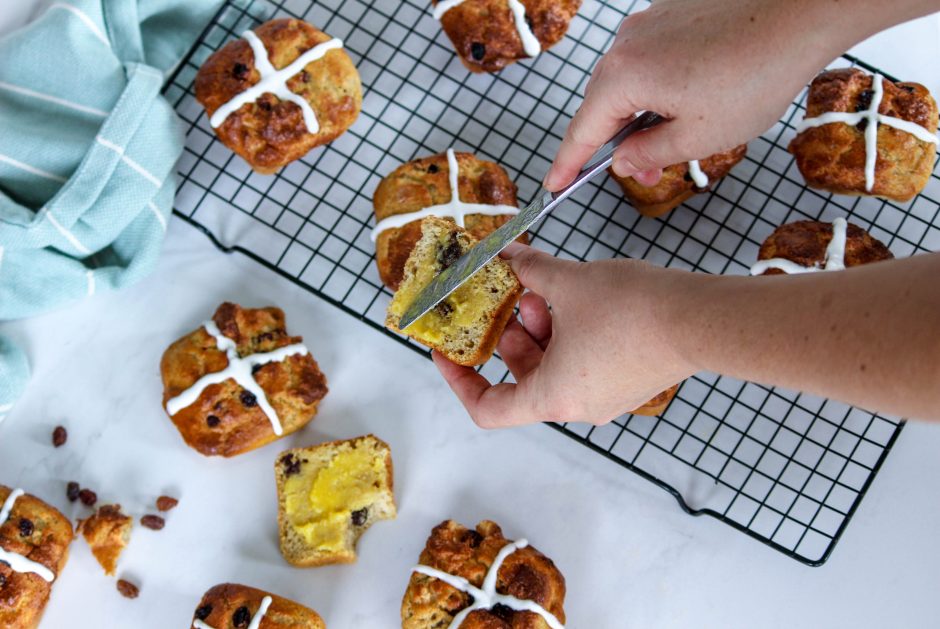 HEALTHY HOT CROSS BUNS
INGREDIENTS
WET INGREDIENTS:
4 eggs separated + 1/2 tsp baking powder
1/4 cup grass fed ghee or coconut oil
Juice from 2 big oranges (which equals around 1 cup)
2 tbsp maple syrup
DRY INGREDIENTS:
2 cups almond meal
1 cup arrowroot flour
3 tsp baking powder
2 tsp cinnamon
1 tsp cloves
1 tsp nutmeg
3/4 cup sultanas
CROSS:
1/4 cup coconut cream
1/2 cup coconut butter
METHOD
BUNS:
Preheat oven to 180C and grease a 12 cup square muffin pan (I use this one here – you can also use a normal muffin pan, but the shape will be muffins instead of buns) with a little coconut oil or ghee.
Place your egg whites & 1/2 tsp of baking powder in an electric mixer with whisk attachment & whisk on medium until firm peaks appear (you should be able to place the bowl upside down over your head without the egg whites moving!)
Whilst your egg whites are forming into peaks, it's time to get the rest of the bun batter ready!
In a big bowl, combine all dry ingredients EXCEPT sultanas.
Now, place all of your wet ingredients (egg yokes, coconut oil/ghee, orange juice & maple syrup) into a food processor & process until smooth.
By now, your egg whites should be formed into peaks. Note that once they turn into peaks, you need to work super fast because they can start to separate & turn into a watery mess.
Fold the wet ingredients into the dry ingredients, & then fold through the egg whites.
Be careful when folding the egg whites through your bun batter because if you go too hard you can knock out the air. This means your buns won't rise properly.
Evenly spoon out bun batter into your prepared 12 cup square muffin tin. Now get your sultanas & place a small handful on top of each bun, pushing the sultanas into the batter. Now place in oven.
Bake for 20 minutes & leave to cool or enjoy warm!
CROSS:
Place coconut butter & cream into a high speed blender & blend until smooth.
Transfer mixture to a piping bag and pipe your crosses over your buns. If your buns are still piping hot when piping the crosses (see what I did there?!) the mixture may melt a little as it is coconut, we let them cool down a little before piping.
THE FINALE:
Once buns have their crosses, cut in half & enjoy with grass fed ghee, nut butter, cashew cream or even on their own!
---
P.S If you want more delicious & nourishing recipes that will help you amp up your wholefoods ASAP, make sure you check out our new eBook Drink Your Way To Incredible Health right here! Loaded with over 30 of our favourite body-loving juices, smoothies, teas & tonics to repair, revitalise & energise your body!
Whether you're after more energy throughout the day, a better sleep, improved digestion or maybe better skin or hair health (or all of the above!!) there's a juice, smoothie, tea or tonic for it! All of which you'll find in this book!