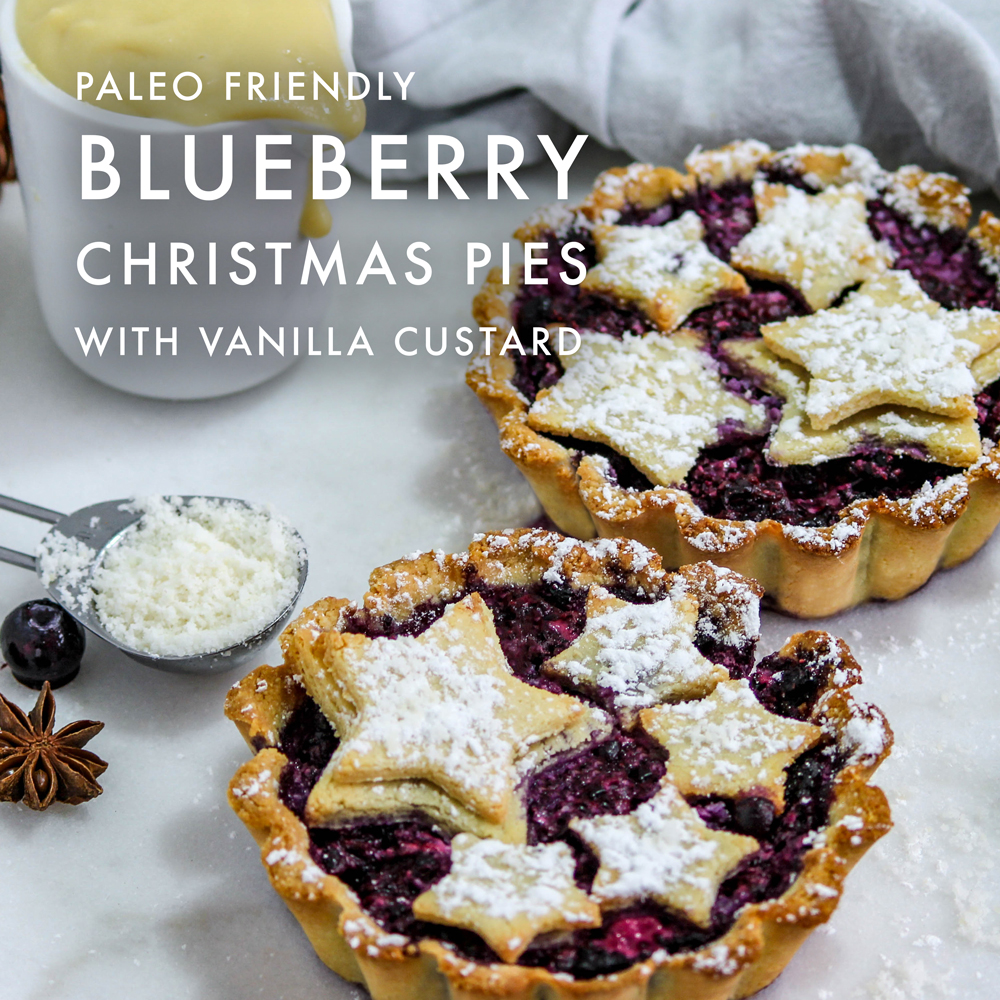 Paleo Blueberry Christmas Pies with Vanilla Custard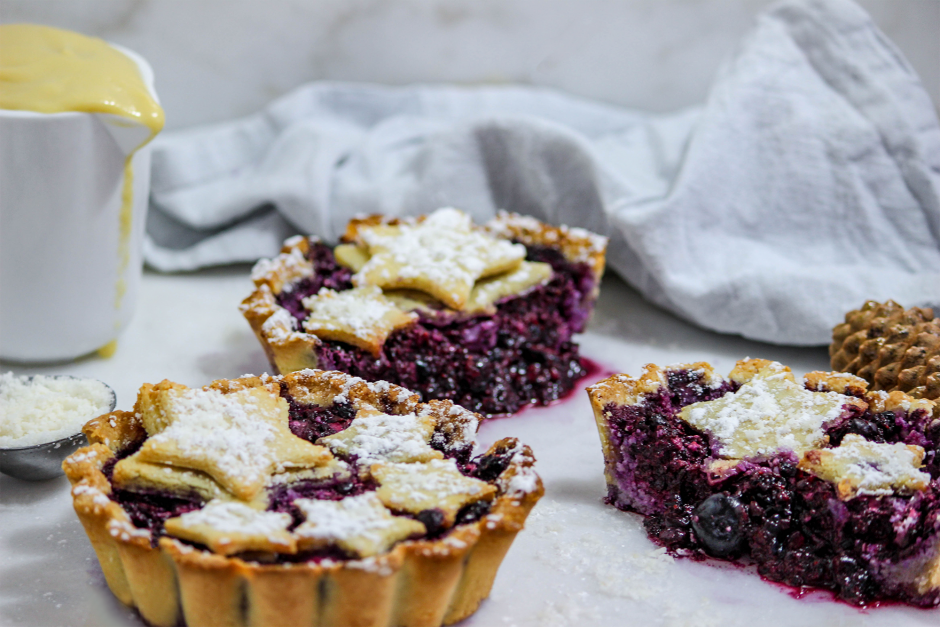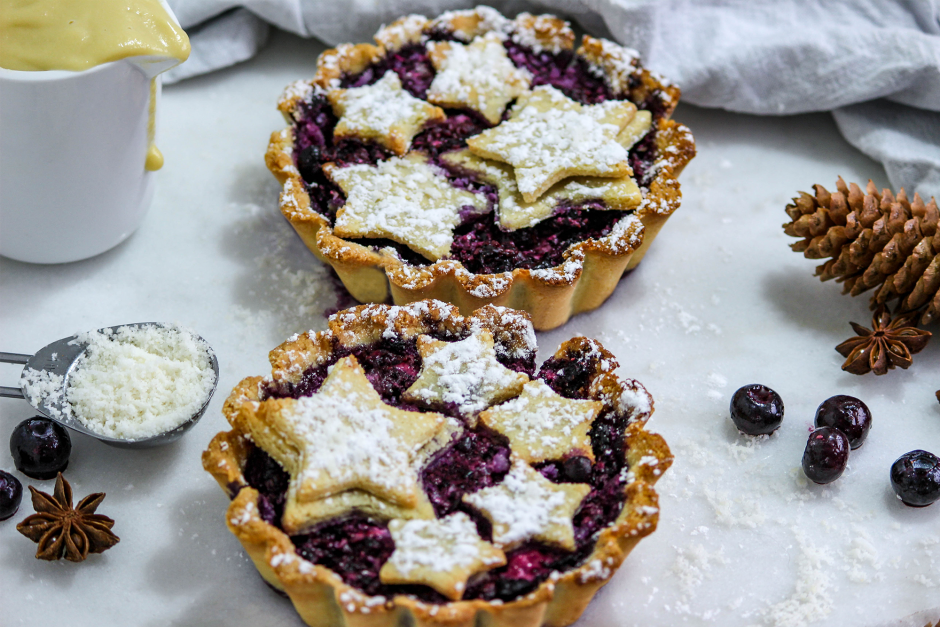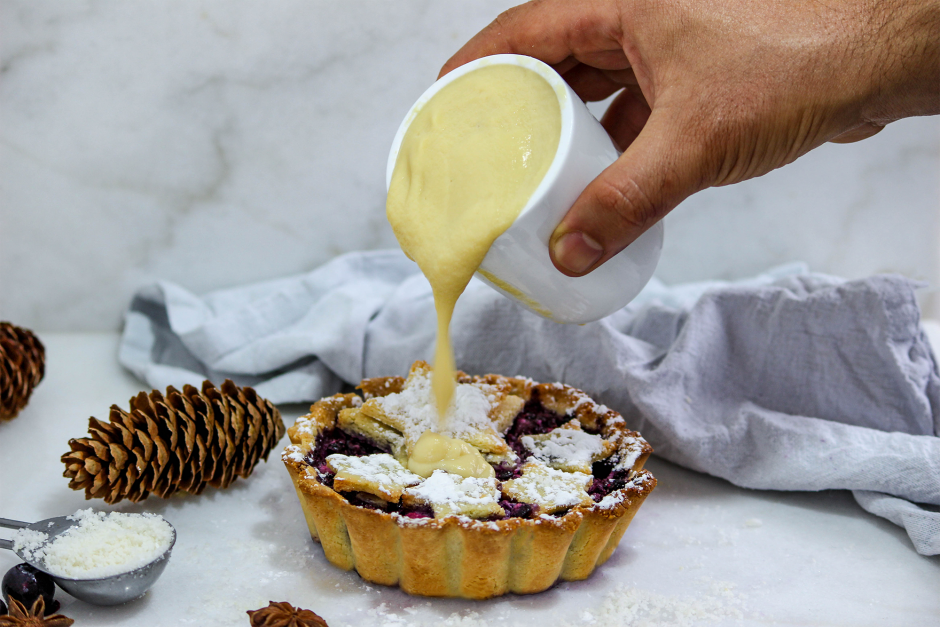 Ah Christmas… Both mine & Anth's favourite time of the year! Big & bright decorations, some damn good Christmas tunes… & the best bit of course – Incredibly delicious Christmas food!
Now even though I absolutely love whipping up a nourishing & delicious dish at any time of the year, there's something extra special about whipping up a Christmas dish… & it always seems to taste extra delicious too!
And speaking of taste… the big question that we always get each year come Christmas time from well-meaning friends & family is "Are you going to stick to your diet this Christmas? Surely you can take one day off, right?"
And with each & every passing year our response is always the same.
"Why would we choose to eat refined foods when we can easily create DELICIOUS Christmas recipes out of REAL wholefoods & get them tasting just as good as the traditional version?"
In fact, this is one of the reasons why we decided to create A Very Healthy Christmas The ultimate Christmas cookbook for creating a delicious Christmas feast using 100% nourishing wholefoods, all free from gluten, refined sugar, dairy & grains. (If you'd like more info on this book click here!)
And this recipe is no different!
Free from any nasties, super fun to make, incredibly delicious & the best bit – it's good for you!!
In fact, blueberries are one of the richest sources of antioxidants out there & can help protect from chronic disease, promote healthy digestion, reduce inflammation, support healthy brain & heart function & even help with weight loss!
Not too shabby right? Alright, let's get to the recipe!


Paleo Friendly Blueberry Christmas Pies with Vanilla Custard (Makes 4 individual pies)
INGREDIENTS:
PASTRY:
3 cups Almond Flour
1 cup Arrowroot
1 cup Coconut Flour
4 tbsp Maple Syrup
4 eggs
12 tbsp coconut oil
Star cookie cutters (I purchased mine from Kmart for $1.50 – here is the link)
BLUEBERRY PIE FILLING:
4 cups Blueberries
2 tbsp Lemon Juice
1/2 tsp Cinnamon
1/2 tsp Star Anise
4 tbsp Maple Syrup
2 tbsp Coconut Cream
VANILLA CUSTARD:
1 cup Coconut Cream
3 Eggs
1 tsp Vanilla Powder
4 tbsp Coconut Oil
1/4 cup Maple Syrup
METHOD:
For the custard:
Place the coconut cream, eggs, vanilla & maple syrup into a small saucepan & whisk to combine.
Place on a low heat & continuously whisk, adding in your 4 tablespoons of coconut oil, 1 tablespoon at a time. After the coconut oil has dissolved, turn the heat up a little (no hotter than medium heat) & whisk super-fast until it thickens.
Warning – this takes around 15 minutes so make sure you have some music on or something to distract you from noticing that your arm is about to fall off! Most custards call for thickeners like corn starch however this is unnecessary as you can get the same result by spending a little longer whisking!
Once it starts to thicken, you've now entered into a game of chicken. Leave it for too long & your custard can turn into scrambled eggs. Take it off too soon & it won't be thick enough.
So, once your custard has got noticeably thicker, take it off the heat, put it through a sieve & leave it to cool.
Refrigerate overnight to let it thicken up even more, or alternatively serve warm & a little runnier.
Now let's get to work on the pies!
For the pastry pie shells:
Preheat oven to 180C.
In a large mixing bowl, combine almond flour, arrowroot & coconut flour. Now add coconut oil & maple syrup so the mixture becomes crumbly. Finally, add your eggs into the mixture & combine until a nice dough forms.
Roll the dough into 2 balls, place baking paper on both the bottom & top of the balls & roll dough out with a rolling pin.
Grease 4 mini loose base fluted tart pans (ours are 12cm) with a little bit of coconut oil & firmly press your pastry into each tin, taking care to cover the whole tart tin evenly.
Roll up the left over dough into another ball & put aside. This will be for your stars.
Place your tart tins in the oven, on the bottom rack, for 10 minutes.
Whilst your pie shells are cooking, it's time to work on the stars & filling!
For the pastry stars:
Roll out your ball of dough set aside for your stars with your rolling pin, again with baking paper on both the bottom & top of the ball.
Use your chosen star cookie cutters & cut the dough into your star shapes (I use 3 different star cutter sizes!). Squish any leftover dough back into a ball, roll it out & cut more stars!
For the filling:
Place all filling ingredients in a food processor & process until combined well but still a little chunky.
The grand finale:
Once pie shells are done, take out of the oven, evenly distribute the filling into each pie & top with pastry stars.
Place back in oven & cook for another 15 minutes.
If desired, dust pies with a little desiccated coconut & serve with vanilla custard!
Put on some really good Christmas music & enjoy!
Crystal x
P.S If you'd like even more delicious Christmas recipes all free from gluten, refined sugar, dairy & grains, be sure to check out A Very Healthy Christmas!
The ultimate Christmas cookbook filled with healthy, nourishing & delicious recreations of incredible Christmas classics + those delicious 'Christmas worthy' dishes we just couldn't let you be without. (Did we mention there's a paleo Salted Caramel & Chocolate Brownie Trifle?)
Enjoy & Merry Christmas! xox