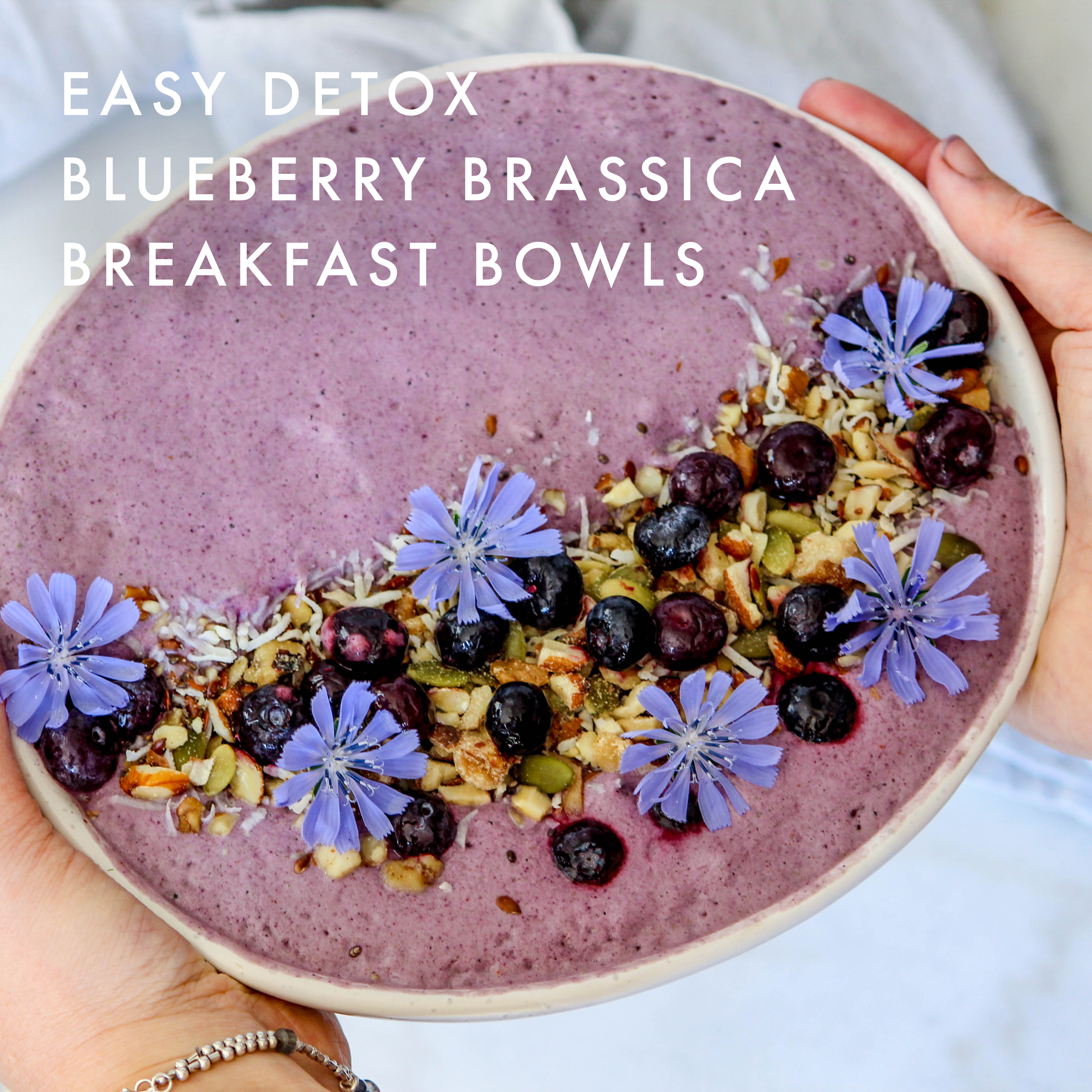 Easy detox blueberry brassica breakfast bowls
It's pretty well known that the majority of us don't eat enough veggies…
In fact – 96% of adults & 99% of children in Australia aren't getting enough (that's crazy right!) & because of this, many are missing out on essential nutrients needed to grow & be healthy!
This kind of widespread, chronic deficiency can lead to a whole host of health issues!
We always say that prevention through nutrition & lifestyle is the best medicine… & because of this we're always looking for easy & delicious ways to sneak more veggies into us…
Enter our easy detox blueberry brassica breakfast bowl!
This breakfast bowl is super quick to put together, tastes incredible (seriously, you'd never know there were 2 servings of brassicas in there!) & contains only 5 ingredients… don't get me wrong, we love the fancy superfoods & powders… but sometimes it's nice (& a hell of a lot quicker) to just keep it simple!
Now just because this smoothie only contains a handful of ingredients, doesn't mean it isn't loaded with incredible health benefits!!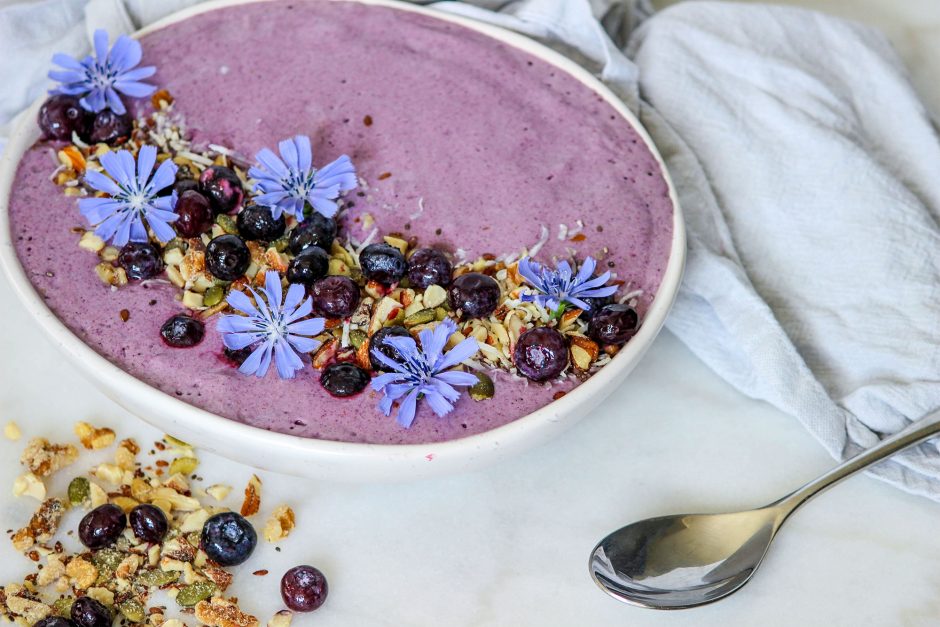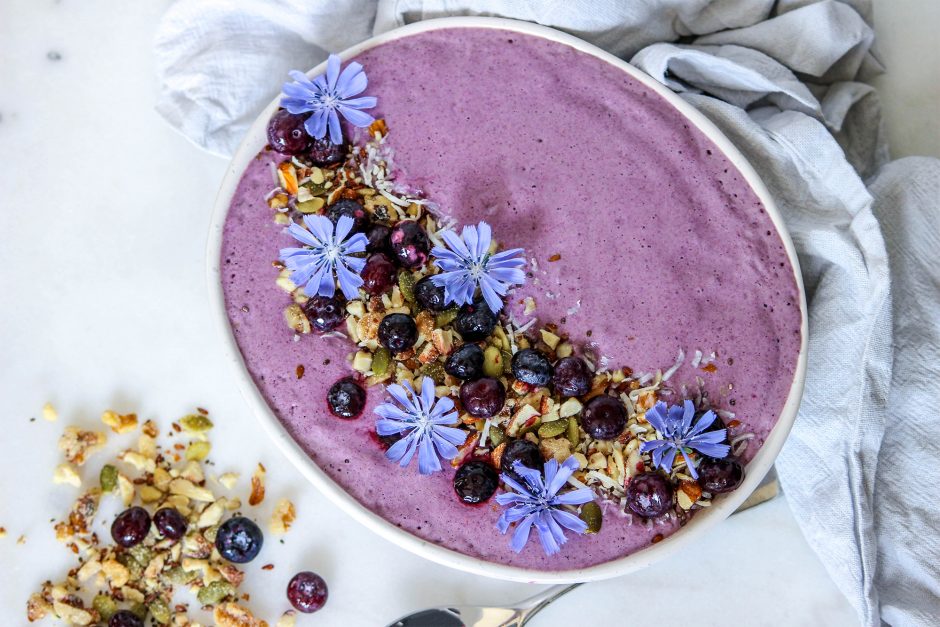 But before we go through the benefits of each of the ingredients, I want to let you in on one of the most powerful reasons why you should be getting more veggies onto your plate daily.
…PHYTONUTRIENTS!
Phytonutrients are your secret weapon against illness – & I don't say that lightly!
Phytonutrients are compounds produced by the plant used to defend themselves from pests. These natural, plant produced 'pesticides' act as powerful antioxidants when we eat them. In a world where we are constantly bombarded with all kinds of toxins, loading up on antioxidants that support your body's natural detoxification pathways has never been more important!
So let's take a look at why the ingredients in this smoothie are so incredible for your body along with the phytonutrients they contain…
Blueberries:
When it comes to antioxidants, blueberries are pretty much the poster-children, it's the first food that comes to most people's minds! And for good reason! Blueberries are one of the richest food sources of antioxidants out there, they're packed with powerful phytonutrients including anthocyanins, polyphenols & flavonoids. Blueberries can help reduce the risk of cancer, improve brain function & memory, fight inflammation + free radical damage caused by toxins as well as improve digestion.
Broccoli:
Years of research has linked eating broccoli to a whole host of health benefits including cancer prevention, improved gut health & improved detoxification – just to name a few! The compound responsible for most of these incredible benefits is a phytonutrient called sulforaphane, an incredibly powerful compound that seriously boosts liver detoxification, helping the body to better deal with all those nasty toxins.
Cauliflower:
Cauliflower is another great source of phytonutrients including carotenoids, tocopherols & ascorbic acid. It provides extra protection from cancer, inflammation, boosts digestion & detoxification. It also contains sulforaphane, the same powerful phytonutrient found in broccoli!
Coconut Cream:
Every smoothie needs a liquid base & our favourite is coconut cream. Coconut cream is just a thicker version of coconut milk. It's an excellent source of healthy saturated fats that literally every cell in the human body requires to function properly. It contains medium chain fatty acids that contain powerful anti-viral properties as well as the kind of fat that is burned preferentially for energy instead of being stored for later.
Bone Broth Vanilla Protein Powder:
There are a tonne of protein powders out there & while a lot of them are great, many of them are not so great & contain filler ingredients that just don't need to be there. Our favourite is Ancient Nutrition bone broth collagen (we get ours from iHerb here) because not only does it taste great, but it's made from one of the world's oldest superfoods – bone broth! Collagen is a protein that most of us simply don't get enough of, yet it is vitally important especially as we age! It's crucial for hair, skin & nail health, joints, cartilage as well as gut & immune system function.
Note as well that if you don't want to use a vanilla protein powder that's of course fine, you might just want to add a little more blueberries to make it a bit sweeter.
Alright – let's get to the recipe shall we?
EASY DETOX BLUEBERRY BRASSICA BREAKFAST BOWLS (SERVES 2)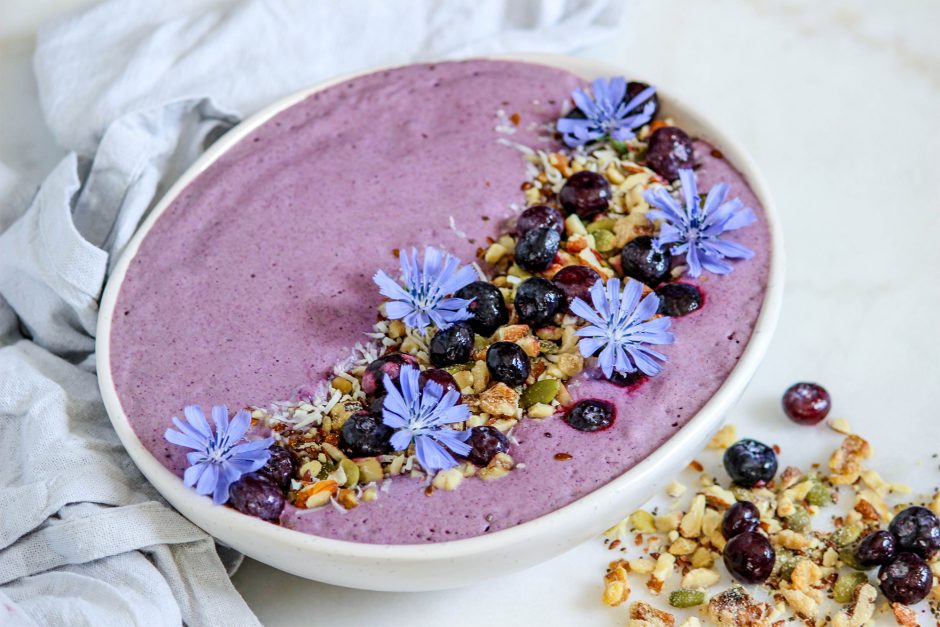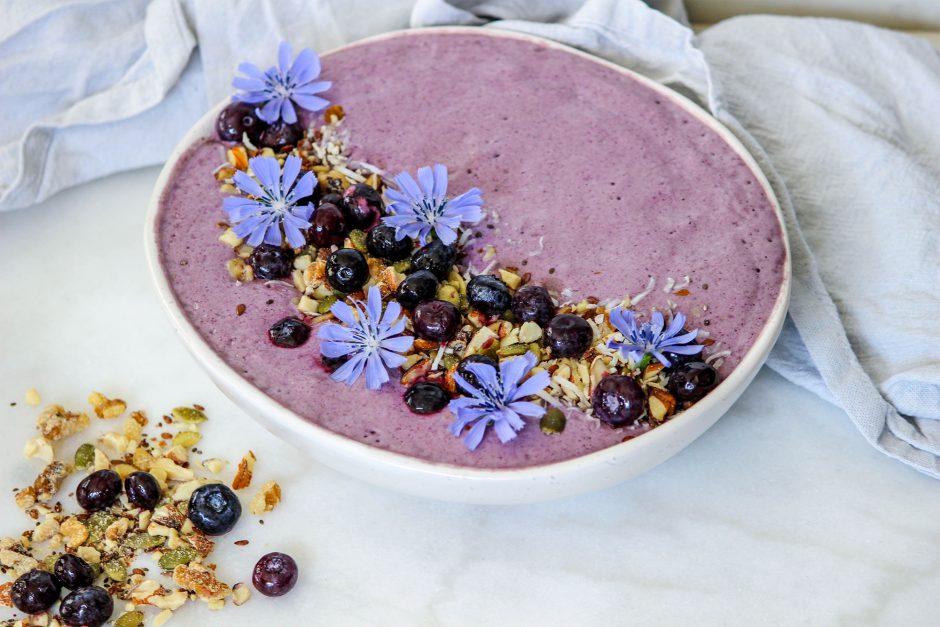 INGREDIENTS:
1.5 Cups Frozen Organic Blueberries
150gm Frozen Organic Broccoli Florets
150gm Frozen Organic Cauliflower Florets
400ml Can Organic Coconut Cream
2 Heaped Tbsp of Good Quality Vanilla Protein Powder (we use Ancient Nutrition Vanilla Bone Broth Protein Powder here)
METHOD:
Add coconut cream, protein powder & blueberries into a high speed blender & blend until smooth.
Now add broccoli & cauliflower & blend again until smooth.
Pour into a bowl & top with optional extras. In the pictures above we have used a blend of pumpkin seeds, chia seeds, flaxseeds, walnuts, coconut & blueberries.
Enjoy your smoothie bowl & remember to "chew" rather than inhale 🙂
NOTES:
1. This recipe calls for FROZEN broccoli & cauliflower… Frozen broc & cauli helps to reduce the taste & smell of them (because let's be honest, brassicas are NOT the best tasting food!) however we've found that you need to freeze them for at least 2-3 days before consuming (so they are nice & frosty!). The longer you leave them to freeze the less you will taste them!
2. Don't inhale the smoothie! It makes it much harder for your body to absorb the nutrients when you do this. Remember that the digestion process starts in the mouth, so try to chew as much as you can! Adding some additional toppings to your smoothie can make this easier but remember not to go overboard.
Optional Toppings: Coconut yoghurt, nuts & seeds, coconut chips, chia seeds, hemp seeds, blueberries, edible flowers (we topped ours with chicory flowers!)
---
P.S If you want even more delicious & nourishing recipes that will help you amp up your wholefoods ASAP, make sure you check out our new eBook Drink Your Way To Incredible Health right here! Loaded with over 30 of our favourite body-loving juices, smoothies, teas & tonics to repair, revitalise & energise your body!
Whether you're after more energy throughout the day, a better sleep, improved digestion or maybe better skin or hair health (or all of the above!!) there's a juice, smoothie, tea or tonic for it! All of which you'll find in this book!