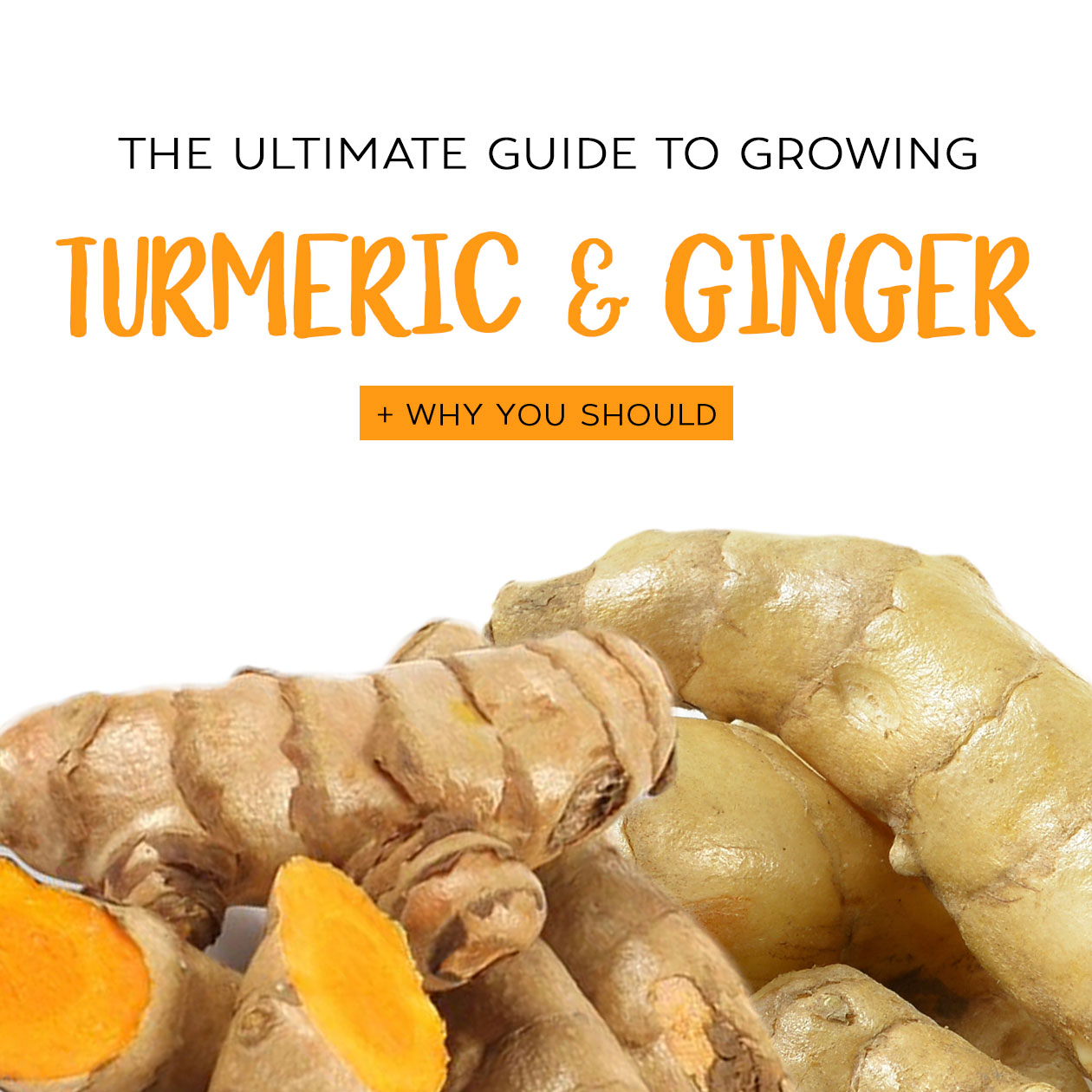 The Ultimate Guide to growing Turmeric & Ginger (+ why you should!)
Having immediate access to your own beautiful, organic & nutrient dense wholefoods is literally life changing.
And with the right amount of nutrients in your soil, there isn't much you can't grow…. It's for this reason that we want to encourage you to step out of that lettuce cage & broaden your horizons a little!
We want to challenge you to consider growing something you've likely never considered before.
We want to challenge you to grow your own Turmeric & Ginger!
…And for good reason!
Now if you didn't already know, we wholeheartedly believe & live by the mantra "Food is Medicine"
When it comes to good health organic wholefoods are where it's at… But Turmeric & Ginger?
These guys are on a whole other level.
They are two of most researched medicinal plants in the history of science & when you look at their (almost) unbelievable benefits it's not hard to see why!
Let's kick things off with Turmeric…
The Health Benefits of Turmeric: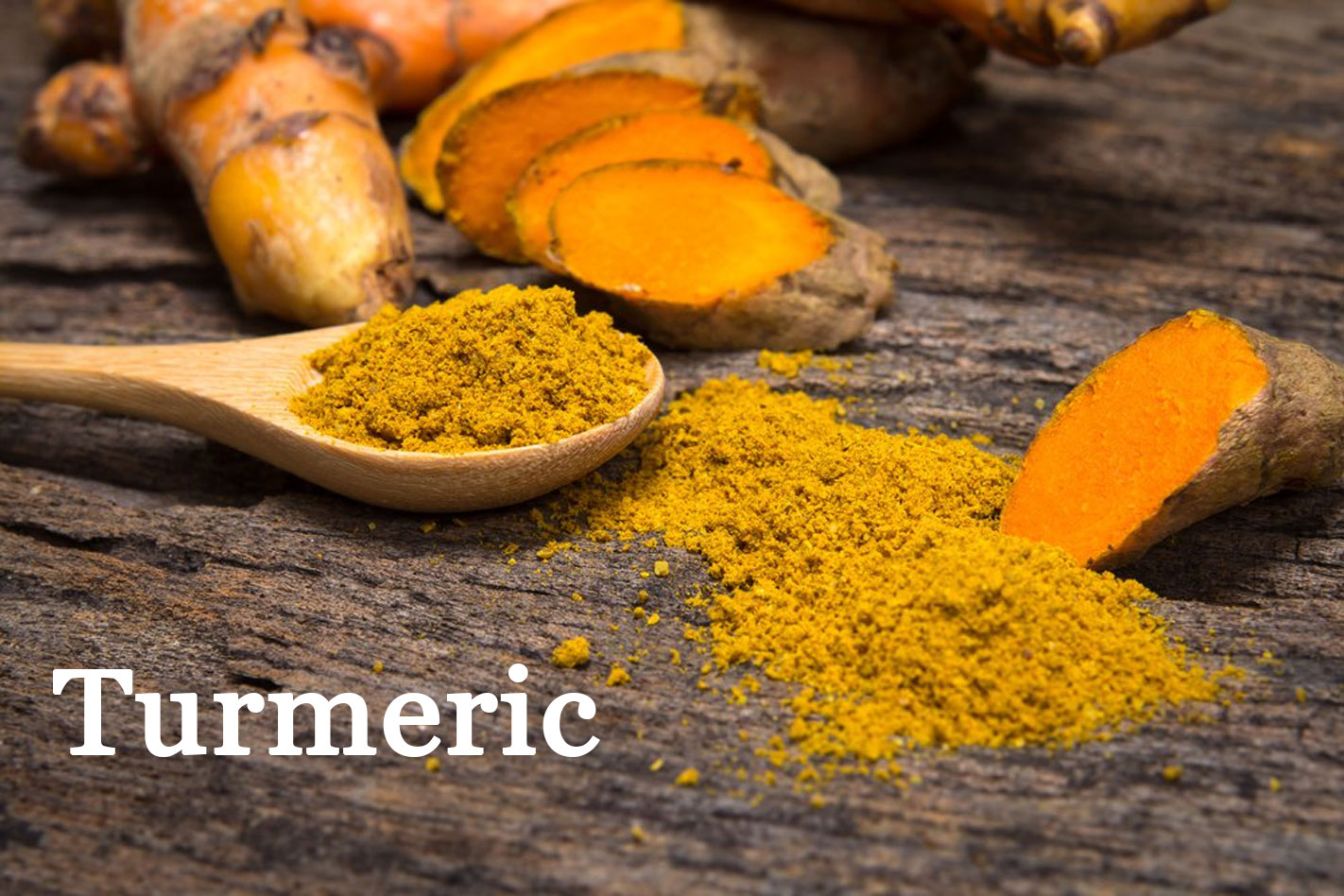 The little spice that gives curry its yellow colour (& your t-shirt a nice big stain) could potentially be one of the most powerful medicinal herbs in the world.
In many cases it's been shown to be more effective than certain anti-inflammatories, anti depressants, blood thinners, diabetes drugs, arthritis drugs, steroids, cholesterol medication & chemotherapy drugs.
Here are a few more amazing things you might not know about turmeric:
It's been shown to reduce inflammation better than drugs administered to people with rheumatoid arthritis, bringing them more relief from the condition. Chronic inflammation is the root of all disease today.
It's incredibly effective at reversing insulin resistance (insulin is a hormone produced by the pancreas that remove glucose aka sugar from your blood as too much sugar in your blood can be toxic) & lowering blood sugar, especially important for people suffering from type 2 diabetes.
It provides relief from Inflammatory bowel disease, Crohn's disease & other serious gastrointestinal issues, without the negative side effects experienced by the drugs given to treat such conditions. It also helps to rebuild the good gut bacteria!
According to the Cancer Research UK – Turmeric has been shown to be able to kill cancer cells & even prevent more from growing, especially in the case of breast, bowel, stomach & skin cancer.
It's used as a potent painkiller, even against things like burns on the skin.
It increases cognitive function & improves memory.
Pretty impressive hey?
Hard to believe this one plant can have so much power over your health… but it absolutely does – all the more reason to grow it yourself!
It's also worth mentioning, the compound responsible for all these amazing benefits is called 'Curcumin'.
Now you may have already heard of curcumin… but whenever you hear someone talk about the effects of turmeric, they're really talking about the effects the curcumin found in turmeric. 😉
A final word on curcumin & turmeric – as beneficial as it is, your body sees it as a foreign substance, which basically means it sees it as something that doesn't belong in your body & needs to get rid of it as soon as you consume it. Black pepper contains the compound piperine, which increases the bioavailability of curcumin by up to 2000% – so mixing some black pepper with turmeric can be a good way to reap even more benefits.
Now let's take a look at Ginger.
The Health Benefits of Ginger:

Ginger is another stud among plants, it's closely related to turmeric & just like its cousin, Ginger contains a particularly powerful ingredient similar to curcumin called 'Gingerol'.
Gingerol is responsible for many of the benefits that come from consuming ginger. Speaking of… here a few incredible things that Ginger can do for you:
It helps your body to get the most out of your food by helping to maintain healthy digestion & improving nutrient absorption.
Provides relief from stomach issues like indigestion, nausea & even stomach ulcers.
Promotes a healthy, strong immune system which is crucial for overall health.
Protects your body from bacterial & fungal infections.
It provides effective pain relief & strong anti inflammatory properties.
 It helps increase insulin sensitivity & can have a huge impact on blood sugar levels which is important for keeping diabetes at bay.
It has been shown to be effective in stopping the growth of cancer cells.
What did I tell you? Ginger packs a real punch of healing goodness!
Okay… now to the fun bit! Let's talk about how to grow these bad boys!
How to Grow
FYI – The same planting rules apply to both turmeric & ginger unless otherwise stated 😉
Now first off, turmeric & ginger are usually Tropical/Subtropical plants as they THRIVE in the heat… HOWEVER, you absolutely CAN grow them in a temperate climate as well (we're over here in rainy-cloudy-yucky Melbourne!)
The best time to plant your turmeric & ginger is in Spring time once your soil is nice & warm – October is ideal.
Unlike the edibles you might be used to growing, turmeric & ginger don't grow from a seed – They grow from a rhizome.
Ever purchased fresh Ginger or Turmeric from the shops or famers market before? – That's a Rhizome! 😉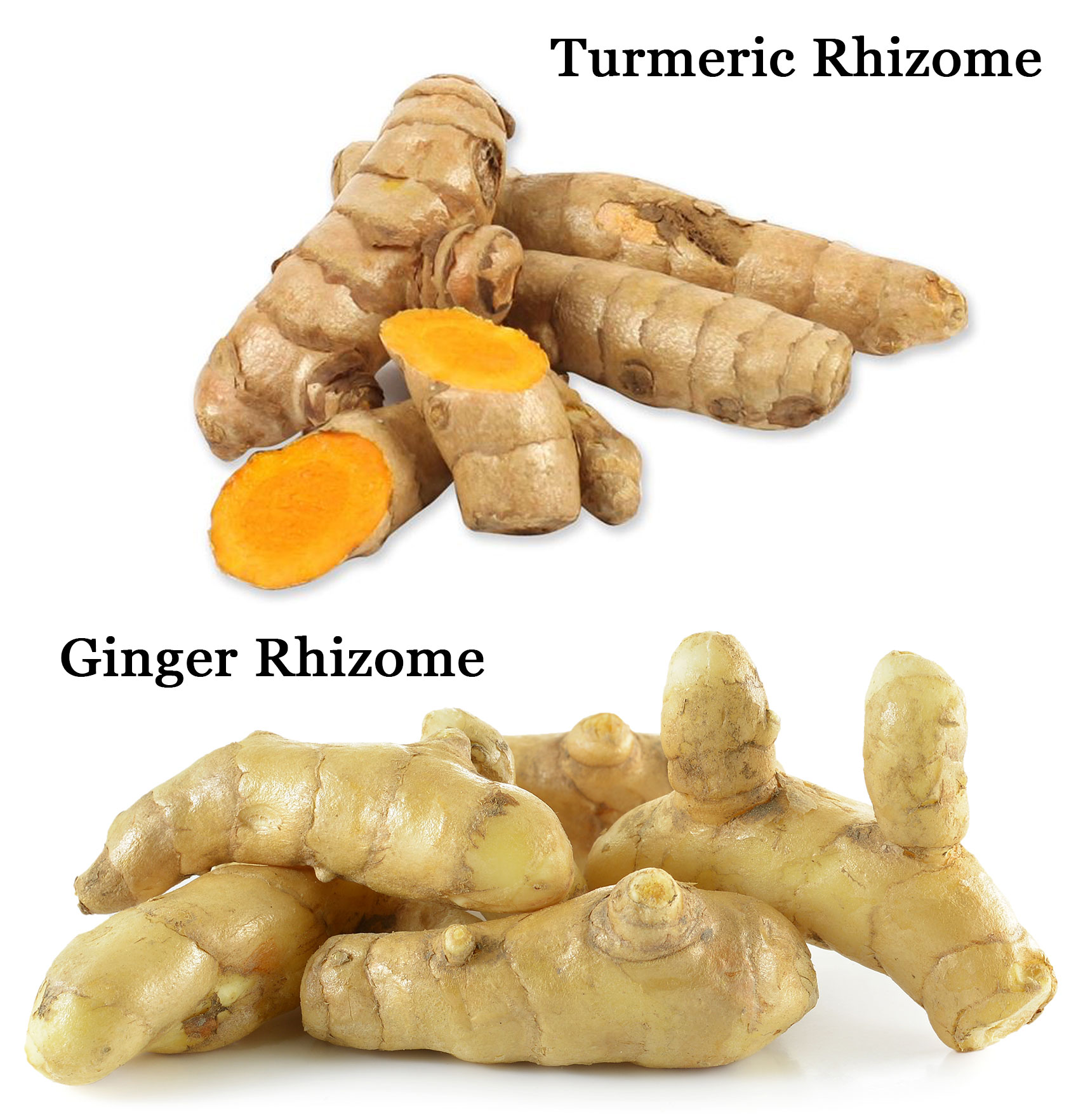 You can either purchase your rhizomes from a nursery OR just purchase them from your local organic foodstore/farmers market.
If you're going to purchase it from the supermarket… always always ALWAYS make sure your purchase organic! As conventional turmeric/ginger is often sprayed with a growth retardant to keep it from sprouting while it sits on the shelf.
If you purchased large rhizomes you can break them up into thumb like pieces (the size of a big mans thumb…not Crystal's thumb!).
Now before you plant them out, you will need to wait until they develop little eyes/buds on them. You should have at least 2 eyes/buds on each rhizome before you plant them out. If they don't already have them just pop the rhizomes into the cupboard until they appear.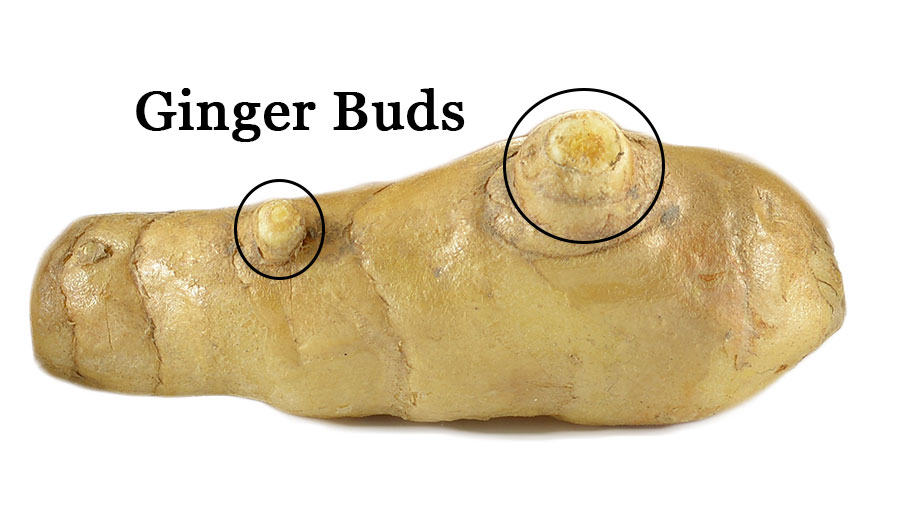 Also, if you are going to break your rhizome up because it is quite large, wait until the broken skin has dried out before planting – this should stop any possible fungus problems – we don't want fungus!
Alrighty – now the fun is really starting!
Once your rhizomes are ready to rock, all you need to do is plant them 5-10cm deep into the soil (literally just push them into the soil & then cover them up with the soil) & make sure the buds are FACING UP! (The buds will sprout & turn into a plant which comes through the soil). If your planting multiple you can plant them about 20-30cms apart.
You want to plant your rhizomes in a warm BUT lightly shaded spot. They can survive in a full sun position but they prefer a light shade!
Now water as you would do your other plants (you want the soil to remain moist) & you will eventually see a plant pop up 🙂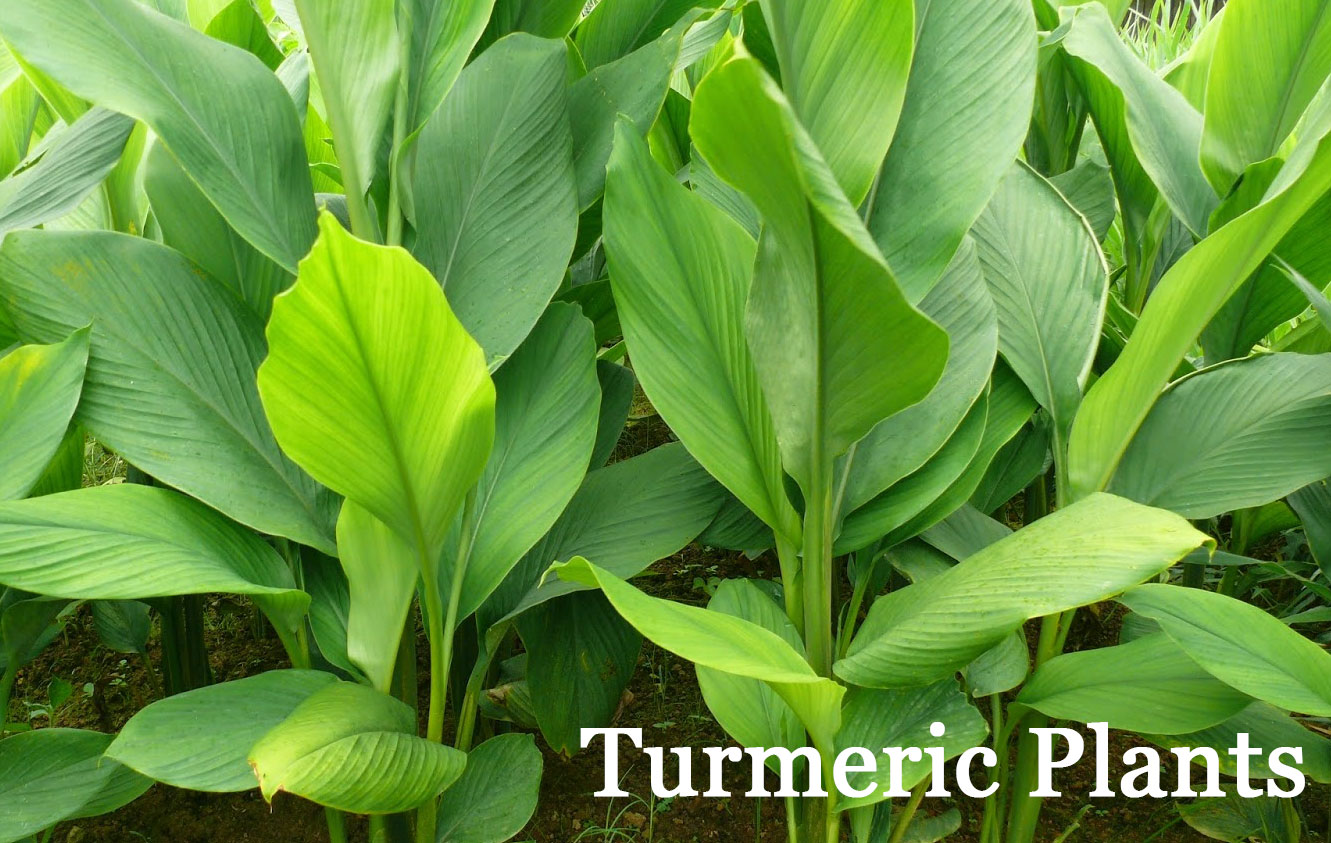 Ginger & turmeric plants grow quite tall & in about 8-10 months (8 months for ginger, 10 months for turmeric) when the leaves have turned yellow (or have died completely) it's time to harvest your goods!!!
Now I know what you might be thinking… 8-10 months to harvest… really??? But trust us – the harvest is well & truly worth it 🙂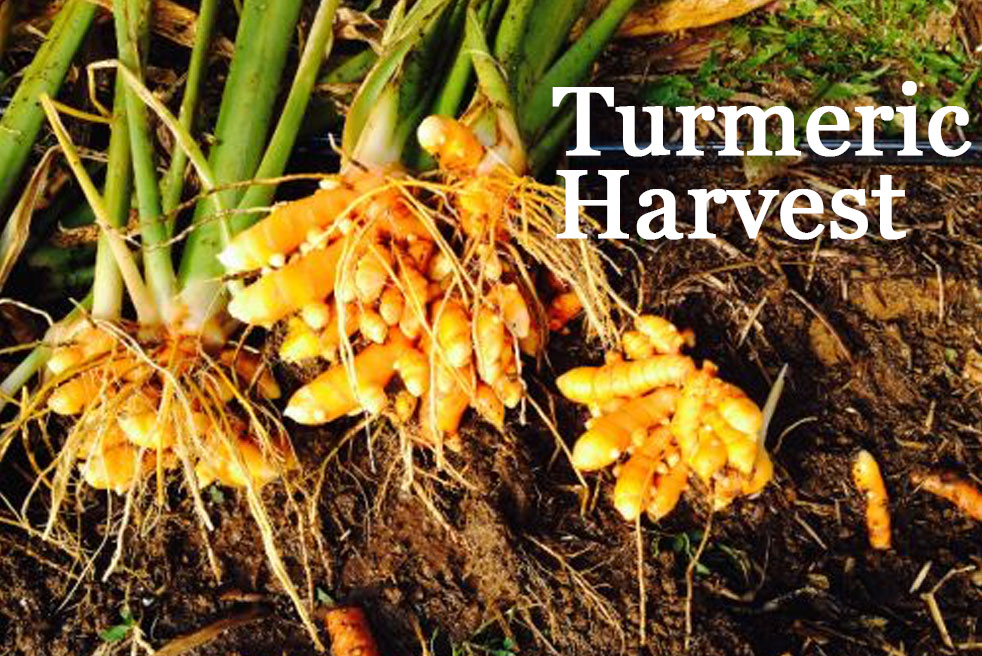 Reminders & FYIs…
Never plant into cold wet soil!
Never plant them in winter!
For cooler areas you can plant them in pots (instead of the veggie patch) & keep them indoors.
And that's a wrap! Hopefully this post inspires you to grow one (or two) edibles you've never tried growing before.
The positive health benefits brought on by these two incredible little herbs are truly powerful & rival many medicines of today – minus any of the nasty side effects!
Another awesome little thing to factor in is the amount of money you'll save on buying organic ginger & turmeric… because hey… that stuff ain't cheap!
Any Q's, let us know in the comments below – we'd love to hear from you!
A & C xo