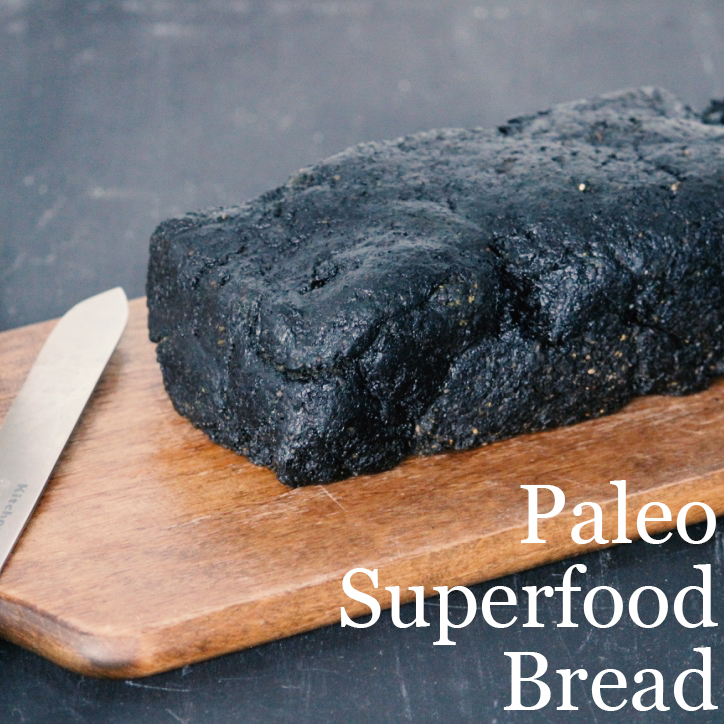 Ah bread… what can I say?
I love it…
I bet you love it too – maybe as much as I do…
Just like my love for pasta, my infatuation with bread is much the same.
But, when I started on my path to good health – making sure I was only giving my body the most nourishing wholefoods… there went my bread.
Recipe, after recipe, after recipe, after recipe of bread has been created in this kitchen.
And although they all tasted pretty damn good (especially my Gluten Free Sourdough!), this is the only one that I LOVE eating everyday  -snack or meal… it rocks my socks!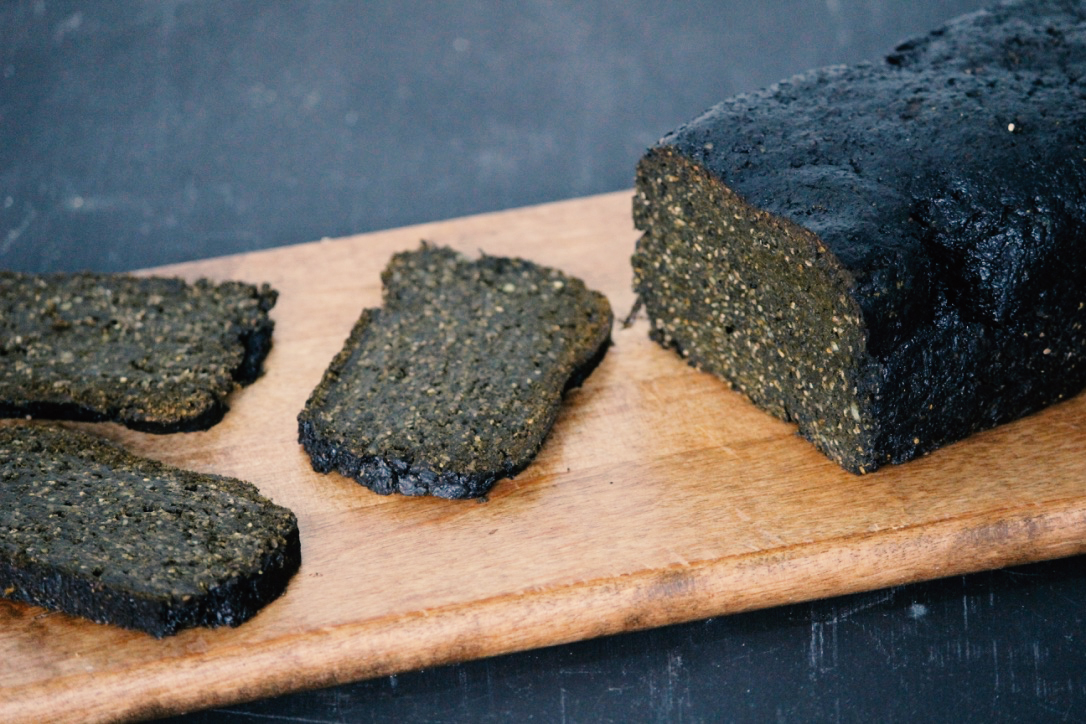 WHY?
Taste aside (we will get to taste in a minute) – it's the ingredients in it that has me coming back for more & more each day!
Even though my other bread creations were made with 'clean' ingredients, the problem was that they all called for a lot of the same ingredient… & even though they weren't bad for me, they weren't providing me with as much nutritional value as I wanted them to.
Remember – a colourful array of different wholefoods always beats a heap of the same ingredient (unless it's greens – you can go NUTS on greens!)
This is the only bread that I have made thus far where I can feel it nourishing me from the inside out & its nutritional content is through the roof. It's the only bread that I feel comfortable eating everyday.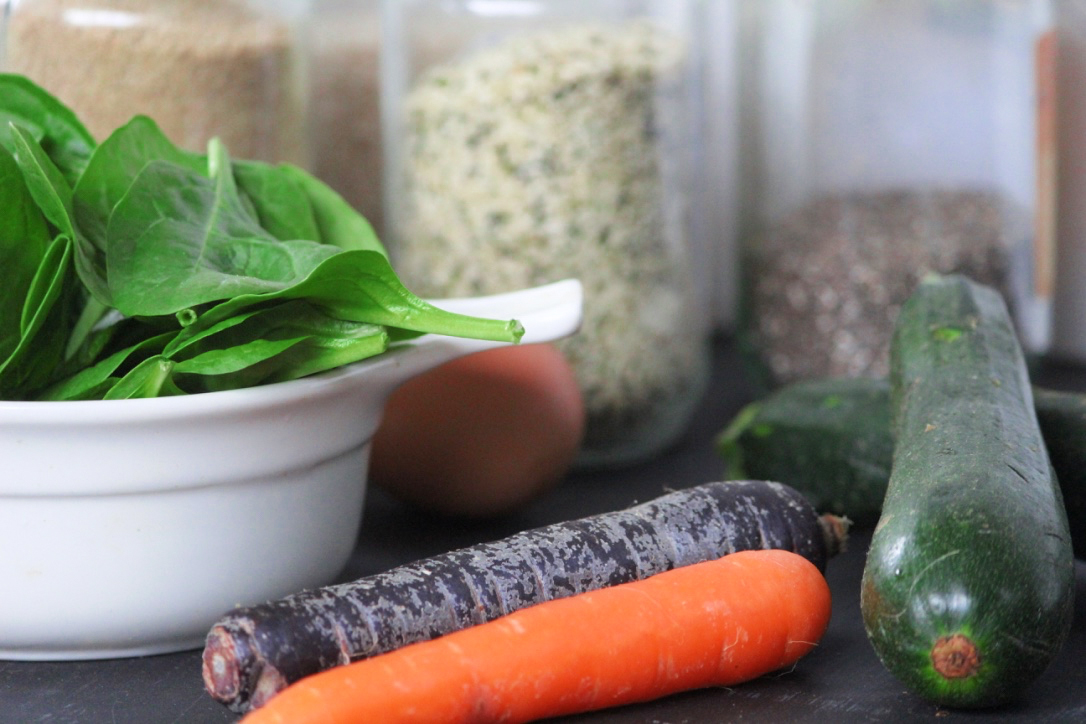 LET'S TALK ABOUT WHY IT'S AMAZING SHALL WE?
Okay – I'll give you a rundown of the ingredients + the amazing benefits behind it – because, they are seriously amazing…
LSA – A mixture of ground up Linseed, Sunflower Seed & Almonds

 

– LSA is a great source of protein, essential minerals, fatty acids & fibre – You can also add it to your smoothies or salads!
HEMP SEEDS – One of our favourite foods by far – Hemp seeds are an amazing source of healthy fats, rich in multiple vitamins & minerals, & most importantly – are a complete source of protein as they contain ALL of the amino acids!
PSYLLIUM HUSK – A source of water soluble fibre, Psyllium husk promotes healthy gut flora, can help keep your skin clear by forcing toxins out of the body before it has a chance to be excreted out through the skin. It can also help regulate blood sugar levels.
SPIRULINA – An awesome superfood that can clear heavy metals from the body, is rich in vitamins & minerals, has anti microbial, anti cancer AND anti inflammatory properties – Another source of complete protein, Spirulina is a must have for every kitchen (although we don't recommend eating it on it's own)
MESQUITE POWDER – Mesquite powder is rich in minerals including calcium, magnesium & zinc, high in dietary fibre & it has a sweet caramel like flavour.
MACA POWDER – Maca powder helps to boost the immune system, balance hormones, increases fertility in both men & women, helps the body adapt to stress & is a great source of amino acids, fatty acids, vitamins & minerals – Maca rocks!
GELATIN POWDER – Gelatin is derived from collagen & is an amazing source of amino acids, it does wonders for your gut, joints & skin health.
SPINACH – High in folate which is important during early pregnancy as well as a number of other processes within the body – magnesium which is important for over 300 biochemical processes including energy production & DNA repair – It helps prevent inflammation & is good source of multiple vitamins.
CARROT – High in beta carotene which has antioxidant properties & also helps the production of Vitamin A which is important for healthy eye sight & immune function.
ZUCCHINI – Zucchini is a good source of Vitamin C & the phytonutrients 'lutein' & 'zeaxanthin' which promotes good eyesight. Zucchini also contains & a number of other vitamins & minerals.
EGG – WE LOVE EGGS! A little bundle of fat & protein, eggs are actually a source of complete protein, high in iron & biotin which helps maintain skin, nail  & hair health
COCONUT OIL – Pretty much the only oil any one should cook with – coconut oil is an amazing source of MCT's (medium chain triglycerides) – a fatty acid that gets metabolised differently to other forms of fatty acids & is made available to be used as energy much quicker. It's the healthiest source of good saturated fats you can possibly get, helps to speed up your metabolism & has an incredibly high smoke point. If you're not on the organic coconut oil train yet, get on it!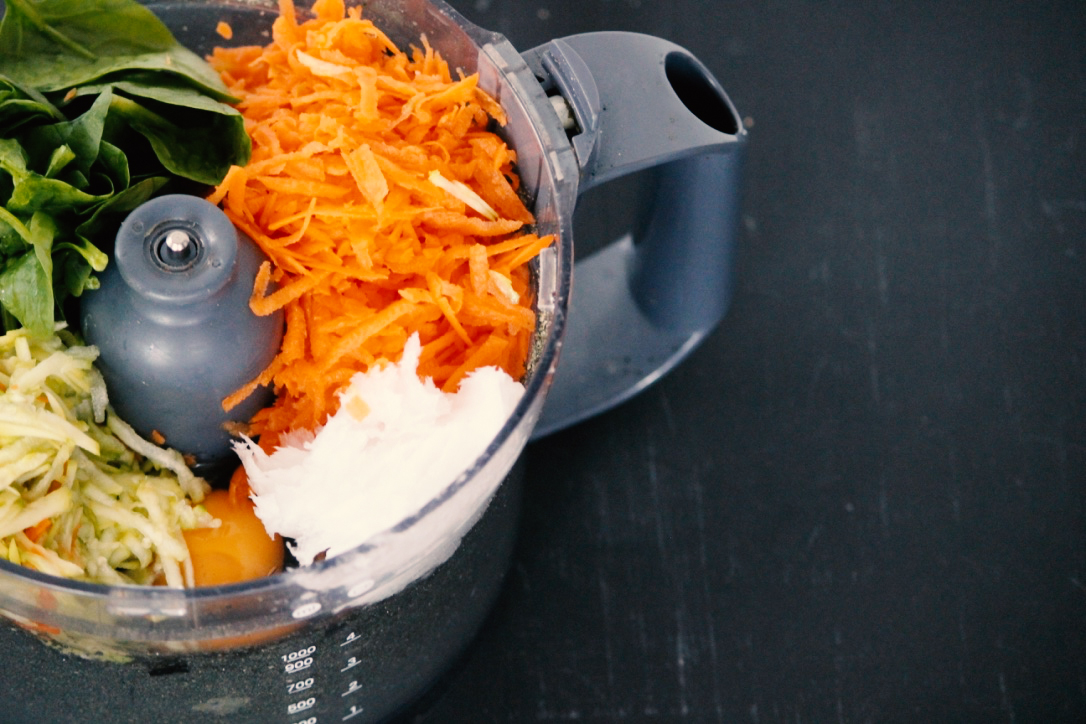 LET'S TALK ABOUT TASTE BABY!
It's delicious – we absolutely love it.
Anthony calls it cake bread.
I think that sums it up!
This bread is moist, dense, & it feels & looks like green cake.
The spirulina (which quite honestly, I cannot usually stomach unless it is disguised with a billion other nice-tasting foods) somehow manages to give it a really nice flavour.
We top the bread with our ABC nut butter & that really is the icing on top – they go together SO WELL –  so PLEASE PLEASE PLEASE try it with nut butter – you won't regret it 😉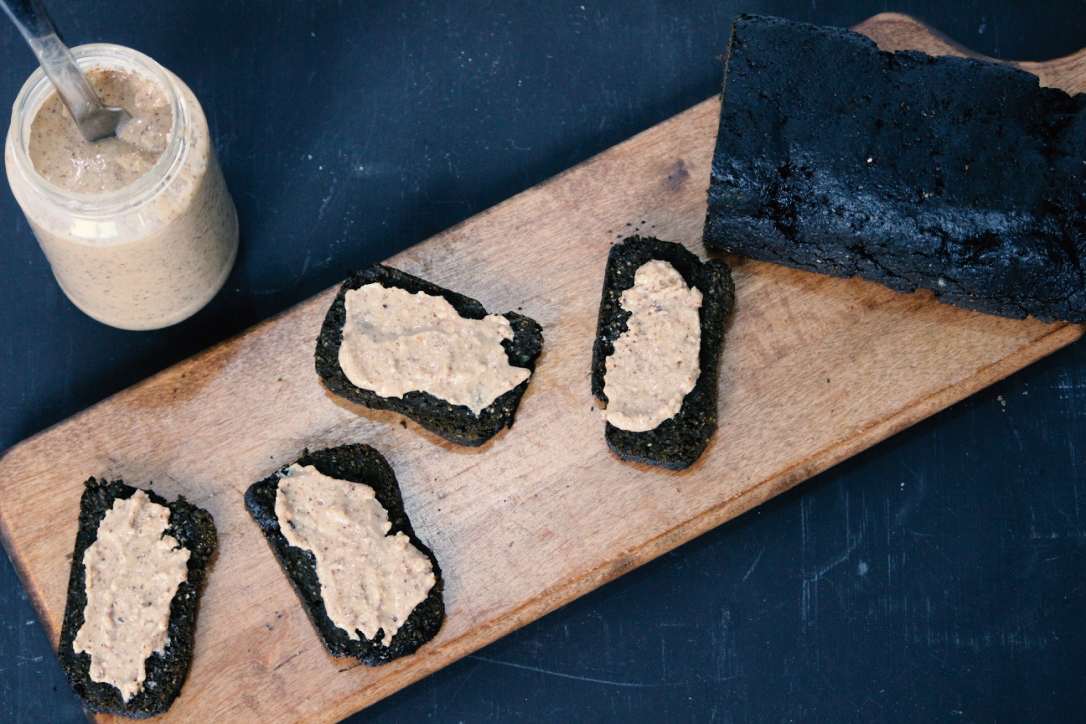 Okay – shall we get to the recipe then?
PALEO SUPERFOOD BREAD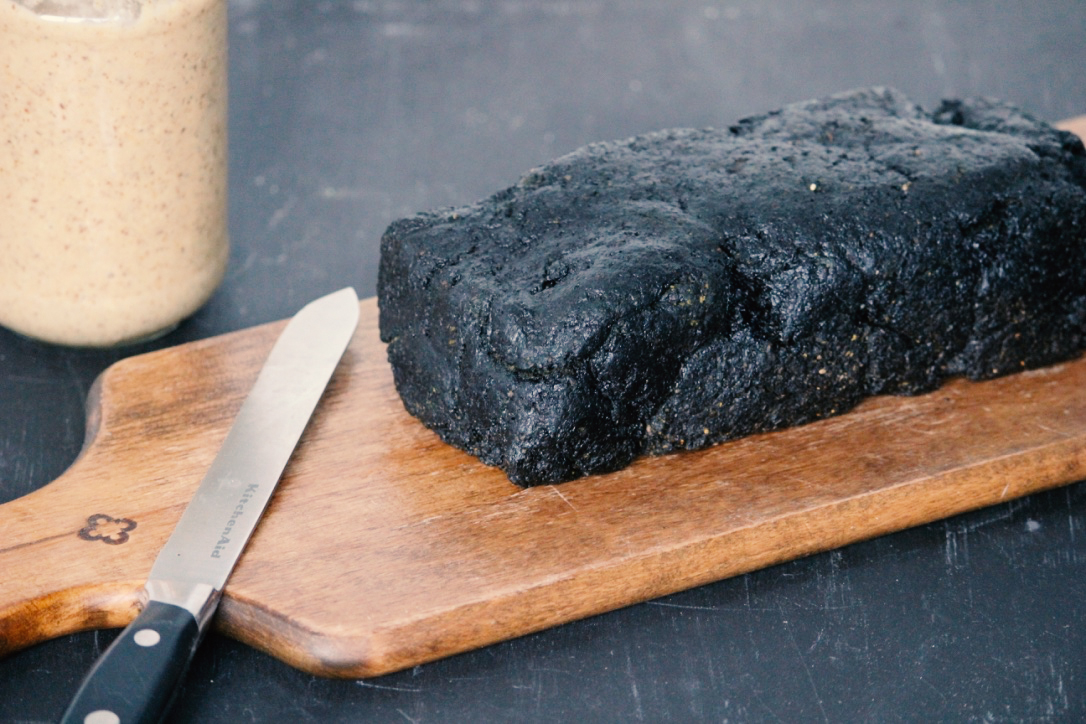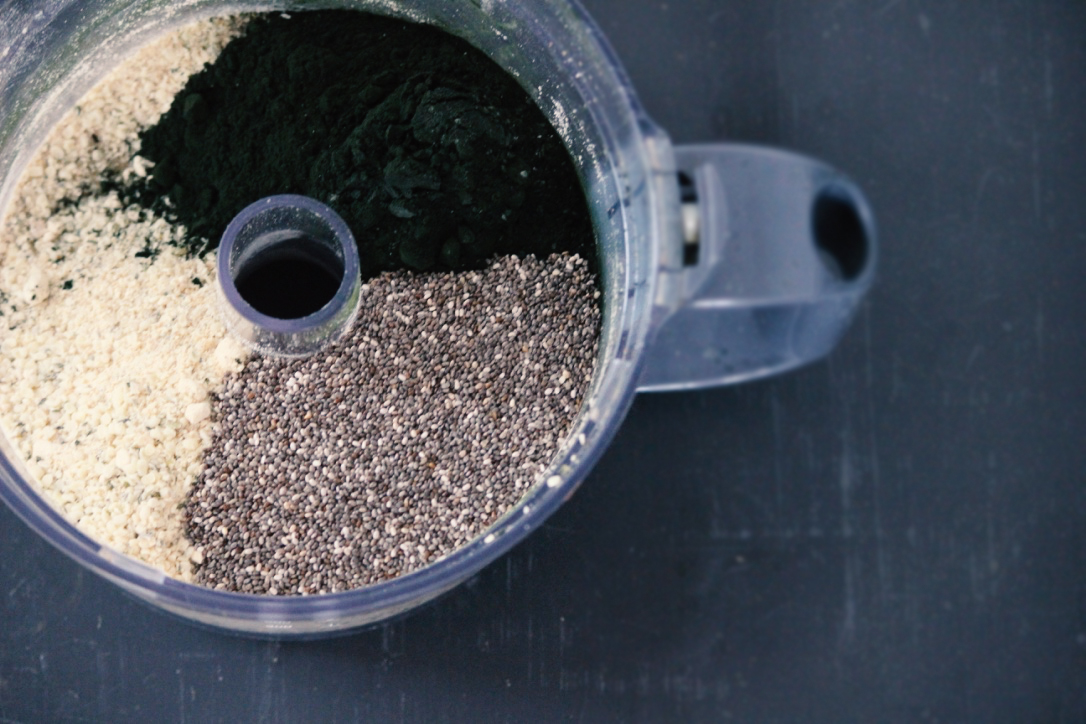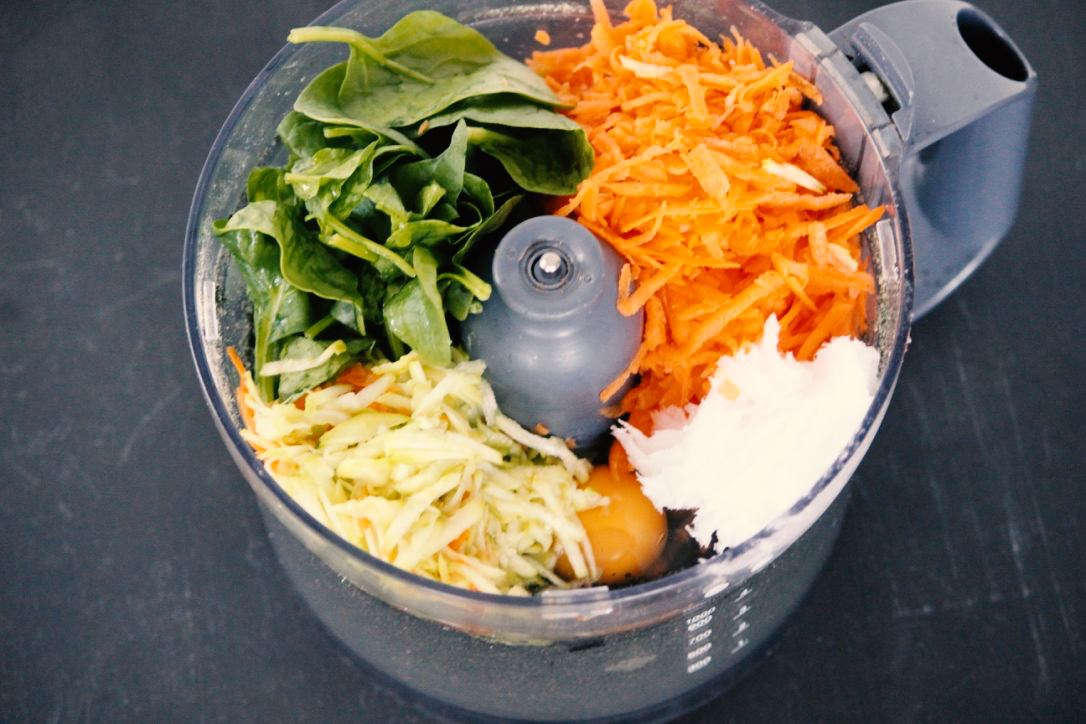 Ingredients 
DRY INGREDIENTS
1 Cup LSA
1 Cup Hemp Seeds
1/2 Cup Pysllium Husk
1/2 Cup Chia Seeds
1/2 Cup Spirulina
1/4 Cup Mesquite Powder
1/4 Cup Maca Powder
1/4 Cup Gelatin Powder (optional)
WET INGREDIENTS
1 Cup Spinach
1 Large Carrot, Grated
1 Large Zucchini, Grated
1 Egg
2 Tbsp Coconut Oil
BAKE WARE
1 Silicon Bread Loaf Pan ($5.00 from Kmart!)
Method 
Preheat oven to 175°C
In a food processor, process ALL dry ingredients until combined & a dark green crumb forms.
Add ALL wet ingredients & process again until a moist, almost wet ball of mixture forms.
Flatten ball out in your Silicon Bread Loaf Pan & form a loaf like shape by pushing the sides of the Silicon Loaf Pan in against the mixture,
Place in oven and bake for 1 hour
Carefully place loaf upside down in the Silicon Bread Loaf Pan & bake for another 15 minutes (so it cooks the whole way through).
Cool on bread rack & DO NOT slice bread until completely cool (or it might break apart).
Store in the fridge
Notes 
If you get home late & you can't stay up an extra hour for the bread to bake, just whip up the bread mixture & refrigerate over night. Bake bread in the oven first thing in the morning.
If you end up refrigerating the mixture the night before, you can dismiss step 6 😉 (forgo flipping & baking for an additional 15 minutes)
If 1/2 Cup of Spirulina is to strong for you, just start with 1/4 Cup and work your way up
Have a favourite Superfood? Add it to this recipe! OR just use this recipe as a base to create your favourite bread!
I hope you love this bread, & if you don't then at least try to because it's so damn good for you 😉 (But I think you will love it!)
Have an awesome time making it & any Qs please let me know!
C xxx