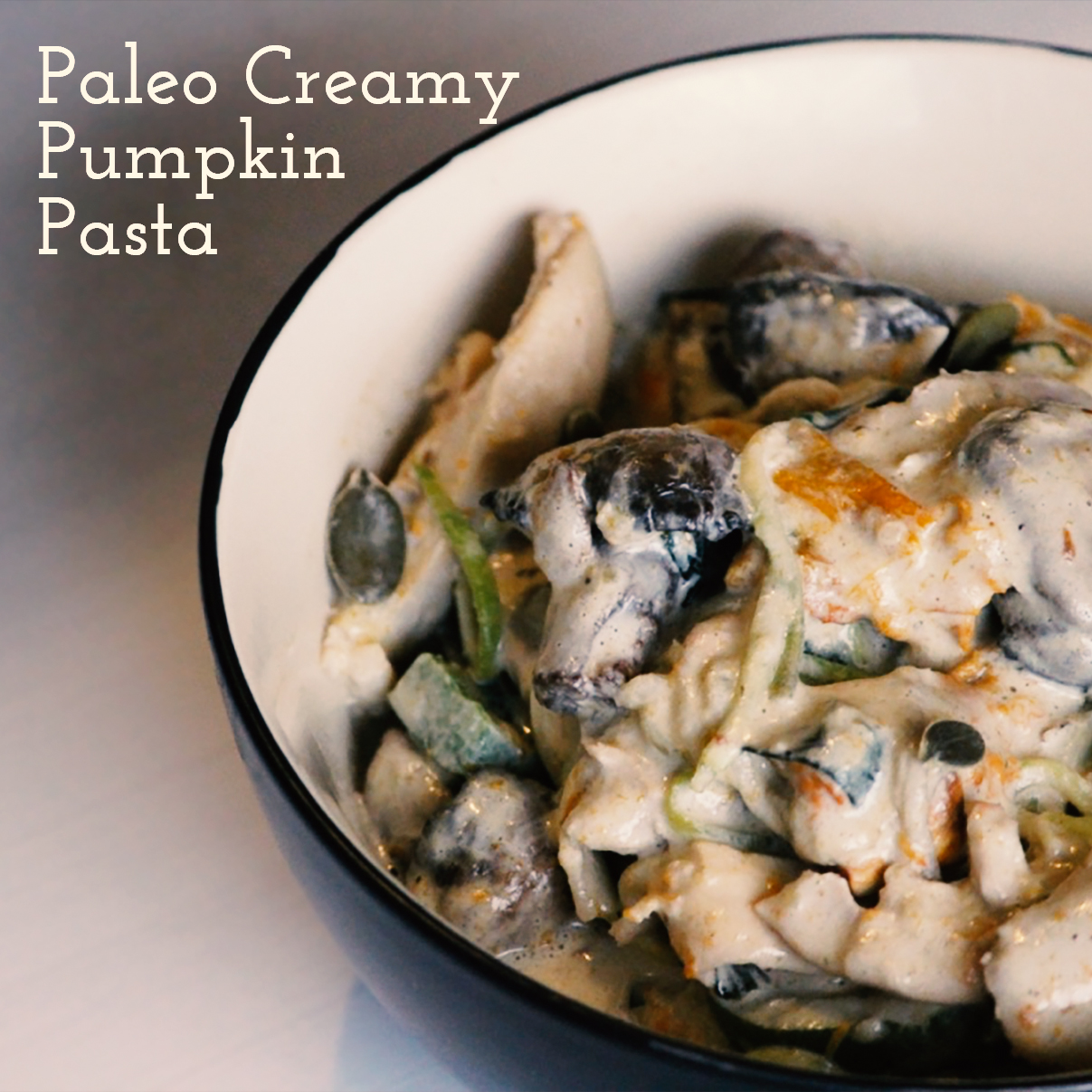 Paleo Creamy Pumpkin Pasta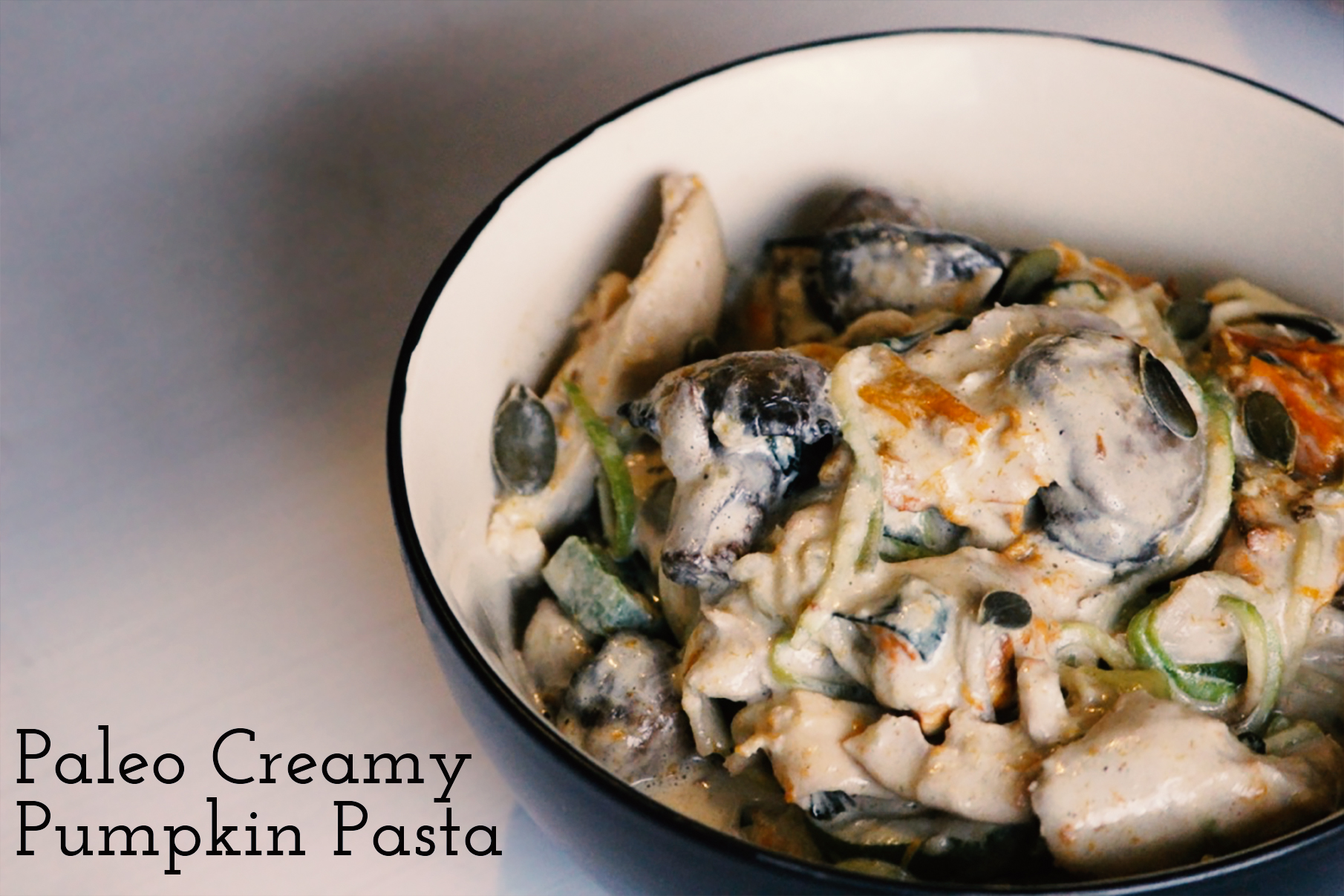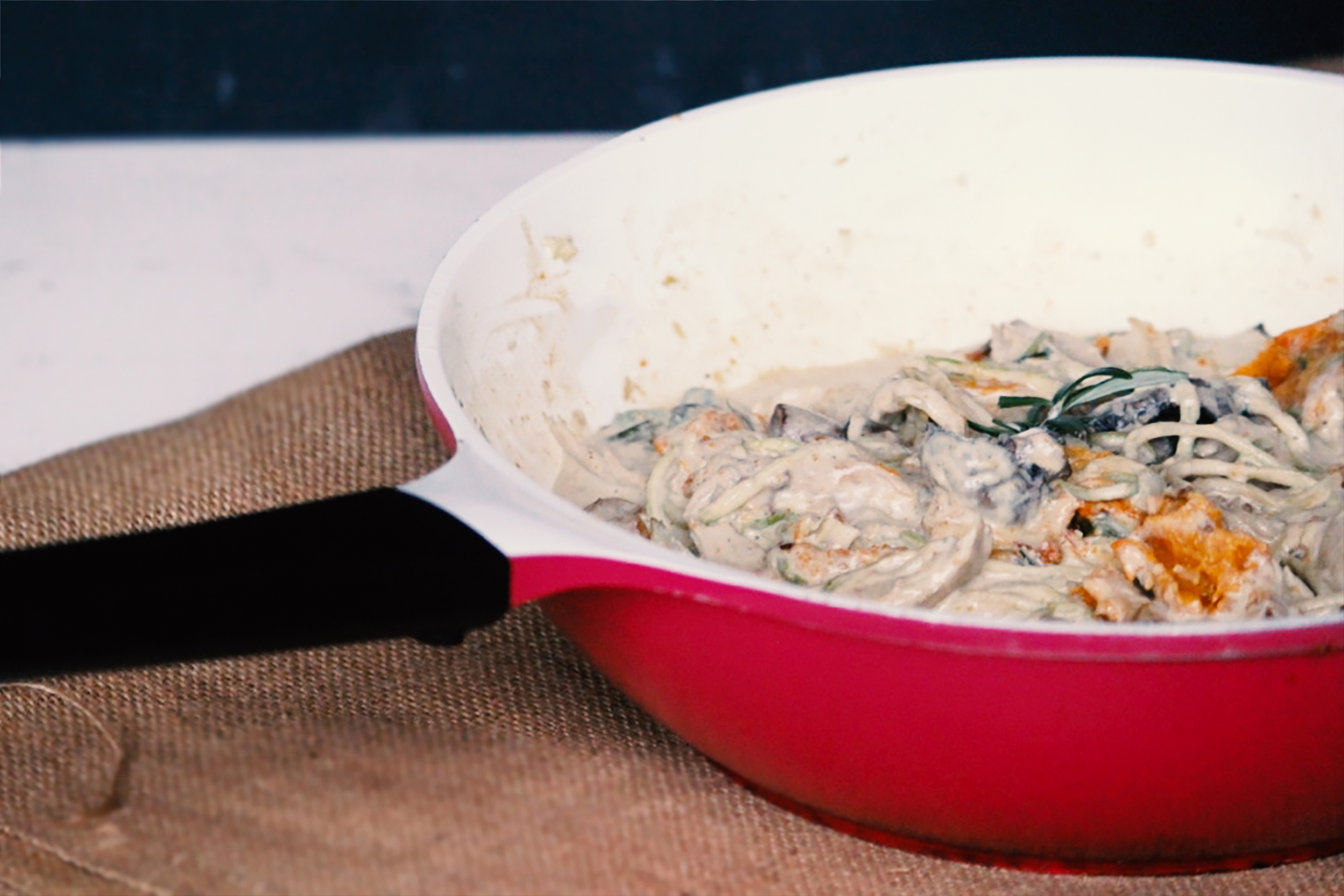 Creamy pumpkin pasta – my weakness.
Whenever we would go out to dinner, that would be the first thing my eyes would scan the menu for.
Scoffing down mouthfuls of creamy deliciousness – at that very moment I thought food couldn't get much better…
My body most certainly didn't agree with me though!
Another headache, another bloated stomach, another throat infection.
When I made the switch to Organic Wholefoods I really thought my old accomplice was irreplaceable – surely that has to be it for me & my creamy pastas… unless of course I come up with some kind of substitute that tastes half as good as the real deal…
Dearrrrr me was I wrong!!
As I make my 3rd year into Organic Wholefoods – minus any refined sugar, gluten or cows dairy, I pick up more & more inspiration on how to use these beautiful foods, how to make them pop, how to make them extra-nourishing, and more than anything – how to make them absolutely delicious!
My Paleo Creamy Pumpkin Pasta is not only a beautiful, nourishing, winter favourite of mine – it also tastes JUST as good as any creamy pasta made with dairy cream.
The dish is made nearly entirely out of veggies & herbs (with the exception of the 3 C's – coconut, cashews & chicken, each bringing their own nutritional goodness to the table) & is such a beautiful example of some of the nourishing dishes that we can make using purely wholefoods.
Some notes before we get started:
The pumpkin has been chopped up with seeds & all
The pasta has been made from zucchini's with our spiraliser (if you don't have a spiraliser please invest in one – they are around $30-$40 & they are worth every penny!!)
The creamy sauce has easily been made by throwing all of the sauce ingredients into our vitamix!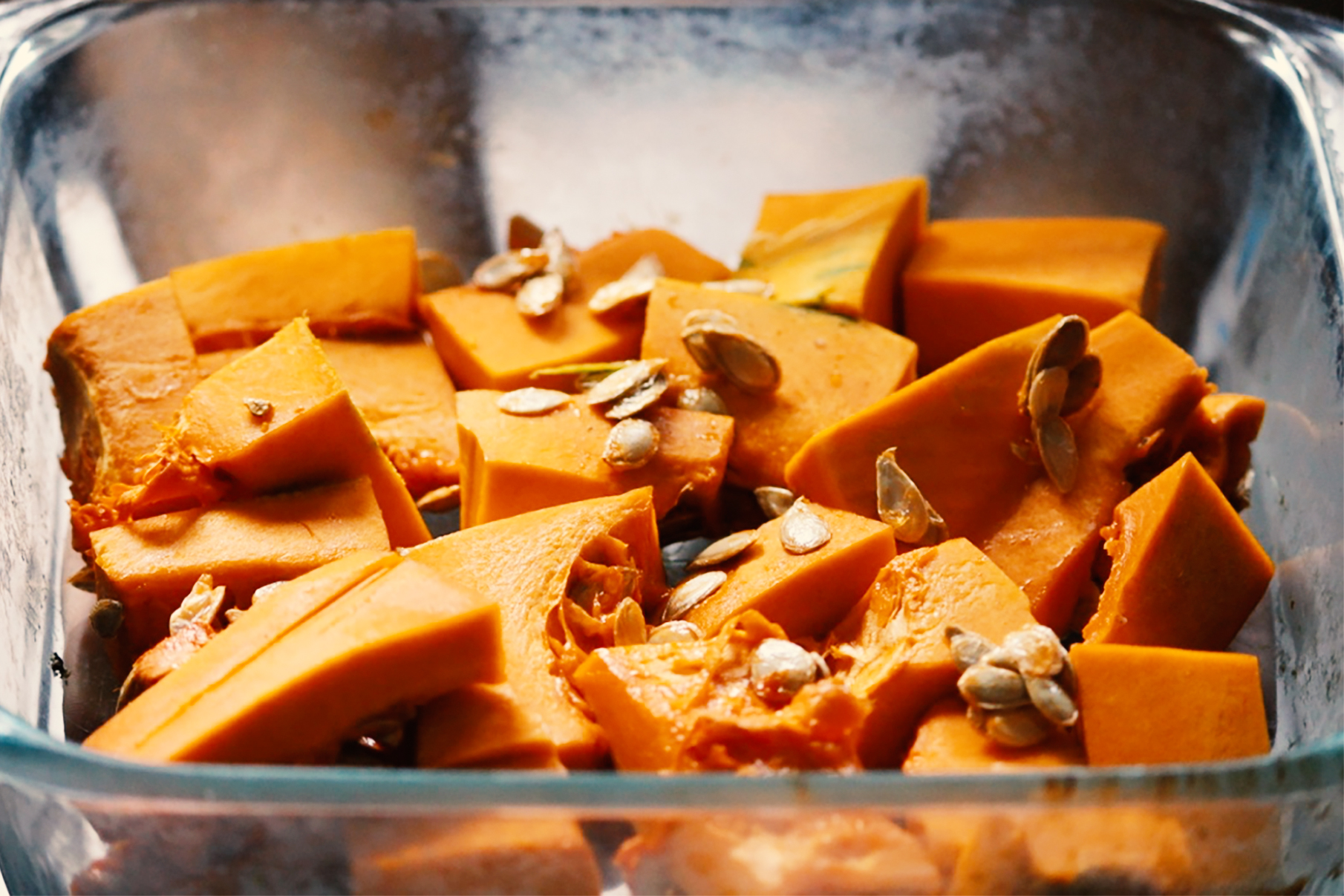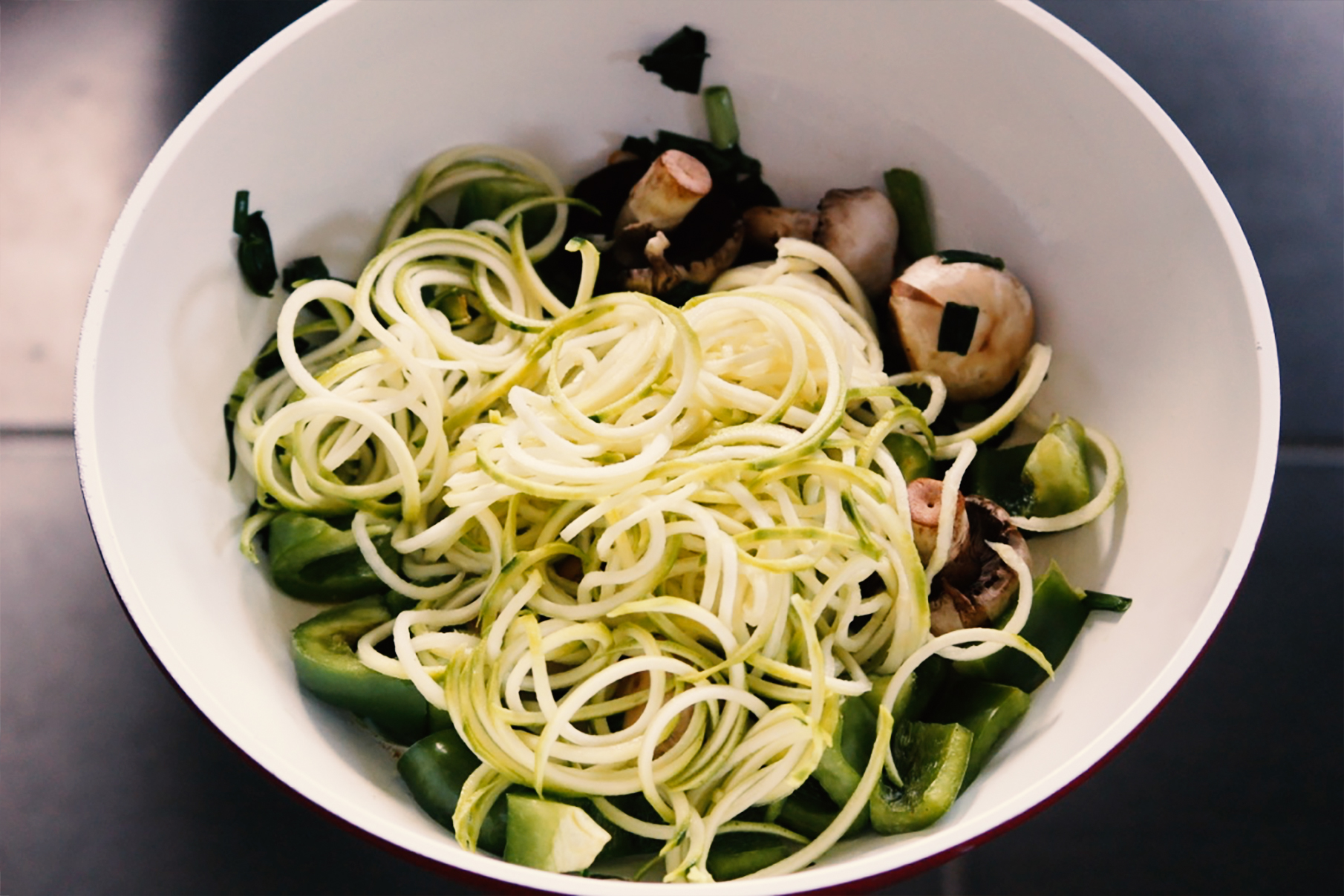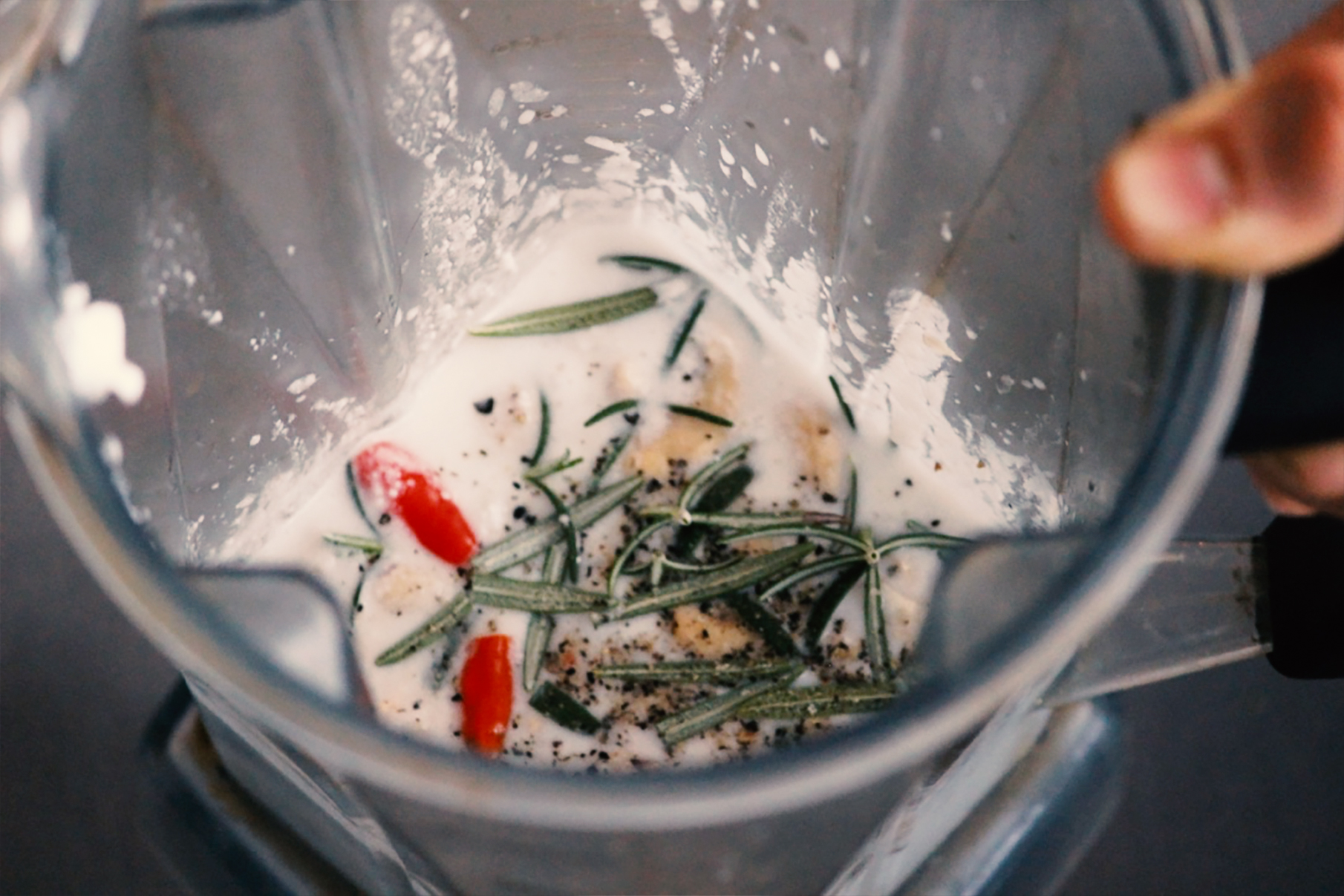 On to the recipe…
Paleo Creamy Pumpkin Pasta
– Serves 2 with leftovers for lunch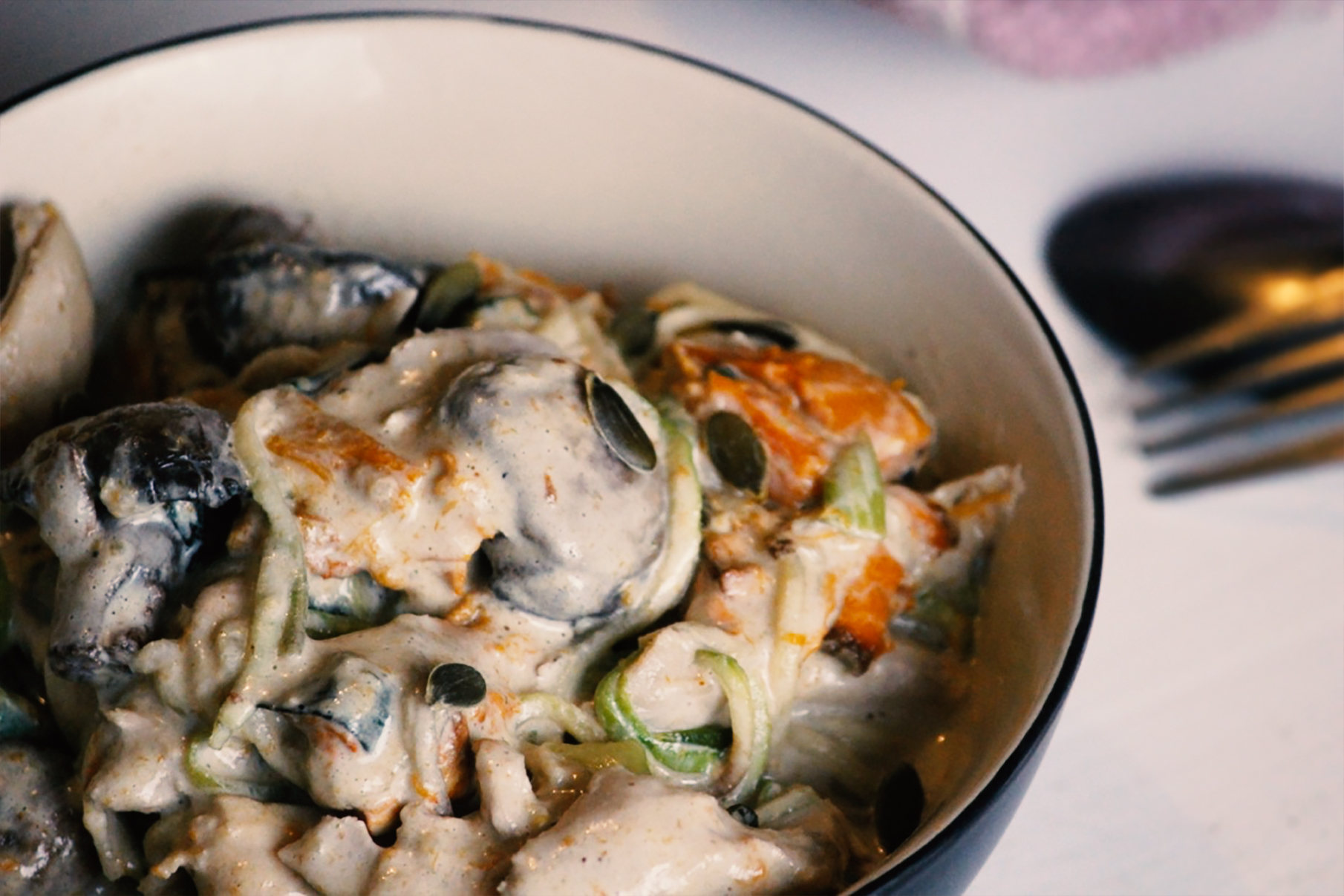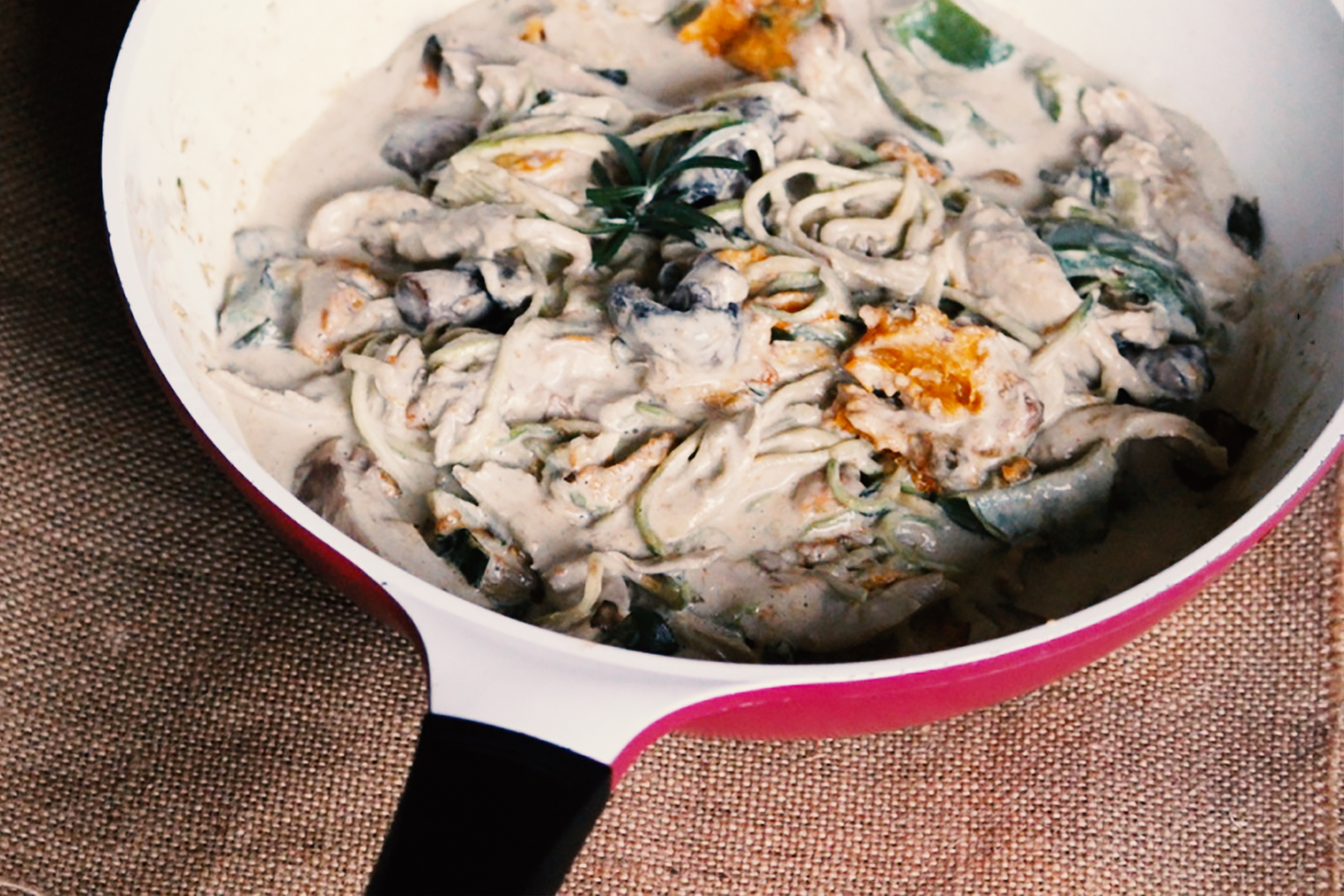 Ingredients 
Pasta
1 x large zucchini (or 2 small ones)
Cream Sauce
1 x 400gm can of coconut cream
2 x small red chilies
1/2 cup cashews soaked overnight in water
1 large garlic clove
Small handful of fresh rosemary
4 good twists of himalayan pink salt
8 good twists of peppercorns
Everything Else
3 spring onions – chopped up
1 large garlic clove, minced
2 1/2 cups pumpkin, diced
2 cups mushrooms, leave whole
1 cup capsicum, diced (red or green)
2 chicken breasts, diced (or just use leftover Roast Chicken)
1 cup (packed in) of baby spinach
1/4 cup pumpkin seeds
1 tsp. coconut oil for cooking
Olive Oil for drizzling
Method

Preheat oven to 180C and roast pumpkin for 25 minutes.
Whilst pumpkin is roasting, peel your zucchini & spiralise it using a spiralising tool (we use the Baccarat Pete Evans Spiraliser).
Place a pan on medium heat & add coconut oil.
Sauté spring onion & garlic for a few minutes & then add diced chicken.
Cook until chicken is just undercooked & add mushrooms, capsicum & zucchini pasta.
Leave to cook a little longer whilst you make the sauce.
Put all ingredients for your sauce into a highspeed blender (we use our vitamix) and blend on high until smooth & creamy.
Remove roast pumpkin from oven and add to the pan with your pasta.
Add Sauce & baby spinach to pan.
Toss all ingredients so everything is nicely covered with the sauce and leave to cook for a few more minutes so your sauce heats up & your spinach wilts.
Lastly – add pumpkin seeds & toss again.
Serve up in beautiful bowls and drizzle olive oil over the top.
Enjoy your pasta!
Of course, any questions at all – please let me know – & if you come up with any beautiful alternatives I would love to hear about it in the comments below!
C xxx