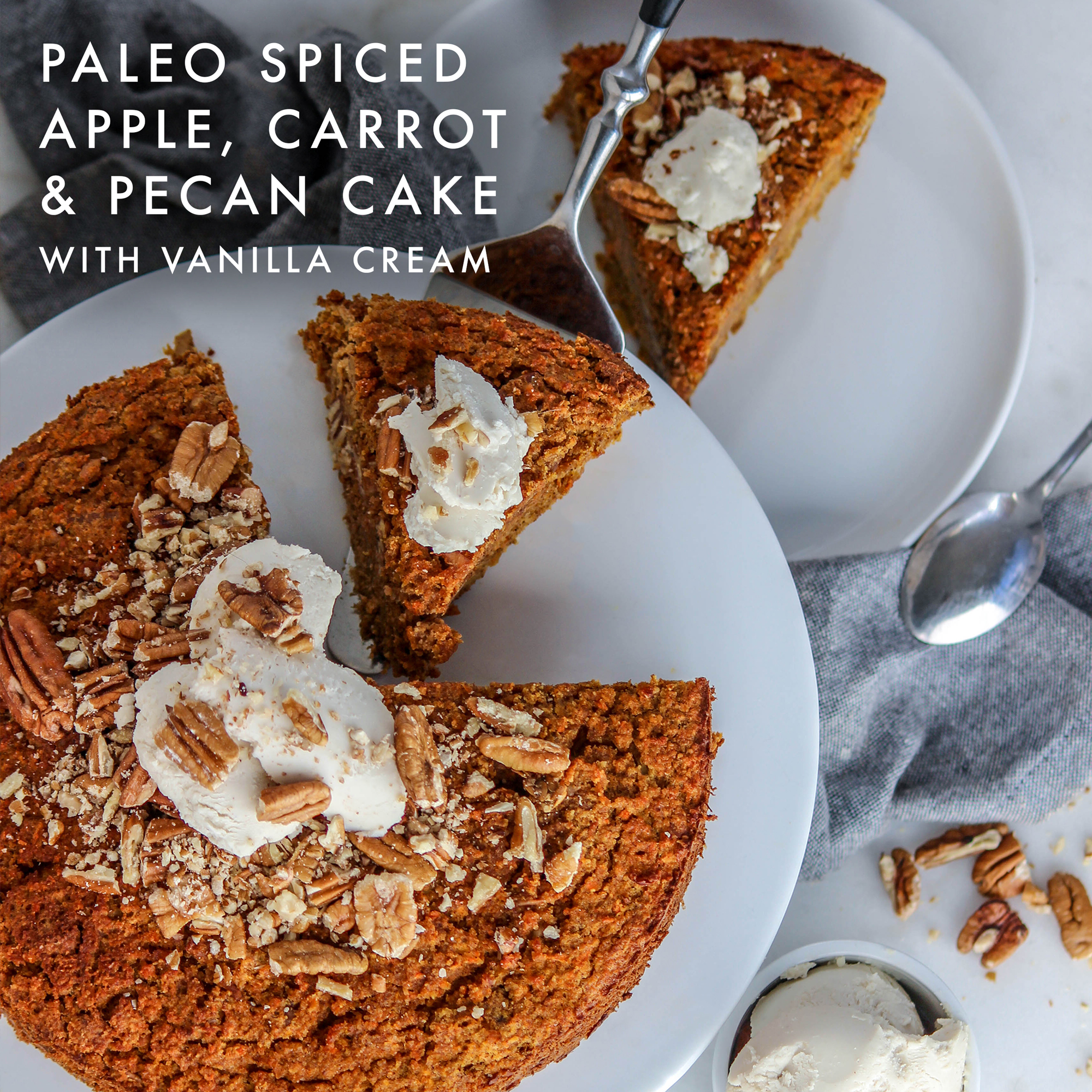 Paleo Spiced Apple, Carrot & Pecan Cake with Vanilla Cream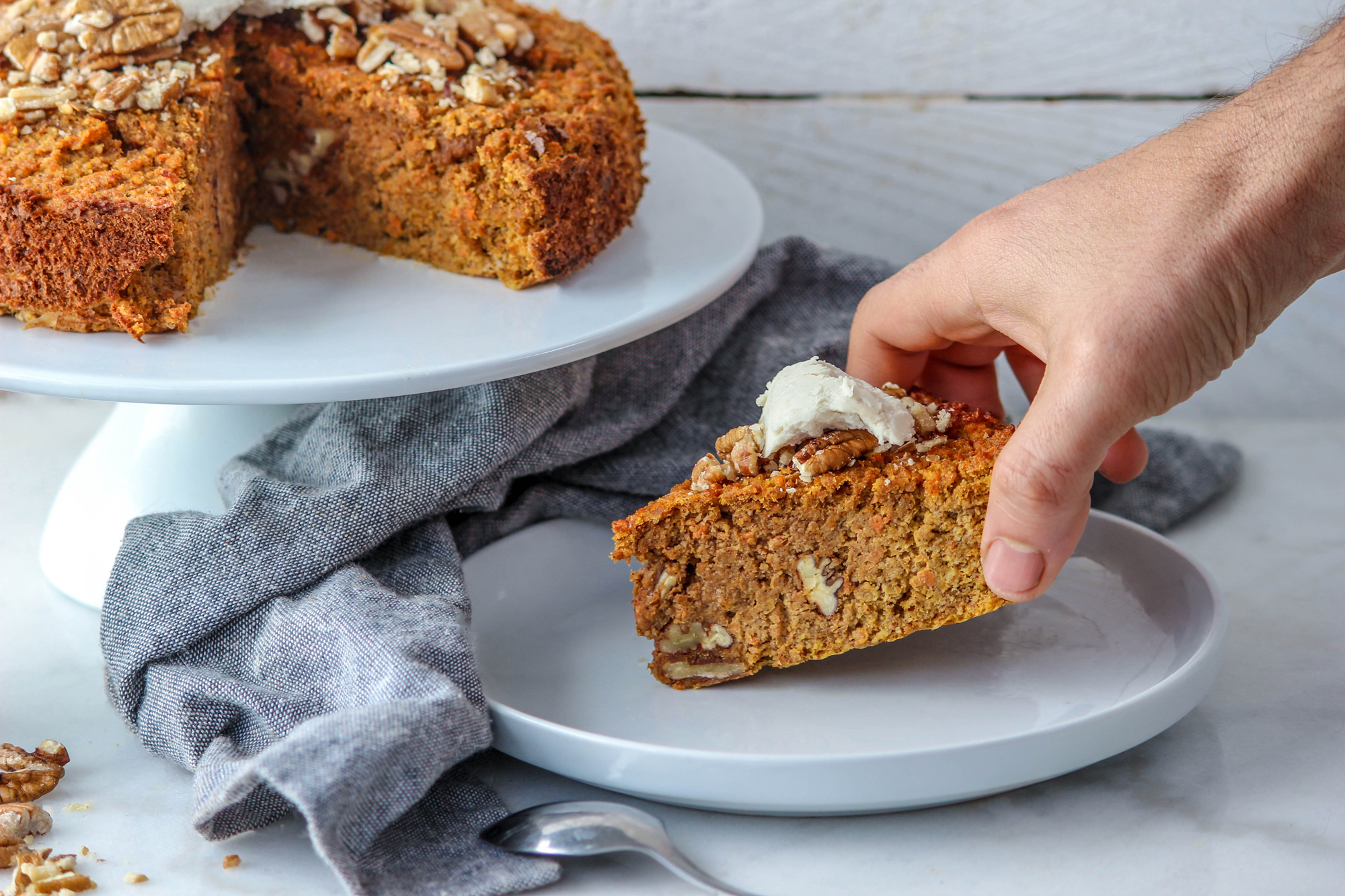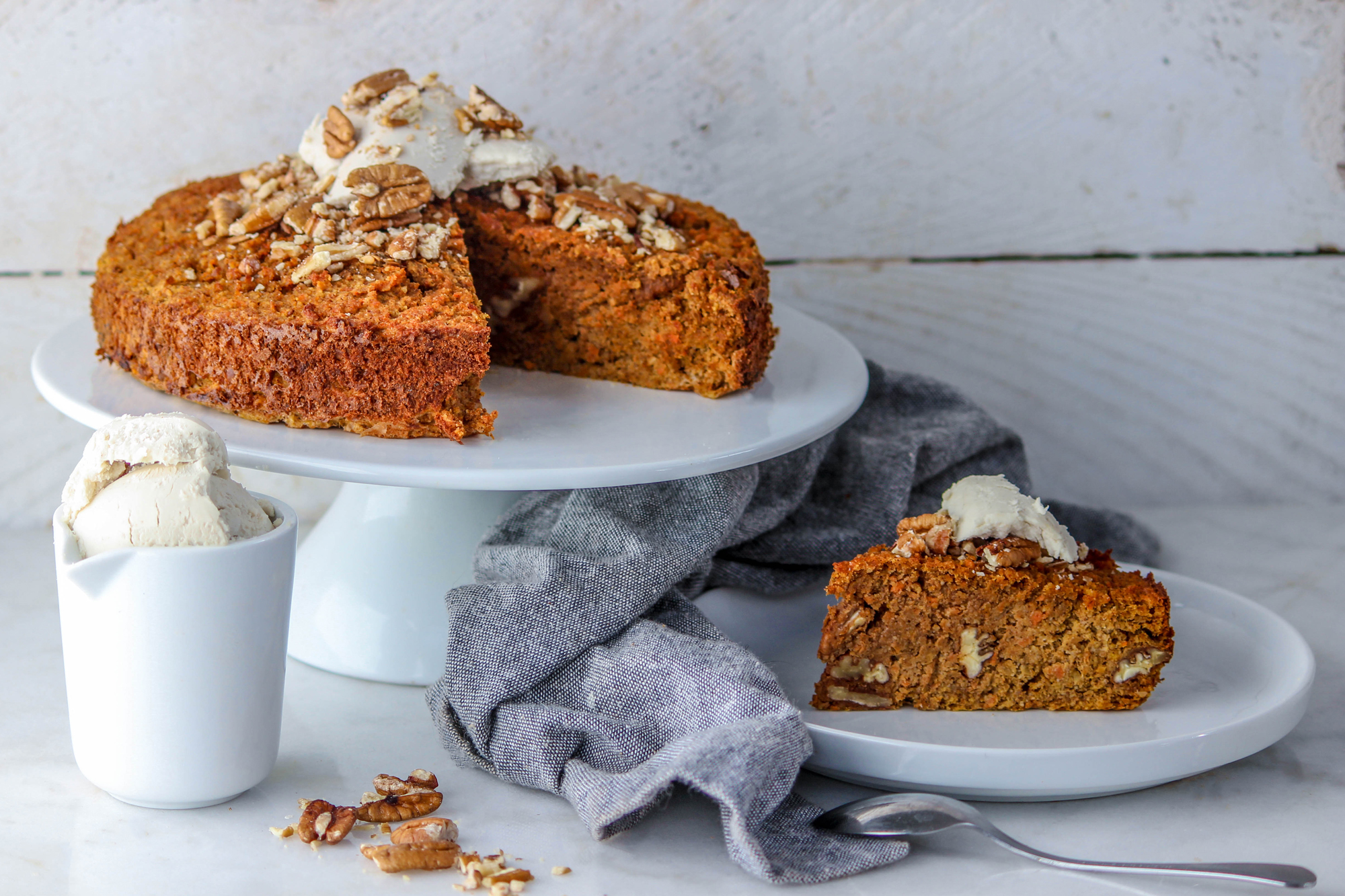 Winter is officially here! Which in our house means a whole lot of hot baths with epsom salts… herbal teas, warm broths & soups daily… a whole bunch of broccoli, leafy greens & carrots growing in the garden…. oh & some damn delicious + nourishing cake!
And our spiced Apple, Carrot & Pecan cake is one of our favourites in the cooler weather!
This cake tastes amazing but it's at its most delicious when it's still warm… + it's loaded with a whole heap of nourishment!
Check out the main ingredients:
Carrots: Carrots are a great source of carotenoids, phenols & vitamins C. They help to reduce inflammation, improve immune system function & help protect the eyes from cataracts.
Apples: Apples are packed with phytonutrients, including quercetin, kaempferol & anthocyanins (if they're red!) They're an excellent source of fibre, especially pectin & help to promote a healthy gut, support your good gut bugs & may even help to fight colon cancer.
Pecans: Pecans are a great source of healthy fats as well as important nutrients like manganese, zinc & thiamine. They help reduce inflammation, assist in the detox process & boost brain health.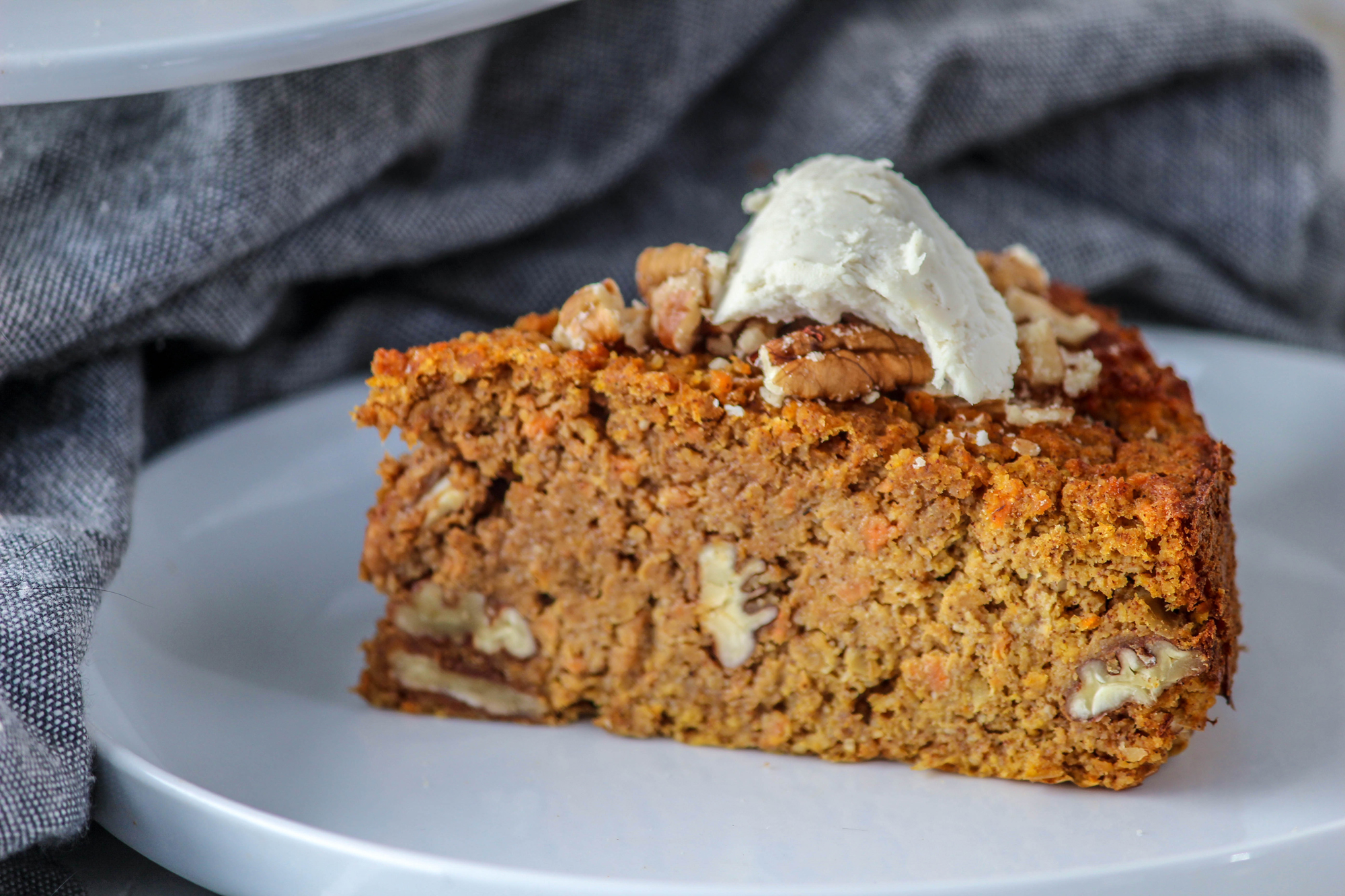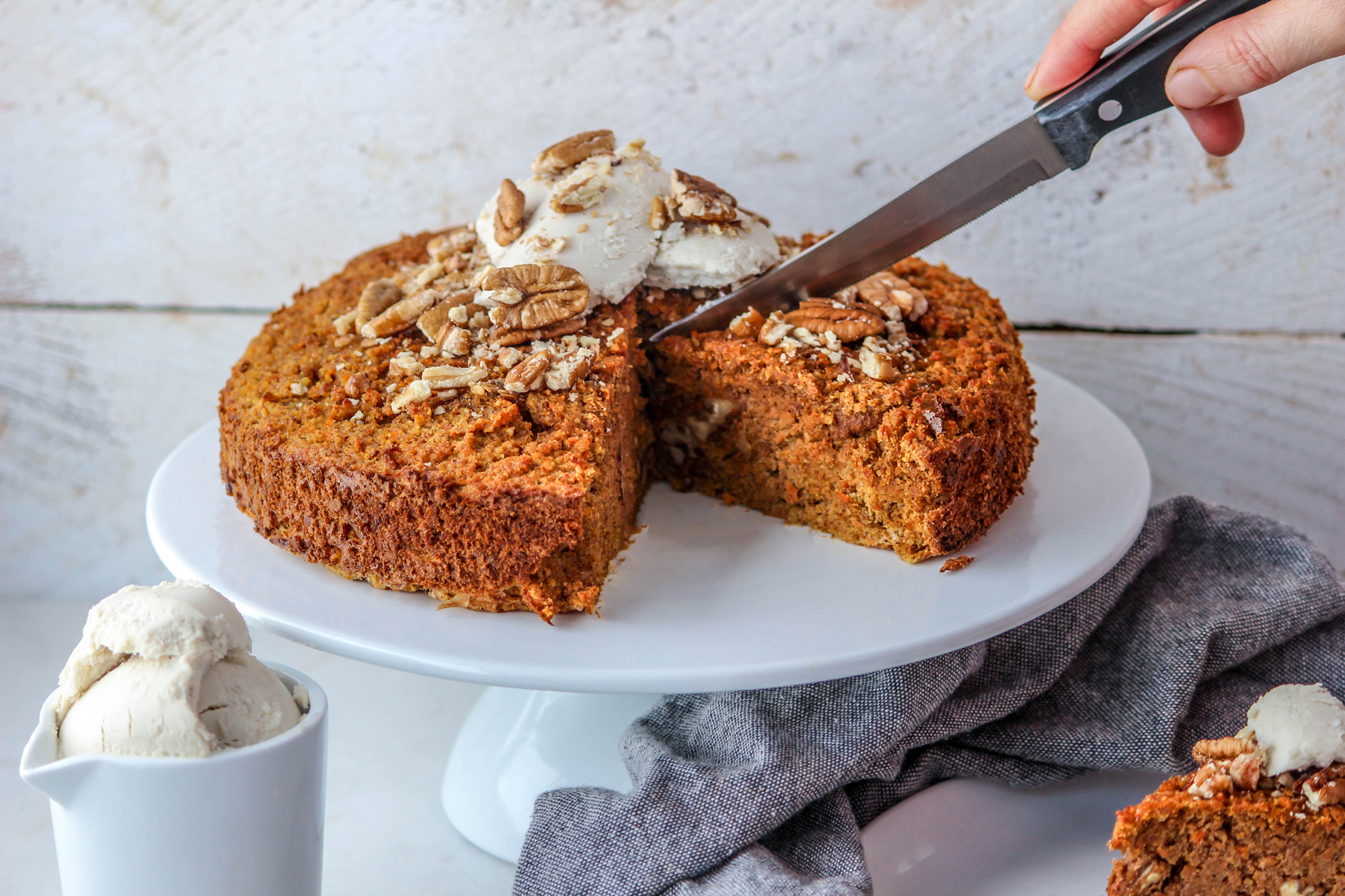 Alright so let's go over a few notes:
1. When processing the wet ingredients in a food processor, if it's still a little chunky from the carrot & apple, that's fine! Just make sure everything is well combined
2. I prefer to leave the pecans as whole pecans (i.e I don't chop them up).
3. Once you've blended up the ingredients for the cream, pour it into a shallow dish as this will help it set a wholeeee heap faster!! (Seriously – this has saved me hours!)
4. The vanilla cream makes this cake go from awesome to AWESOME so pleassssse make it… but just a heads up – it will start to melt a little when served on top of the warm cake (because it's coconut!). It still tastes INCREDIBLE though!
5. One last note before we start… ENJOY THE CAKE! 🙂 🙂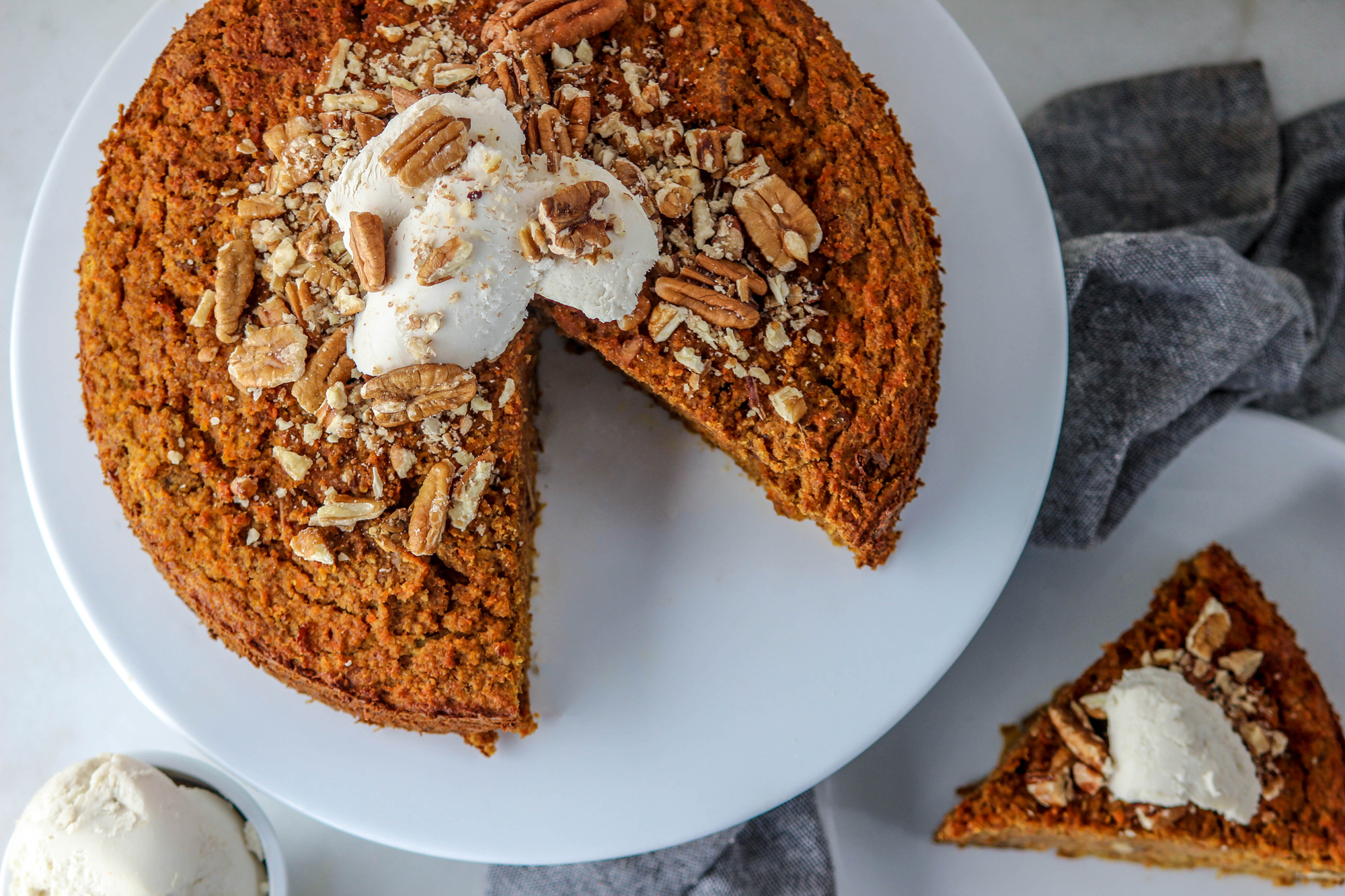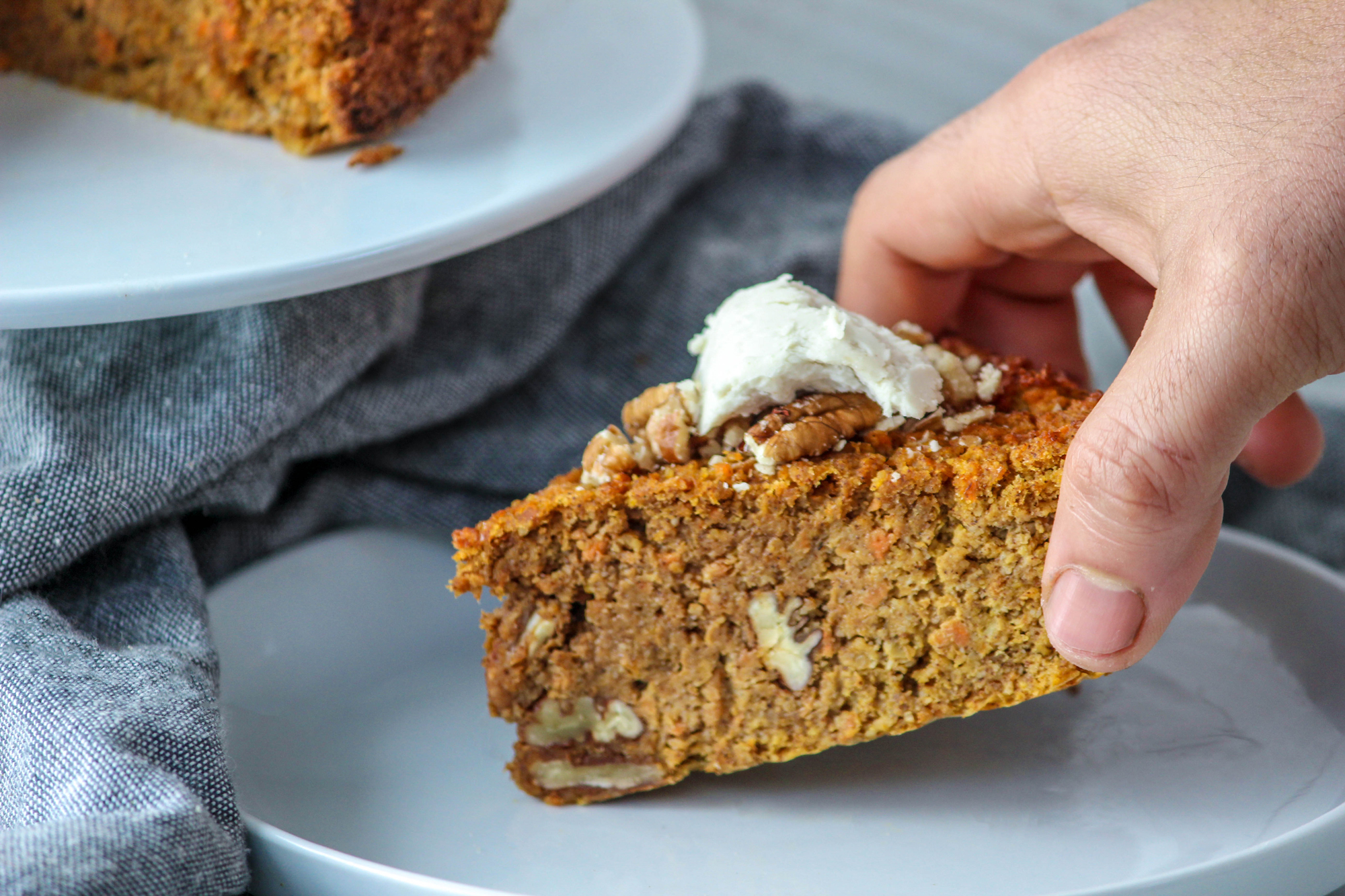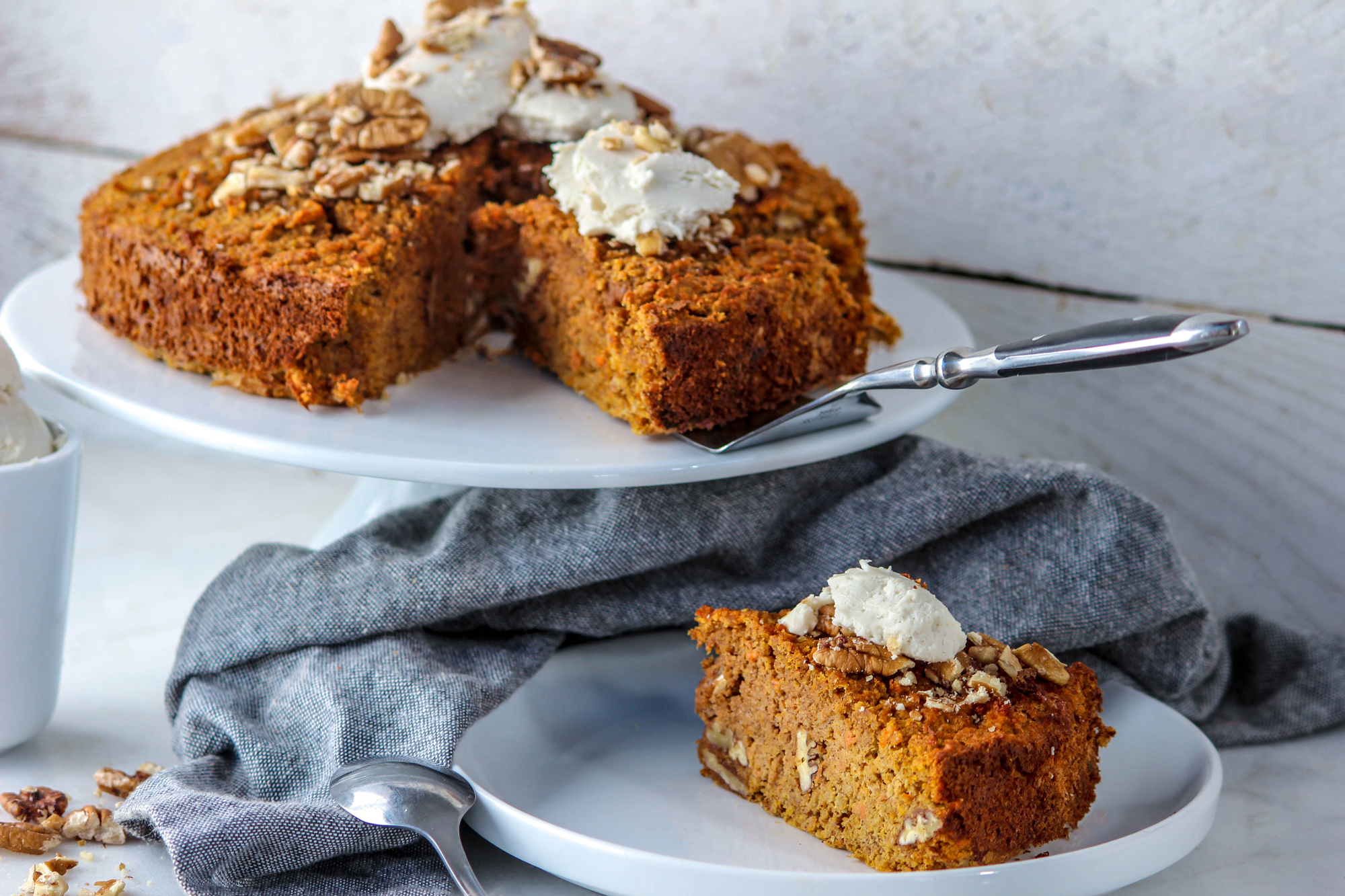 INGREDIENTS
WET INGREDIENTS:
1 ½ cups of grated apple
1 ½ cups of grated carrot
¼ cup of coconut oil
4 eggs, separated + 1/2 tsp baking powder
3 tbsp raw honey
DRY INGREDIENTS:
2 tsp baking powder
2 cups almond meal
½ cup arrowroot
1 cup pecans (+ more for decoration if desired)
2 tbsp cinnamon
1 tbsp ginger
1 tsp nutmeg
VANILLA CREAM:
½ cup cashews
1 cup coconut cream
¼ cup coconut oil
1 tbsp raw honey
1 tsp vanilla extract
METHOD
Preheat oven to 175C & line a loose base cake pan with baking paper or alternatively grease well with coconut oil.
Place egg whites & 1/2 tsp baking powder in an electric mixer with whisk attachment & whisk on high until firm peaks appear (you should be able to place the bowl upside down over your head without the egg whites moving!)
Whilst your egg whites are forming into peaks, it's time to get everything else ready.
In a big bowl, combine all dry ingredients (pecans, almond flour, arrowroot, baking powder & spices).
Next, place wet ingredients (apple, carrot, coconut oil, egg yokes, raw honey) into a food processor & process until smooth. (As mentioned, if it's still a little chunky from the carrot & apple, that is fine – just make sure everything is well combined!)
By now, your egg whites should be formed into peaks. This means it's go time! (If you leave them too long they can start to seperate)
Mix the wet ingredients into the dry ingredients, & then fold through the egg whites.
Be careful when folding the egg whites through the mixture because if you go too hard you can knock out the air.
Spoon out cake batter into prepared cake tin & bake for 55 minutes.
Now it's time to get your cream ready!
VANILLA CREAM:
Place all ingredients into a high speed blender & blend until smooth.
Place into a shallow bowl/dish & refrigerate until set!
Once cake is ready, leave to cool for a little bit (this will also help the cake to firm up) & then serve with vanilla cream. Garnish with extra pecans if desired.
Put the kettle on, grab one of your favourite herbal teas & enjoy! xo