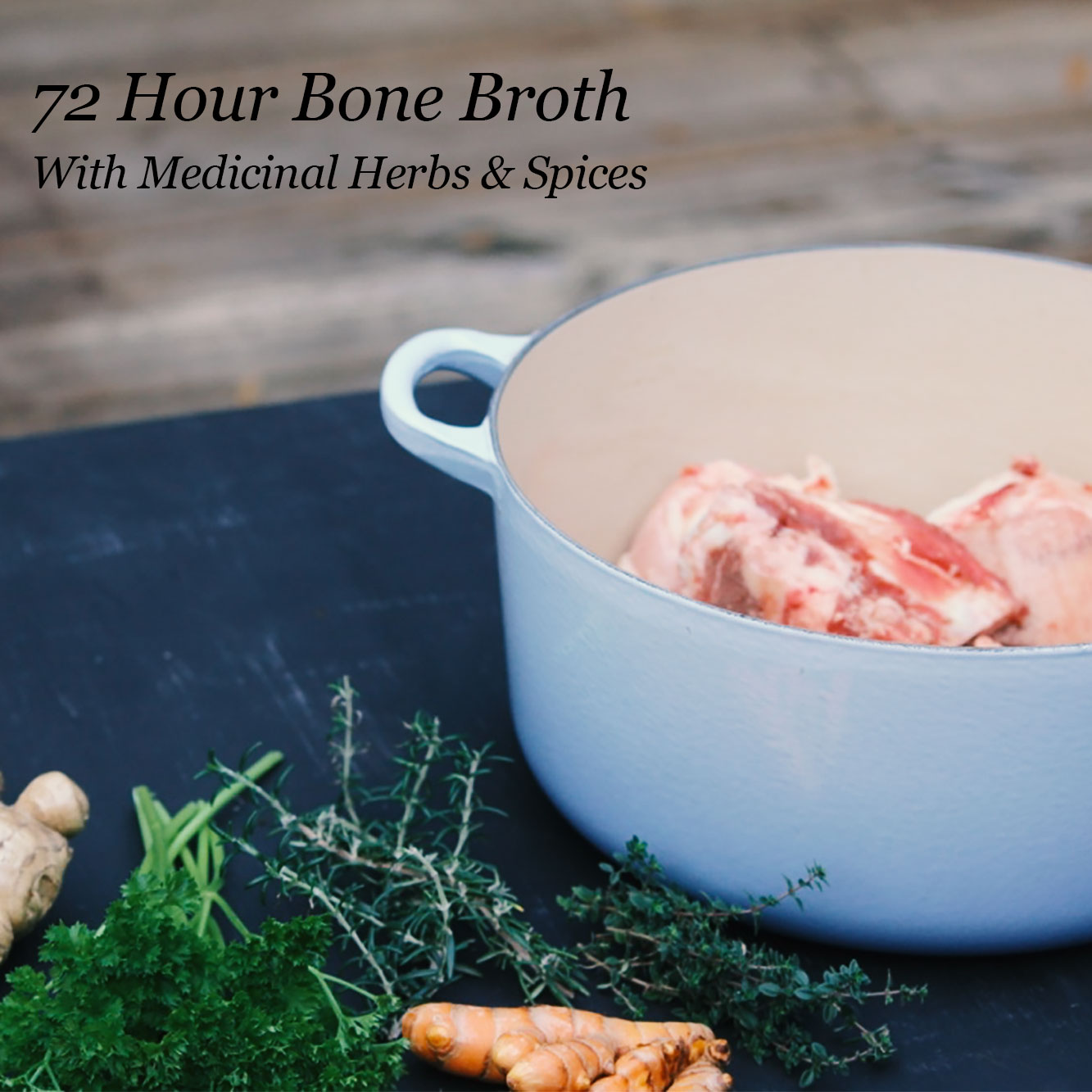 72 Hour Bone Broth with Medicinal Herbs & Spices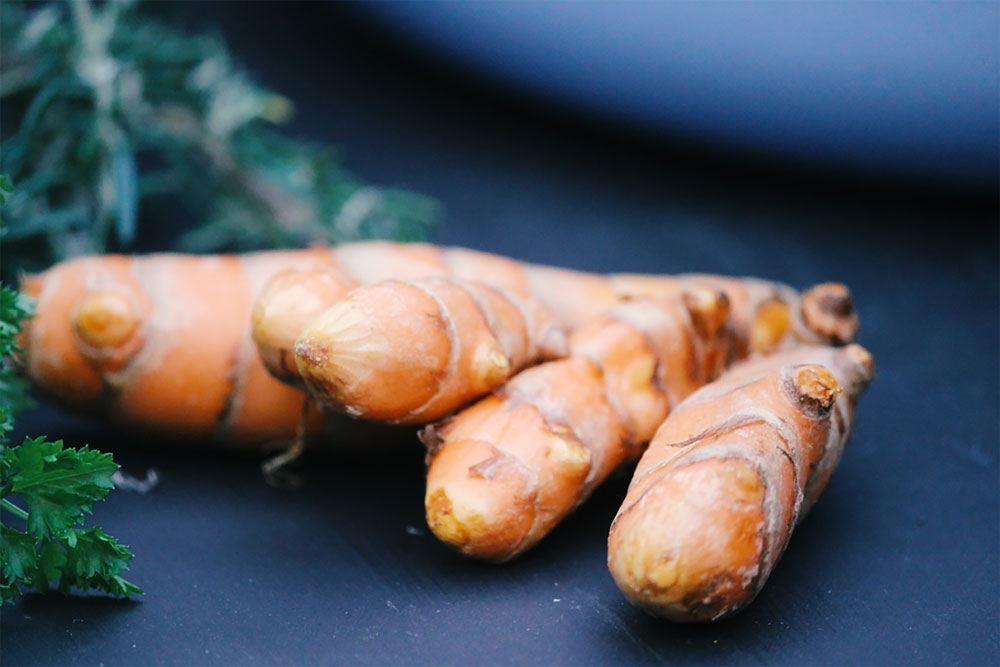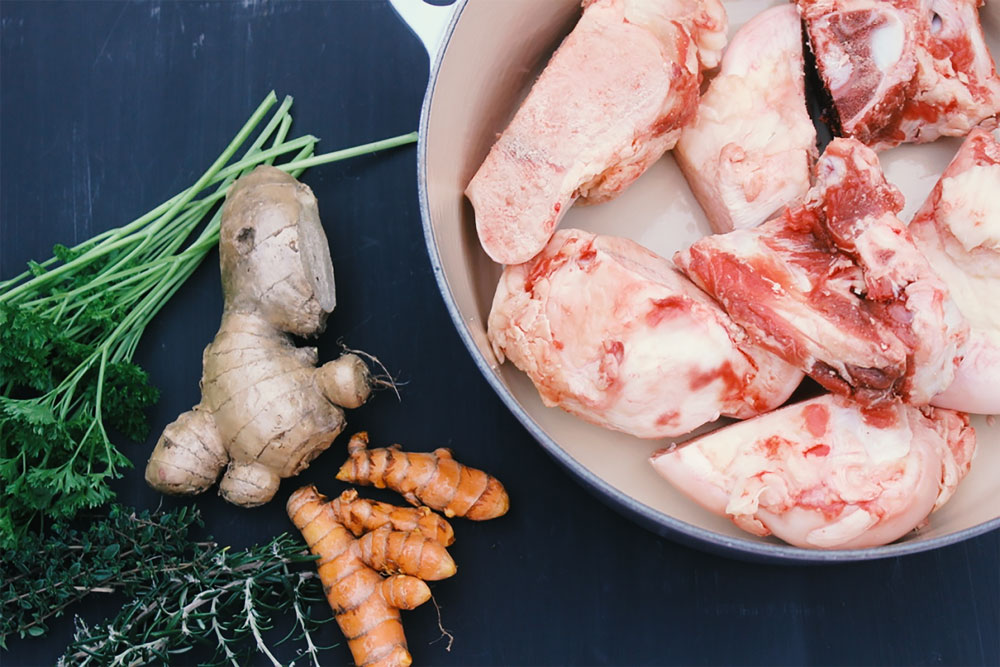 Ever been on a holiday where you start to miss the little things from back home every now & then?
And even though you don't want to admit it, a part of you is just that little bit excited to come back?
Maybe it's the comfort of your warm & cosy bed… maybe it's the shower head that gives you perfect water pressure… Or maybe… just maybe… it's the 72 hour bone broth that you're used to preparing every week so you never have to go without 😉
Yeah…that's me – I seriously hate leaving the bone broth at home!
A batch gets cooked up in our household weekly so not only can we have a cup every morning with our brekky – we can also use it in our soups, curries, pizza basses, and even in our beautiful dog's food!
We LOVE Bone Broth
Put Simply…
Bone Broth is a nutritious & healing broth essentially made from simmering bones in a pot of water for a long period of time – as a result, the minerals are drawn out from the bones and into the broth, ready for us to consume all of it's goodness!
How much goodness?
I was lucky enough to watch a lecture from Mark Sission explaining why including bones in our diet is crucial for good health.
Bones contain certain nutrients that we just don't get from any other foods.
Bones – & a well made bone broth – contain awesome nutrients & minerals such as bone marrow, calcium, chondroitin sulfate, collagen, gelatin, glycine, hyaluronic acid, magnesium, phosphorus, potassium, proline, sodium, & sulfur.
Bone broth is said to be one of the most healing broths in the world.
So what can it do for you?
Bone broth can help a number of different conditions including:
+Digestive disorders
+Hormone imbalances
+Weak nails
+Brittle hair
+Arthritis
+Stress
+Inflammation
+Infertility
But wait… there's more!
You know how much I love saying that right? :p
As well as the amazing benefits you will get from the bones themselves, we also love to add in a handful of medicinal herbs and spices from our homegrown supercharged edible patches to give it that extra kick – nutrition & taste wise!
The herbs & spices we love using…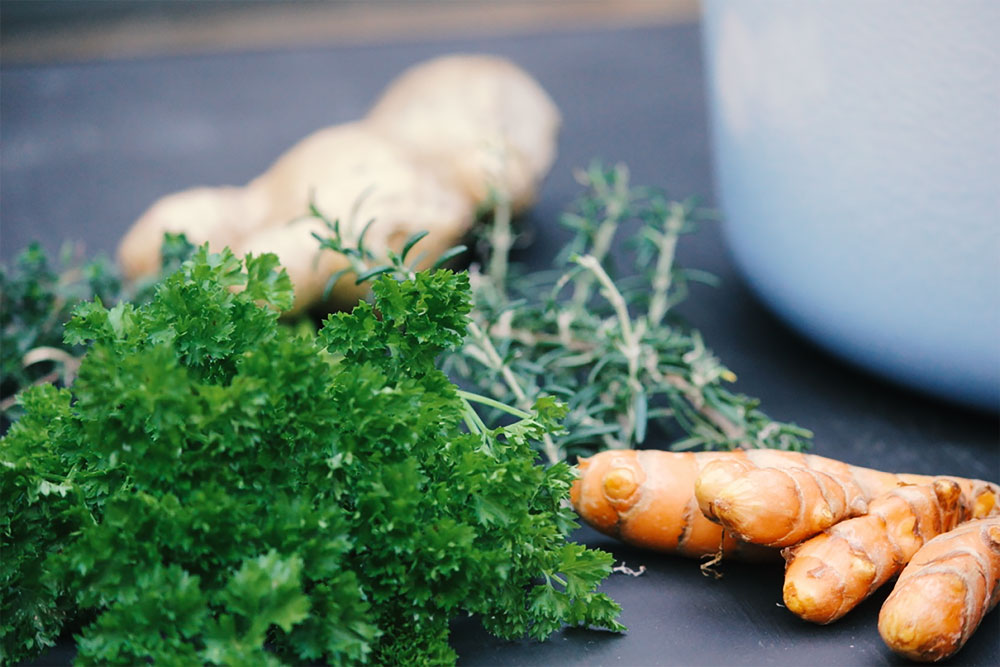 Ginger Root
Benefits: Warms your body, relaxes your intestines & soothes nausea. It strengthens your digestion & has anti oxidant & anti inflammatory properties. It can also reduce colon cancers by 50%
When to grow: Ginger loves warm weather, so if you're in a temperate zone such as us (Melbourne!) try growing it indoors in pots! Works like a charm!
Turmeric Root
Benefits: Prevents inflammation in your gut lining & is an incredible anti oxidant helping protect from free radicals. It can help your liver with the detox phases as well as lower oestrogen in your body!
When to grow: Very similar to ginger, turmeric needs warm weather! If you are in a temperate zone – make sure to grow indoors or in a greenhouse!
Parsley:
Health Benefits: Acts as a cleanser for the body & boosts the immune system.
When to grow: In temperate climates Parsley can be grown all year round – just give him good soil!
Rosemary:
Health Benefits: Protects the liver from damage while helping it to detoxify & contains potent antioxidant, anti-inflammatory & anticancer substances. Is also great for circulation.
When to grow: Rosemary is such a hardy herb – Plant him in good soil all year round!
Thyme: 
Health Benefits: Contains anti oxidants that promote brain & major organ health. Also helps to maintain a healthy gut + contains Omega 3 fatty acids.
When to grow:  Thyme likes a sunny position but thrives in most months in a temperate climate – you can plant him all year round too 😉
How awesome is that?
But the best bit… it's SUPER easy to make!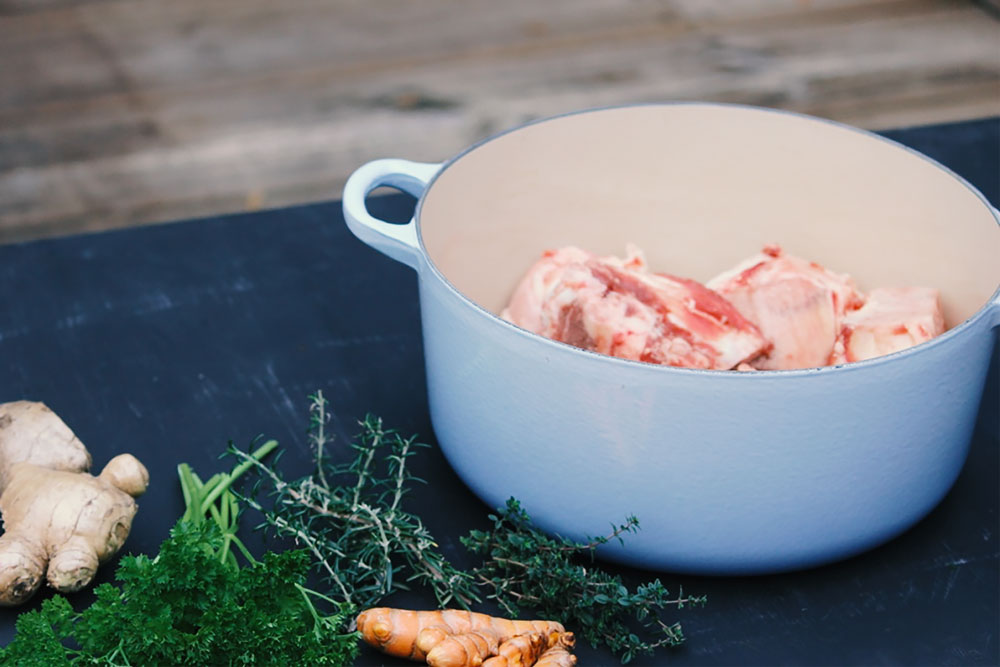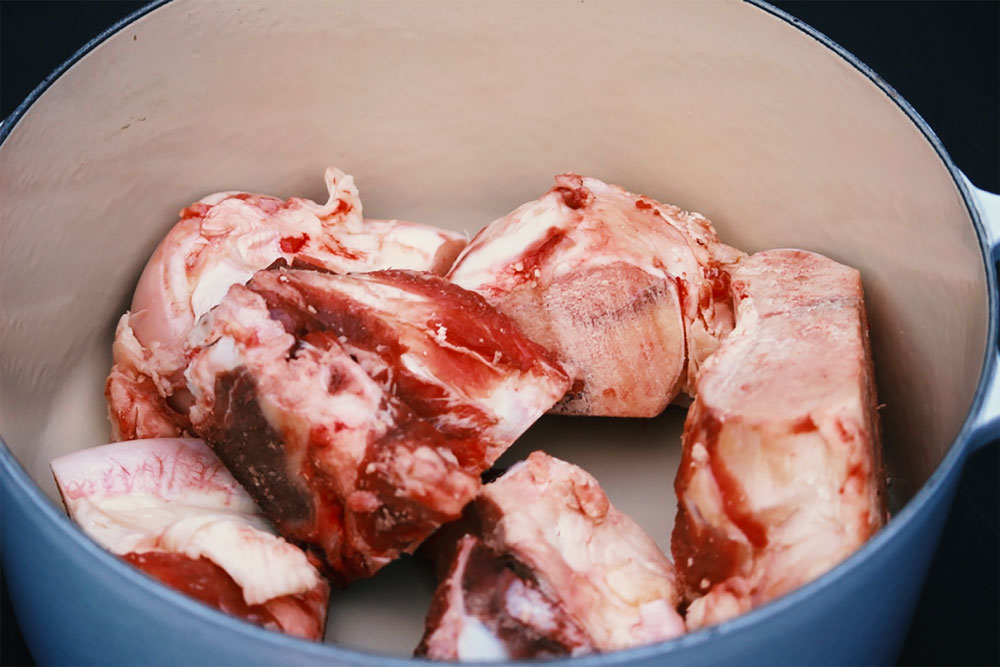 Ingredients:
1.5 kg Certified Organic Bones (Chicken carcass, beef bones etc.)
1/2 cup Apple Cider Vinegar
Filtered Water
Herbs & Spices 
1 large knob Turmeric Root, skin removed (peeled)
1 large knob Ginger Root, skin removed (peeled)
Handful of Rosemary
Handful of Thyme
Small bunch of Parsley
Method:
Place bones into a large pot & cover with cold filtered water until the water is just covering the bones.
Add 1/2 cup of Apple Cider Vinegar and allow to sit for 45 minutes. The vinegar helps to extract the minerals from the bones.
After 45 minutes, add the herbs & spices, but DO NOT add salt as this can stop the extraction of minerals. You can now also add more water if the pot is quite large.
Bring to the boil, & then simmer on a low heat for a maximum of 72 hours
When the time is up, remove the bones with a set of tongs (they will most likely be all soft and yuck looking) & then strain into a container.
Leave to cool & then refrigerate for up to a week, or pop it in the freezer for up to 6 months.
*You will notice that once the broth has cooled down there will be a layer of yellow fat on the top. This fat is called Tallow (pictured below) & it is a great fat to cook with at high heats. Use it like you would oil or butter – but remember that it has a slightly meaty tasted to it so don't use it in deserts!!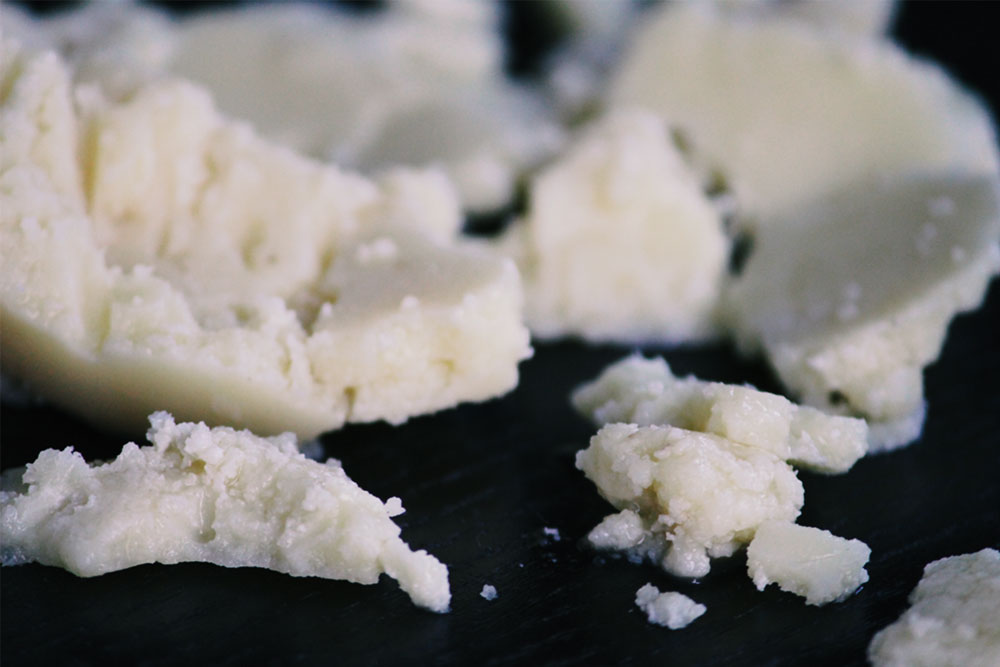 Tips before you start:
+We use the chicken carcus & bones from the left over roast, & buy our beef bones from the organic butcher for $5.00 per kg.
+Make sure you don't fill the pot to the brim with water, as it will explode all over your stovetop when you bring it to the boil!
+Don't want to wait 72 hours? The minimum simmer time is 8 hours, however keep in mind that the longer it simmers for, the more nutrition & flavour it will have!
Enjoy my lovelies!
And please! Any Q's lemme know!
Also, if you find another way to include bone broth into your diet other then the ways I have mentioned above let us know in the comments below 😉
C x