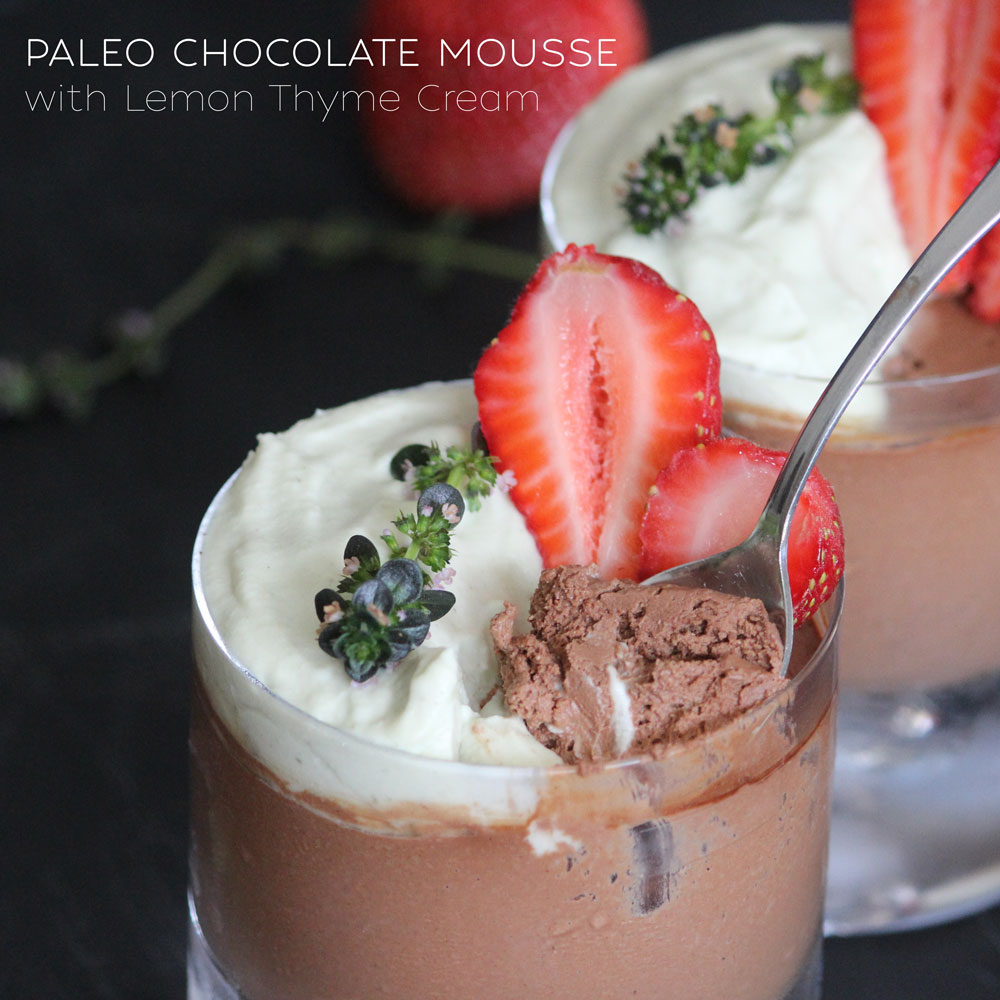 Paleo Chocolate Mousse with Lemon Thyme Cream – A Simple Christmas Recipe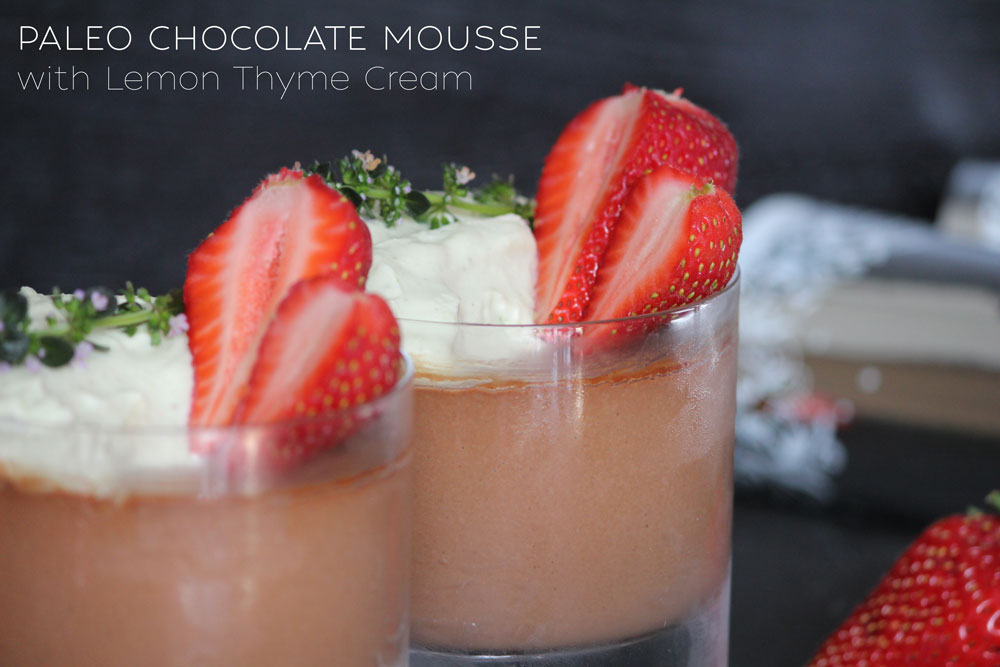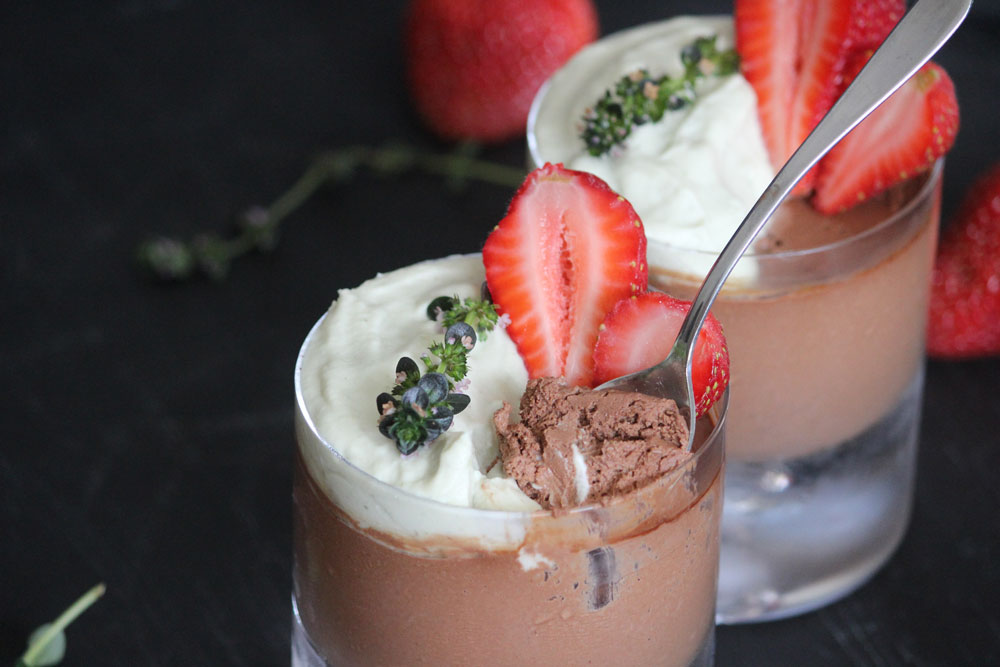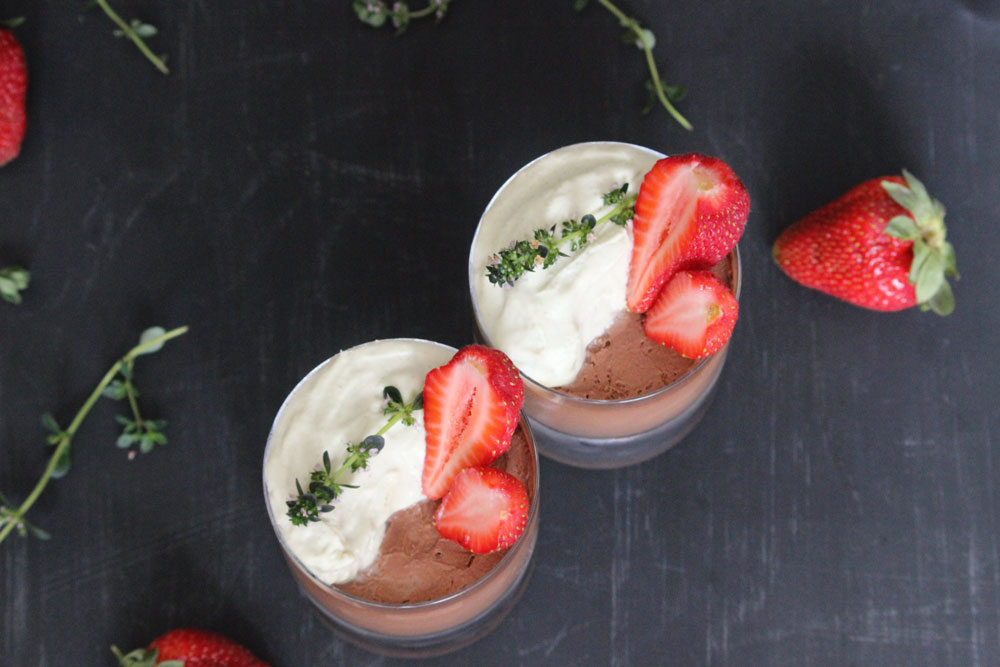 Chocolate Mousse… is there actually a better Christmas dessert? Not a chance if you ask me!
However… this year is actually the first year we're going to have it since embarking on our health journey & switching to a gluten free, sugar free, grain free, Organic diet… better known as Paleo :p
Why did I wait so long to make it?
Well truth be told… I actually did make it a few times using a few different "avocado choc mousse" recipes I found… but I hated them!
Probably like yourself – I don't like bland tasting food… or food that doesn't taste like the traditional version (AKA… full of "crap" version) of that particular dish.
So that's why we didn't have it.
BUT…
This year we are having the fam over for Christmas at our house… so I thought… why not come up with an awesome recipe myself?
I got to work… & Holy Sweet Potato – did I hit the Mousse pot! It tastes A-MAY-ZING!
…But I will say this – if you're not planning on using the hydrolyzed collagen in the cream (you'll know what I'm talking about when you get into the ingredients list) it WILL NOT be as firm.
…Which is funny considering Gelatin – not Collagen – is the one that's meant to make it set (or 'gel"), but I added Collagen just because Anth & I love it so much (health benefits are coming!).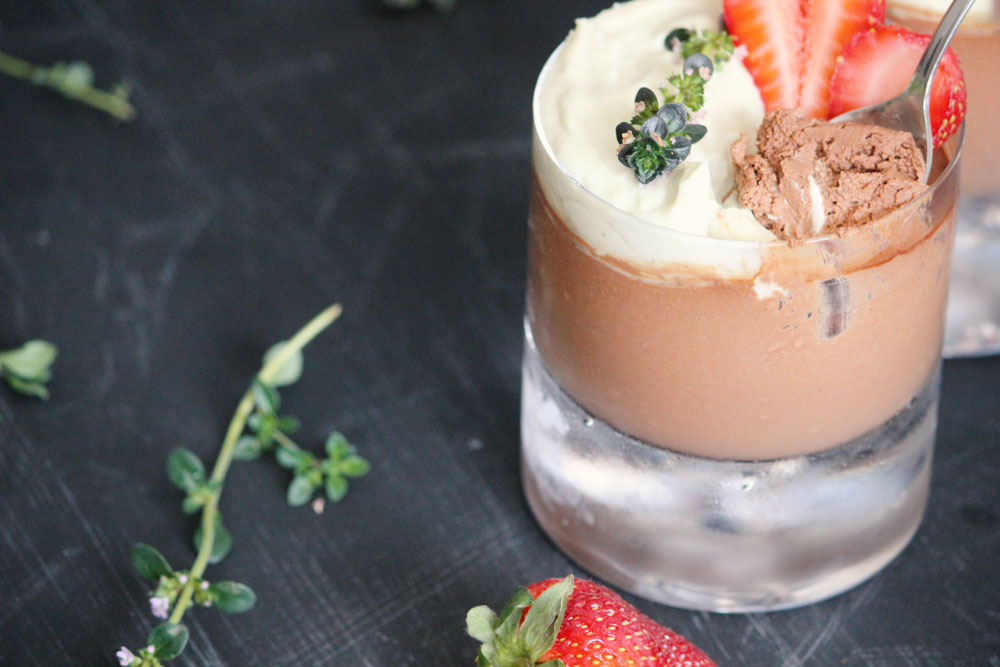 When I was making a vegan friendly version for my sister, it was a bit runnier. So add the collagen, it's better for you & the cream!
And speaking of awesome ingredients like collagen… before we get into the recipe… I just want to give you a run down of what is AMAZING about this mousse… apart from the taste 😉
Awesome Ingredients
Hydrolyzed Collagen – This is one of our favourite supplements. Gelatin has a tonne of buzz around it these days but it's cousin Collagen (which is actually made from Gelatin) is one of the largest & most important proteins in our body & Hydrolysed Collagen goes through a process that makes it incredibly bioavailable – meaning that it's much easier for your body to absorb & utilise. Collagen makes up our skin, hair, nails, organs including the heart, lungs & arteries just to name a few! Once we turn 25 our bodies start to slow down collagen production – & left unchecked this can lead to things like saggy skin, weakened muscles & arthritis (Although Hydrolysed Collagen is often used to treat these conditions once they occur). Basically everyone should be supplementing with Hydrolysed Collagen!  We use Great Lakes Hyrolyzed Collagen which you can purchase from iHerb.
Cacao – Raw Organic Cacao is a total godsend. Not only is it pumping with magnesium & iron… it's absolutely choc full of phytonutrients, antioxidants & fibre. It helps treat anaemia, maintain healthy nerve function, regular digestion & bowel movements & it even contains neurotransmitters that can improve your mood!
Coconut Cream – Coconut – in almost all its forms – should be a staple in everyones pantry. Not only is Coconut Cream super versatile (we use it in all kinds of sweet & savoury dishes) but it's an amazing source of healthy fats – one being Medium Chain Triglycerides or MCT's. MCT's are a type of fat that get used by the body immediately rather than being stored as fat for later use, so it's a great source of energy for your body & even helps you to burn fat! Coconut is also high in Lauric acid which helps maintain healthy blood flow which is of course incredibly important!
Lemon Thyme – Lemon thyme not only tastes amazing – it's rich in vitamins A + C which are important for vibrant glowing skin, healthy vision & a strong immune system. It's also used to treat coughs & other respiratory tract infections. Plus it's super easy to grow!
ORGANIC Strawberries – Notice how I put Organic in capital letters? That wasn't me playing fast & loose with Caps Lock or anything… it's because conventional strawberries are sprayed with chemical pesticides more than almost any other edible! So if you're going to eat strawberries, grow them yourself OR buy Organic! The strawberries we've used are freshly picked from our healthy patches.
…but back to the health benefits…strawberries help to maintain a healthy nervous system, skin health, vision & bone structure. They also contain a number of anti oxidants & even contain cancer fighting compounds!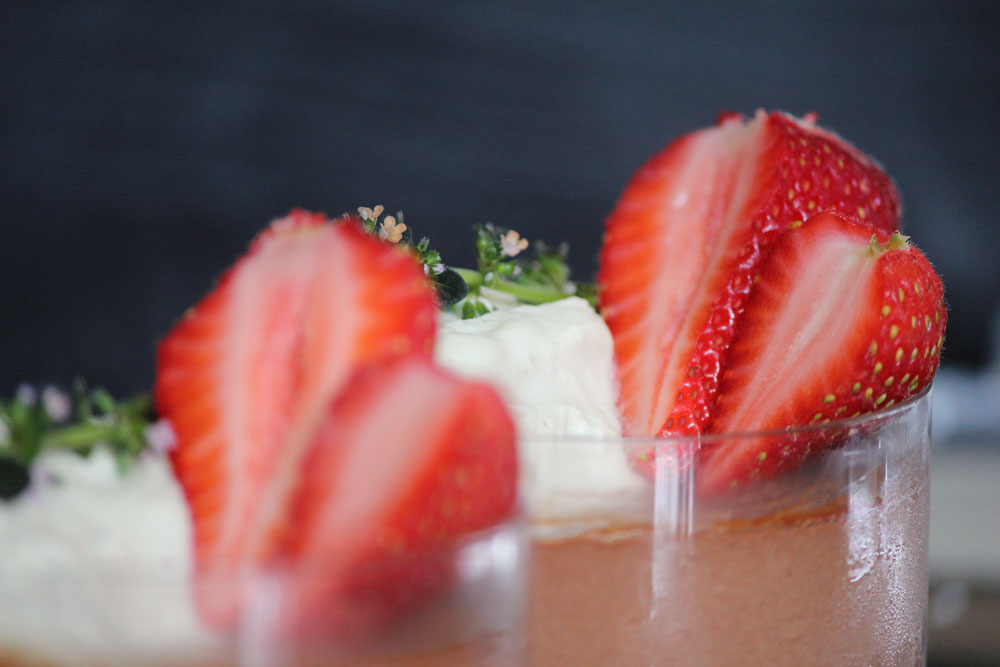 Oh & just a quick note about why I chose to make a Lemon thyme cream – it was because we have SO MUCH of it growing in our garden – bucket loads. But can I tell you – it just tastes out of this world & compliments the choc mousse so well!
But if you don't have any Lemon thyme, you could just make it with the lemon juice – or alternatively… you could use coyo instead (but try & do the cream – it's worth it!!)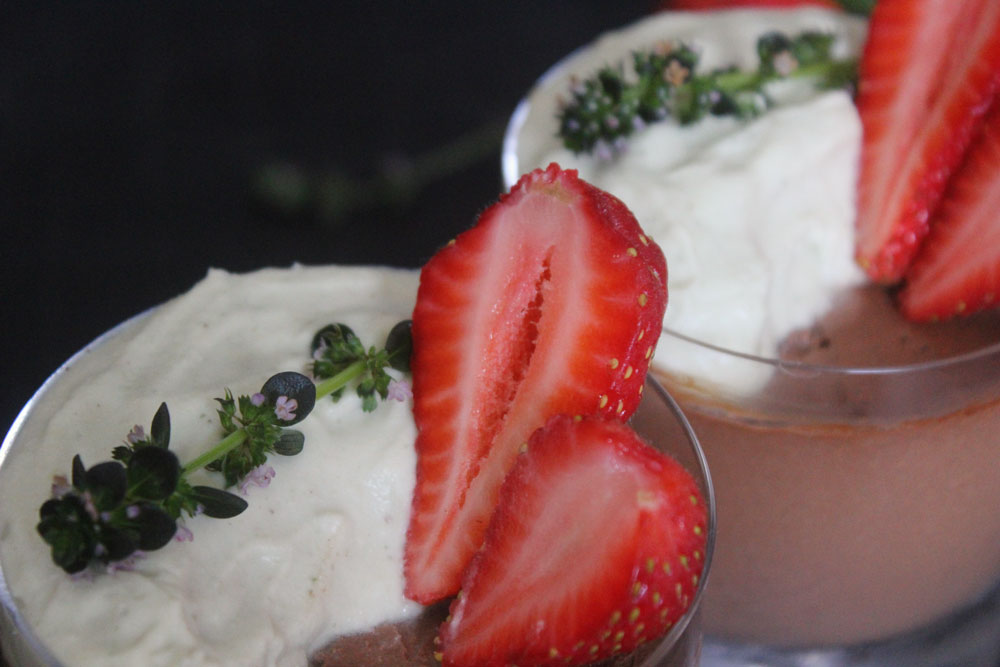 Okay… Now to the recipe!
Paleo Chocolate Mousse with Lemon Thyme Cream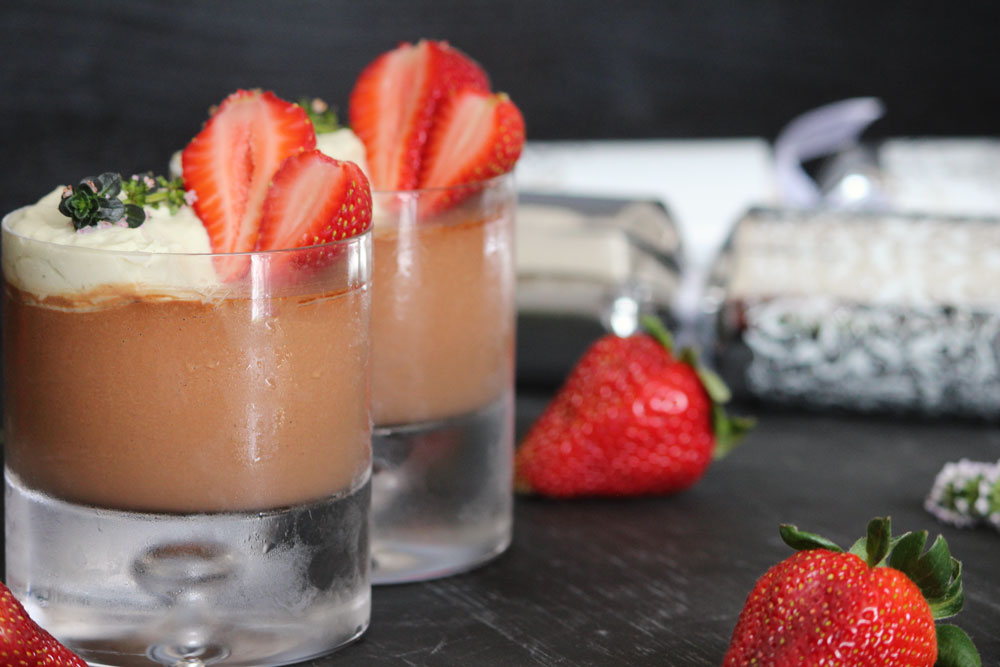 Ingredients
Chocolate Mousse
1 Can Organic Coconut Cream
2 Heaped tbsp ABC Butter (or nut butter of your choice)
1/2 Cup Cacao Powder
1 Tsp. Cinnamon
3 heaped tbsp. Hydrolyzed Collagen powder
2 Tbsp. Manuka Honey
Lemon Thyme Cream
1/2 Can Organic Coconut Cream
1 tsp Manuka Honey
1 tbsp ABC Butter
2 tbsp Hydrolyzed Collagen powder
Lemon juice from 1/2 a medium lemon
leaves from 4 long (10+ cm) sprigs of lemon thyme
Fresh ORGANIC Strawberries to serve.
Method
Chocolate Mousse
Put all ingredients into a high speed blender & blend until smooth.
Pour into serving glasses/dishes of your choice & refrigerate overnight.
Lemon Thyme Cream
Put all ingredients into a high speed blender & blend until smooth.
Pour into serving glasses/dishes of your choice & refrigerate overnight.
In the morning both the mousse & cream will be set for you to serve. Spoon cream onto mousse & top with strawberries.
The last essential step… enjoy your mousse!