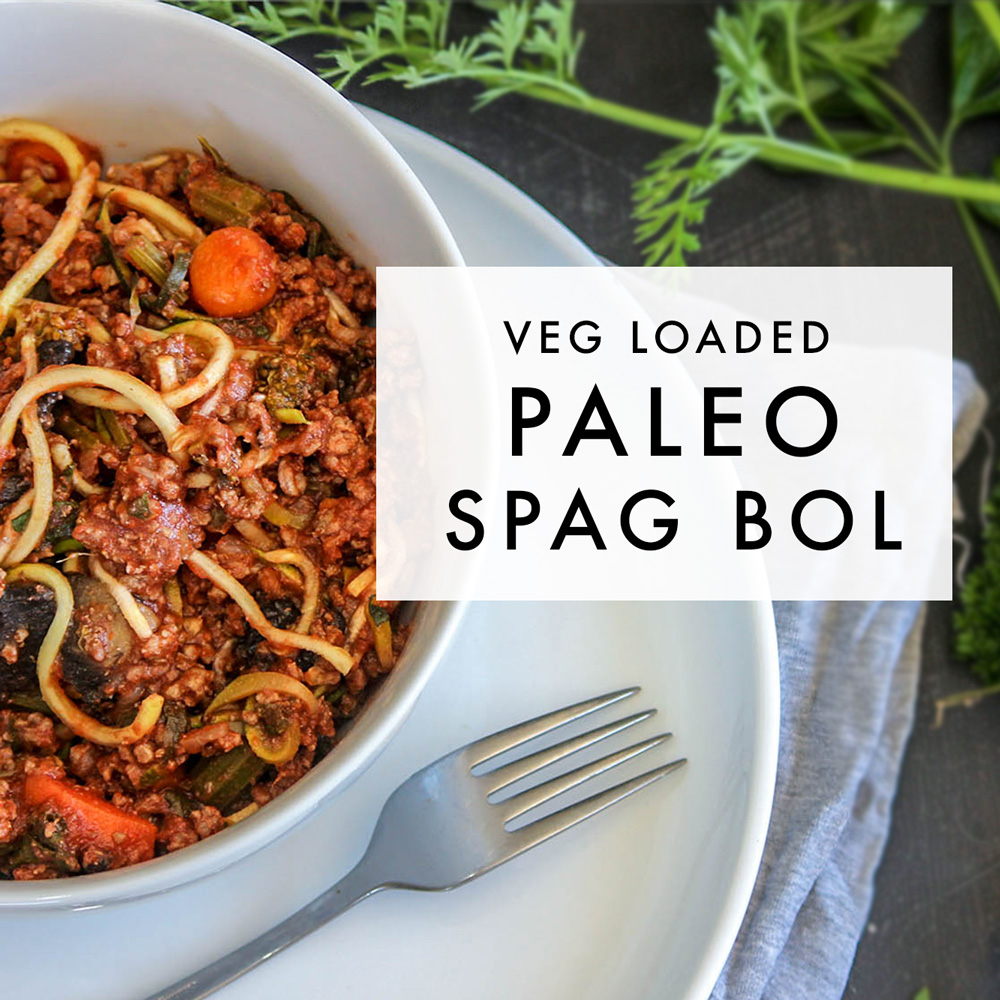 Veg Packed Paleo Spag Bol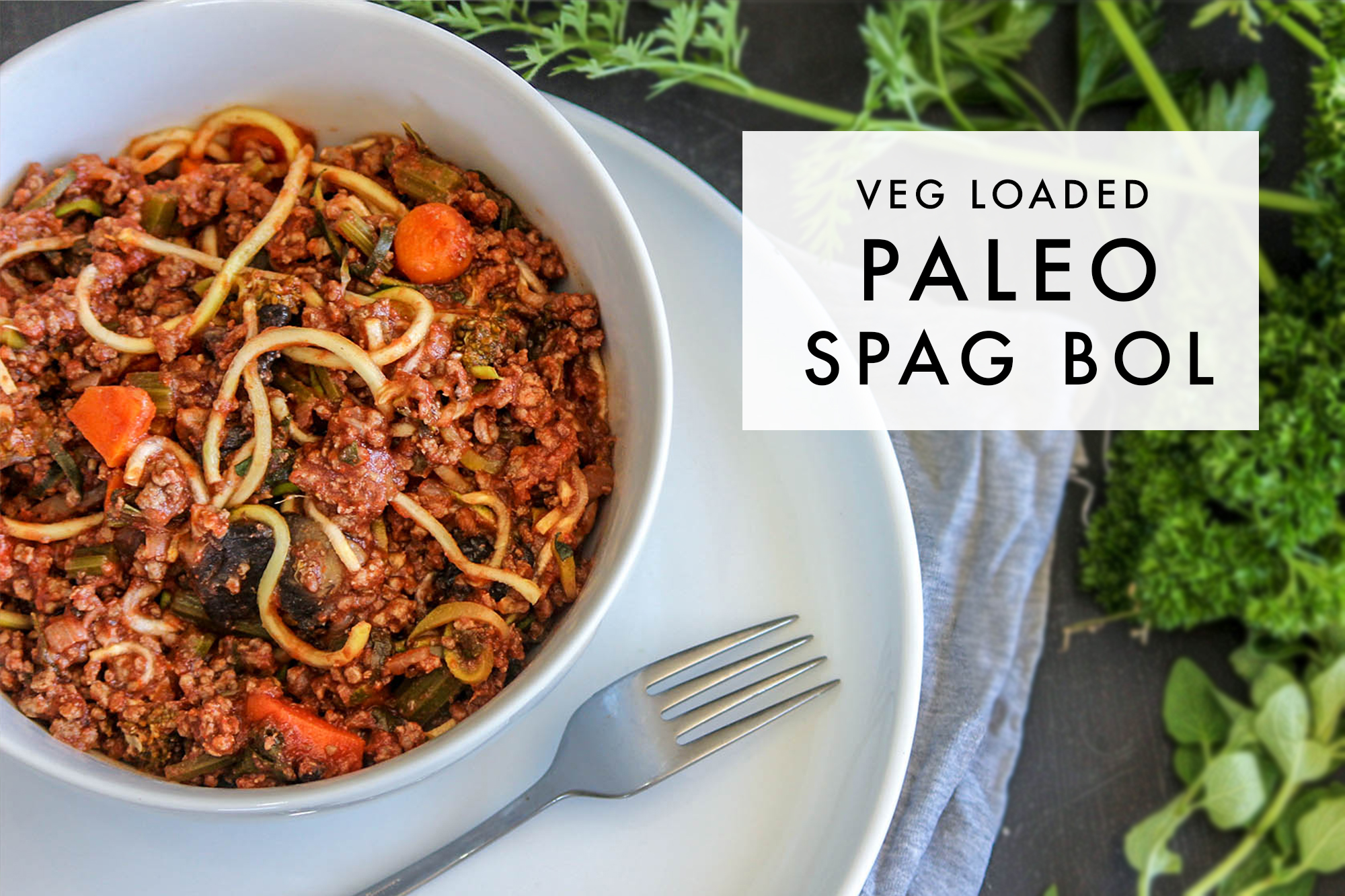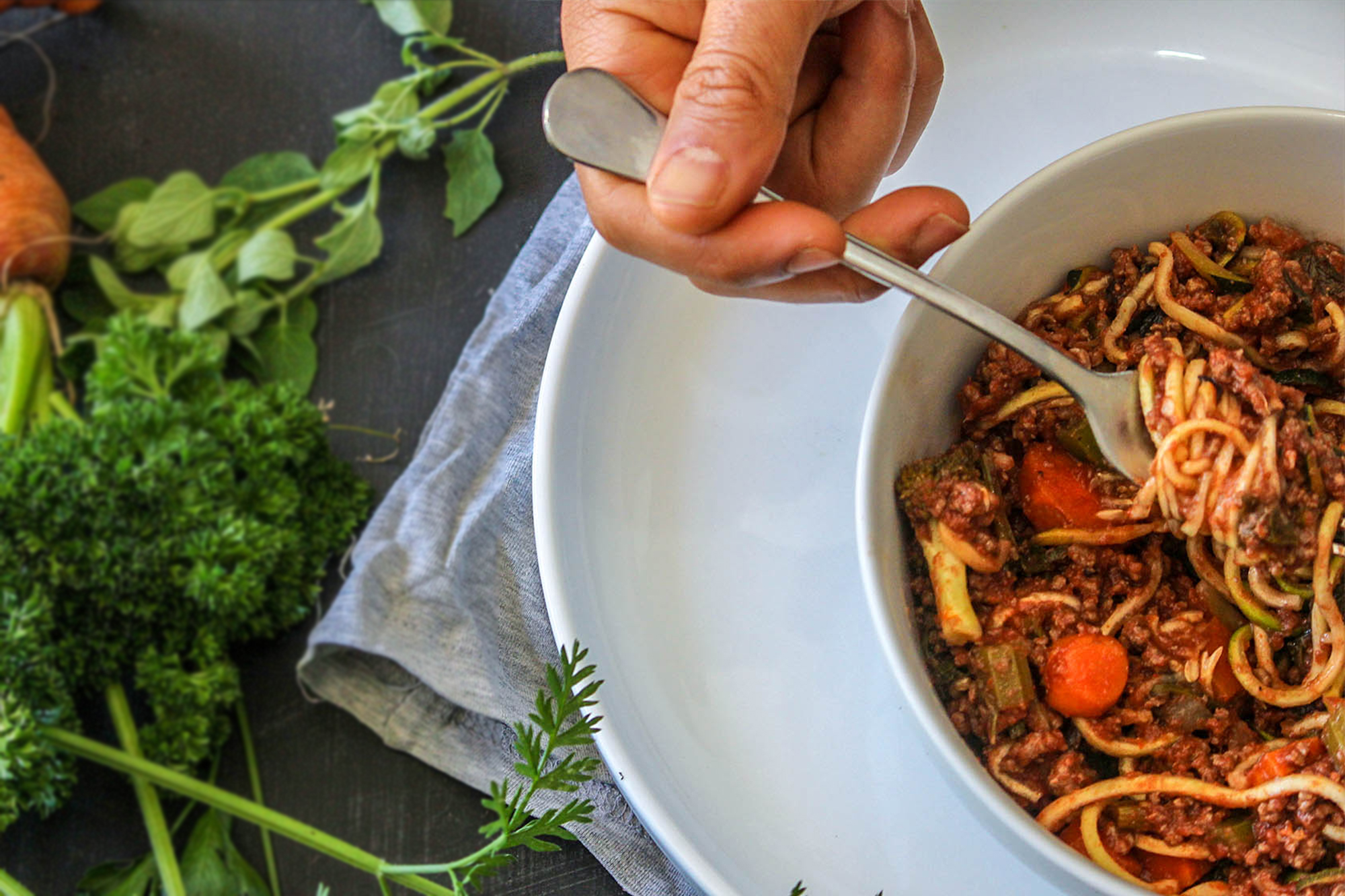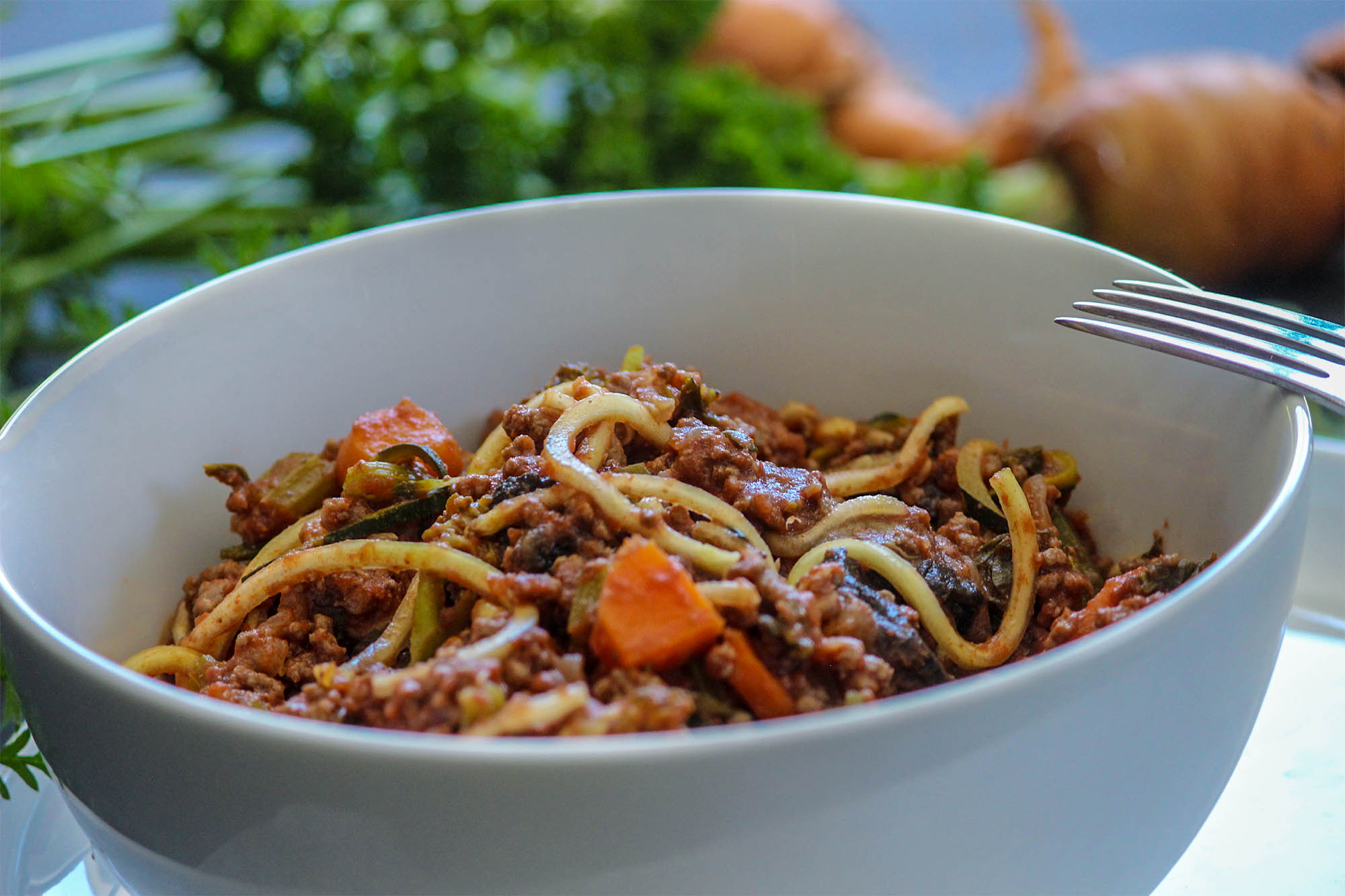 Spaghetti Bolognese was never a big dish for me…
In fact… my mum occasionally made it for us when I was a kid & that meant that my dinner consisted of garlic bread (no spag bol for me thank you very much!!)
After that – I turned vegetarian 😉
When we started our heath journey & I decided to start eating organic & ethically sourced meat again… Anthony was forever bugging me to create a Crystal-&-Anthony worthy spag bol – in other words… a paleo spag bol.
I gave in & got to work…
And this dish has been on our weekly dinner menu ever since… And we all lived happily ever after!
Hahaha but in all seriousness, this Bolognese is one of our top fav dishes!
Not only is it easy to make which is great when you have a pile of work as big as last week's supermoon.
But it's PACKED with flavour (the onion, garlic, chilli, ginger & oregano all get on like a house on fire)
And it's LOADED with health benefits.
Onions contain powerful antioxidants & help to cleanse the blood.
Broccoli is packed with nutrients that are important for glowing skin & strong bones – as well as the cancer fighting compound isothiocyanates.
Celery promotes a strong immune system, healthy blood flow & eyesight. It also contains compounds shown to reduce high blood pressure & provide relief from gout.
And Grass fed beef provides your body with the perfect ratio of Omega 6 to Omega 3 essential fatty acids (a ratio of 3:1)… a healthy balance is crucial for good health & too many Omega 6's coupled with too little Omega 3's (caused by eating things like grain fed beef which has a ratio of 20:1!) can affect brain function & development, cause inflammation & increase your risk of arthritis & heart disease.
Now as you might have noticed – even though this is an Italian dish – we put ginger in it.
Ginger gives it a real zing & compliments the slightly sweet tomato Passata.
If you want to leave it out you can BUT I urge you to try it! It seriously adds a mighty flavour punch… & it's packed packed PACKED with Health benefits (we wrote a whole post about it + how to grow your own here)
Okie doke – enough chit chat – let's get cooking!!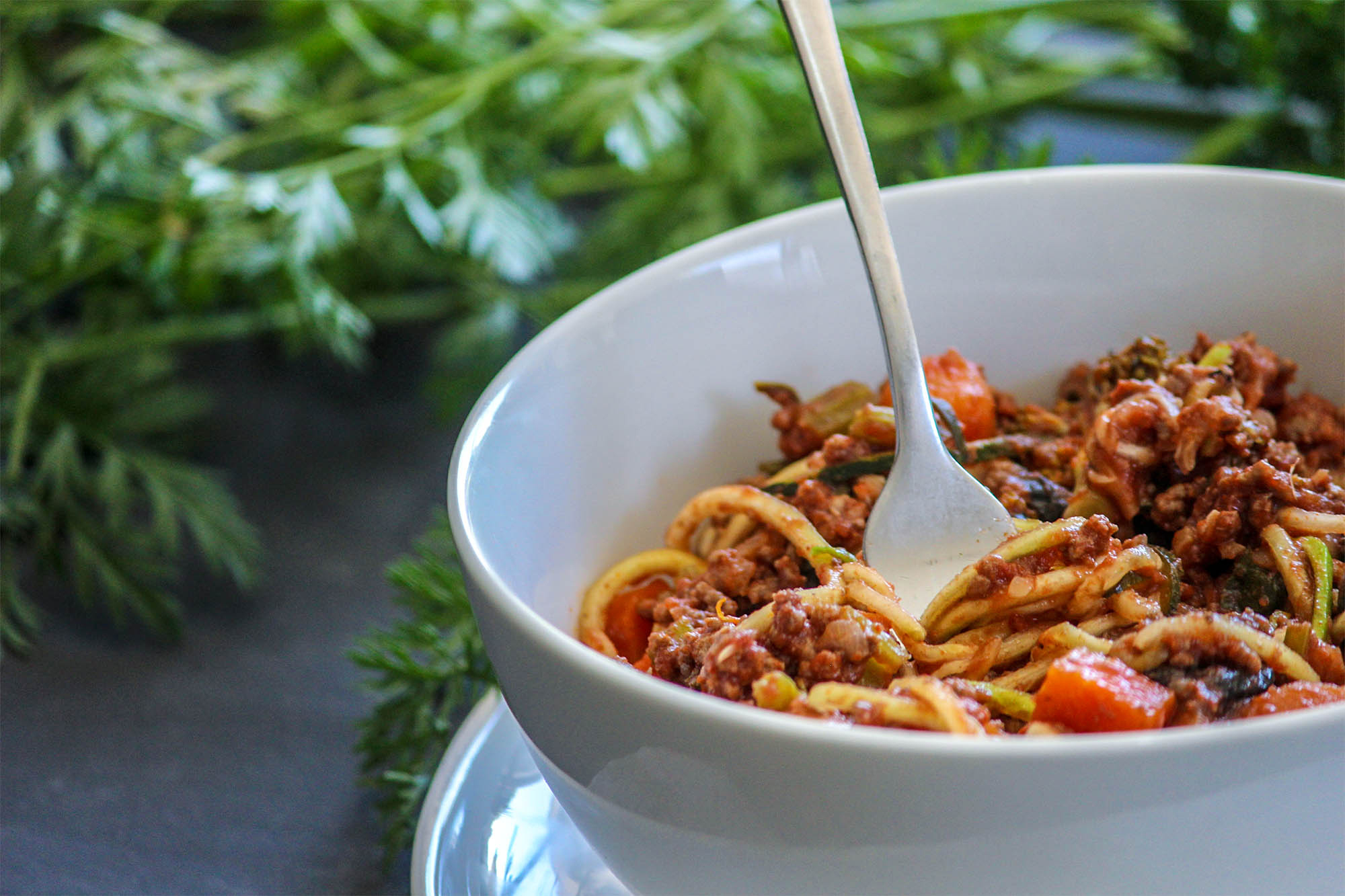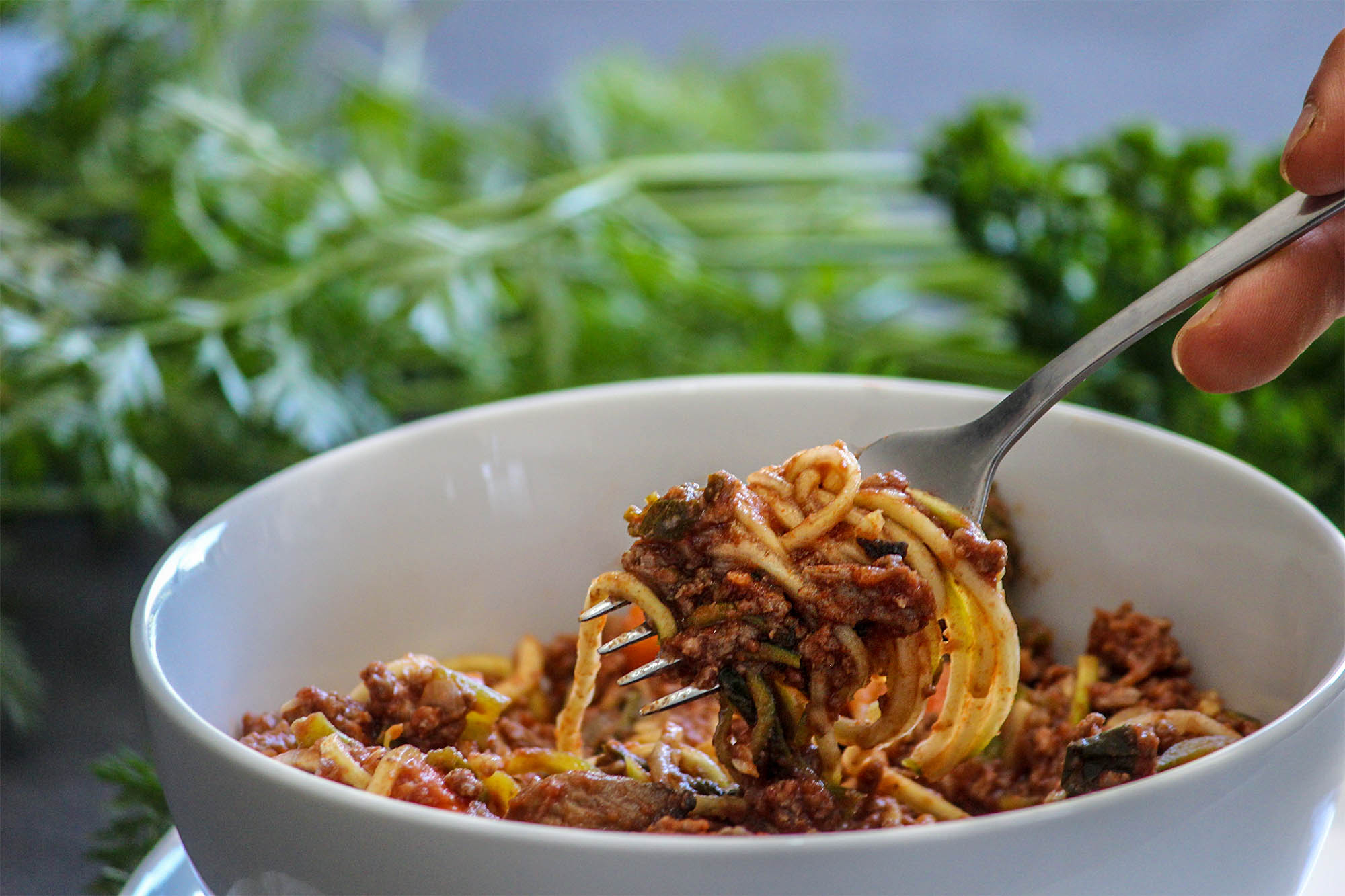 VEG PACKED SPAG BOL
Ingredients
500gm Organic, Grass-fed Beef Mince (we get ours from Cherry Tree Organics)
2 Brown Onions, diced
4 big Garlic Cloves, minced
1 2cm size piece of Ginger, minced (optional)
2 large Carrots, chopped
1 large Broccoli, cut in small florets
1 cup Mushrooms, chopped in half
2 stalks of Celery, chopped
2 fresh Chilies, finely chopped
2 large Zucchinis, spirilized with "spaghetti" blade
1 680gm Jar of Organic Tomato Passata
2 tsp Smoked Paprika
Handful of fresh Oregano, chopped
Handful of fresh Thyme, chopped
Handful of fresh Parsley, to serve (optional)
Pink Salt
Peppercorns
1 Tbsp. Coconut Oil
Olive Oil for drizzling
Method
Melt coconut oil in large frying pan over medium heat.
Add onion & cook for 5 minutes – cover with lid if you have one.
Add garlic & ginger & cook for another minute.
Add beef mince & seperate with wooden spoon.
Cook until just brown & then add veggies, excluding zucchini, oregano, paprika & parsley.
Cook for another 5 minutes & add passata, oregano & paprika + pink salt & cracked pepper to taste.
Simmer for 10-15 minutes (depending on how much time you have!) & then add spirilized zucchinis.
Mix the zoodles through the dish & cook for another minute.
Serve in a bowl & top with a little parsley.
Drizzle with Olive Oil
Enjoy your spag bowl!
This last step in the method is CRUCIAL 🙂
Any Q's please let me know!
Have a blast! Crystal xx