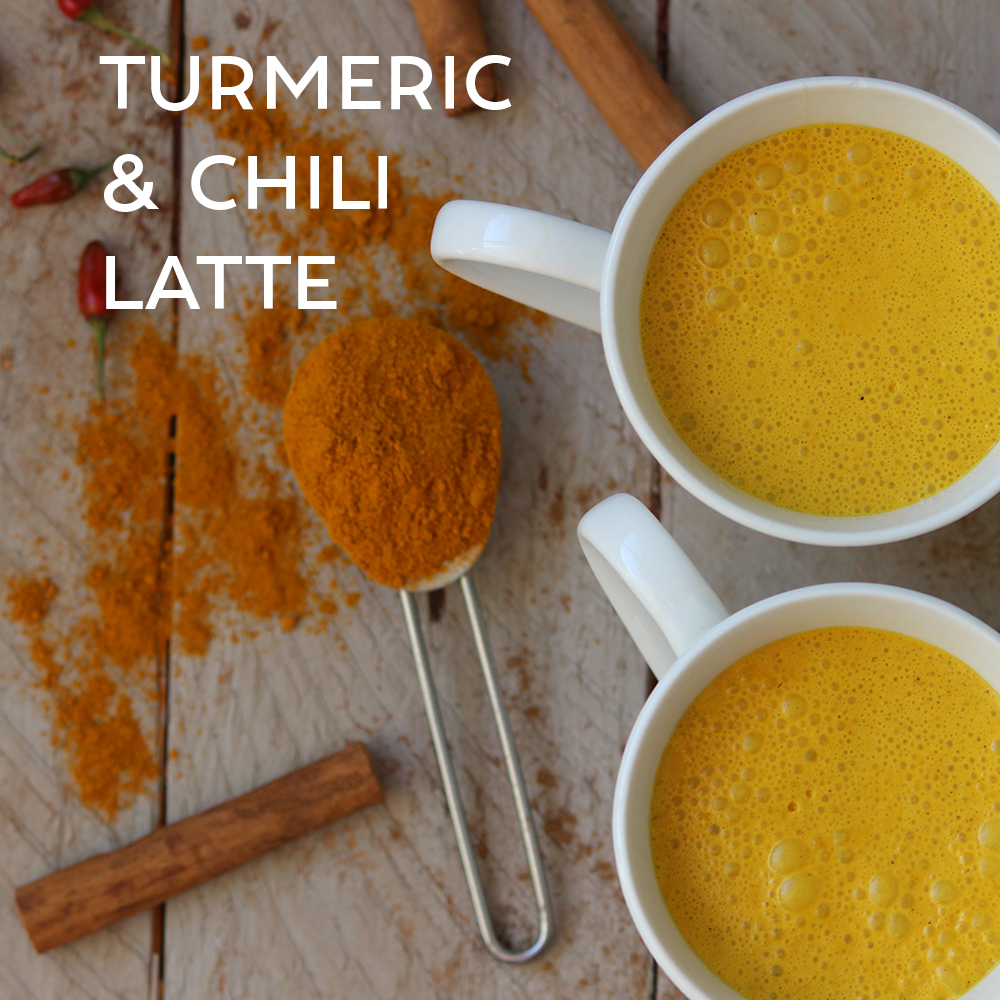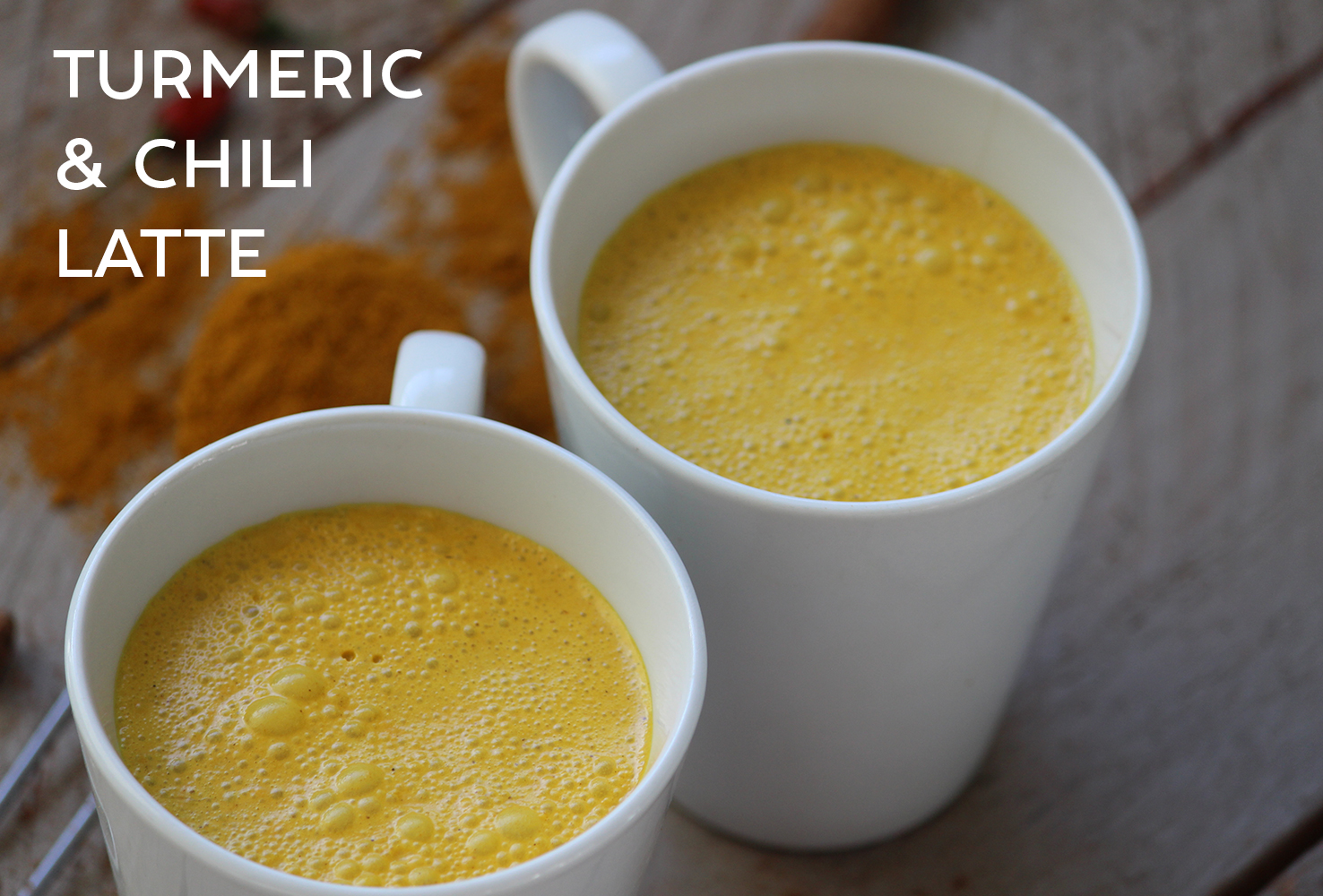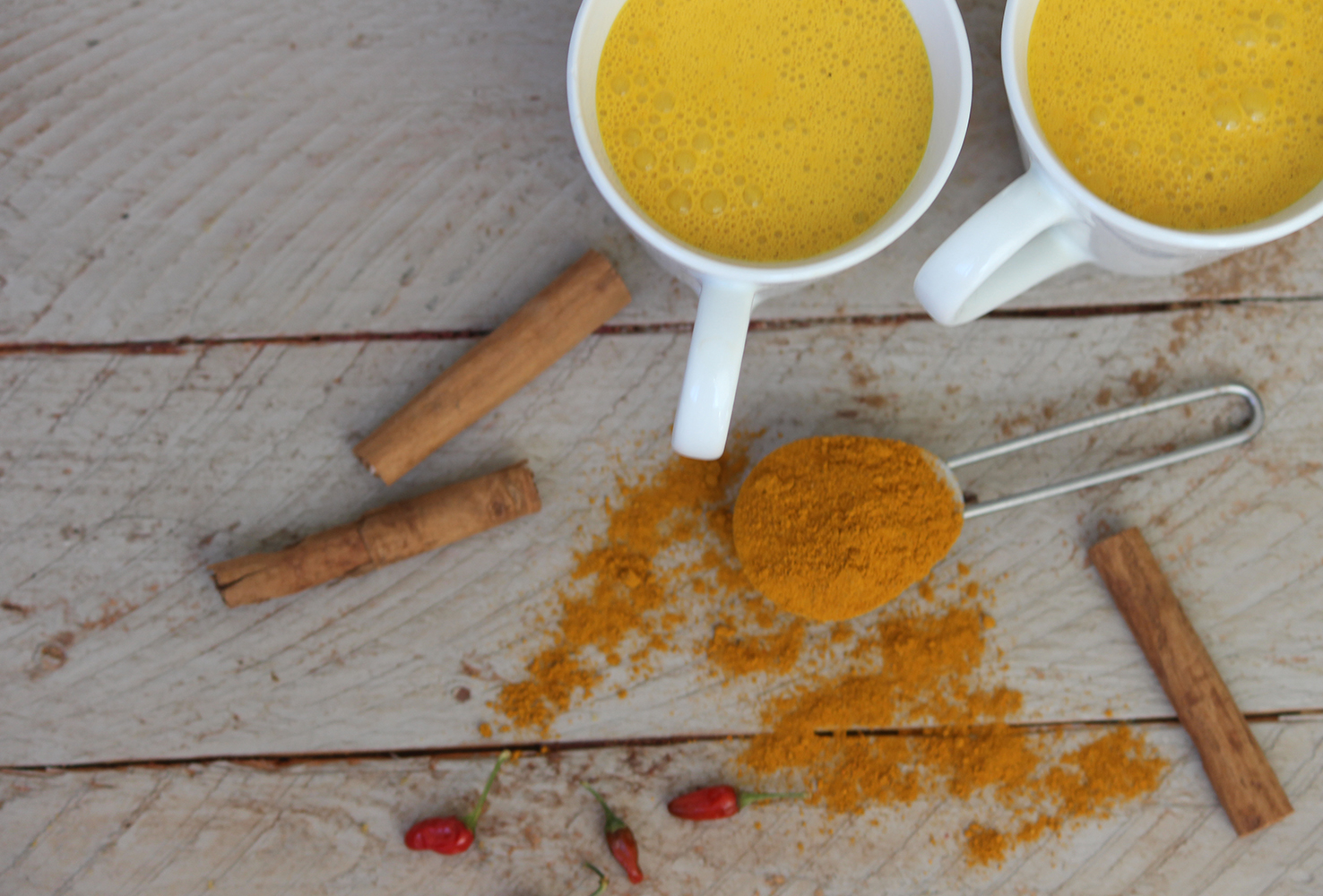 Is there anything better than sipping a nice warm latte on a frosty, rainy Melbourne afternoon?
Luckily for me – there is!
Because along with conventional & processed foods, sugar & gluten – coffee was another thing that I gave the flick to a few good years ago.
It didn't stop me from wanting a nice warm drink in a big tall cup that I could slowly sip whilst the rain fell down though…
Cue in the Turmeric & Chili Latte! 😉
Caffeine free… FULL of nutritional goodness + it tastes amazing.
Tick, tick & another big tick!
Turmeric Lattes are pretty popular these days… probably because of those points I just mentioned – they're also super versatile & many different superfoods can be thrown in for additional health benefits…
Coconut oil… Reishi… Astragalus… there are heaps of things you can keep adding to keep increasing the nutritional goodness…
For me though – I have one set recipe that I like to stick with.
It contains just the right amount of spice & sweetness… an awesome amount of nutritional goodness + that one ingredient that can sometimes be overlooked in turmeric lattes even though it's needed to make those amazing benefits of turmeric available to you in the first place!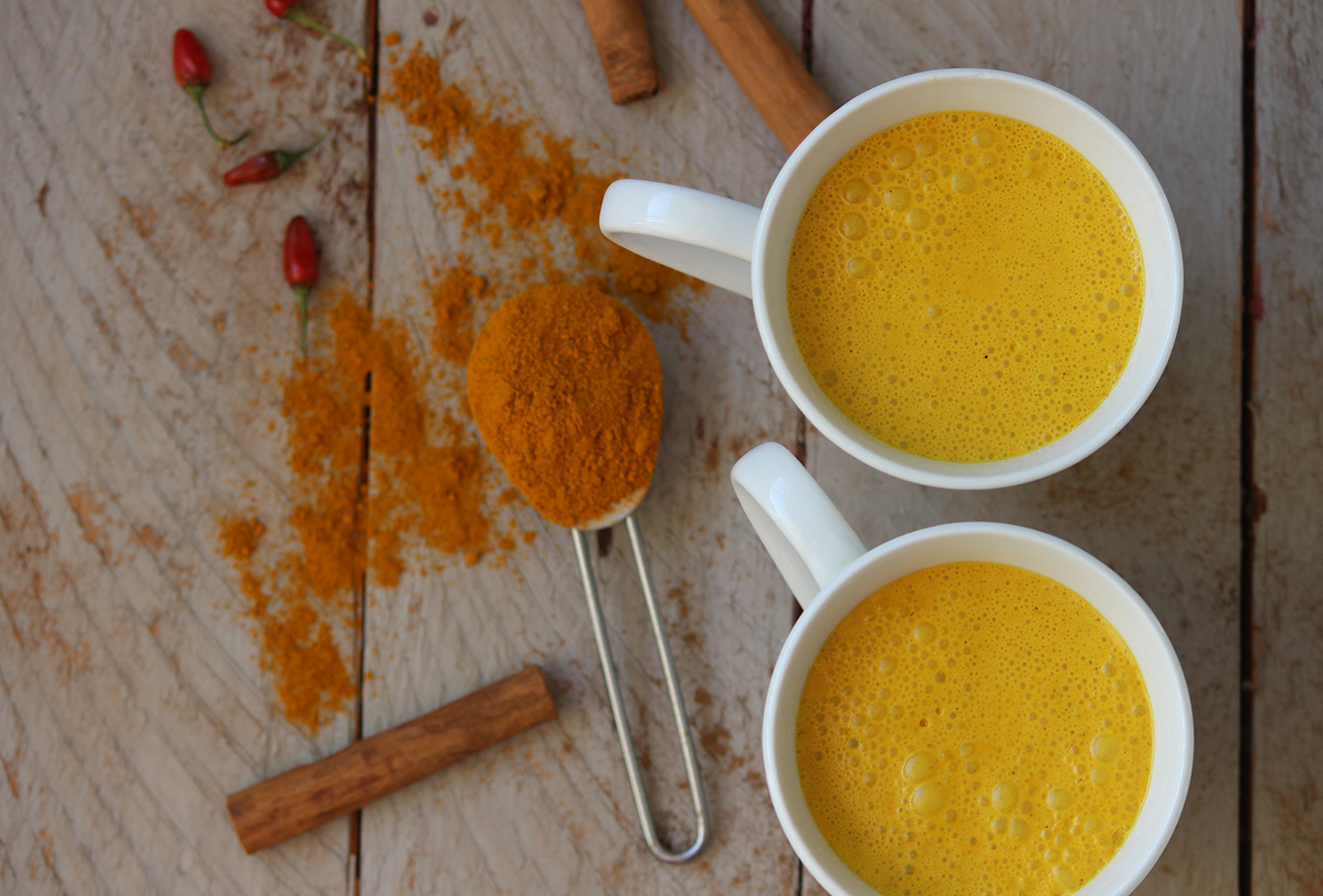 Here's what I use & why it's important…
Chili – Chili is a great source of vitamin A + C, reduces pain & inflammation + reduces your risk of coronary heart disease.
Turmeric – Turmeric not only increases insulin sensitivity, improves brain function & helps to prevent muscle degeneration – It also reduces inflammation & helps your immune system fight off bad bacteria. Turmeric can also help your liver with the detox phases as well as lower oestrogen in your body!
Coconut Milk – Coconut Milk is a great source of Medium Chain Triglycerides. MCT's are a type of fat that get used by the body immediately rather than being stored as fat for later use, so it's a great source of energy for your body & even helps you to burn fat!
Cinnamon – Cinnamon is rich in antioxidants, increases insulin sensitvity, reduces inflammation & helps fight off bacterial & fungal infections.
Manuka Honey – Manuka Honey has an incredible nutritional profile & strong antibacterial properties.
Black Pepper – Here it is – that one ingredient I was talking about! Black pepper not only improves digestion…. but it also increases the bioavailability of Curcumin – the compoud in Turmeric that's responsible for all of those amazing health benefits I mentioned before! In short – whenever you are using Turmeric – always make sure to add black pepper!
Pretty cool hey?
Alright – let's get to the recipe 🙂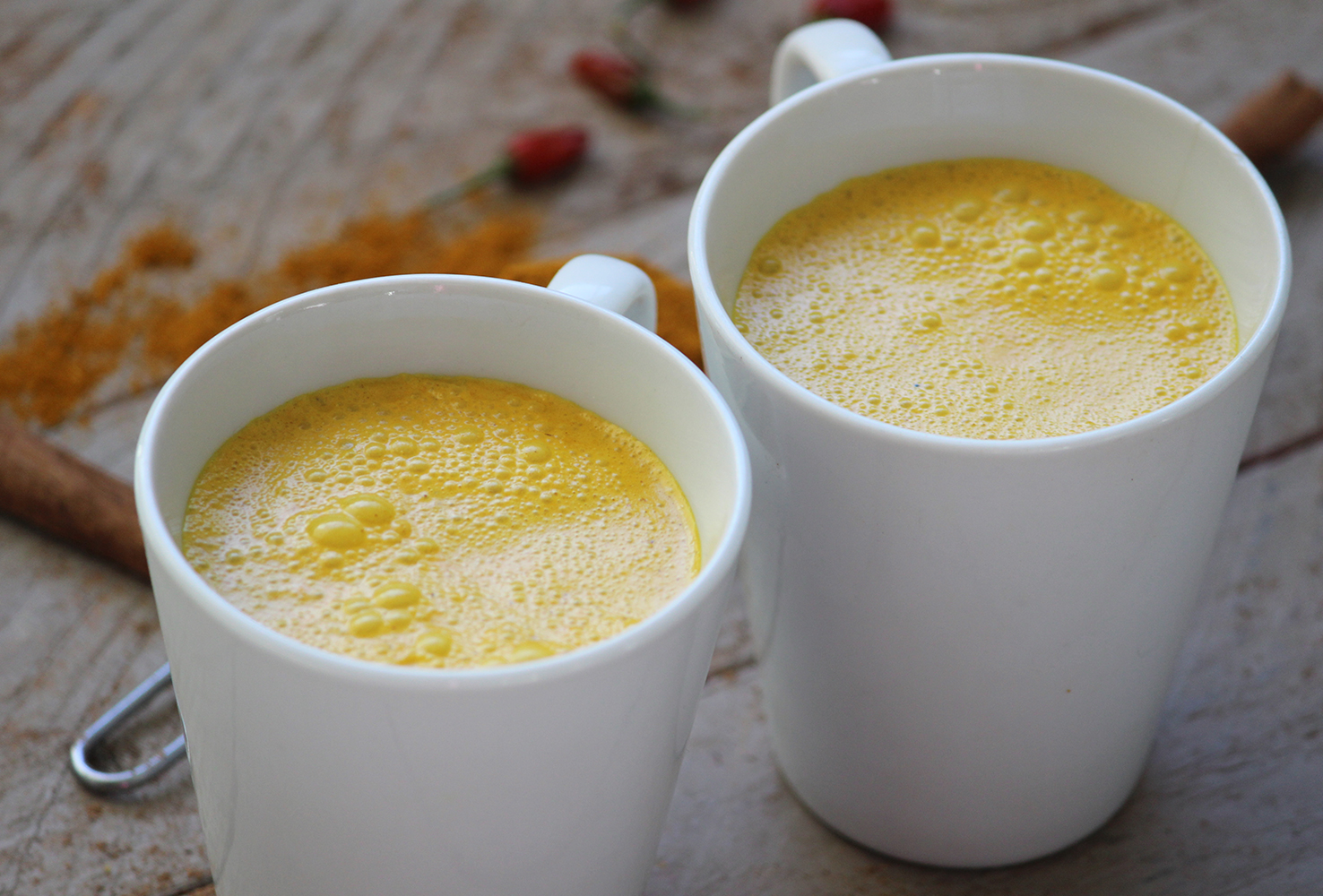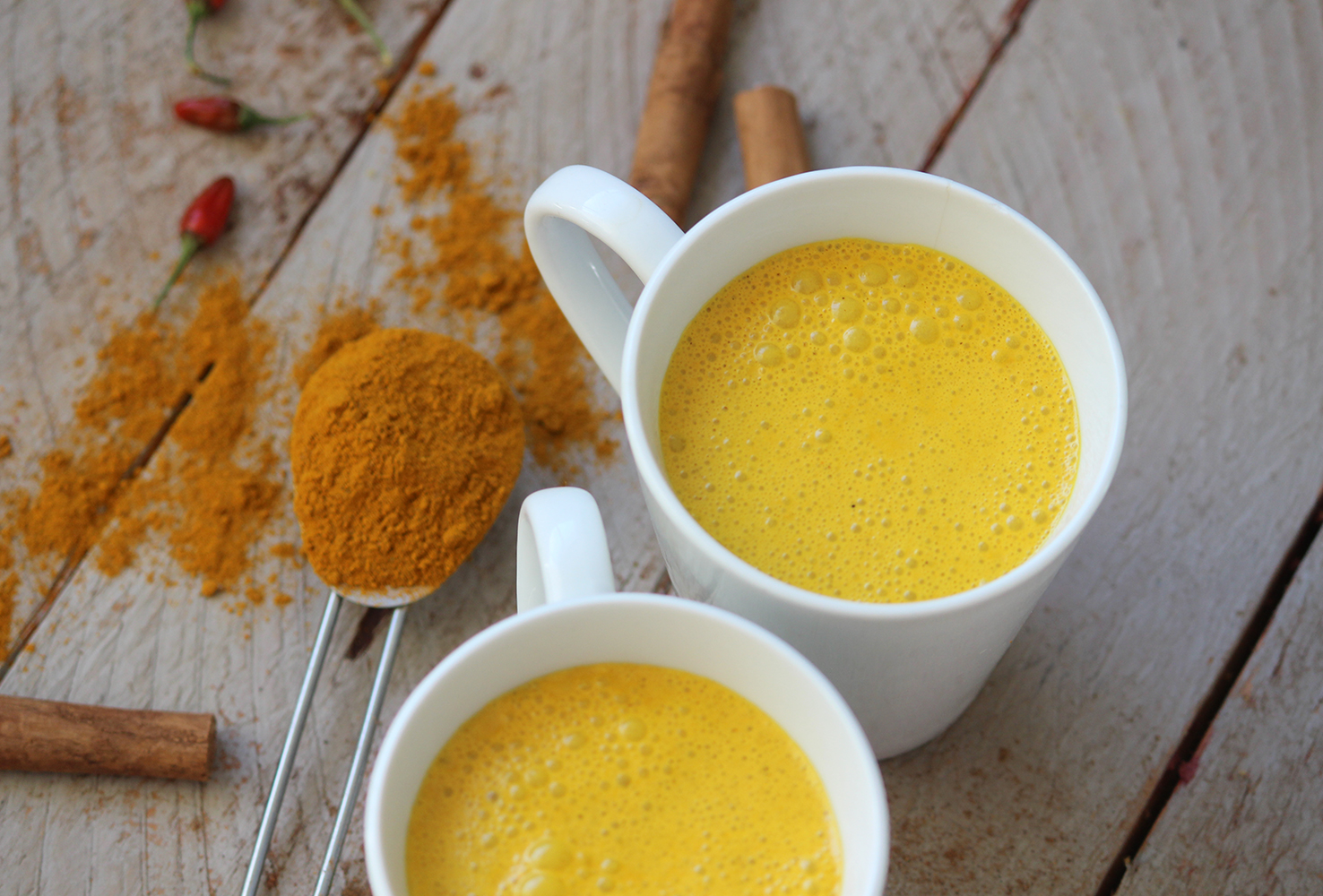 CHILI & TURMERIC LATTE 
Serves 2
Ingredients
2 Cups Coconut Milk
1 thumb size piece of Turmeric (or 1 tbsp. Turmeric Powder)
2 small Chilies
1 Pinch of Black Pepper
1 tsp. Cinnamon
1 tsp. Manuka Honey
Method
Put all ingredients into a high speed blender & blend on high until smooth.
Pour into small saucepan & heat on a low heat until warm.
Pour into a mug & enjoy your latte!