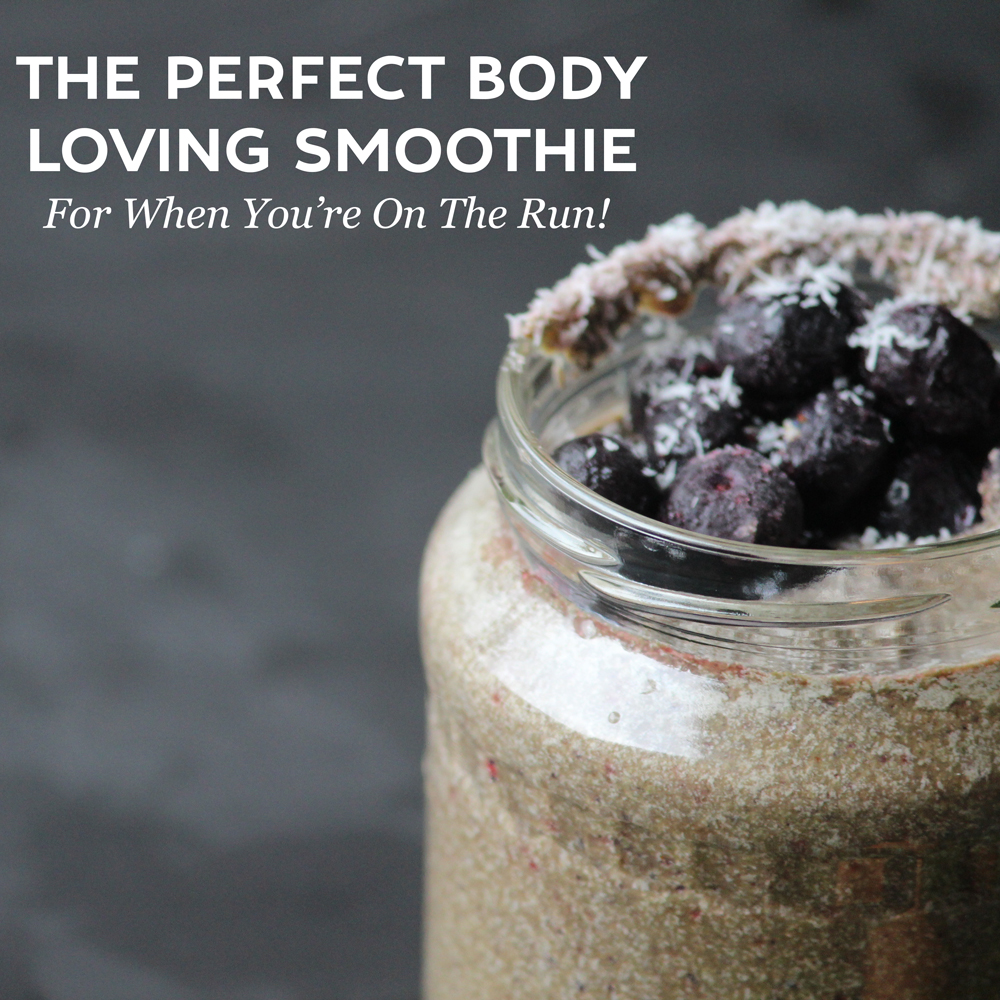 The perfect body loving smoothie for when you're on the run!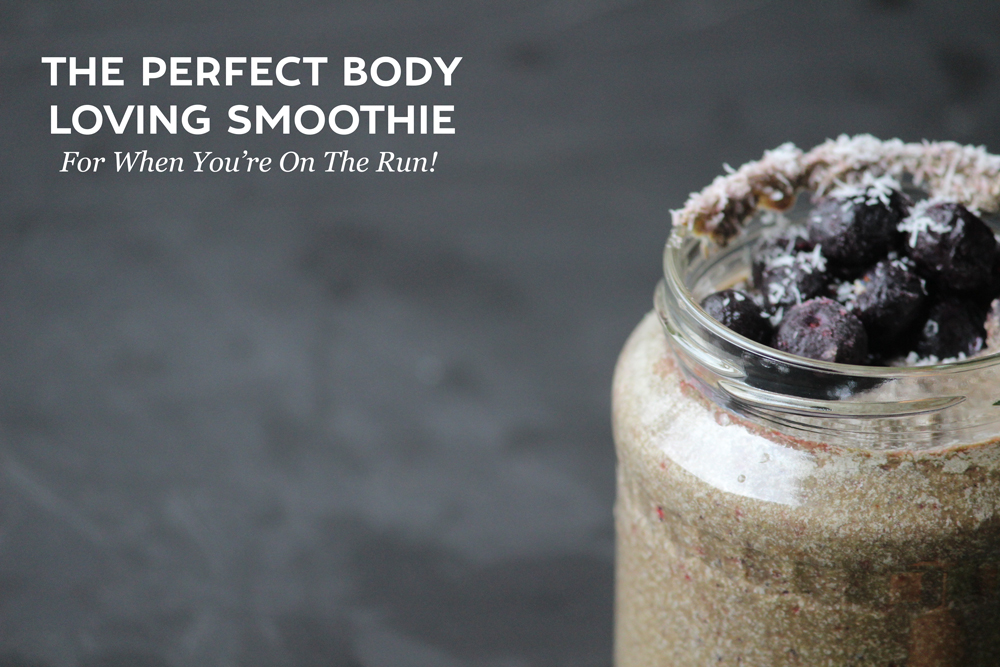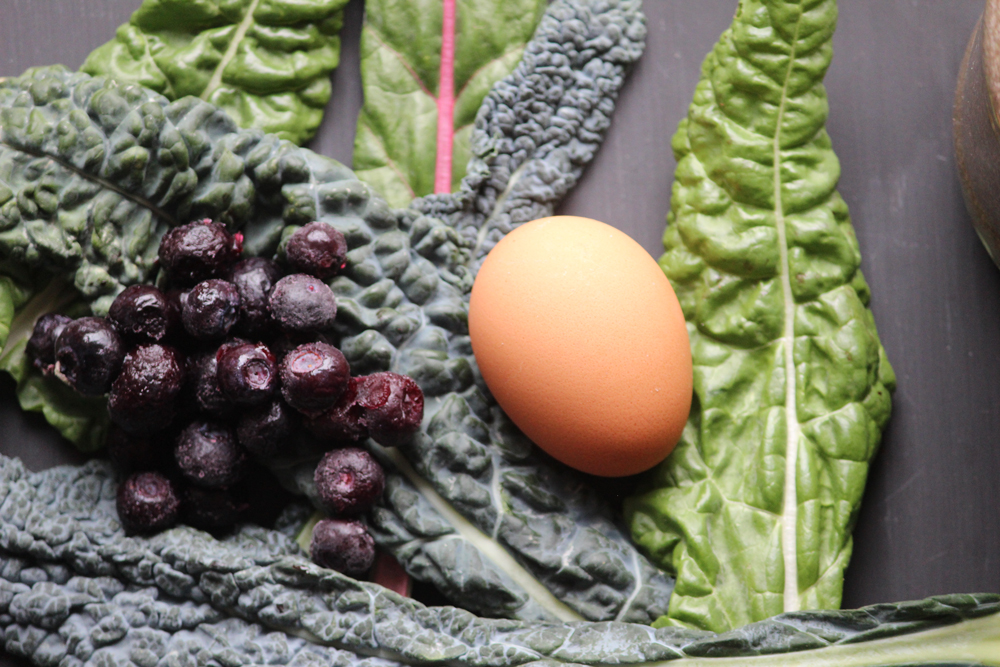 I've always been that kind of person who has 1002 things on her plate…
Things are always left to last minute…
I'm always taking on more things because I think I can accomplish them in said time…
And I'm forever running late. (I actually found out yesterday that my waxing lady told me my appointment was half n hour later than what was scheduled just so I would show up on time! Yep.)
I'm not sure if that will ever change…
However – one thing that has most definitely changed in the last few years is my eating patterns & the way I look after my body.
Back in the day, if I was late – whatever the appropriate meal was for that time of day would be missed – simple as that.
No time = no time to eat.
These days – making sure i'm giving my body the support it needs is at the top of my list.
Now trust me – I get it… It's super easy to let yourself run around like a crazy person trying to accomplish everything because that clock ain't going to stop – but the thing is – if you don't provide your body with the proper fuel it needs – you AREN'T going to preform at your best!!!  That – I promise you!
Now don't get me wrong here – I'm not saying that you shouldn't 'fast', as fasting can be very beneficial for some people to clear out damaged cells & detoxify their body – however fasting is a completely different situation & should only be done in a calm & relaxing environment when you have time to take naps etc. & really look after yourself. Right now, I'm talking about everyday life. Everyday life when you're running around like a mad man skipping your breaky or lunch or dinner because you don't have time…
And this is where the humble smoothie comes in 🙂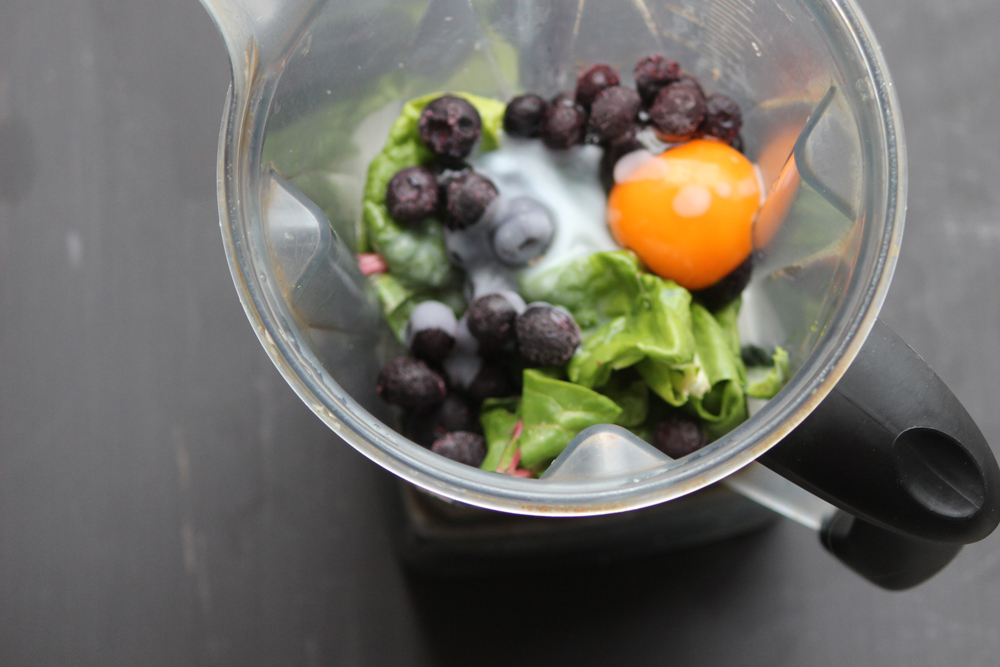 Because as you likely know…
A. It probably takes less than a minute to chuck everything in your blender & blend it all up
And B. You can drink it on the go!
HOWEVER
The thing is – if you're going to have a smoothie as a meal replacement – you need to do it the right way.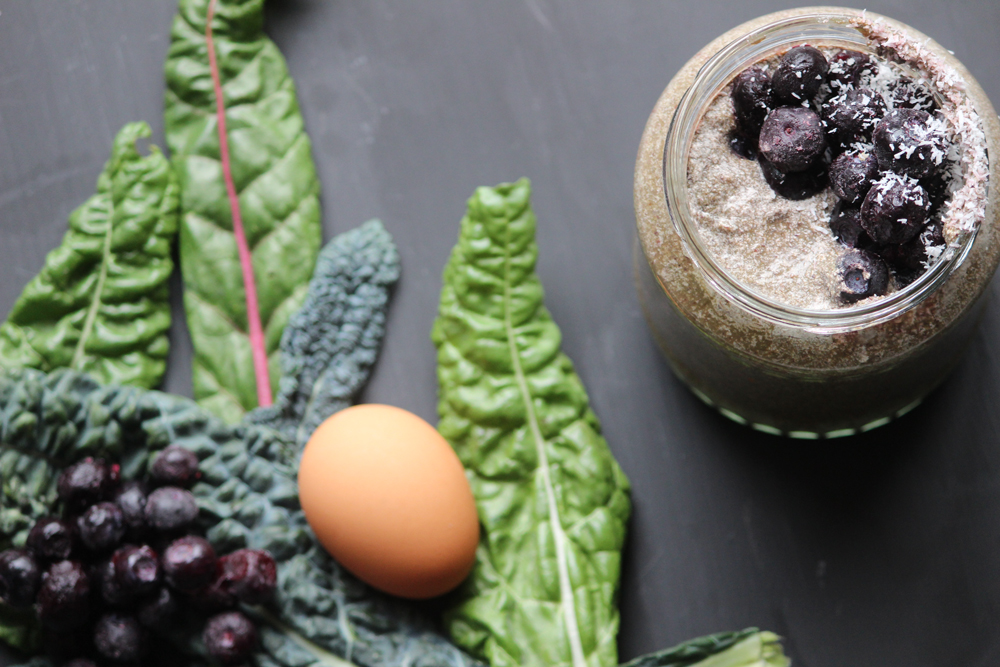 The right way: Including a mix of good fats, proteins & antioxidants (& LOW sugar fruit if desired) to energise your body, keep you sustained & keep your blood sugar levels stable.
…..
The wrong way: Including too much fruit (especially high sugar fruits like banana), other sweeteners, or not enough fat or protein, leading to blood sugar spikes, hunger & possible malnourishment.
Yep – Unfortunately these days it's very common to chuck a few bananas & nut milk in a blender, maybe with some honey as well.
The thing is though – that banana smoothie will contain a LOT of sugar & little protein or fat.
Now one day very soon I'm going to make a smoothie eBook for you to give you a heap of different ideas & recipes to create perfect smoothies for the run, every time… but because we've just acknowledged that I'm always taking on more things than I have time for…. today I'm just going to stick to one smoothie :p
My FAVOURITE smoothie in fact, which will keep your body feeling fabulous! (If "up & go" was actually healthy – this is what it would be like! Pitty it's not!)
The Perfect body loving Smoothie for when you're on the run!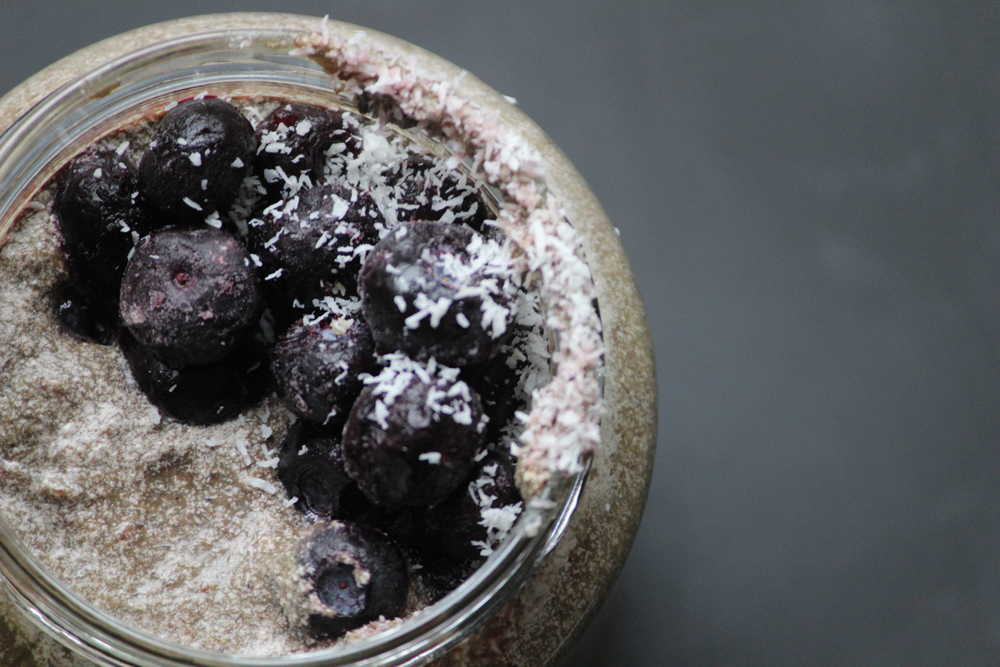 Ingredients:
1 Can coconut milk (fat)
1/2 Avocado (fat)
1 – 2 eggs (I have 1, Anth has 2) (protein)
1/2 cup FROZEN Blueberries (If not frozen, add ice as well so your smoothie is nice & cold!) (antioxidants, low sugar fruit) 
3 Kale leaves (antioxidants) 
2 big Silverbeet/Chard leaves (antioxidants) 
1/4 big lemon OR 1/2 small lemon (don't forgo the lemon – it will take away from the bitterness of the greens) (antioxidants)
2 tbsp coconut oil (fat)
Method:
Throw all ingredients into a high speed blender & blend until smooth & creamy.
Pour into a glass jar & enjoy!