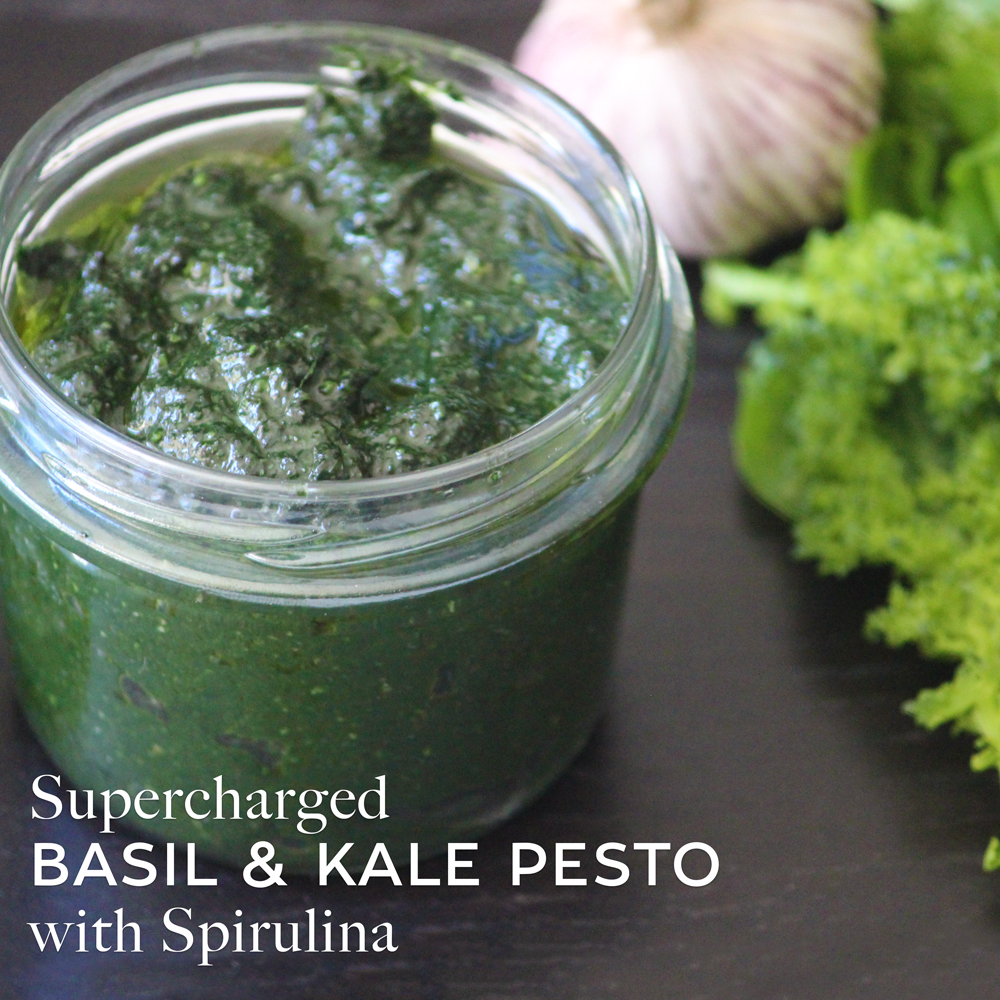 Supercharged Basil & Kale Pesto with Spirulina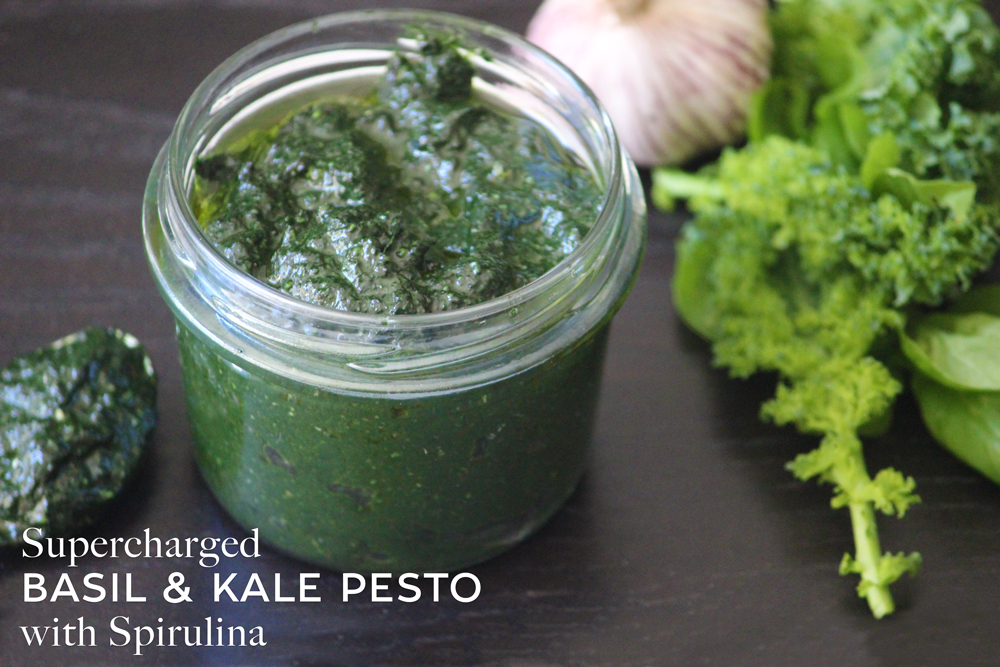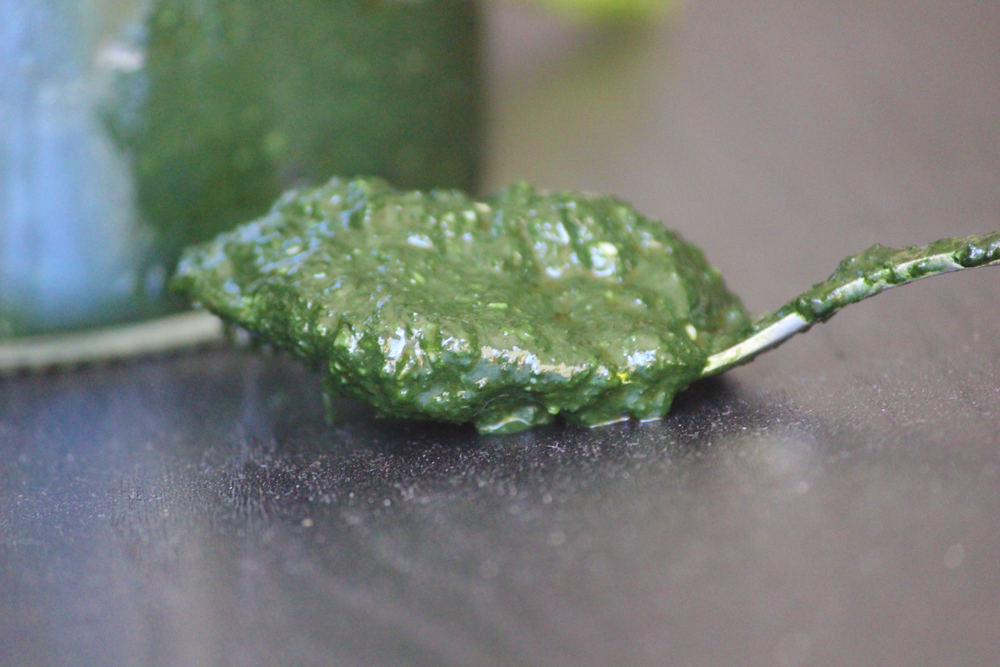 Ever since I was a little kid I've had a serious obsession with Pesto – Rich & Creamy Basil pesto to be specific 😉
On Pizza… on pasta… on eggs… in salads… in wraps… In anything savoury really!
The problem was, this pesto was of course "store bought, processed pesto" with a handful of incredibly nasty ingredients.
Water, basil (30%), canola oil, almonds (5%), pecorino cheese (4.5%) (contains milk), salt, sugar, cheese flavour (contains milk), food acid (lactic), fruit fibre (0.7%), thickeners, basil flavour.
That's what was written on the back of the little jar…
So when we made the switch to an organic diet of mineral rich wholefoods, naturally I thought pesto was off the cards.
GMO trans fat (canola oil) with a nice dash of Pasteurised Milk & Sugar… I think not!
Of course as the years went by though, we were learning very quickly that you can in fact create any recipe at all using just wholefoods. Pesto – no exception!
Cue in our Supercharged Kale & Basil pesto with Spirulina!
Not only is it super easy to make, it's loaded with good stuff! And if you grow your own Basil & Kale like we do, you can make it in bulk & freeze it in little glass jars (because remember, Basil doesn't grow in the cold winter!)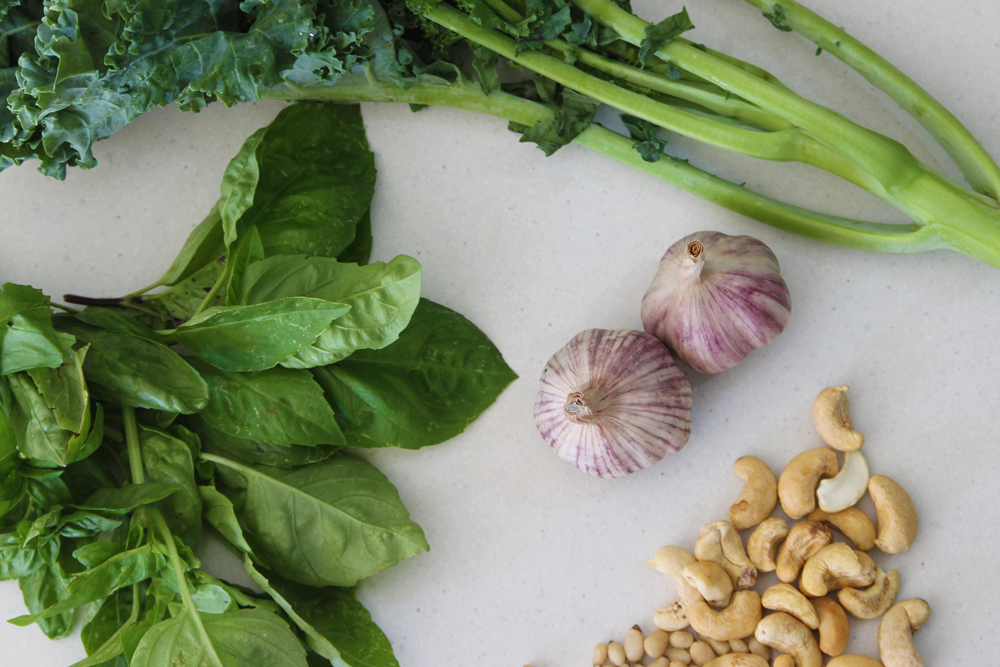 Alright – So why should you make it?
Well, like our old mate "store bought, processed pesto" – it too is also rich & creamy, however instead of harmful ingredients it contains a heap of body loving goodness that will make you feel amazing!
Before I take you through some of the amazing ingredients – I just wanted to point out an awesome little trend that runs through the main 3. Kale, Basil & Spirulina are all packed with chlorophyl!
Why is this awesome? Because Chlorophyl is incredibly similar in its composition to Haemoglobin – the oxygen carrying molecule found in our red blood cells – & actually helps our body to 'build blood' which is vital for increased oxygen levels in the body! It also promotes awesome liver health as well as allowing us to absorb more nutrients from our foods.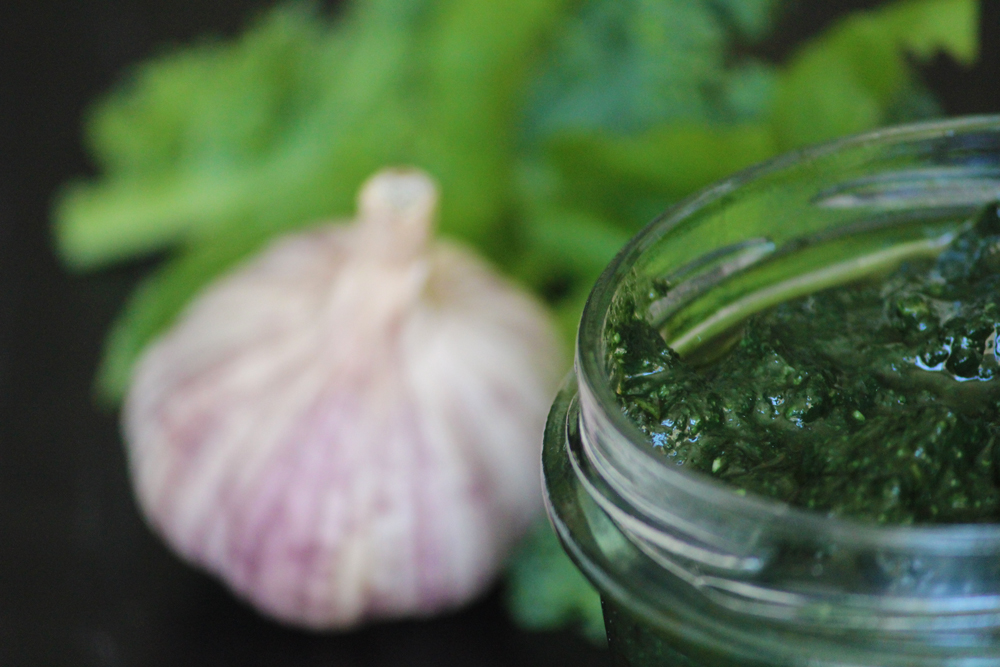 Ok…onto the list of ingredients!
Kale – Packed with antioxidants & detoxifying compounds, Kale is also rich in Vitamin K for healthy bones, Vitamin A for healthy vision & Vitamin C for a boosted immune system
Basil – Helps to reduce inflammation & is rich in vitamins & minerals including Vitamin A+K as well as Manganese which helps to balance hormones. Basil also contains antibacterial & antiviral properties.
Spirulina – The number of vitamins & minerals found in Spirulina is seriously incredible. It detoxes heavy metals from the body, promotes a healthy gut & it even contains all essential amino acids, making it a complete plant based source of protein.
Olive Oil – A rich source of healthy monounsaturated fat, olive oil strengthens the heart, help to keeps your skin hydrated & healthy + supports brain health.
Coconut Oil – One of our favourite ingredients ever, coconut oil is packed with healthy saturated fats which are absolutely crucial for healthy hormones. The MCT's (medium chain triglycerides) in coconut oil are an extremely beneficial type of fat which are quickly burned as energy rather than being stored as body fat. It also helps with weight loss & blood sugar levels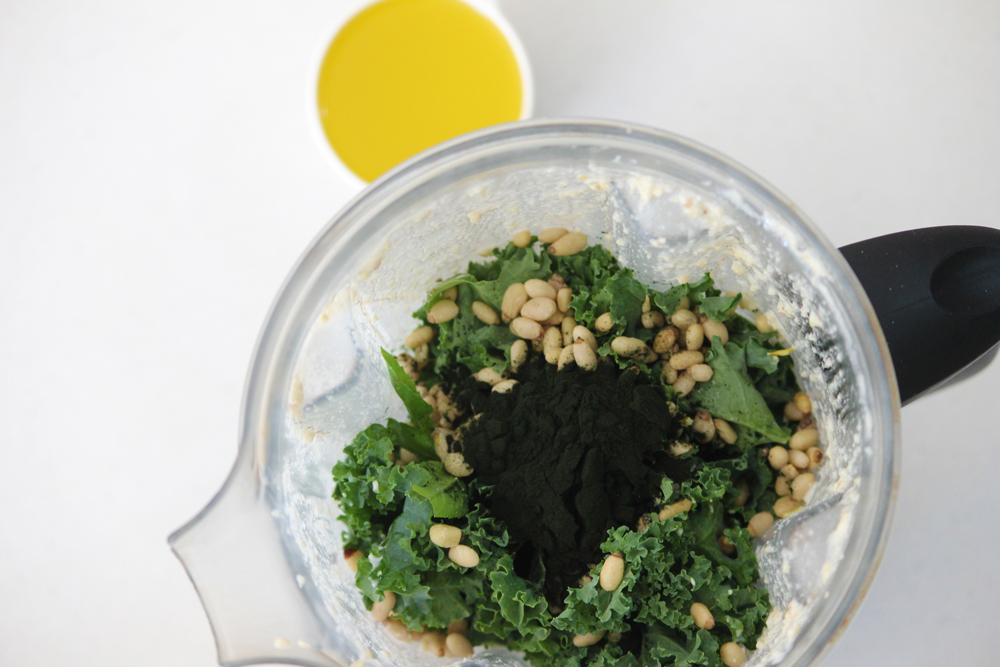 Okay… now a few pointers before you make it…
1. I always start with a base of cashew cheese to give it that extra creaminess. Now this of course is optional – however it pays off taste wise (who doesn't love creaminess!!)
2. I use a 50 50 mix of Olive Oil AND Coconut Oil… Why? Because I find just Olive Oil alone makes it taste to Olive Oily & it takes away from the beautiful basil… When you combine Olive Oil & Coconut Oil together however – the taste is quite perfect… neither too subtle nor too strong!
3. The amount of Oil is your call. I use 1/4 Cup (so 1/8 cup Olive Oil & 1/8 cup Coconut Oil mixed together) HOWEVER this gives you a strong pesto! If you want a slightly milder pesto, use 1/2 cup of Oil (so 1/4 cup Olive Oil & 1/4 Cup Coconut Oil mixed together!)
Okay – Let's do this!!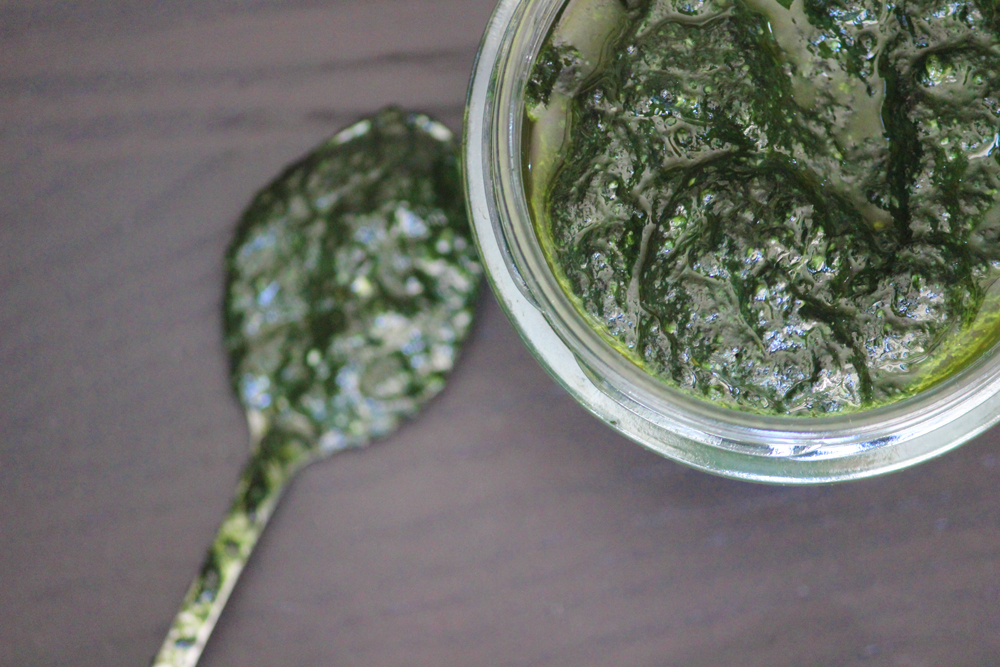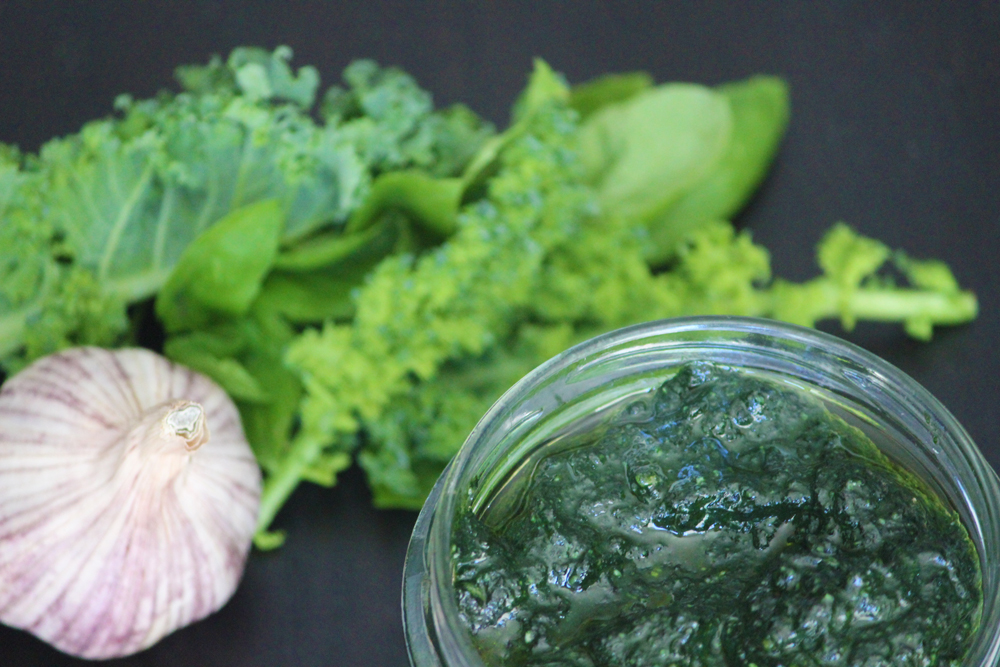 Ingredients
Cashew Cheese Base:
2 Garlic Cloves
2 tbsp Coconut Vinegar OR Apple Cider Vinegar (If you have both, use 1 tbsp of each)
1/4 Cup Cashews
Pinch of Pink Salt
2 Tbsp Coconut Milk
Pesto:
1 small bunch of Kale (around 6 leaves) – Stalks removed
1 bunch of Basil
1 tbsp Spirulina
1/4 cup pine nuts
2 Garlic Cloves
1/4 Cup – 1/2 Cup of Olive & Coconut Oil mixed together (See point #2 above!)
Method
Place all ingredients for your Cashew Cheese Base in a high speed blender.
Blend on high until smooth
Now place all ingredients for your pesto EXCEPT OIL into your blender (place on top of the Cashew Cheese Base)
Blend for about 15 seconds so all ingredients (except oil) combine.
Now SLOWLY pour your oil down the shoot of your blender whilst your blending.
Once everything has blended together – you're done! You now have a beautiful creamy pesto!
Store in a glass jar, in the fridge for up to a week, or in the freezer for an incredibly long time!
Enjoy! C x