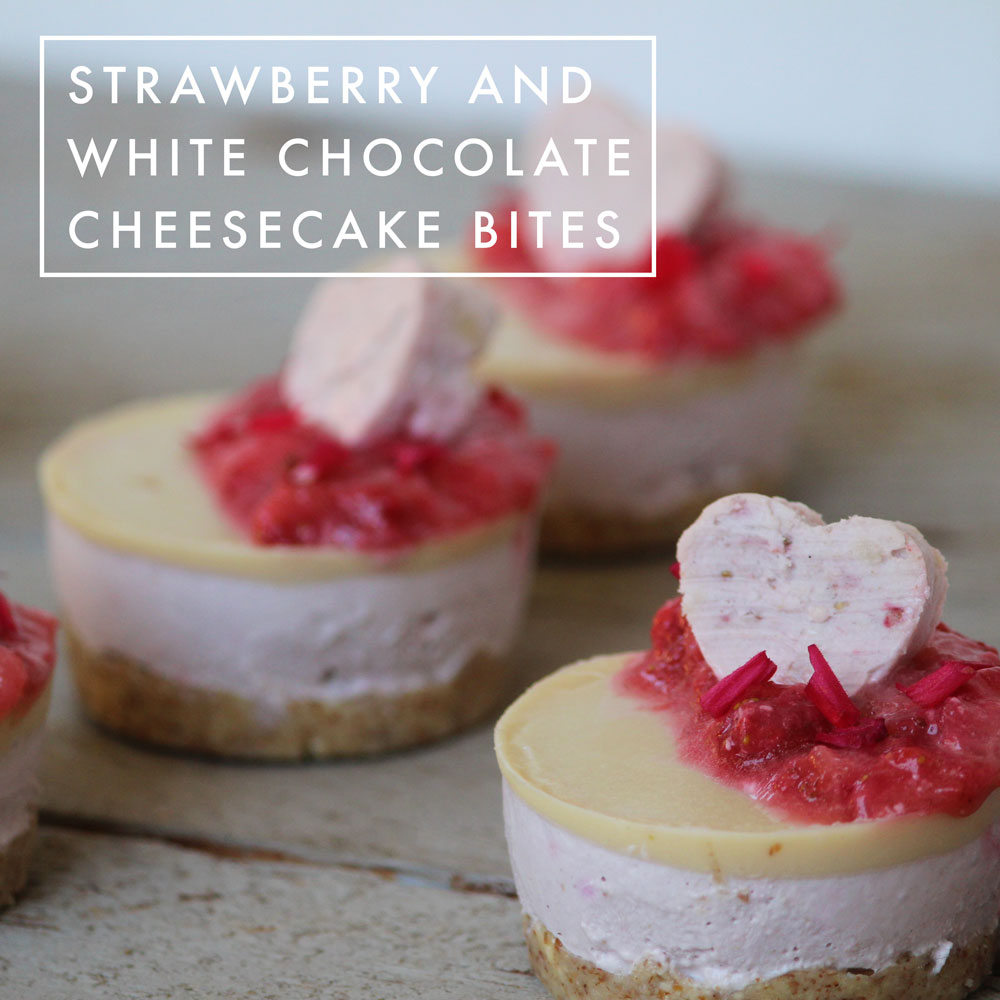 Strawberry & White Chocolate Cheesecake bites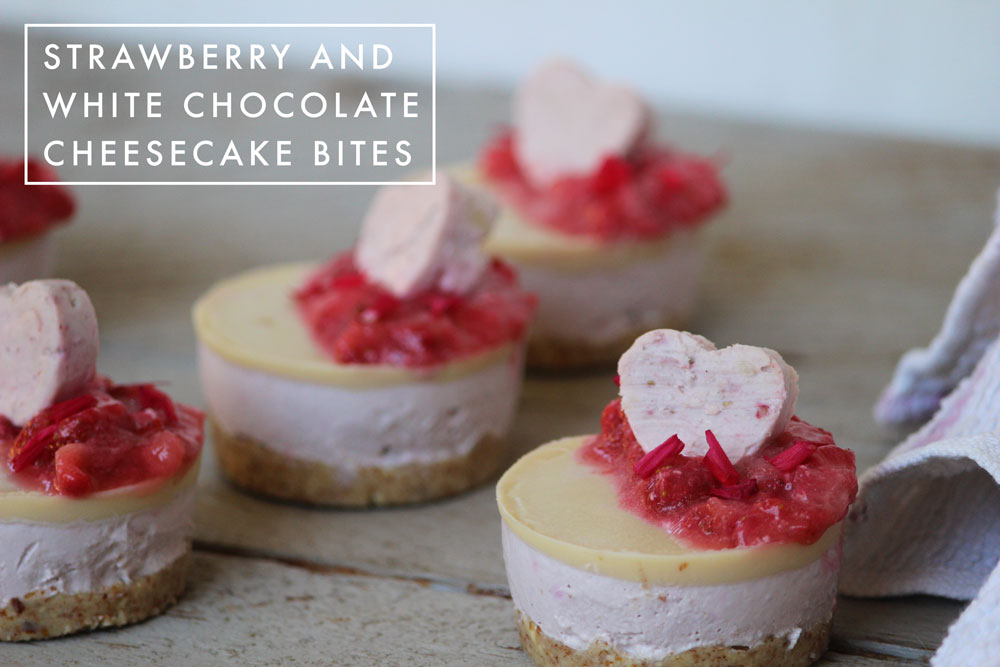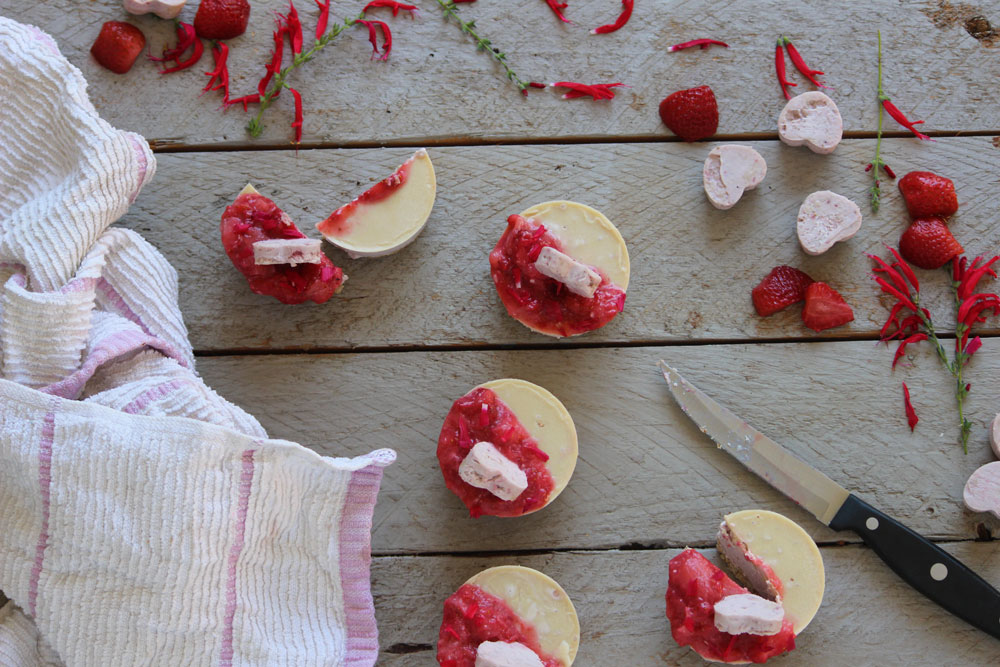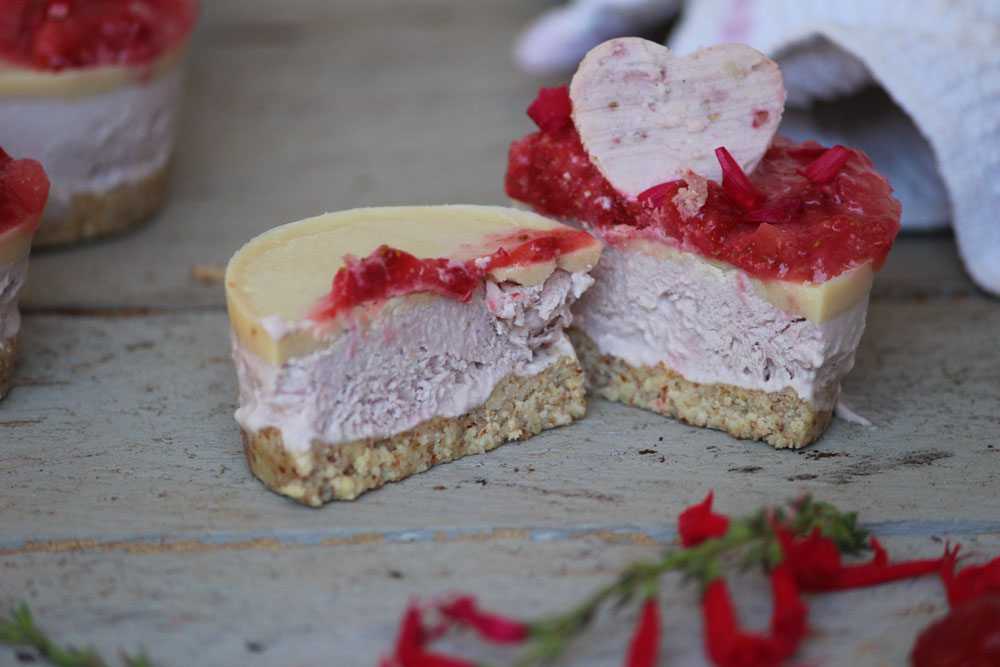 Creamy, delicious & full of goodness!
These cheesecake bites came about when we were trying to whip up something that we could snack on that was loaded with good fats (which will keep us feeling nourished & fuller for longer), super yum & quick to make.
Oh – and the usual – Gluten, dairy, grain & refined sugar free!
As our strawberries have been growing like wild fire at the moment, I wanted them to be one of the main ingredients! Another reason why strawberries made the 'main ingredient list' (and by the way – there are really only 2 'main' ingredients in this recipe) is because they're loaded with Vitamin C & Manganese PLUS they promote healthy eye sight & brain function!
In fact, berries in general are awesome for making healthy treats & make a much better choice of fruit than say a mango or a banana because they're not only lower in sugar, but their antioxidant level is through the roof!
Pretty cool right?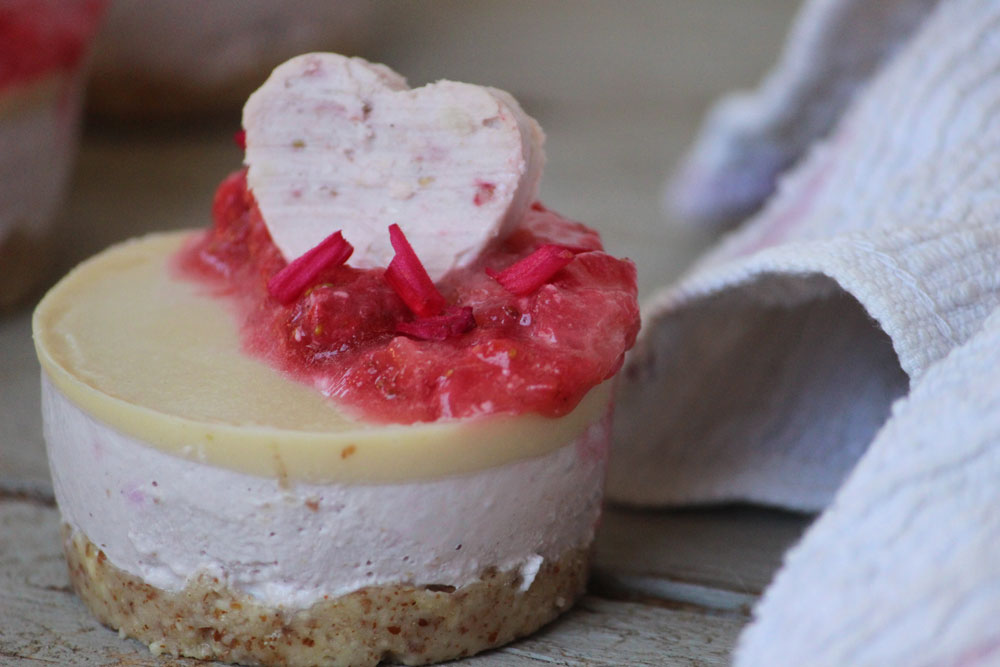 The other main ingredient is coconut!
This recipe contains both coconut butter & coconut cream. Coconut butter is essentially just coconut meat, & coconut cream is generally coconut meat blended with water & then strained.
Either way, coconut is an awesome source of healthy fats that not only help you to feel satiated (super important when you've been doing 15 hour days!), but unlike other types of fats are burned quickly for energy rather than being stored for later.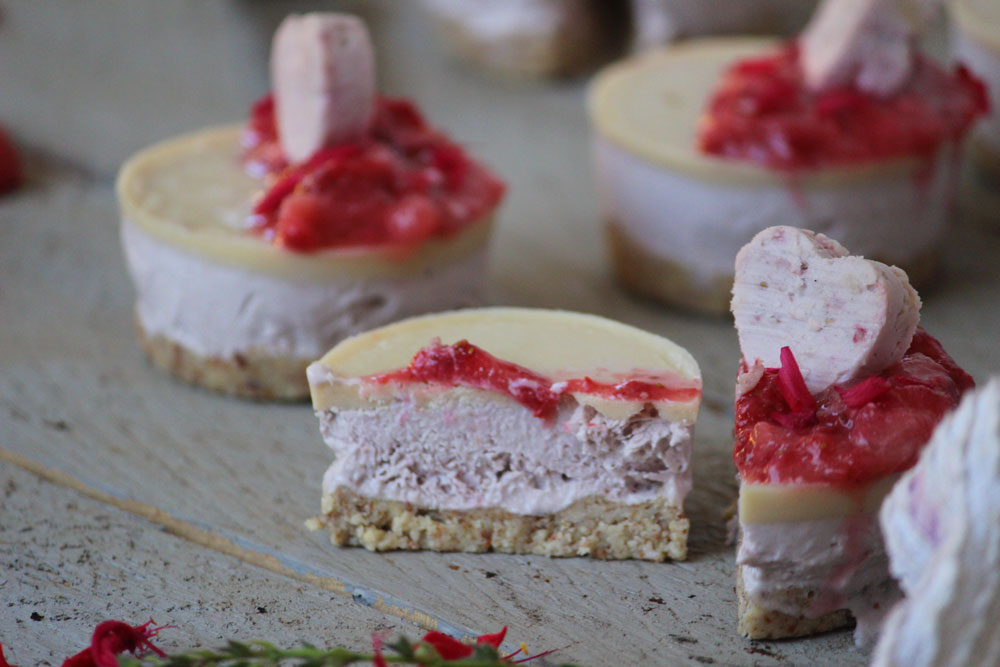 Some notes before we start…
These little babies are super simple to make & each layer only takes a few minutes to whip up… but you need to wait for each layer to set/firm up before you can add the next one. I do this by simply putting them in our freezer, going on with my usual tasks…and then once firmed up I make the next layer.
The recipe I've given you doesn't contain collagen however you can easily add this to the strawberry filling for an extra dose of goodness.
If you don't have any strawberries on hand, you can choose another berry such as Blueberry or Raspberry – just keep in mind that raspberries aren't as sweet as strawberries or blueberries!
The hearts on top of the white chocolate layer are made out of strawberry & white chocolate – they are absolutely delicious but totally optional (I've added it to the recipe as an extra option) & the strawberry coulis is simply just blitzed up strawberry. You don't need to do this but it helps hold the chocolate hearts up & hey… it looks pretty damn good, yes?
Alright – I think we're good to go!
Let's get to the recipe! 🙂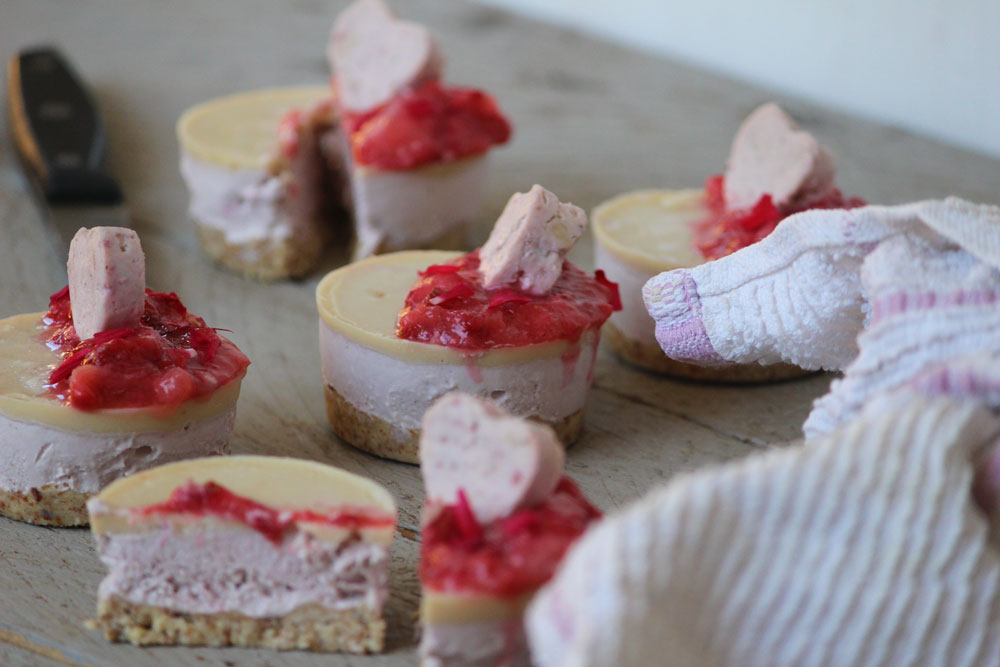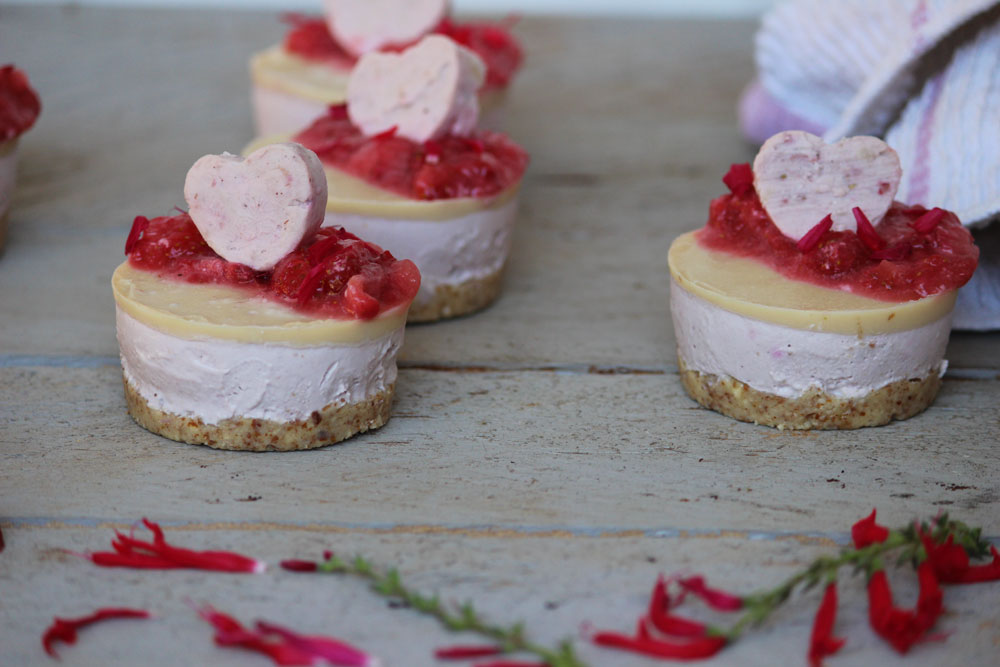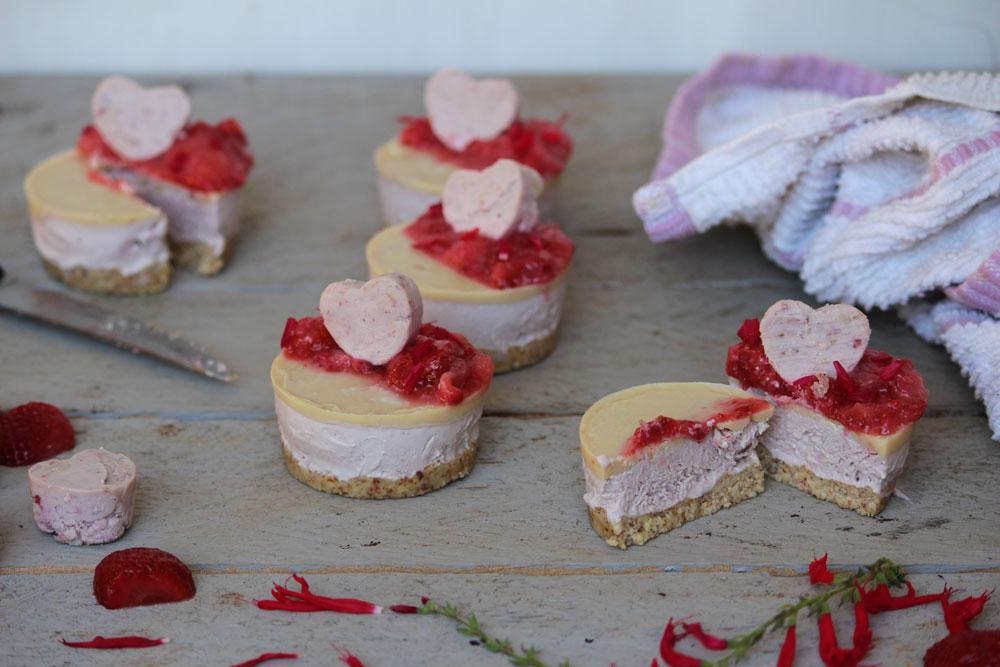 Strawberry & White Chocolate Cheesecake Bites
INGREDIENTS:
Base:
1 cup almond meal
2 tbsp. coconut oil
1 tbsp. organic honey
Filling:
1 can coconut cream
2 cups cashews
3 tbsp. organic honey
1 ½ – 2 cups strawberries
White Chocolate Top:
200gm coconut butter
½ cup cashews
½ cup strawberries (optional for strawberry & white chocolate hearts – see below)
METHOD:
Base:
Place all ingredients for the base into a food processor & process until moist crumbs appear.
Evenly spoon out mixture into a silicon muffin tray and firmly press the bases down until smooth & even.
Place in freezer until solid (minimum 20 minutes)
Filling:
Add all the ingredients for the filling into a high speed blender (we use a vitamix) & blend on high until smooth & creamy.
Grab your muffin tray out of the freezer and pour the filling out evenly onto the bases.
Place back in the freezer until the filling has set (minimum 1 hour)
White Chocolate Top:
Place coconut butter & cashews into a high speed blend and blend until creamy.
For just a plain white chocolate top, grab your muffin tray out of the freezer again, and pour the white chocolate on top of the filling. Place your muffin tray back into the freezer until set.
To make the strawberry and white chocolate hearts for the top of the cheesecake bites, as pictured above, leave ¼ of the white chocolate in the blender (instead of using ALL of it for the white chocolate top layer) & add ½ cup of strawberries. Blend together & then pour/spoon out into heart moulds. Place in freezer & once set, position on top of white chocolate layer, using a bit of blitzed up strawberries to hold it in place.
Take out of the freezer once set/firmed up & leave out on the bench until it has become a bit softer – then enjoy! Store in either freezer or refrigerator 🙂
Happy Cheesecaking! xo