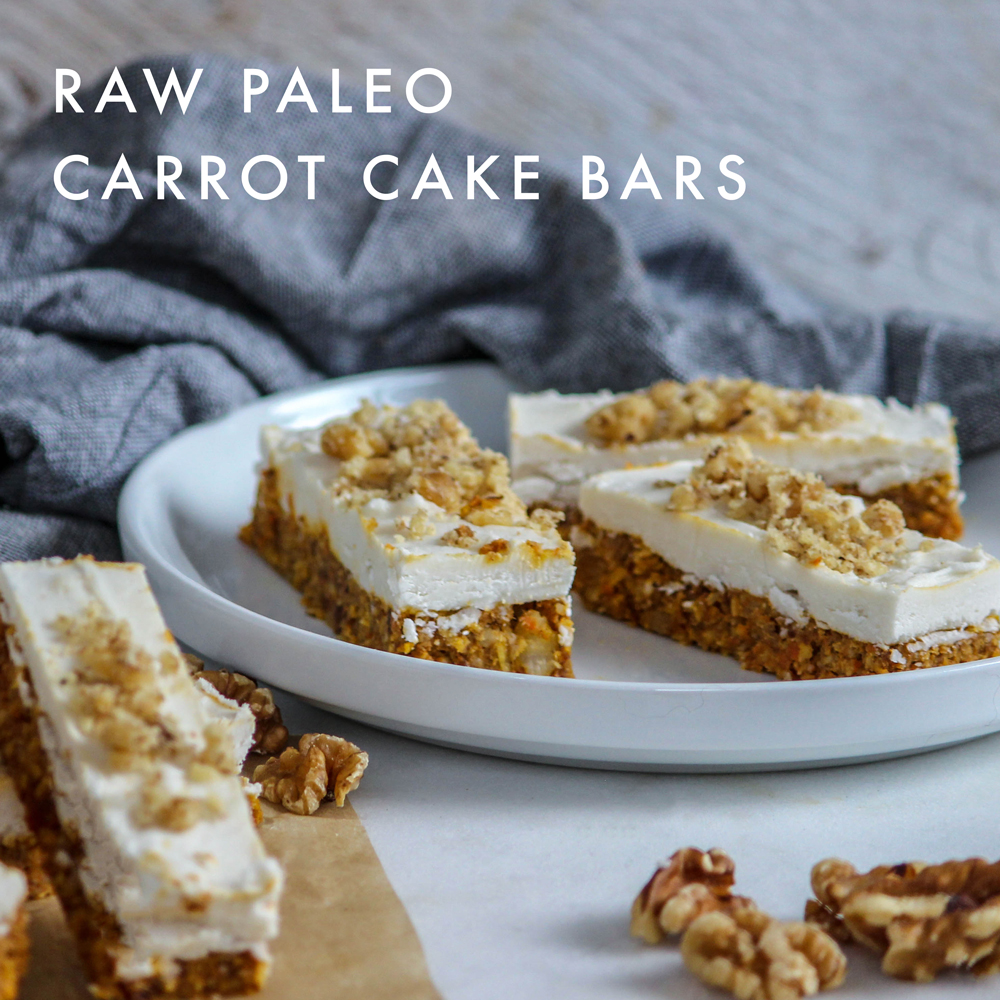 Raw Paleo Carrot Cake Bars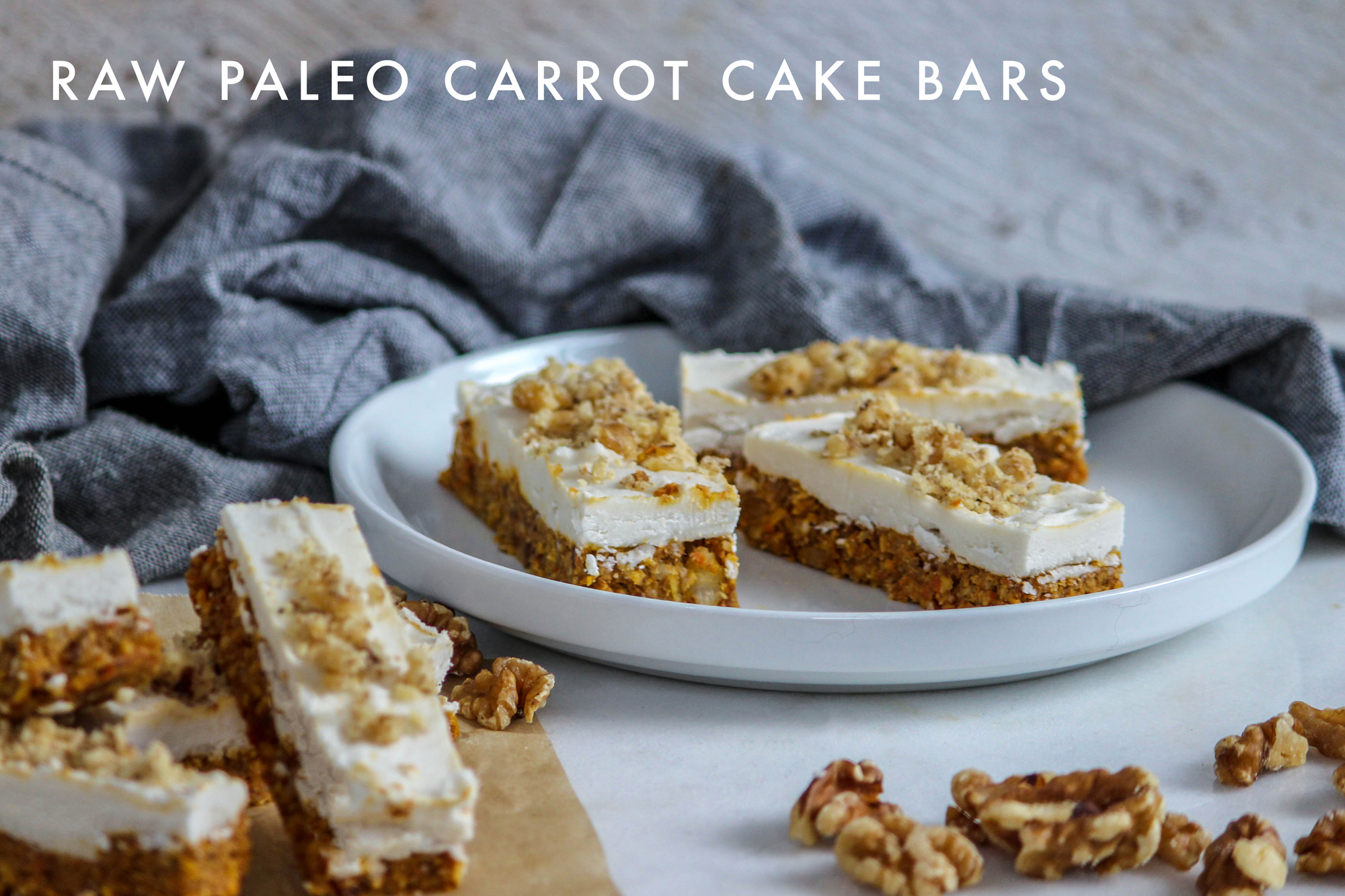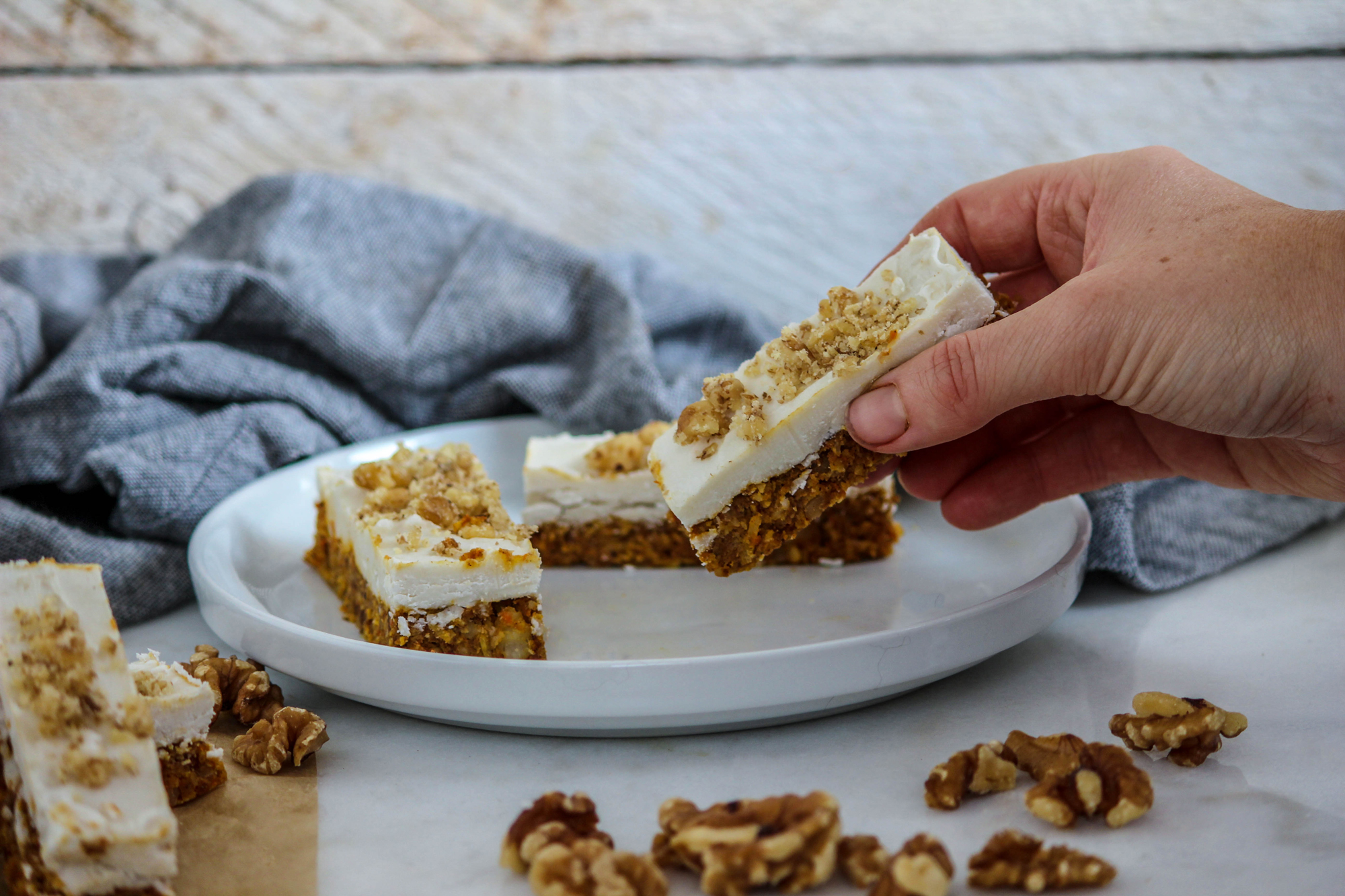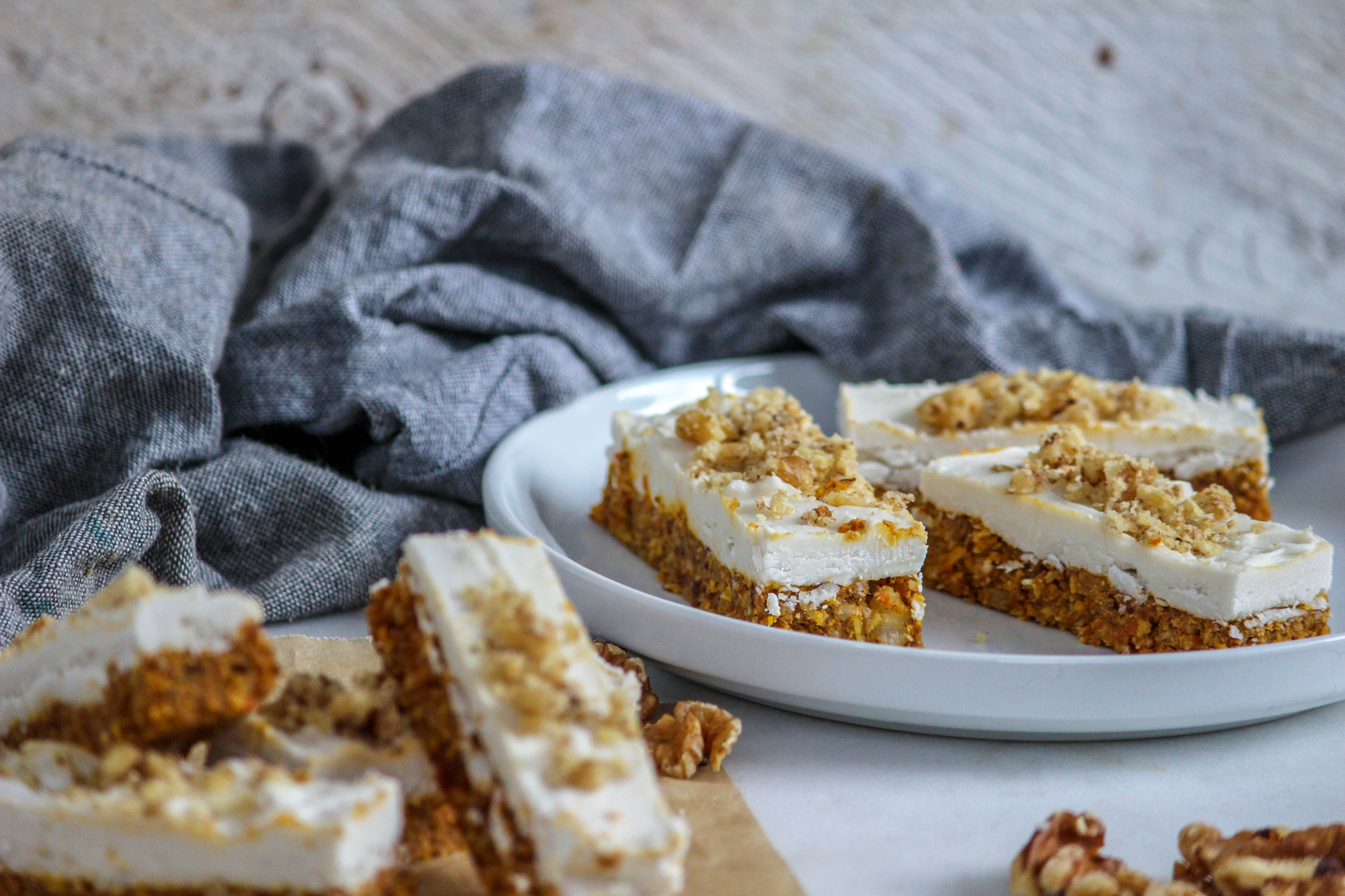 For super quick & easy nourishing treats, these guys are the bomb!
Sometimes you just don't have time to get your baking hat on & create some kind of epic magical creation in the oven… I get it!! But that doesn't mean you have to give up on your nourishing snack throughout the day 😉
These babies are for those times!
They're Super Simple… literally all you're doing in putting ingredients into a food processor, spreading them out in a baking dish & then popping them in the freezer… then you're doing the same thing with the icing layer but using a blender instead!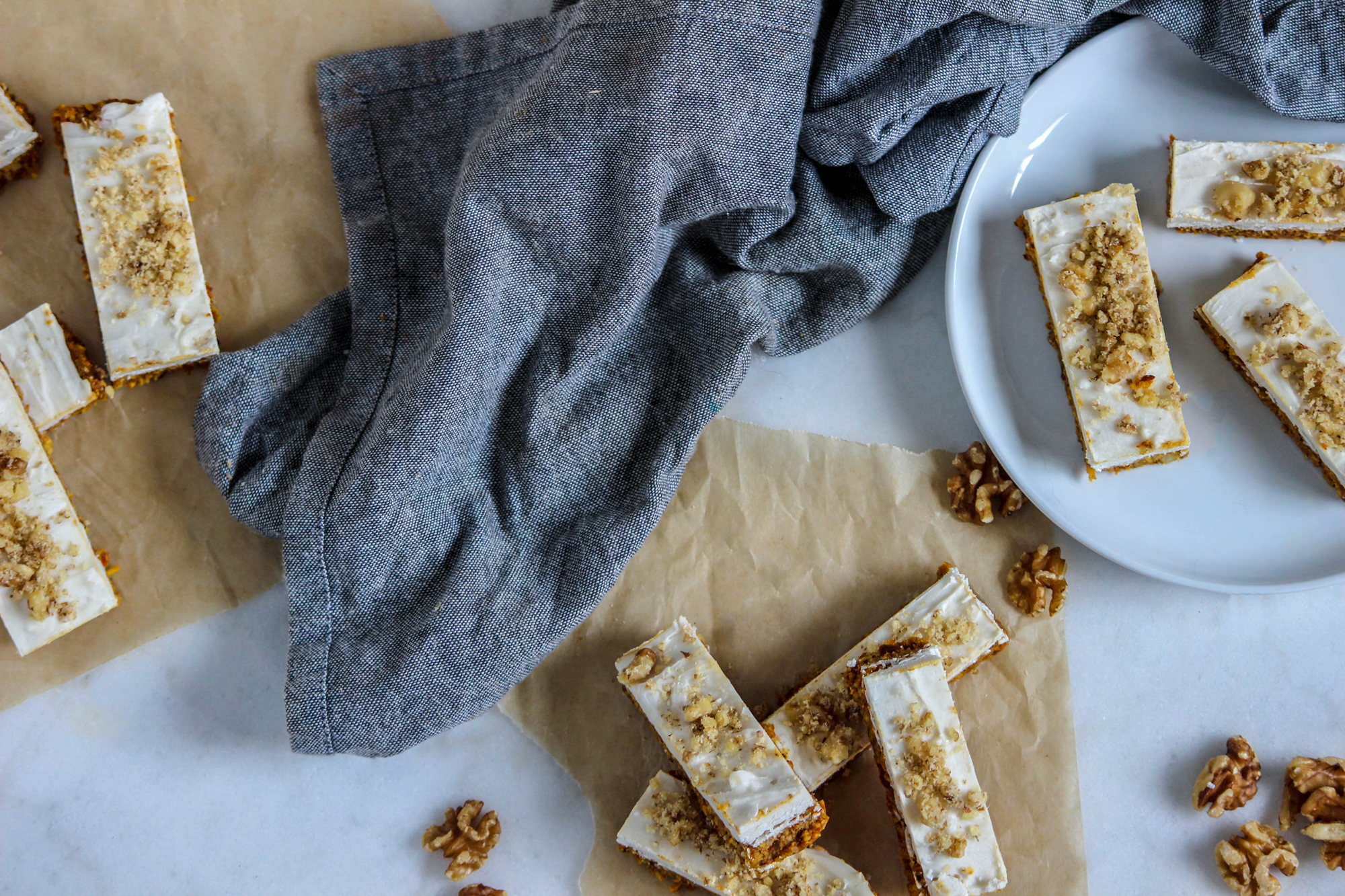 The ingredients are Super Nourishing… the thing we absolutely love about these bars is that they are loaded with healthy fats & are really filling! Perfect for when you've got a super busy day planned (AKA – our everyday!).
Here are some of the star ingredients:
Coconut Butter & Coconut Chips – Coconut is an excellent source of healthy, satiating fats. The medium chain triglycerides found in coconut butter are also an incredible source of energy that is quickly used by the body rather than being stored, meaning it helps improve metabolism & can even help with weight loss! It also contains Lauric acid which boosts immune function & has antibacterial properties.
Walnuts – Walnuts are another source of healthy fats, these guys contain Alpha Linoleic Acid (a type of Omega 3 polyunsaturated fatty acid) which has been shown to help heart health, gut health & reduce inflammation. Walnuts also contain the highest content of antioxidants of all nuts!
Carrots – Carrots are rich in beta carotene, an important antioxidant that helps improve immunity. They also have antiviral & antibacterial properties, stop inflammation & protect against free radical damage.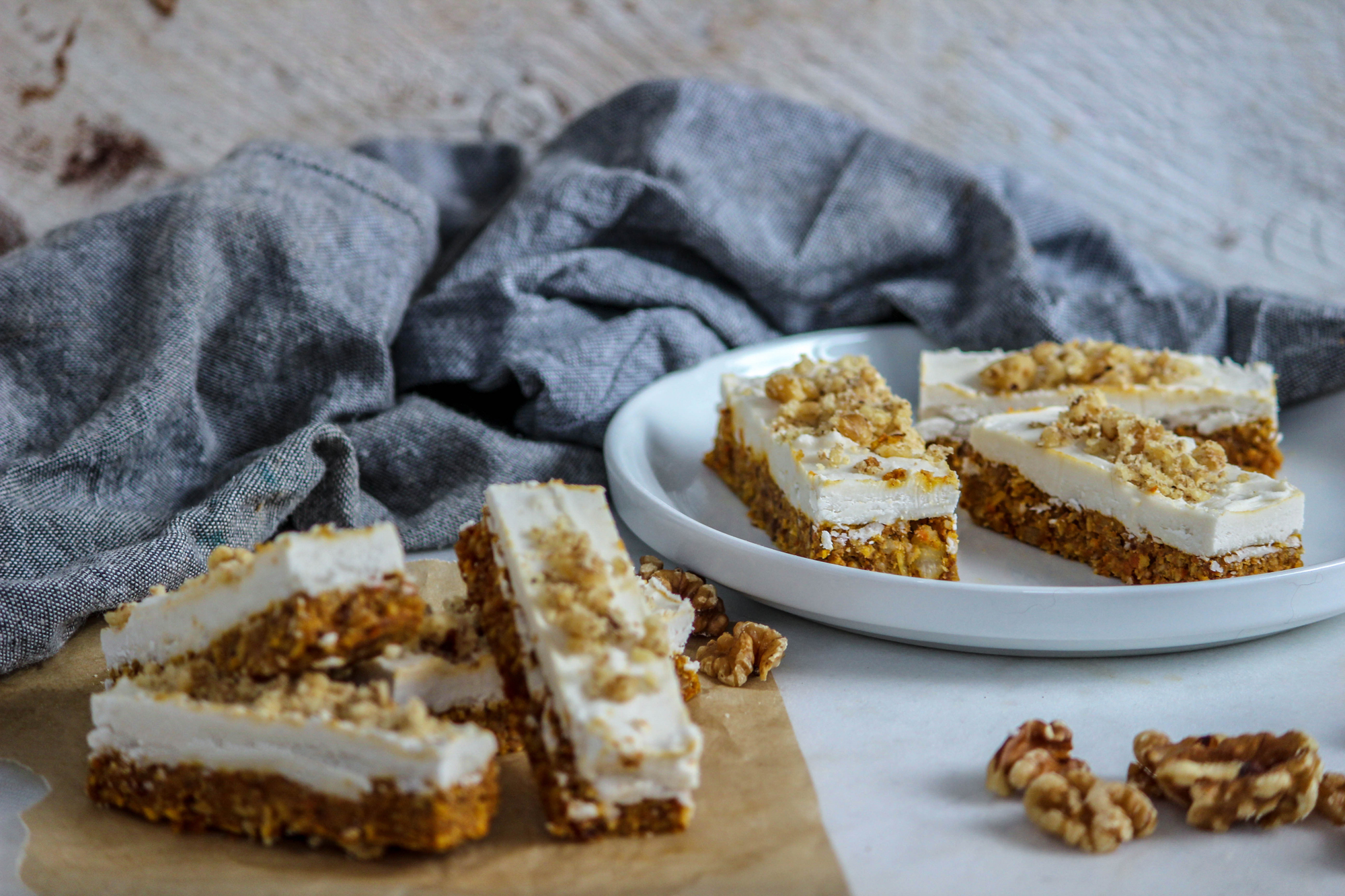 They are Super Delicious… Yep – even though they're really filling, we've been known to eat the whole batch minutes after pulling them out of the freezer. Okay maybe not minutes, but they usually only last one day in our household!
Alright you know the drill, let's go over the recipe notes!
Oh wait – they're so easy to make there are no notes!!! (Haha that was a little cheesy wasn't it? But in all seriousness… they are SUPER easy!)
Alright – let's get to the recipe!
Raw Paleo Carrot Cake Bars (makes 10 bars)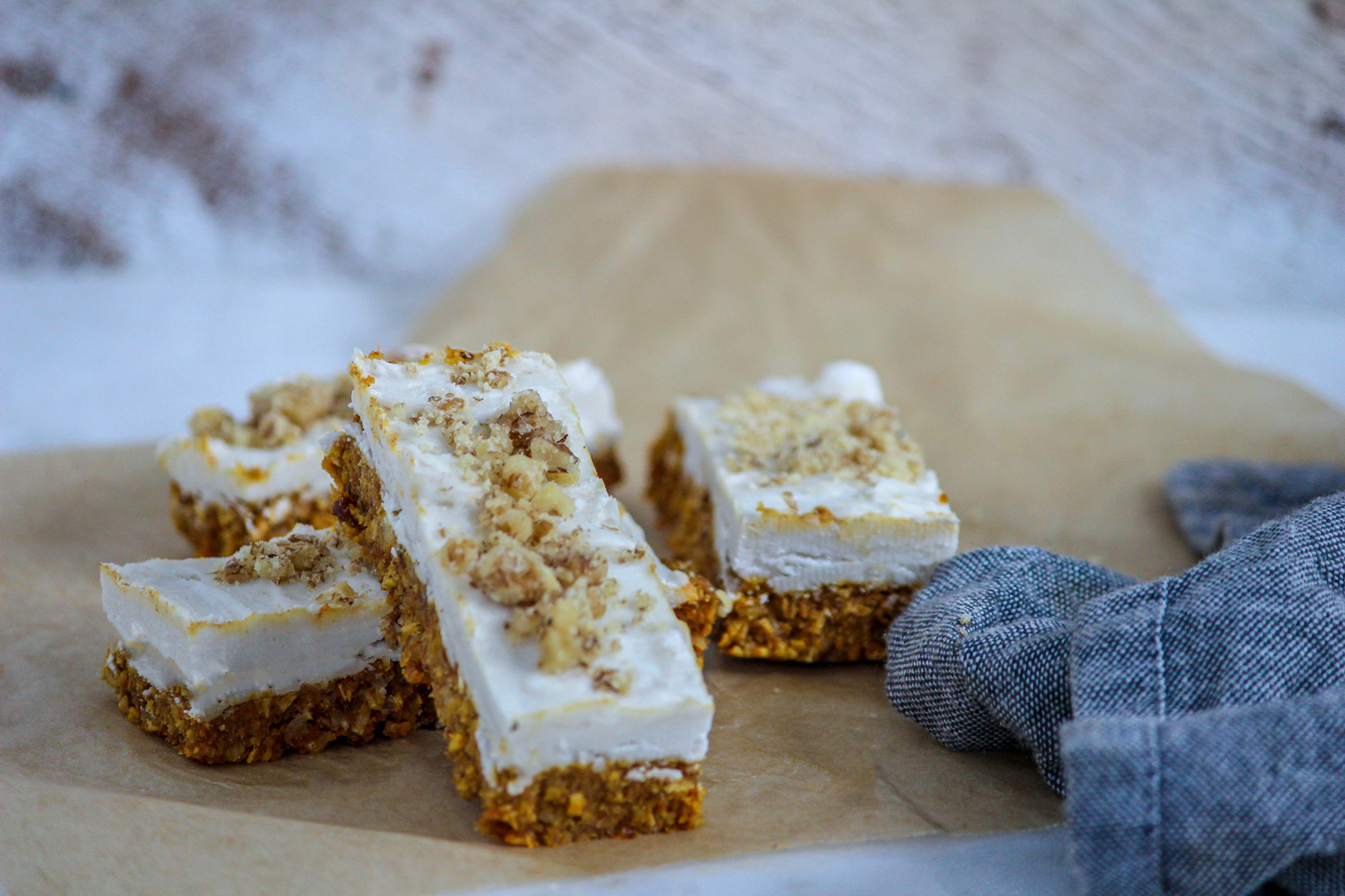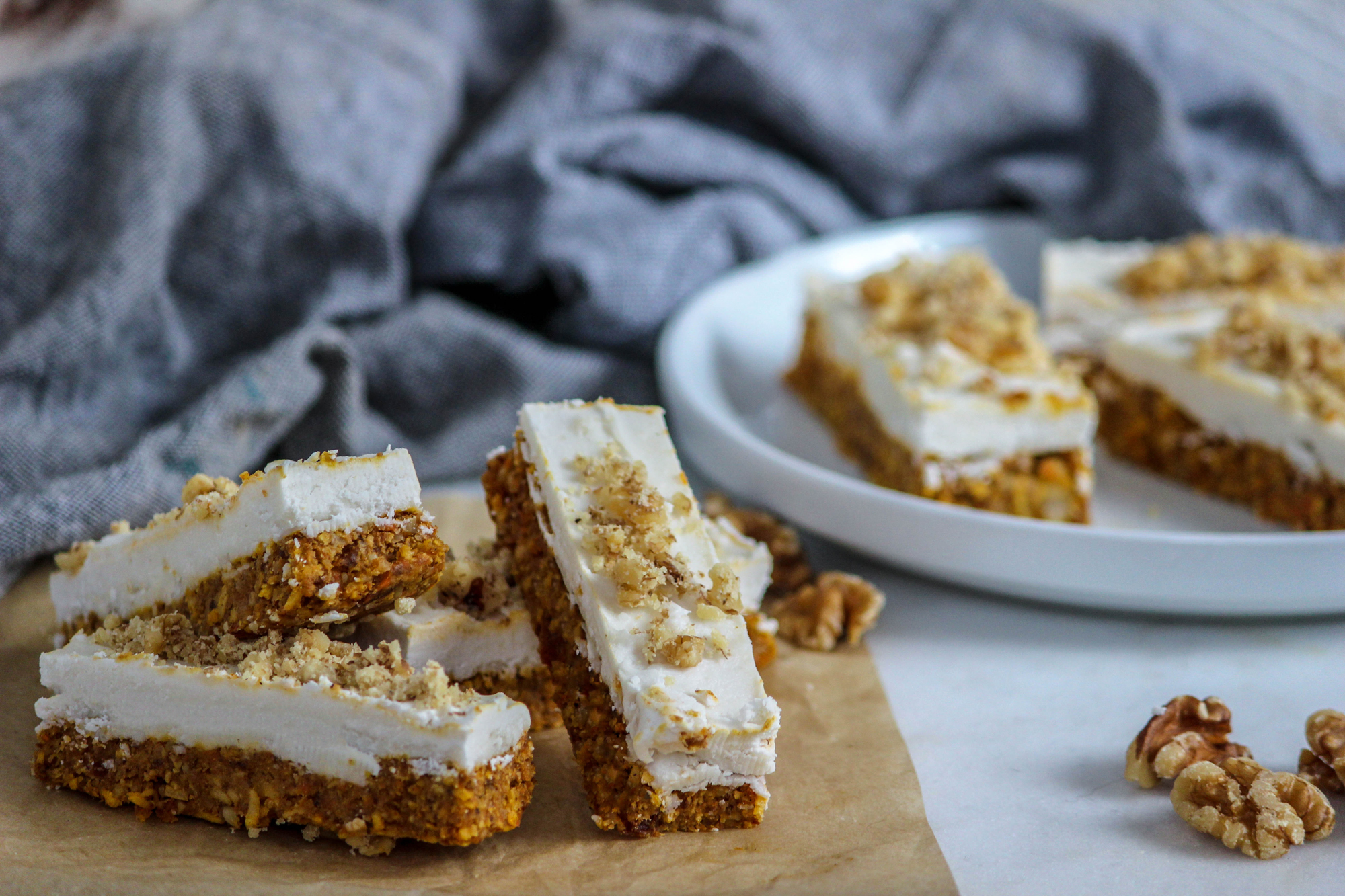 Ingredients
– Raw Carrot Cake –
1/4 cup coconut oil
1 cup shredded coconut
1 cup walnuts (+ a little more for decoration if desired)
1 cup grated carrots
2 tsp cinnamon
1/2 tsp nutmeg
8 large dates
– Icing –
1 1/2 cups coconut butter
¾ cup coconut cream
1 tbsp organic raw honey
Method
Line a square baking dish with baking paper.
Place all ingredients for your raw carrot cake into a food processor & process until combined. (The mixture should still be a little chunky – you don't want to make a smooth paste so don't process it for too long!)
Evenly spread out raw carrot cake batter into prepared baking dish so the batter is roughly the same thickness on each side.
Place in the freezer for 30 minutes.
Place all ingredients for your icing into a high speed blender & blend until smooth. Now spoon out on top of your carrot cake mixture & spread out with a baking spatula.
Place baking dish in the freezer again & leave until firm (around another 30 minutes).
Once firm, cut your carrot cake into bars by cutting them into 5 long strips, & then each strip in half.
That's it! Now have an incredible time munching on your Carrot Cake Bars! 🙂