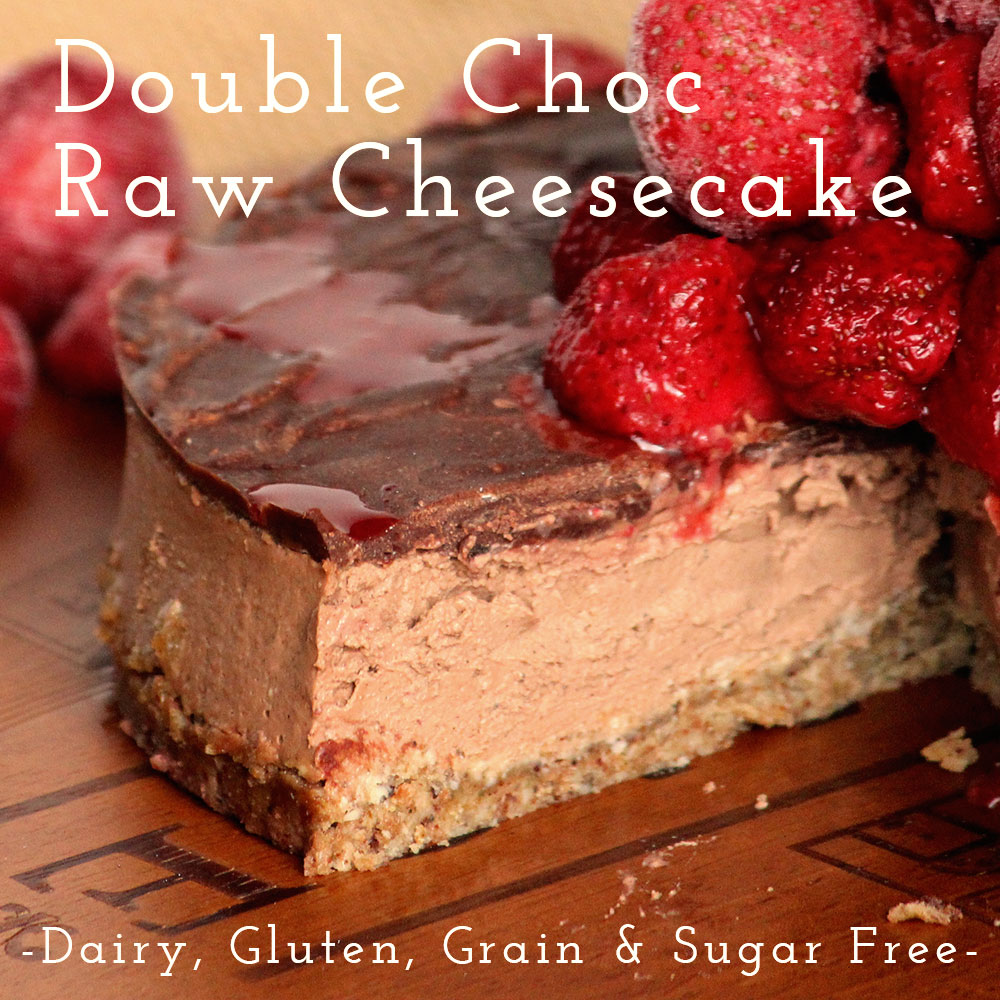 Paleo Double Choc Raw Cheesecake with strawberries
April 20 saw me celebrating my 27th Birthday – & the now 3rd birthday of my organic wholefoods lifestyle (which my beloved grandparents still don't understand…. picture a thick dutch accent exclaiming "Oh Crystal, you can eat cake can you!?" – something that i've now come to accept get a big kick out of)
It was an awesome day filled with meditation, yoga, lunch at Combi & Dinner at O.MY (Write up about these two places coming shortly!) – oh – &  there was really good cake! Like, super chocolately, super creamy, super delicious cake!
The best thing about it? I didn't make it!!
My husband made it ALL on his own 😉 – & if you knew my husband – you would know that this means it is extremely easy to make 😉
The second best thing is that it got the big tick of approval from me in regards to the taste & nutrition…AND he was able to use the endless supply of strawberries we have growing in one of our Healthy Patches – it was a win win win!
Alright, So what's in the cake & why is it so great?
Cacao
Chocolate in its purest form… before it has been processed and stripped of its amazing nutritional goodness.
Cacao is packed to the brim with antioxidants & is super high in magnesium.
Coconut cream
A quality healthy fat that everybody should include in their diet. It has high antimicrobial properties & is a powerful solvent for breaking up stored hardening in the body such as stored plaque. Coconut cream came in at number 9 in Dr Nat Kringoudis' Top 10 Foods for Fertility, and in her own words "It's like a chimney sweeper on your insides!"
Strawberries 
Loaded with Vitamin C & Manganese, & promotes healthy eye sight & brain function (oh and by the way – did you know strawberries are a herb? You can learn about the other awesome herbs you can start growing NOW + their health benefits in our free eBook "Wholesome Healing Herbs you can grow in the cooler months")
SWEETENERS USED:
Manuka Honey
Manuka is antimicrobial & antiviral. It is also an antioxidant that can help to increase vitality and immunity.
Mesquite Powder
High in protein, stabilises blood sugar & contains calcium, magnesium, potassium, iron and zinc.
Alright alright, if you haven't already scrolled down to the bottom of the page for the recipe then enough is enough :p Here is the recipe 🙂 xox
Paleo Double Choc Raw Cheesecake with Strawberries
-Dairy, Gluten, Grain & Sugar Free-
Ingredients:
Base:
1 1/2 cup LSA or almond meal (We LOVE LSA!! That's Linseeds, Sunflower Seeds & Almonds)
2 tbsp. mesquite powder
½ tsp. cinnamon
2 heaped tbsp. coconut oil
Filling:
400 ml coconut cream (1 can)*
1 cup cashews, soaked in water overnight, drained
2 tbsp. manuka honey
1/4 cup cacao
1 tsp. cinnamon
1/2 tsp vanilla bean powder (optional)
Raw Choc top layer:
1/2 cup Raw Cacao
1/2 Cup Coconut Oil
2 tbsp. Coconut Butter
1 Tbsp. Manuka Honey
1/2 tsp. Vanilla Bean Powder (optional)
Garnish:
1 Cup of Strawberries (fresh or frozen) *
Method:
Base:
Place all ingredients into a food processor & process until mixture resembles crumbs, & will easily stick together when formed into a ball. If mixture is a little dry add a little more coconut oil.
Firmly press mixture into the base of an 18cm loose base cake tin until smooth and even. Chill in the fridge for a minimum of 30 minutes before adding the filling.
Filling:
Place all ingredients into a high speed blender (such as a Vitamix) & blend on high speed until smooth. Pour into cake tin on top of base and chill in the fridge overnight or until firm… around 4 hours.
Raw Choc top layer:
Place all ingredients into a high speed blender (such as a Vitamix) & blend on high speed until smooth. Pour onto the filling and chill back in fridge until firm (around 1-2 hours).
PRO TIPS & ASTERISKS
If you're in a hurry, just put each layer in the freezer before you start the next one – it will spilt the waiting time in half. Just keep in mind that if you pour the raw choc layer onto the middle layer when you have just taken it out of the freezer, it will literally set straight away. This means that you can't smooth out the chocolate… so if you don't m,ind the rustic look such as ours – go right ahead! 😉
*Anth used Frozen as we freeze our strawberries when we pick them so they don't go bad… so if you want a strawberry glaze over the raw choc like ours, use frozen strawberries as they will melt & their juices will glaze over the raw choc top layer 😉
* Make sure to find a good brand of Coconut Cream that doesn't contain anything other than Coconut – we use OnRich Organic Coconut Cream 
Any questions at all, you know the drill! Just leave em in the comments below & I will get straight back to you!
C xxx