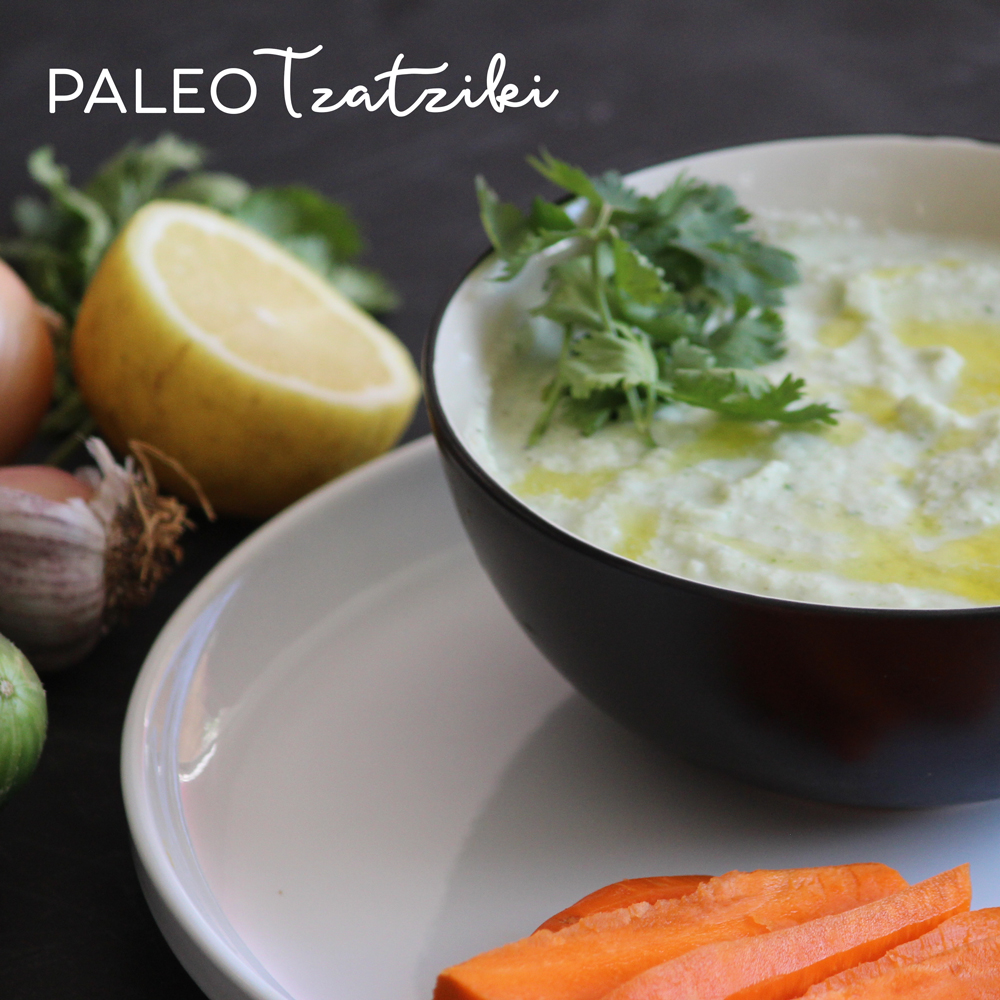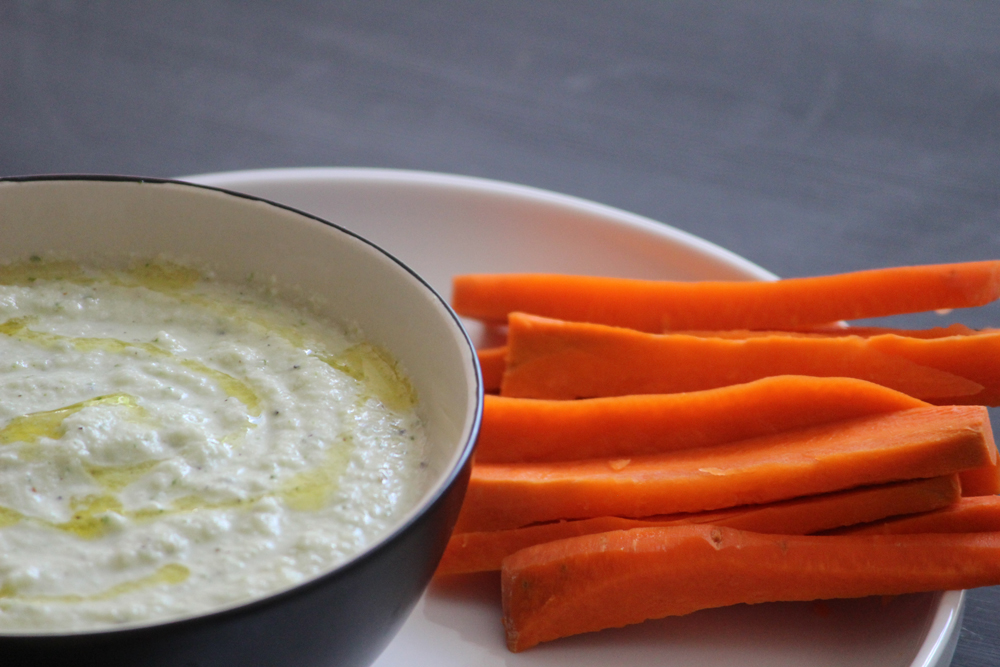 This creamy little dip came about because we've recently had a hugeeee influx of cucumbers growing in our garden… seriously… they were coming out of our ears!
So I thought – what better way to use a fresh cucumber than a homemade tzatziki yes? YES!!
And whilst the classic version calls for Greek yogurt – something that we choose not to eat – I decided to use coconut cream instead.
The result? It works an absolute treat!
Does it taste coconutty? Nope!
As you'll see in the ingredients – I did use a little spoon of arrowroot flour to get the consistency more firm, however if you don't want to use this you don't have to – it will just be a little more runny.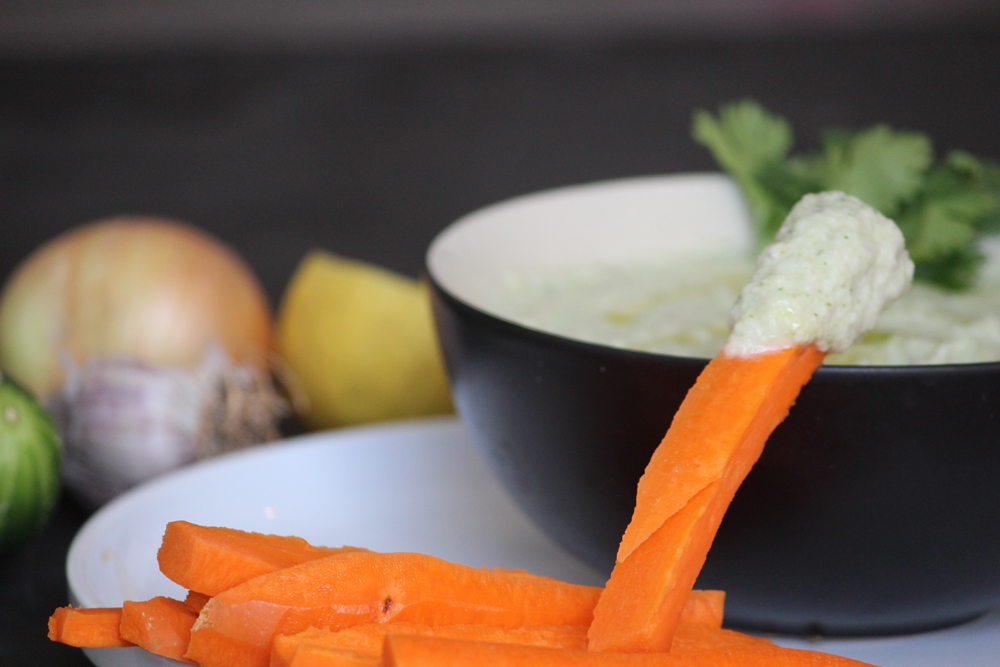 Now even though the classic version just calls for dill, I also put a little coriander in there as well because we just have so much growing.
I made one with & one without coriander, overall we like the coriander one better… It just adds another level of flavour to it however you might choose to leave it out – totally cool.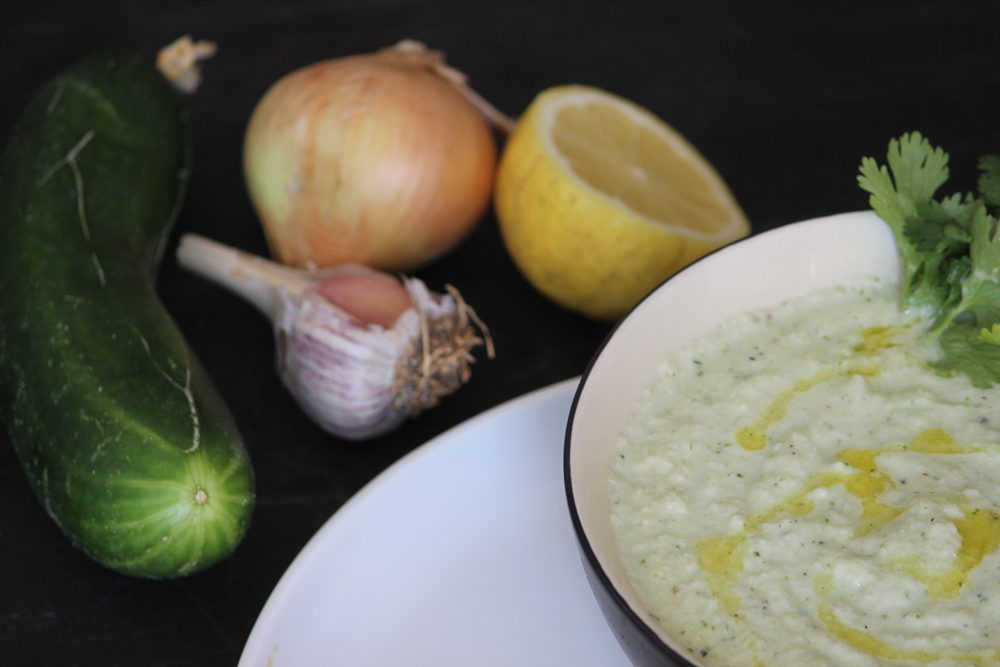 Now before we get to the recipe… you know the drill!
Let me tell you why your body is going to love it!
CUCUMBER: The humble cuke – not only does it help to stop you from becoming dehydrated – it keeps skin smooth, detoxes the body, maintains healthy digestion, & contains compounds that have been shown to fight cancer cells & protect your DNA.
COCONUT CREAM: A must have for every pantry! Coconut Cream is packed with healthy saturated fats which are essential for hormone production & cholesterol regulation. It's also a fantastic source of Lauric Acid – a medium chain fatty acid that gets used immediately by the body for energy rather than being stored as fat for later. If that isn't enough – it also actually helps the body to burn fat!
GARLIC: Garlic can help to prevent diabetes by normalising blood sugar levels & contains some serious anti-fungal, anti-viral & anti-microbial properties which make it very effective against colds or other infections. Garlic consumption has also been linked to a reduced risk of certain types of cancer & even the prevention of heart disease.
ONION: Just like its cousin garlic, onion has been shown to have awesome cancer fighting properties. They're also a powerful anti-inflammatory food & can help to maintain strong bone density – one study actually concluded that women over 50 who eat onion everyday were 20% less likely to suffer a hip fracture than those who never eat it!
LEMON: Lemon is a great source of Vitamin C which is crucial for a strong immune system & overall good health. It also contains Pectin, a type of fibre that feeds your good gut bugs. Lemon also helps you to better digest & absorb your food.
Okay – now for the recipe!!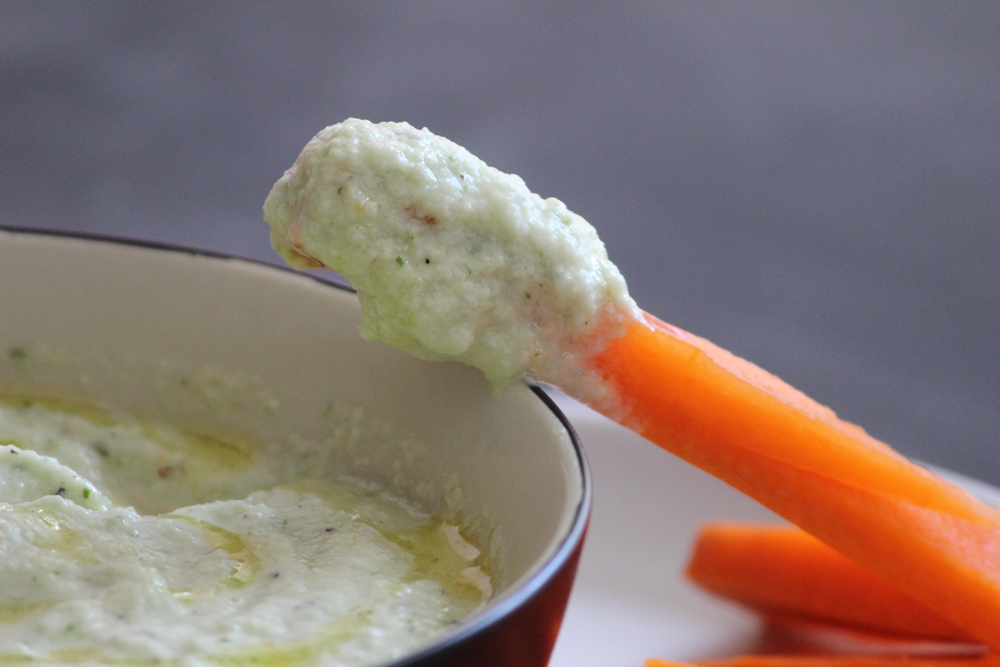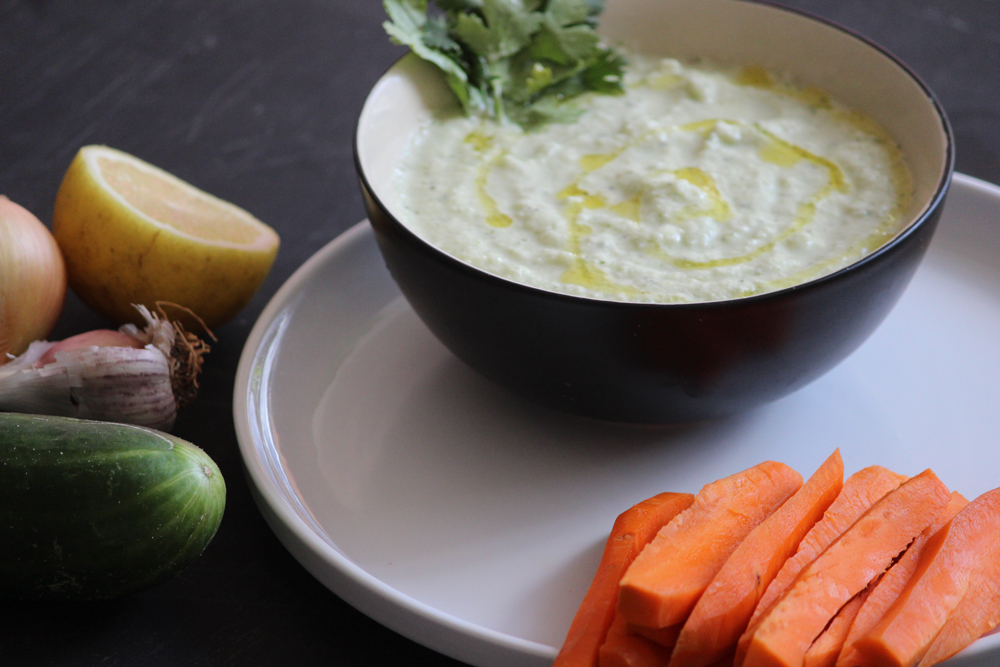 Ingredients
1 can Coconut Cream, refrigerated overnight.
1 large Cucumber, grated
Juice of half a SMALL Lemon
1 Onion, diced
3 Garlic Cloves, minced
Small handful of Dill, chopped
1 teaspoon of Arrowroot flour
Small handful of Coriander (optional)
Pink Salt & Pepper to season
Olive Oil to serve
Method
Open can of Coconut Cream & drain liquid. You only want to use the thick creamy solid part.
Place in blender & add grated cucumber, garlic, lemon juice, onion, dill, arrowroot flour & coriander if using.
Season well with Pink Salt & Pepper & blend until smooth.
Pour dip into a bowl & refrigerate overnight. The dip will be quite runny after you have blended everything so refrigerating overnight will let it set as well as enhance the flavours.
In the morning you will have a creamy beautiful dip!
Drizzle with olive oil & serve with veggies OR use it in your cooking, on top of pizzas, in zucchini flowers, on pastas – wherever you can think of really!
Enjoy! xox