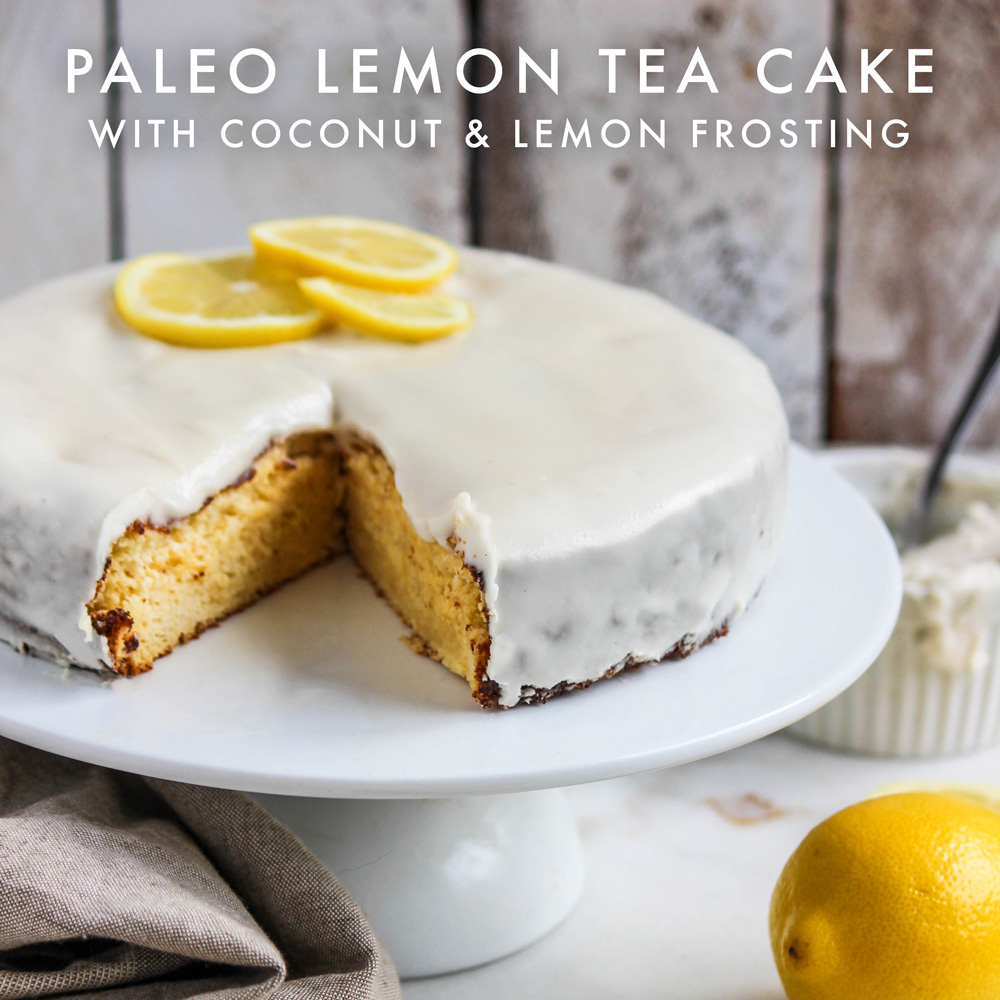 Paleo Lemon Tea Cake with Coconut & Lemon Frosting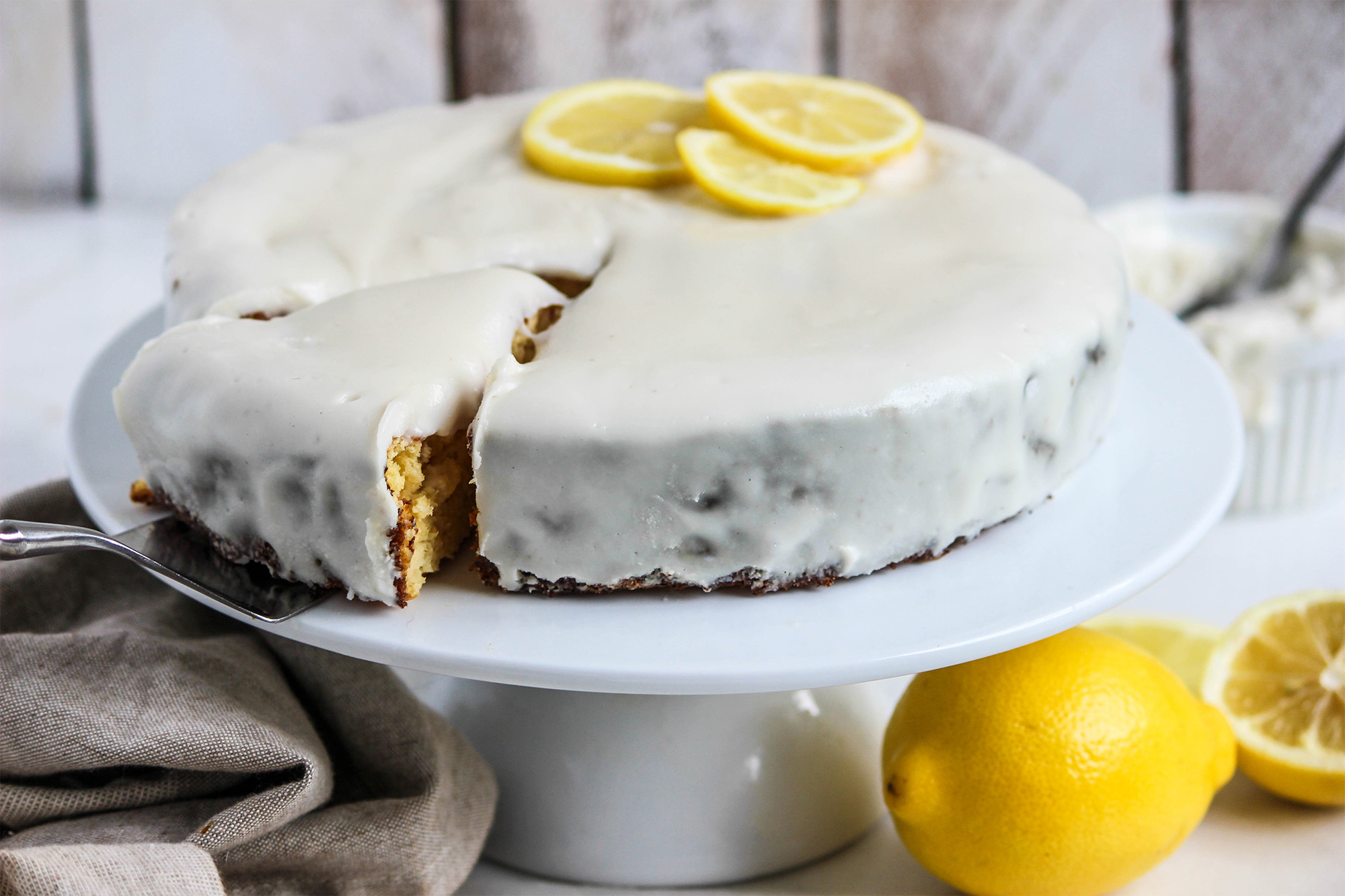 Now if you know us at all, you know we're pretty big on our paleo chocolate treats! Like our rich gooey pumpkin brownies… or our beetroot donuts (all of which you can get right here in our free eBook The Healthy Chocolate Recipe Collection btw) but to get the best night sleep possible, having Cacao late at night isn't the best choice! In fact it does the opposite of helping you relax!
That's what sparked our sudden craving for a beautiful citrus tea cake.
One that had a light & fluffy texture, wasn't too rich & tasted incredible!
One that you could sip a relaxing cup of lemon balm tea with.
Or take a few more slices than normal & not let it keep you up!
I chose to create a lemon tea cake because A. lemons are packed with Vitamin C + promote awesome digestion & skin health & B. I'm absolutely obsessed with our paleo lemon tarts… so If I can add a lemon tea cake to the repertoire then I'll be pretty damn happy!
So off I went on my lemon tea cake journey!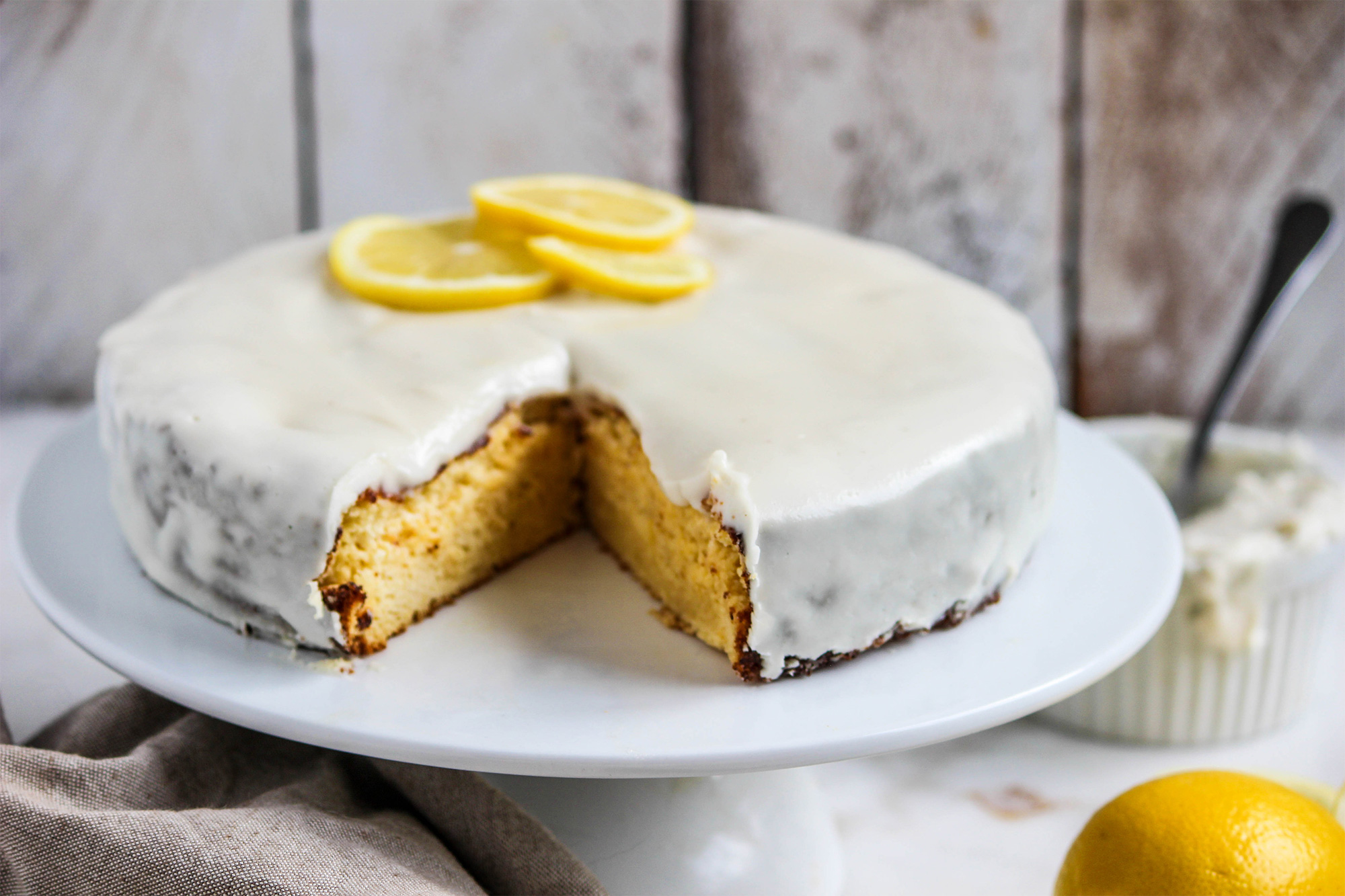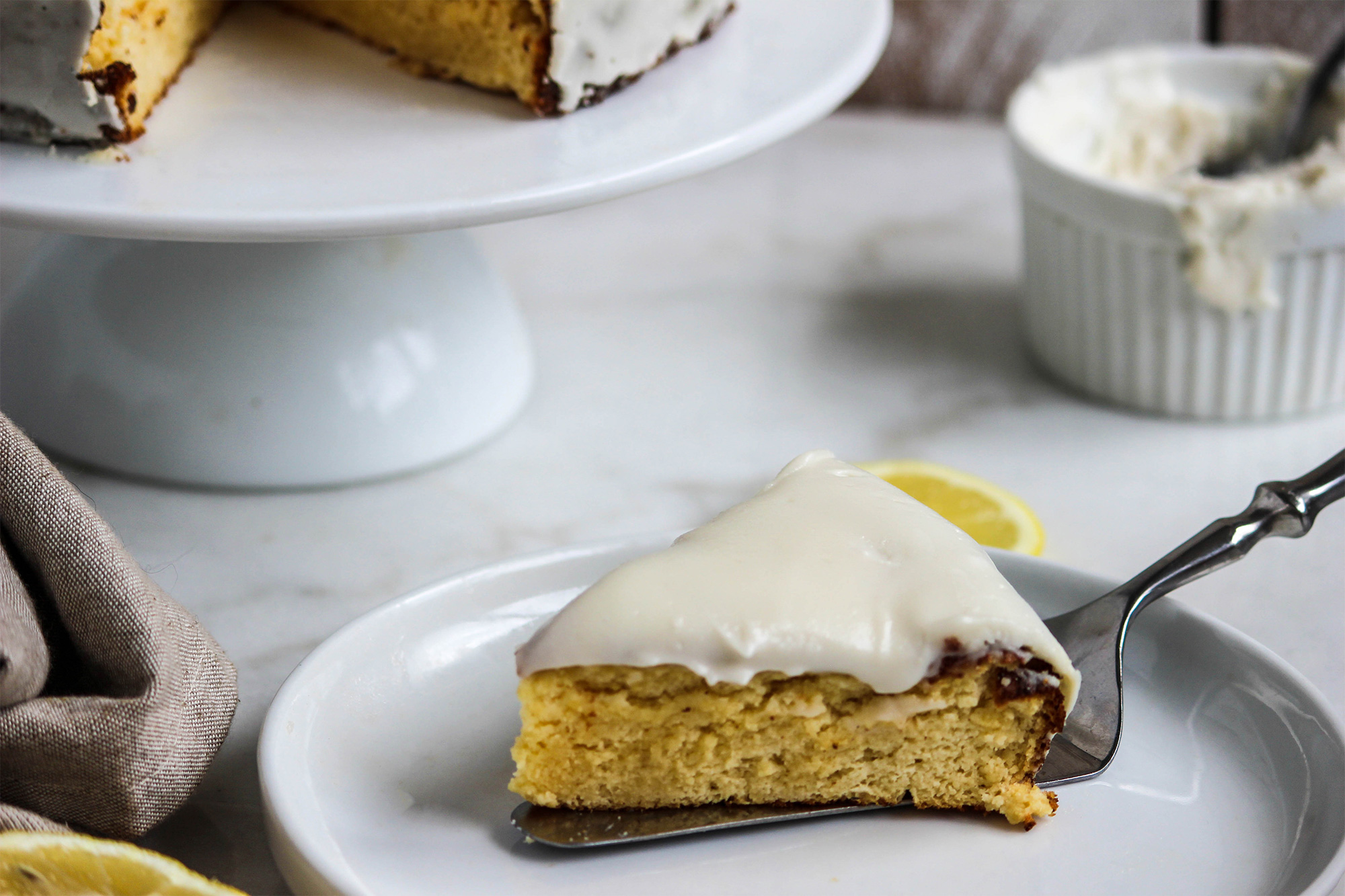 This cake actually took me 3 goes to get right.
The first one wasn't sweet enough.
The second one wasn't lemony enough.
The third one (the one pictured)…. INCREDIBLE.
Hands down our favourite cake EVER. Literally – I wish I could eat this everyday. I won't. But I wish I could :p
For a grain & gluten free cake, the texture is amazing. It's so fluffy!
And the icing takes it to a whole new level – so make sure you don't skip that step!
Now usually I have some recipe notes… but this cake really is so simple.
It's a just a matter of mixing up the dry ingredients in a bowl, processing the wet ingredients in a food processor, & placing the egg whites in an electric mixer on a high speed whilst you're getting the wet & dry ingredients ready so the egg whites can form into peaks. Then you're literally just mixing the wet ingredients into the dry ingredients, and then folding the egg whites through. Bake it in the oven, let it cool down completely once it's done, whizz up the icing, ice the cake… and then go head first into the best lemon cake you will ever eat 🙂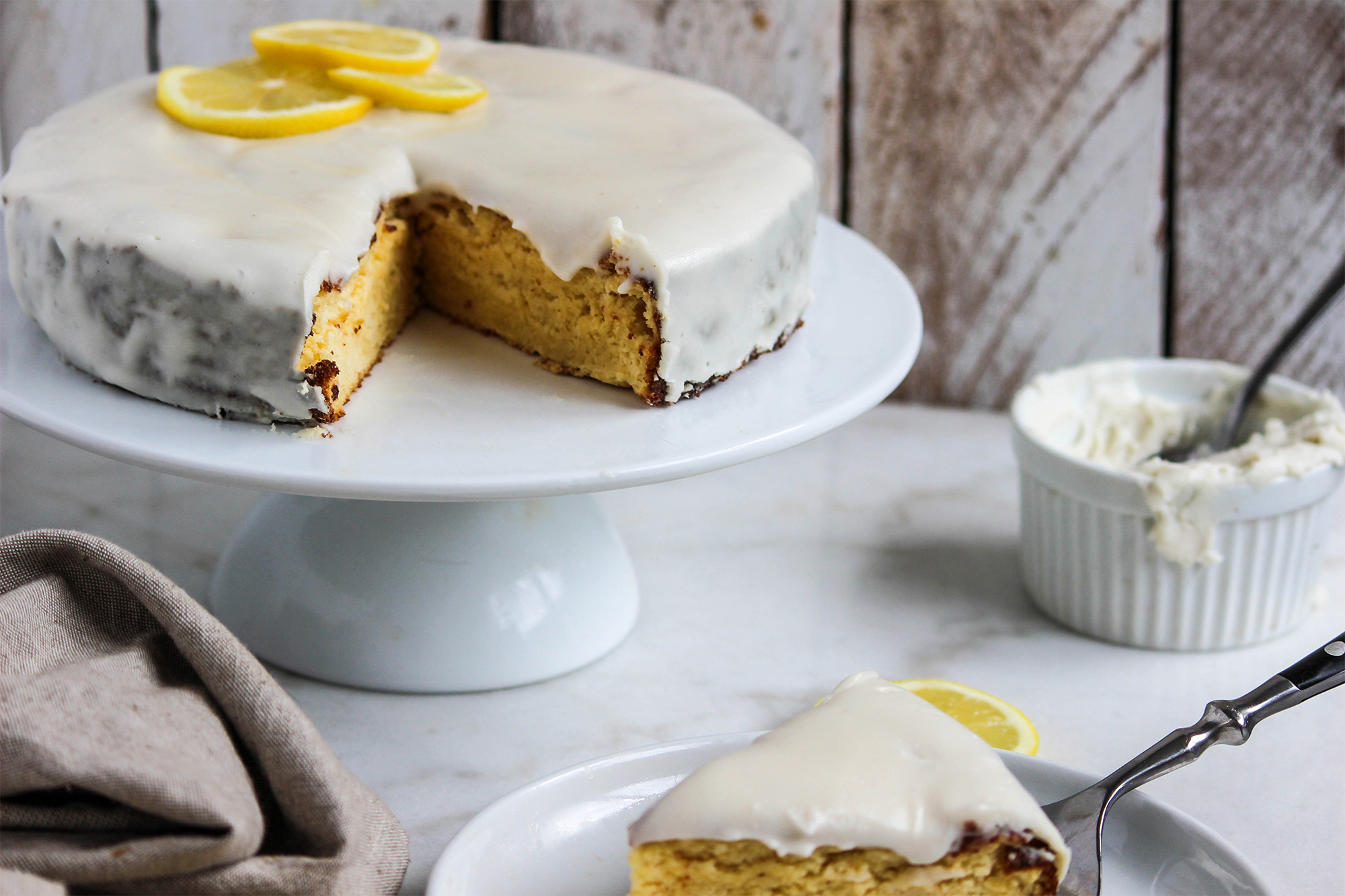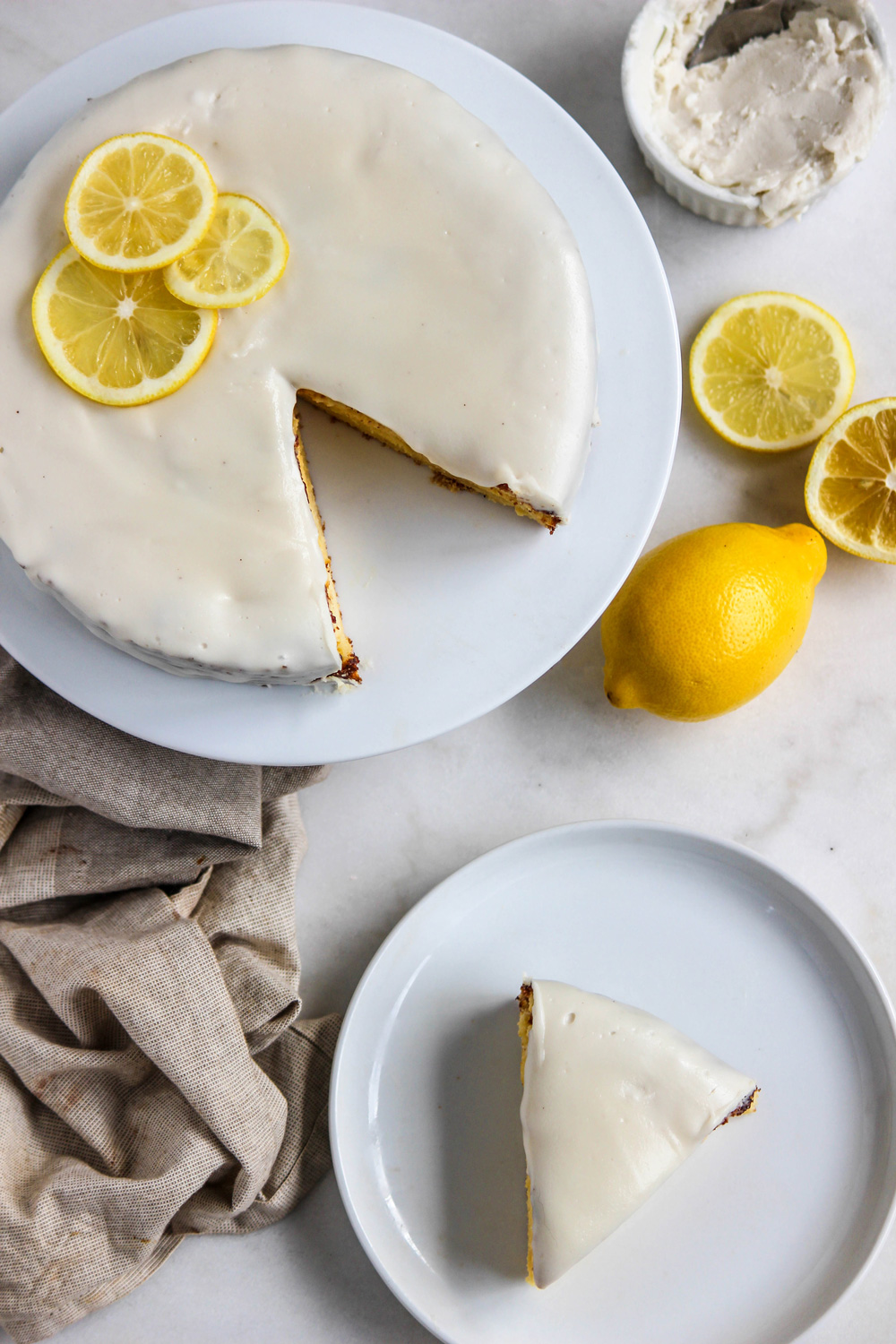 PALEO LEMON TEA CAKE
INGREDIENTS
DRY INGREDIENTS:
2 cups almond flour/blanched almond meal
½ cup arrowroot
2 tsp baking powder
WET INGREDIENTS:
4 eggs separated + 1/2 tsp baking powder
Juice of 5 medium lemons (just under 1 cup of lemon juice)
5 tbsp honey

FROSTING:
1 cup coconut butter

1 cup coconut cream

1 tbsp raw honey

1 tbsp lemon juice
METHOD
Preheat oven to 175C. & line a springform cake pan with baking paper or alternatively grease well with coconut oil.
Place egg whites & 1/2 tsp baking powder in an electric mixer with whisk attachment & whisk on high until firm peaks appear (you should be able to place the bowl upside down over your head without the egg whites moving!)
Whilst your egg whites are forming into peaks, it's time to get everything else ready.
In a big bowl, combine all dry ingredients (almond flour, arrowroot & baking powder).
Next, place wet ingredients (egg yokes, lemon juice, vanilla & honey) into a food processor & process until smooth.
By now, your egg whites should be firm peaks (seriously – put it over your head!). Once they turn into peaks you MUST work fast as they can start to seperate.
Mix the wet ingredients into the dry ingredients, & then fold through the egg whites.
Be careful when folding the egg whites through the mixture because if you go too hard you can knock out the air.
Pour cake batter into prepared cake tin & bake for 35 – 40 minutes.
Leave to cool before frosting.
Coconut & Lemon Frosting
Combine all ingredients into a high speed blender & blend until smooth.
Add the frosting to the cake using a baking spatula. The icing makes the cake so delicious so be generous and go all the way down the sides of the cake too!
Now go make a tea, sit down with some bloody good company & enjoy this incredible cake!