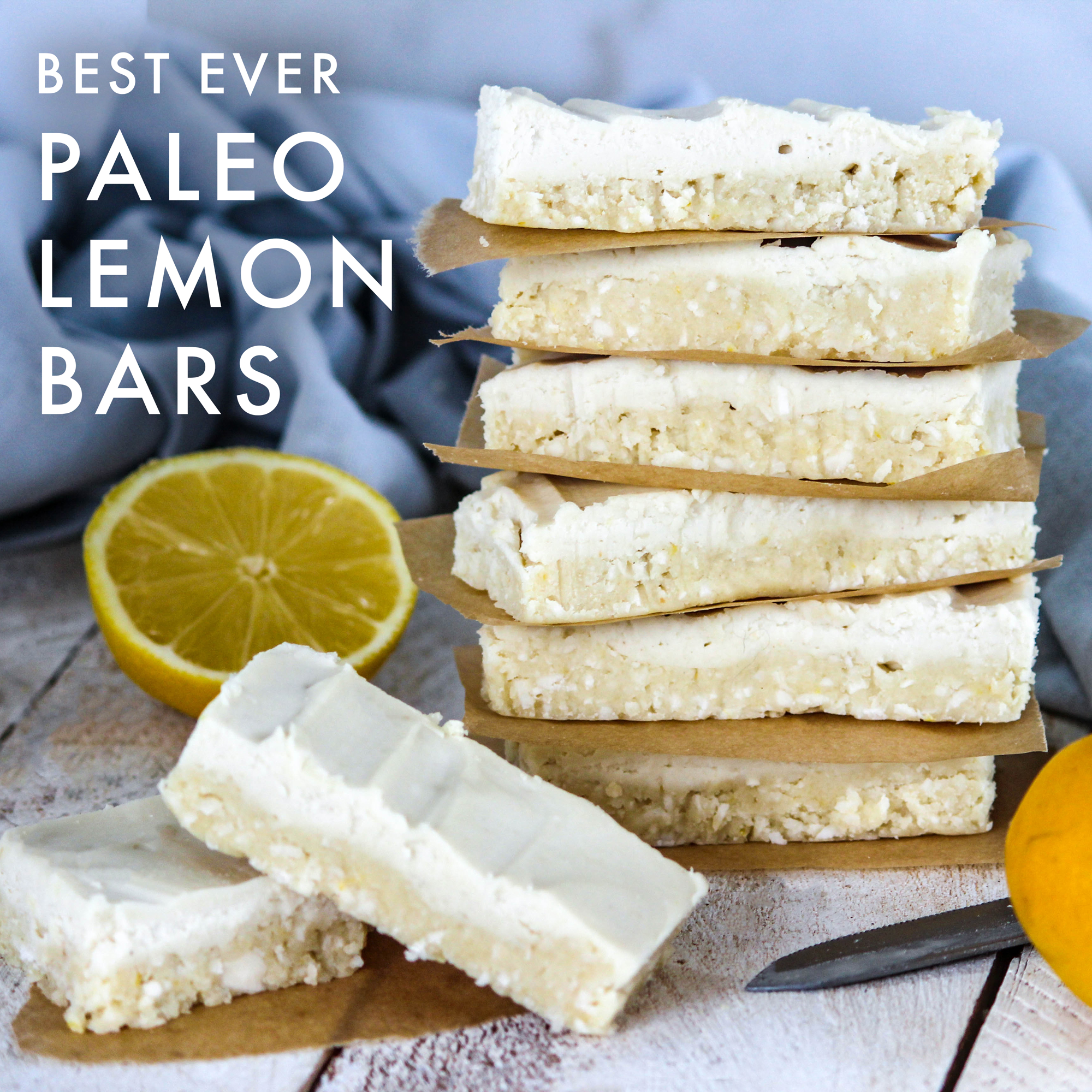 Best Ever Paleo Lemon Bars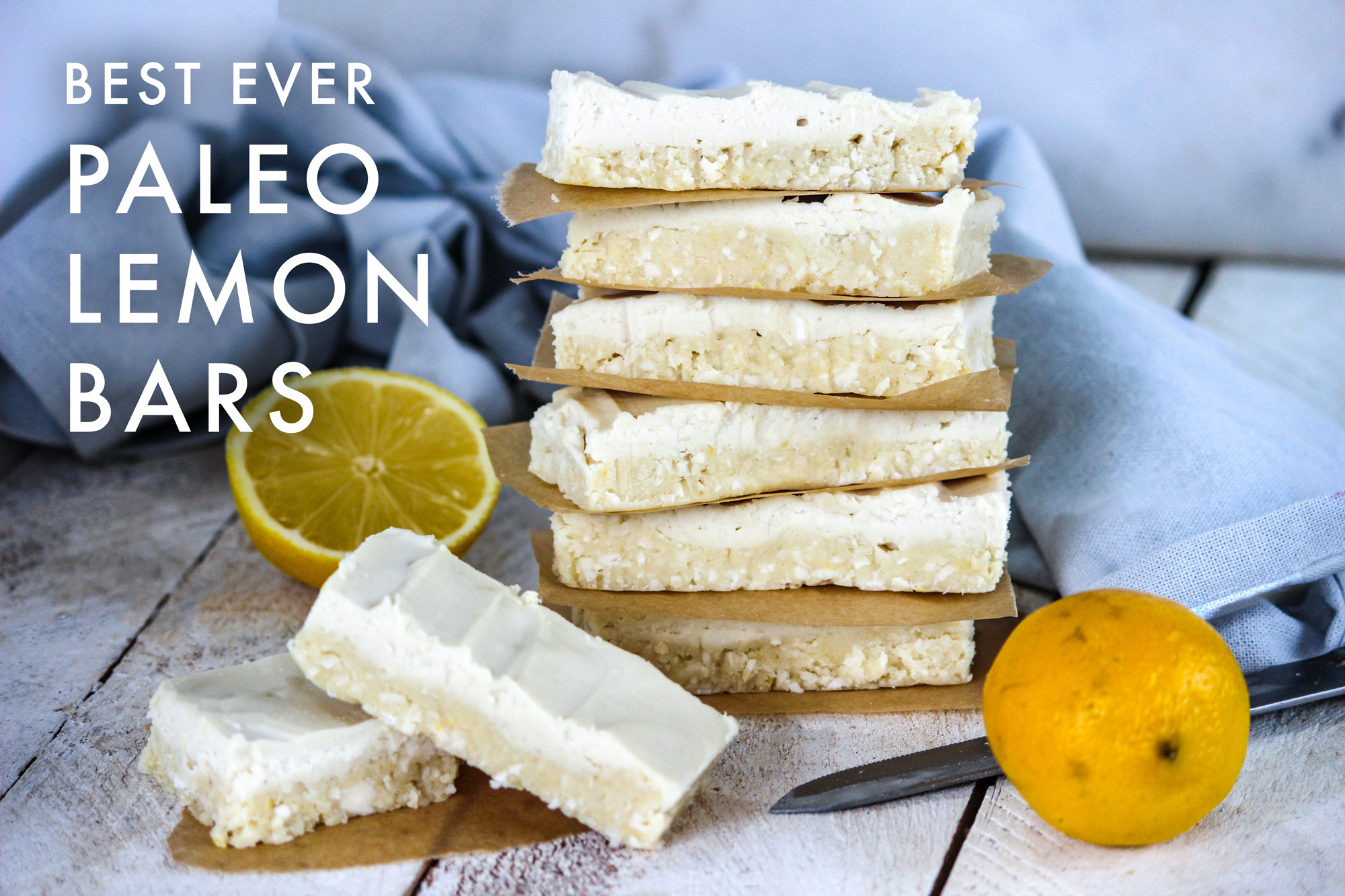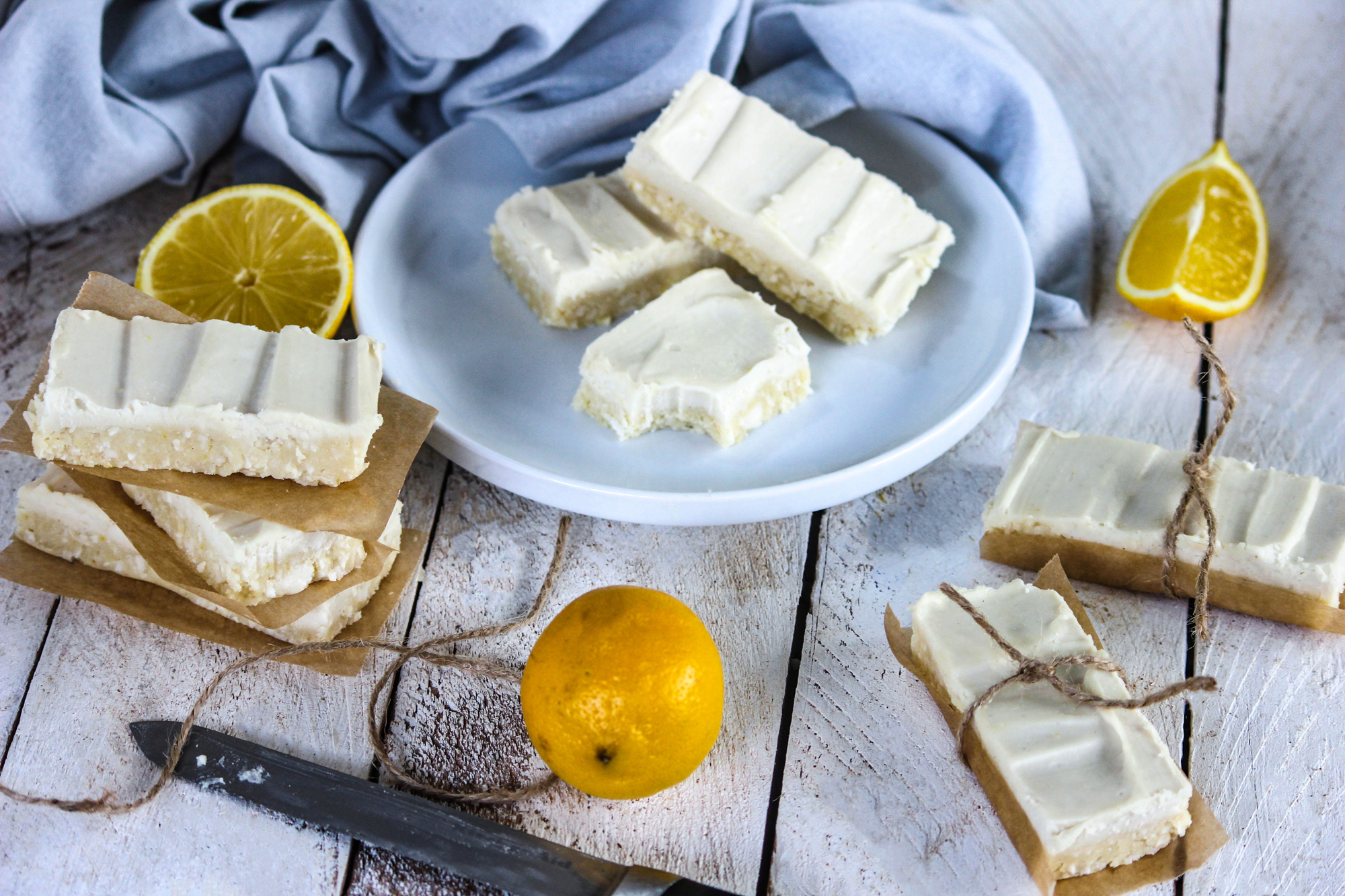 Alright – hands down these bars are now our favourite thing in the world :p
In fact I'm eating one as I write this. They're addictive!
Lemon bars were always one of our favourites growing up so I've wanted to recreate a paleo lemon bar for a while now… & straight of the bat these babies were incredible!
I made a few tweaks to get the strength of the lemon just right, but all in all these bars are one of the easiest & most delicious things I reckon we've made! Better yet… the ingredients in these bars are awesome for your gut & overall energy!!
Let's talk about the main ingredients.
Lemons – Lemons help with digestion which allows you to better absorb the nutrients from your food. They help promote healthy immune system function, reduce inflammation & improve iron absorption.
Coconut – Coconut is loaded with nourishing, healthy fats that help keep you satiated & can be used as energy by the body quicker than other types of fat. It can also help to boost metabolism, immune function & contains antibacterial properties that help to fight off viral infections.
Collagen – Collagen is the most prominent protein in the body, but once we hit 25 we start to produce less & less of it. Consuming collagen regularly can help improve skin, hair & nail health, strengthen joints, bones & connective tissue & it also help with leaky gut/keep your gut healthy!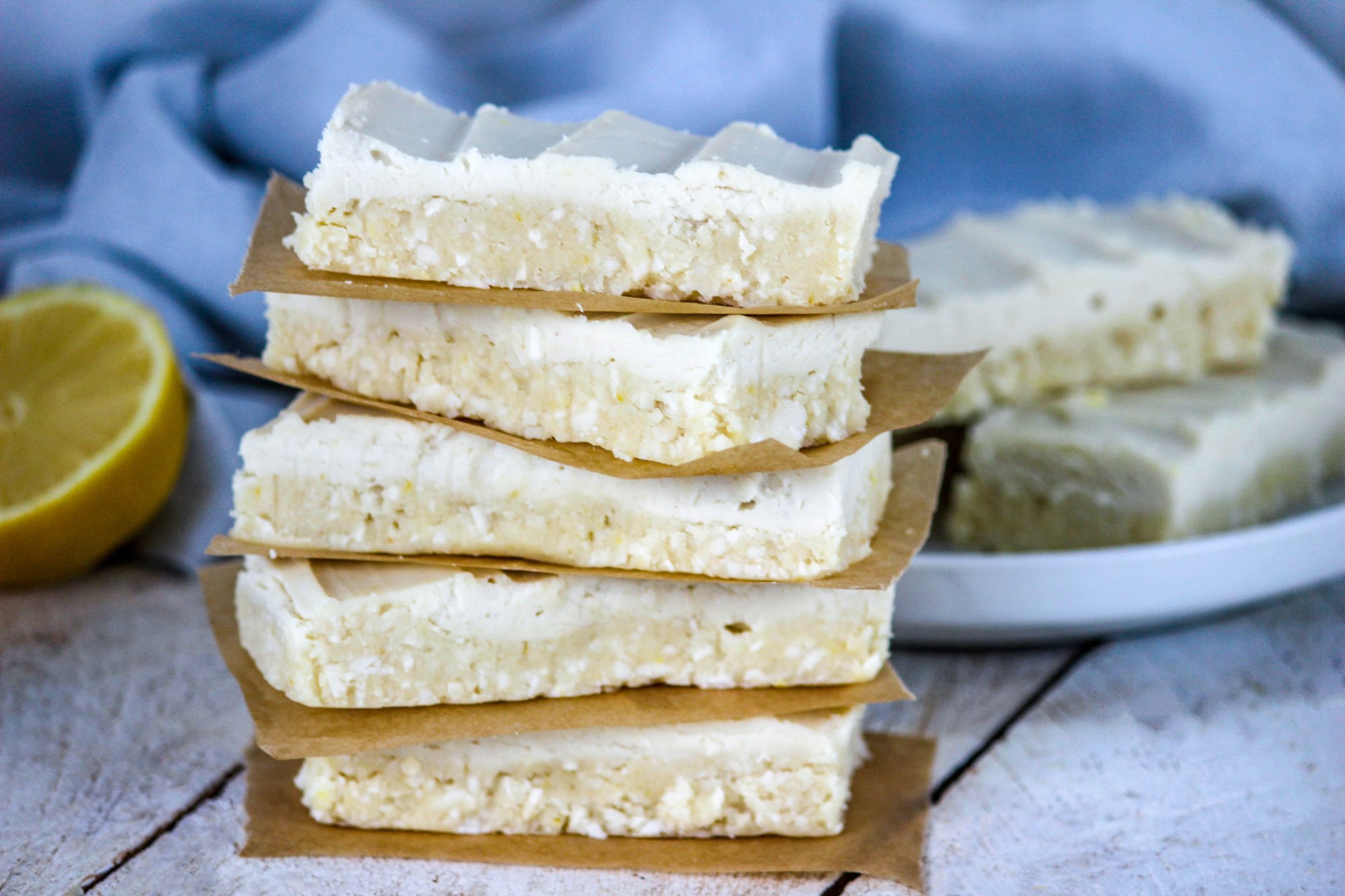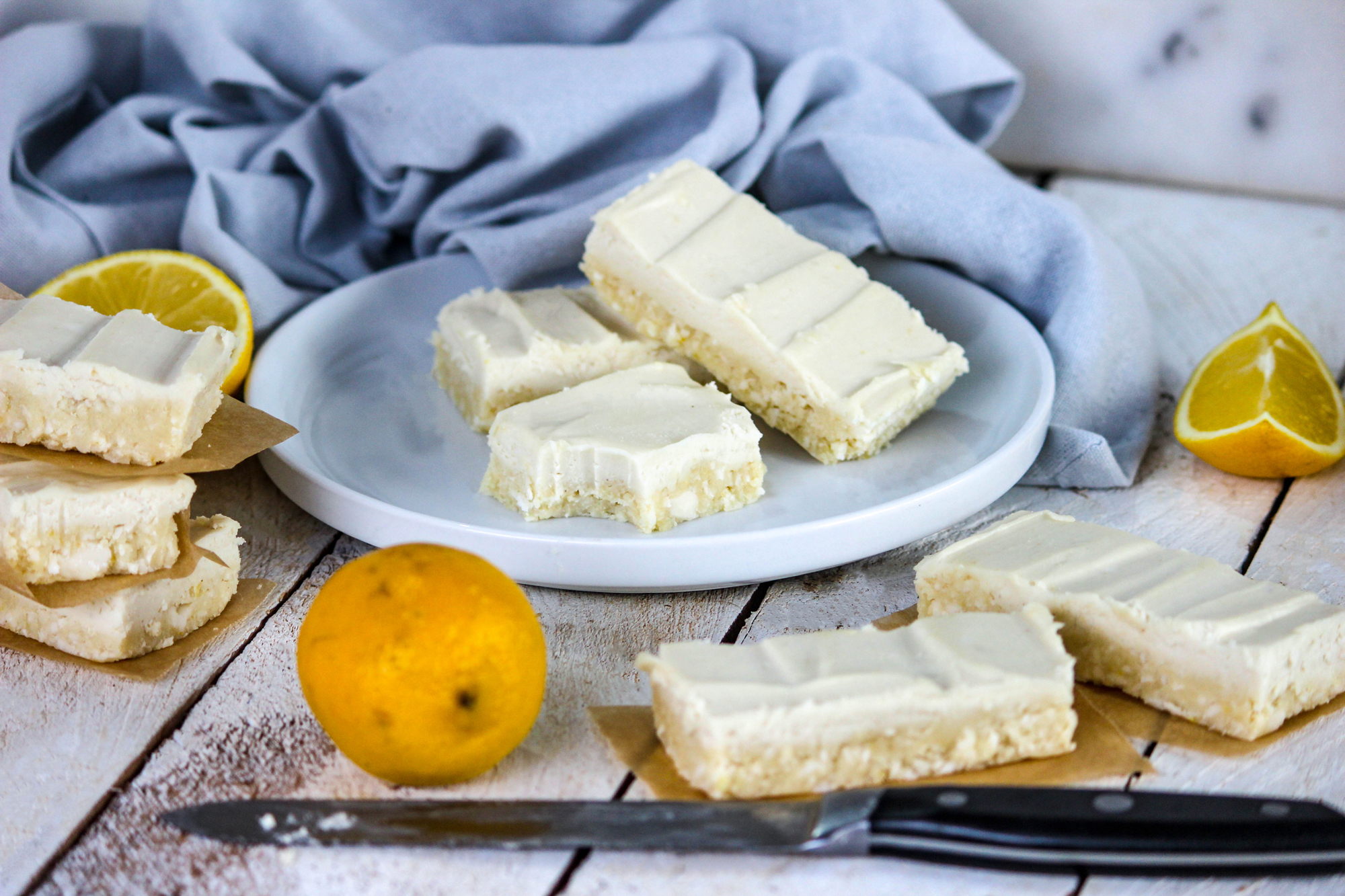 Now these bars are SOOO simple, but here are some notes to make it even easier 🙂
NOTES:
When processing the ingredients for the base, as mentioned in the method below, it's a good idea to process the coconut butter & coconut chips before you add in the rest of the ingredients. This is because coconut butter is quite hard & my incredibly old food processor seems to struggle to combine everything into a slightly smooth ball when I try to process everything at once. I've found processing these two ingredients first & then adding the rest of the ingredients to then process again makes sure there are no big chunks & everything gets processed evenly.
The base doesn't need to be super smooth! As you can see in the photo below, I leave our base a little chunky & basically stop processing once the dough sticks together & turns into a ball. If you want the base super smooth then process for longer.
Hydrolysed collagen is optional so if you're vegan/vegetarian you can leave it out. If you're not though I highly highly highly recommend you use it… If you need a good reminder why just look at the health benefits above :p We purchase our collagen from iHerb – here's the one we use
Okay – let's get to the recipe!!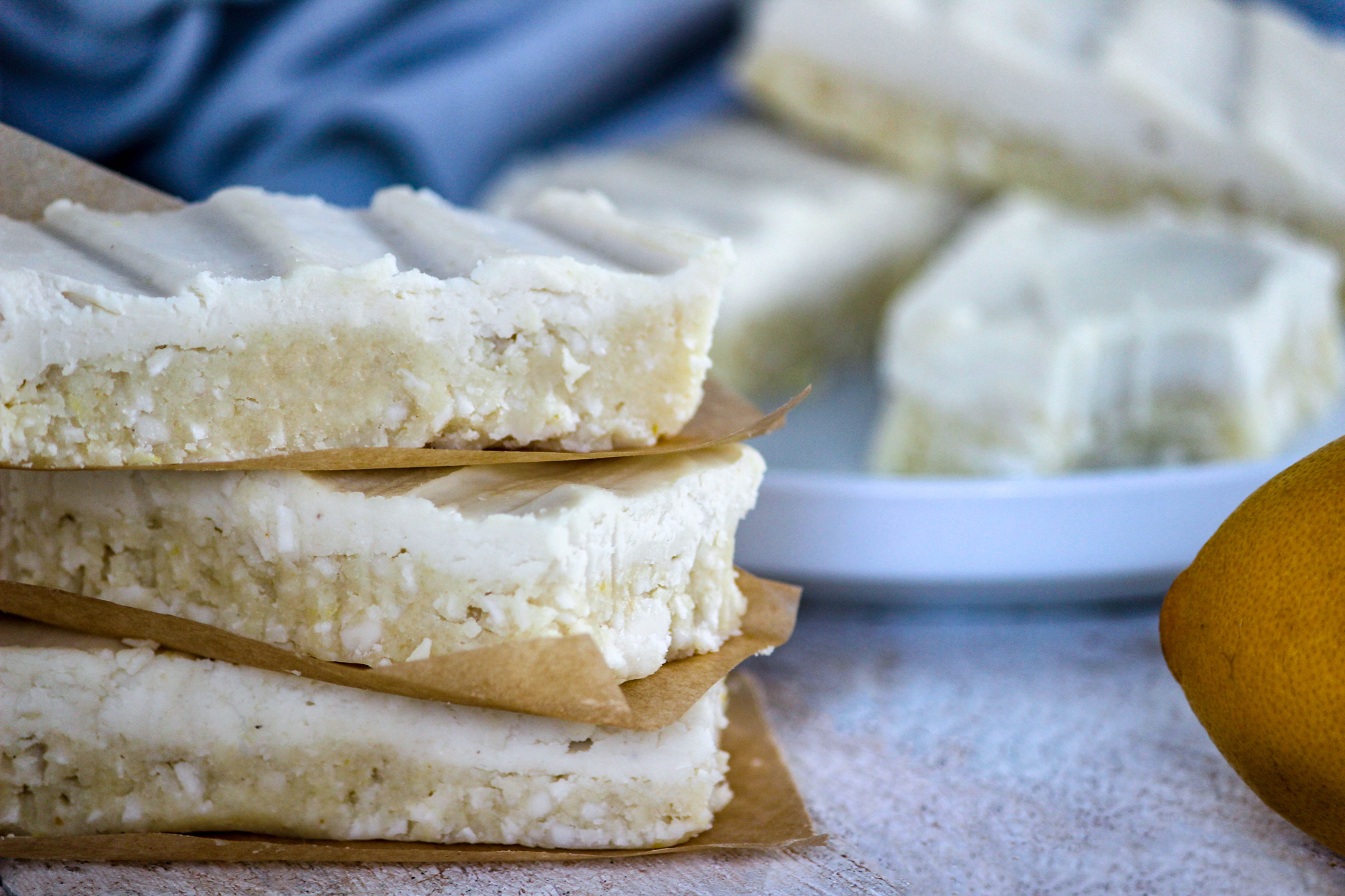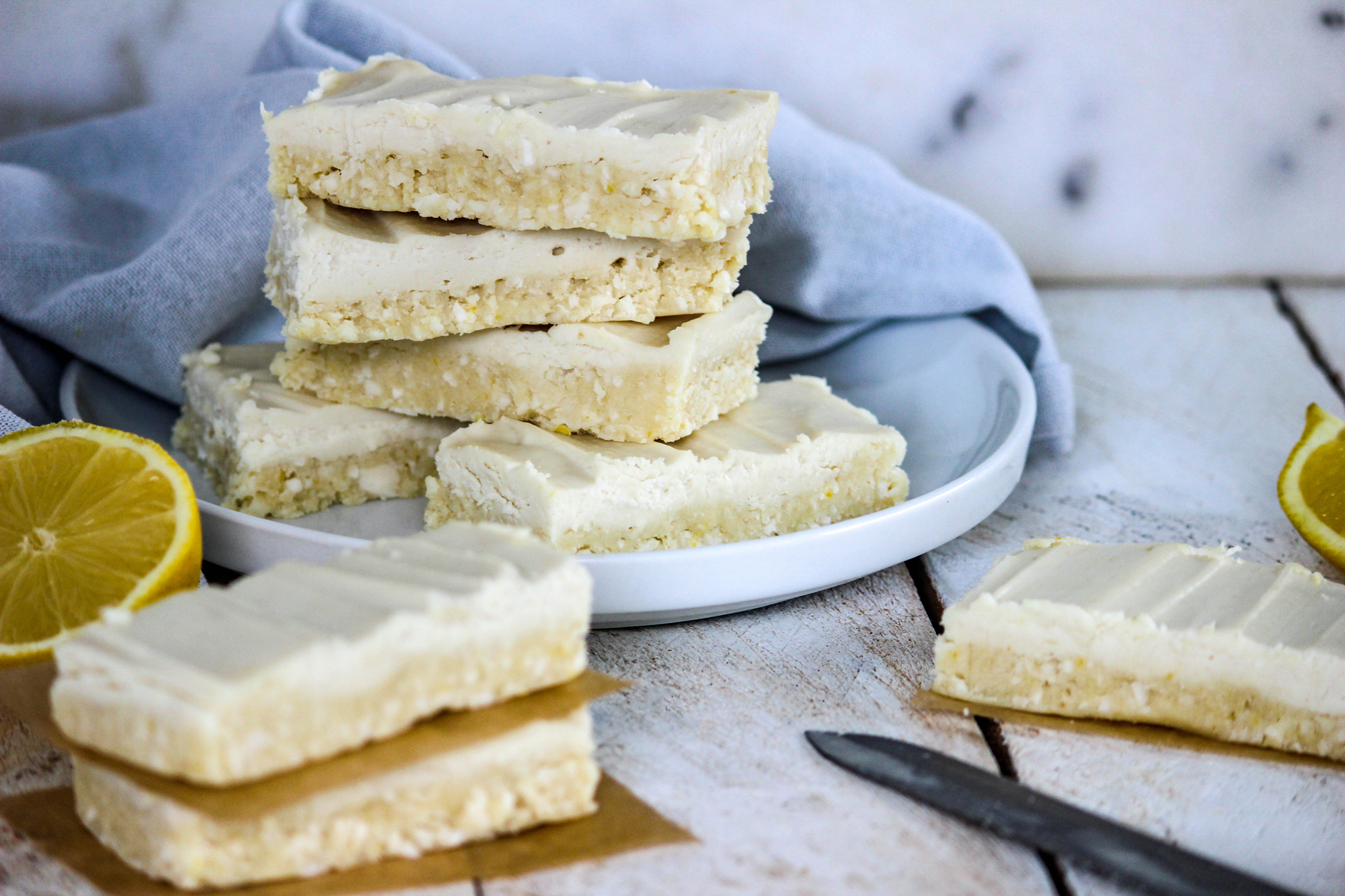 Ingredients
BASE:
1/3 cup lemon juice or juice from 1 large lemon/2 small lemons
1 1/2 cups loosely packed coconut butter
1 cup coconut chips
1 cup almond meal
1 tbsp lemon rind or rind of 1 lemon
2 tbsp raw honey
ICING:
1 cup loosely packed coconut butter
1/3 cup lemon juice or juice from 1 large lemon/2 small lemons
1 heaped tbsp raw honey
1/3 cup cashews
1/2 cup coconut milk
2-4 tbsp hydrolysed collagen
Method
BASE:
Place coconut butter & coconut chips in food processor & process until well combined.
Now add almond meal, lemon juice, lemon rind & honey & process until well combined & resembles a ball of dough. (See note above)
Line a square baking dish with parchment paper & press the base down into the dish evenly.
Freeze until firm.
ICING:
Place all ingredients for your icing into a high speed blender & blend until smooth.
Spoon out icing onto the base & smooth out with the back of your spoon or a baking spatula.
Freeze again until icing is firm & enjoy!