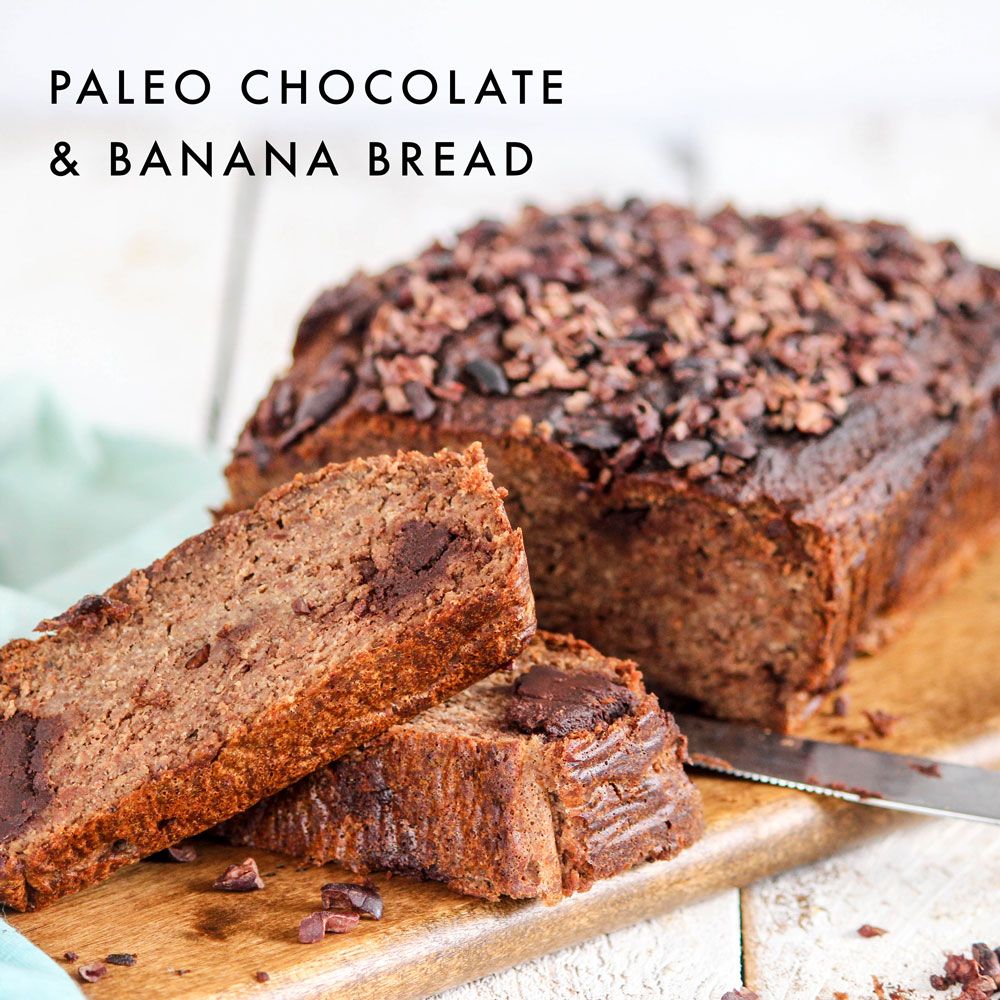 Paleo Chocolate & Banana Bread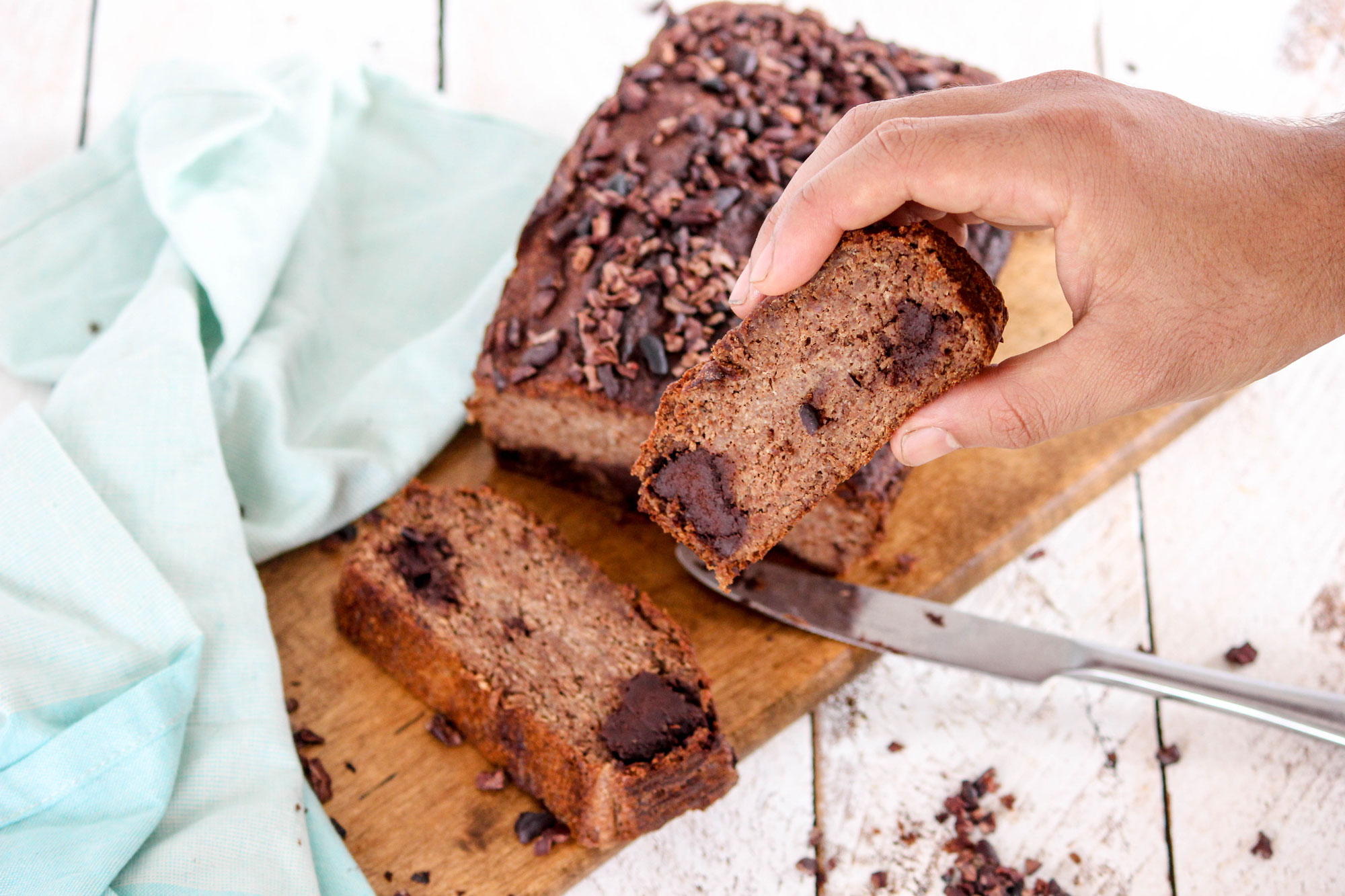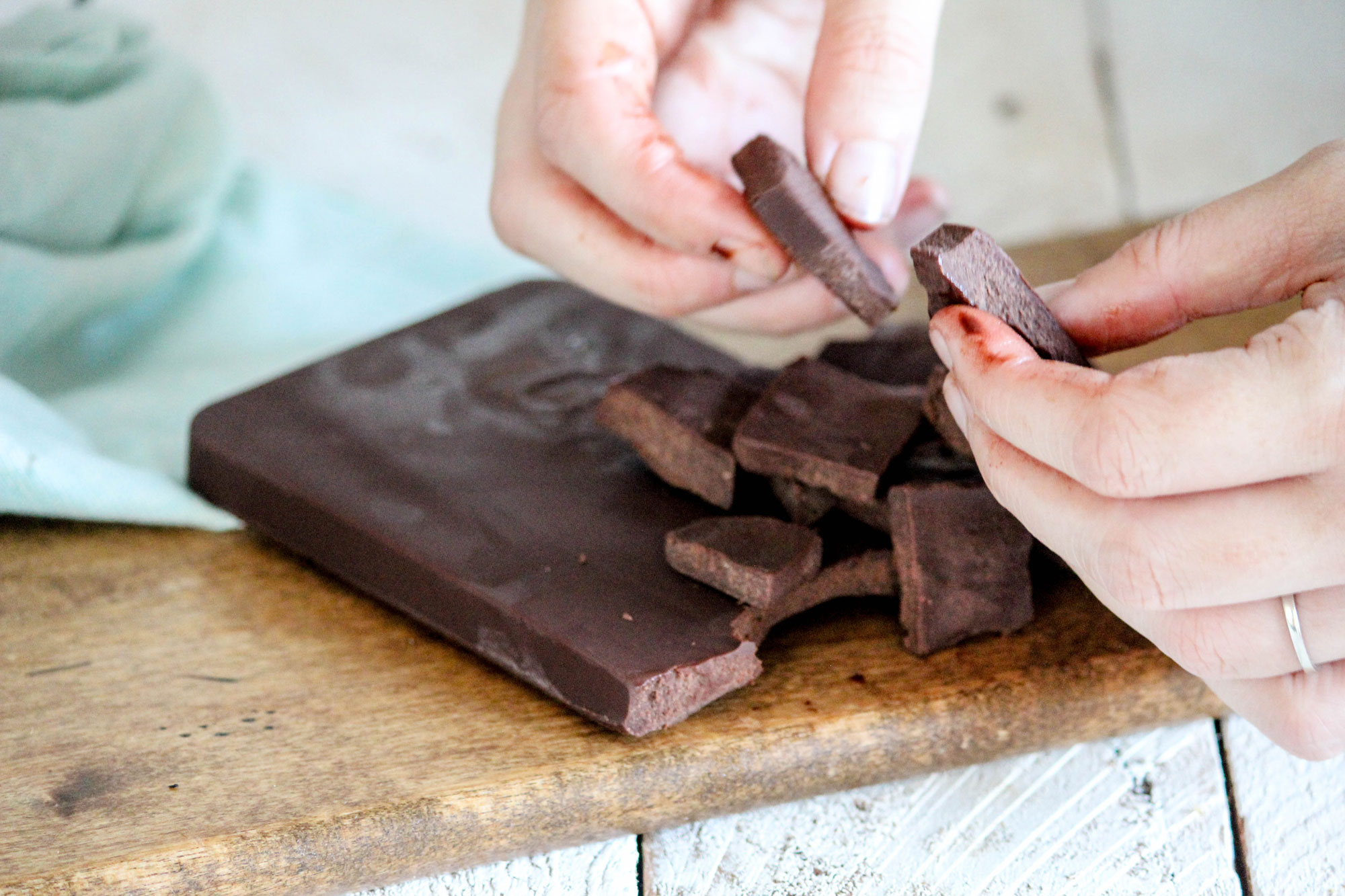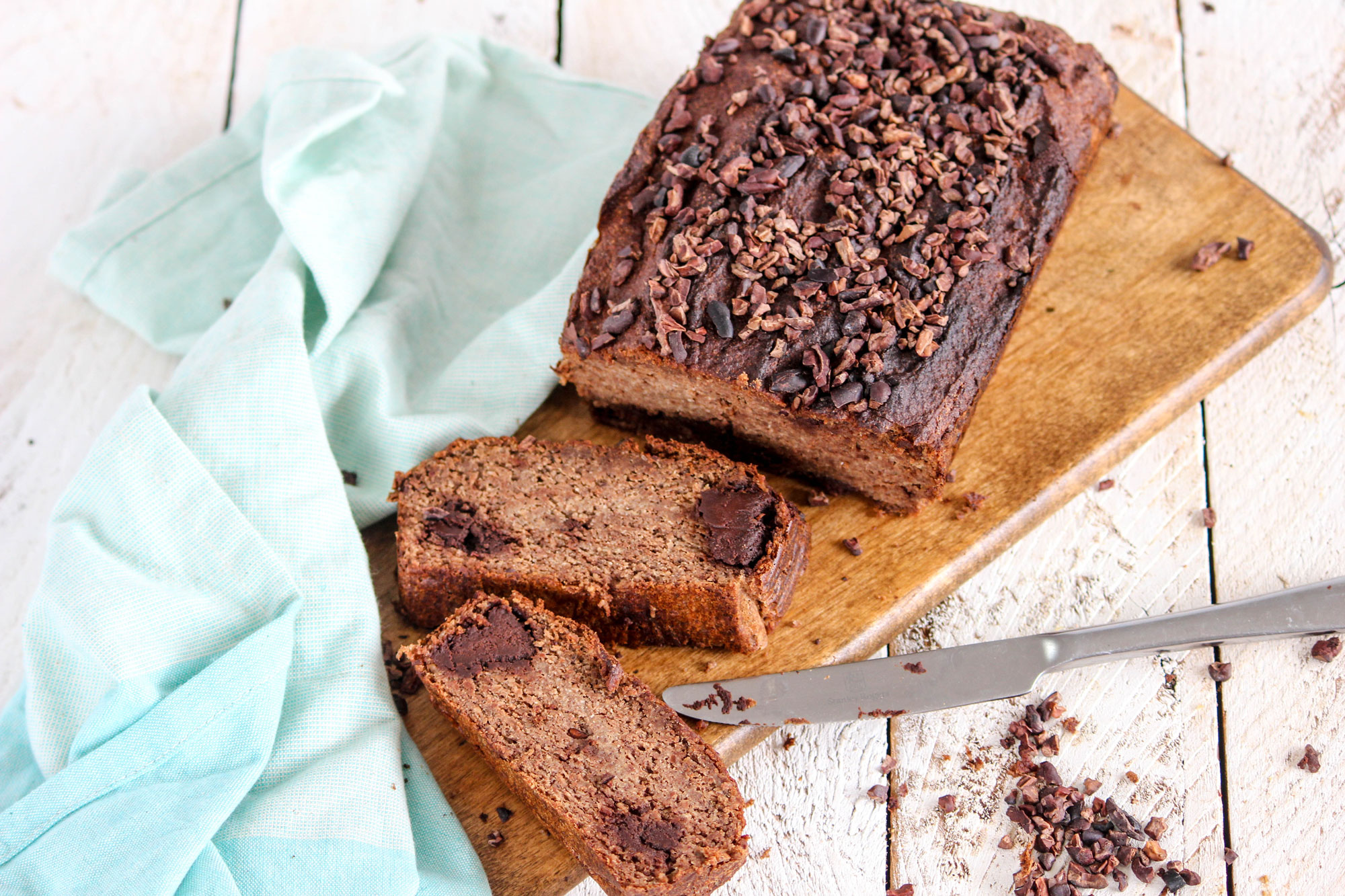 Today Anth & I are celebrating our 4 year wedding anniversary! And what better way to celebrate than with our gorgeously delicious Chocolate & Banana Bread… sans the gluten, dairy, sugar & grains!
I love whipping up this banana bread because it is just so quick & simple & tastes seriously amazing.
Normal banana bread is good… but the large gooey chocolate chunks throughout this loaf takes it to another level! (and did I mention how easy it is to whip up!!)
We cut it in thick slices & enjoy with a booch or herbal tea. It's super moist and full of delicious goodness!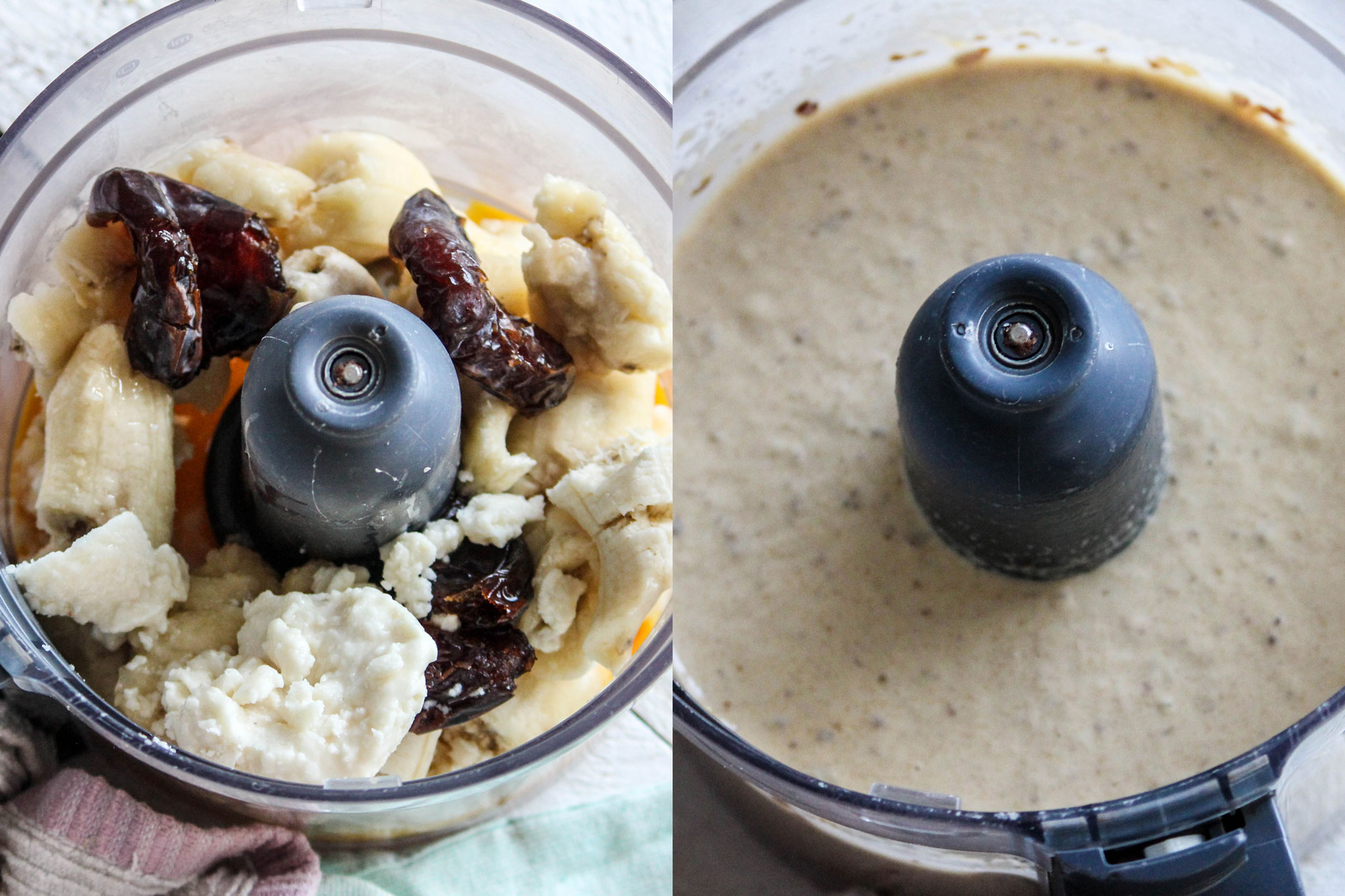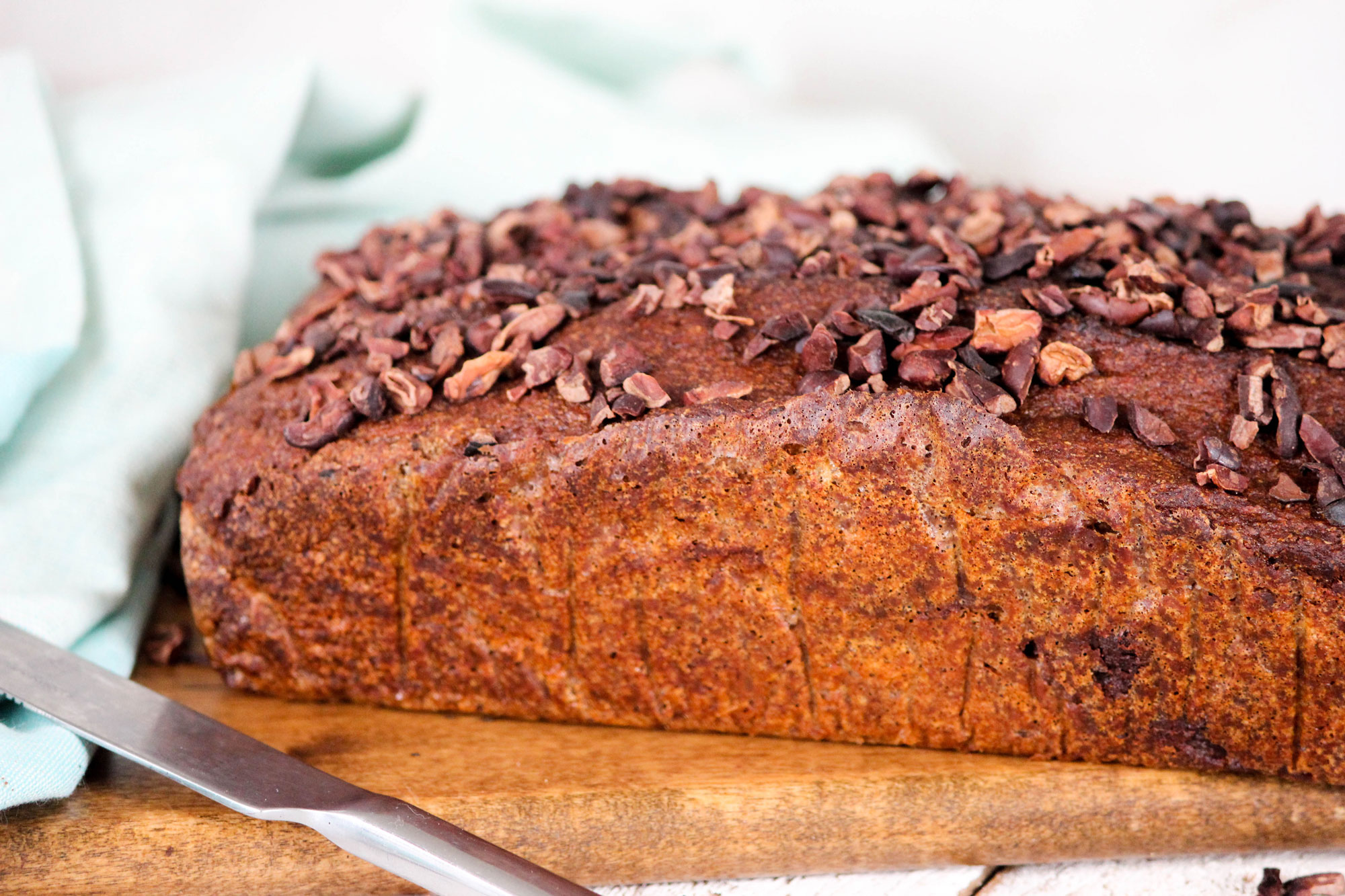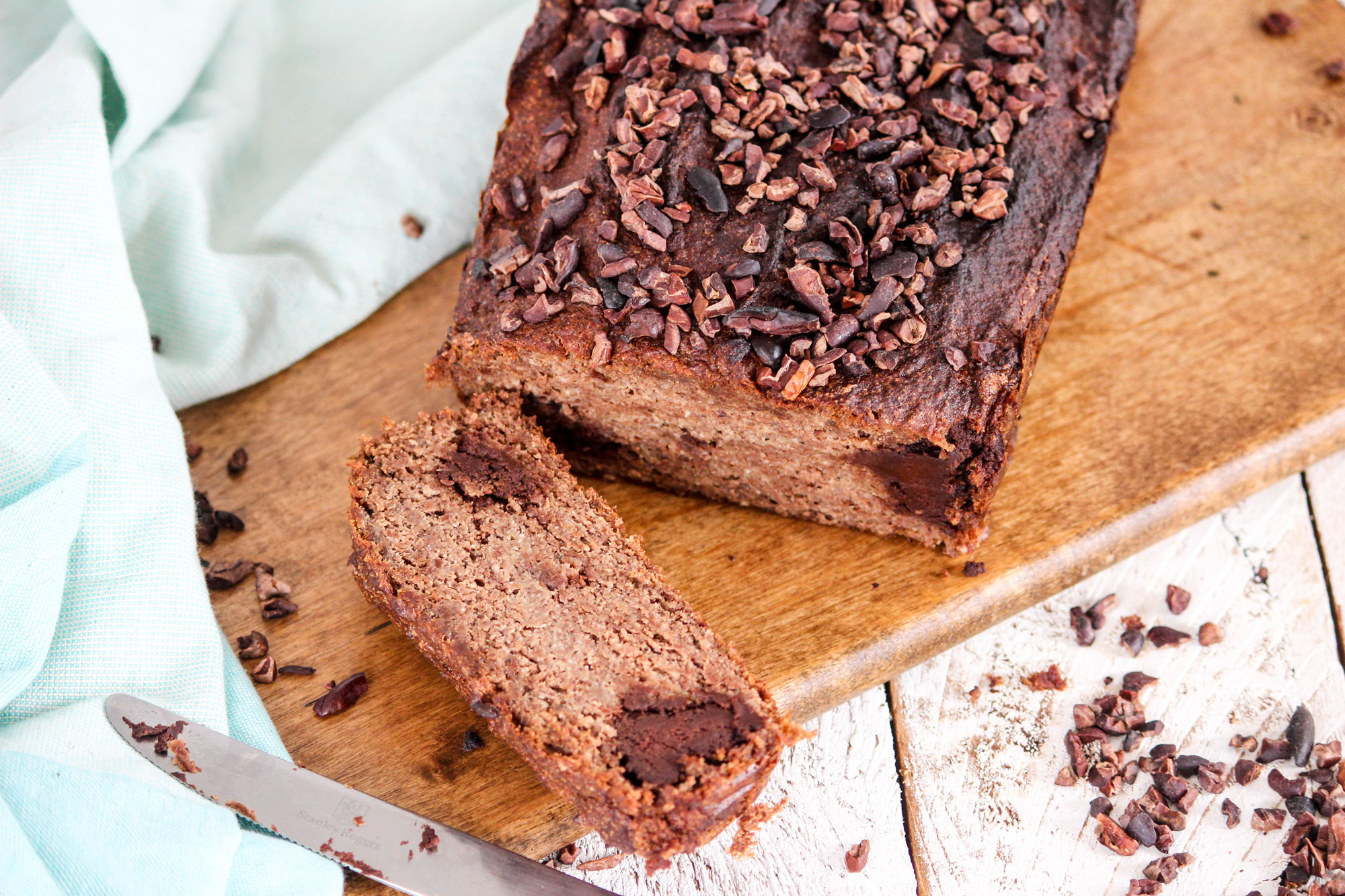 Alright like usual – let's go over some pointers before we start.
– One the bread is cooked, I turn the oven off, open the oven door, and leave the bread in there to cool down. This helps it hold its shape & stay nice and risen.
– Wait until the banana bread has cooled down completely before you eat it! It will still cook a little whilst it's cooling down and if you start cutting it in the cooling process it will lose its shape and be too moist. Wait until its completely cooled & it will be just perfect!
– We like to add some cacao nibs over the top for an extra bit of yumness – you could do this or even whip up some more raw chocolate but instead of freezing it to set, use it as a chocolate sauce to serve with the bread – or of course you can just leave it as it is – either way it's going to be delicious!
– Sweetener wise, you'll see that I've listed 2 tbsp organic raw honey for the chocolate & 5 medjool dates for the loaf. We use 1 tbsp of honey for the chocolate & 3 dates for the loaf and find this sweet enough – however we don't like things that sweet – so in short – you can play around with the sweetness if you're like us… or of course you can just stick to recipe if you prefer!
Alright – let's get to it!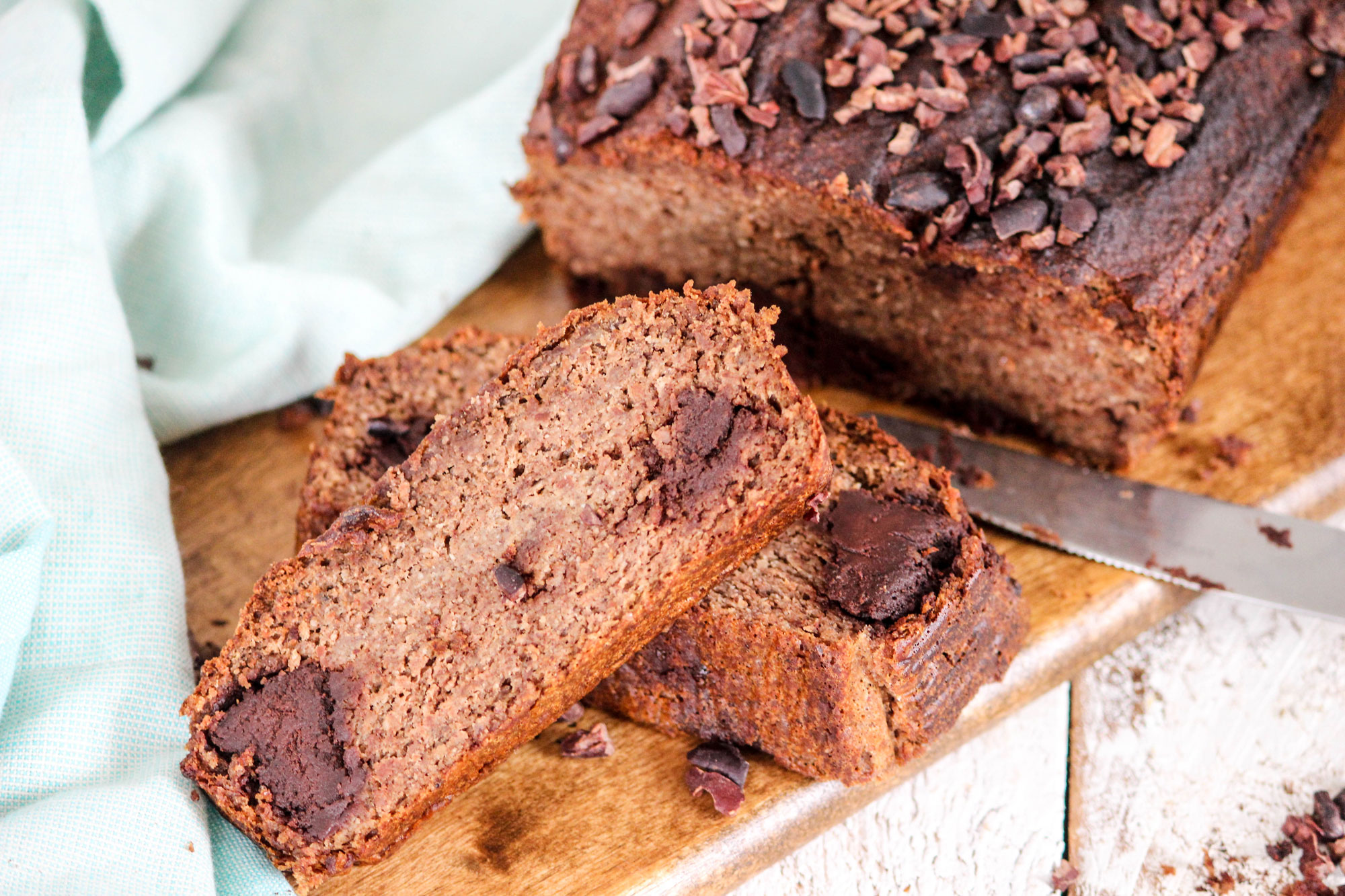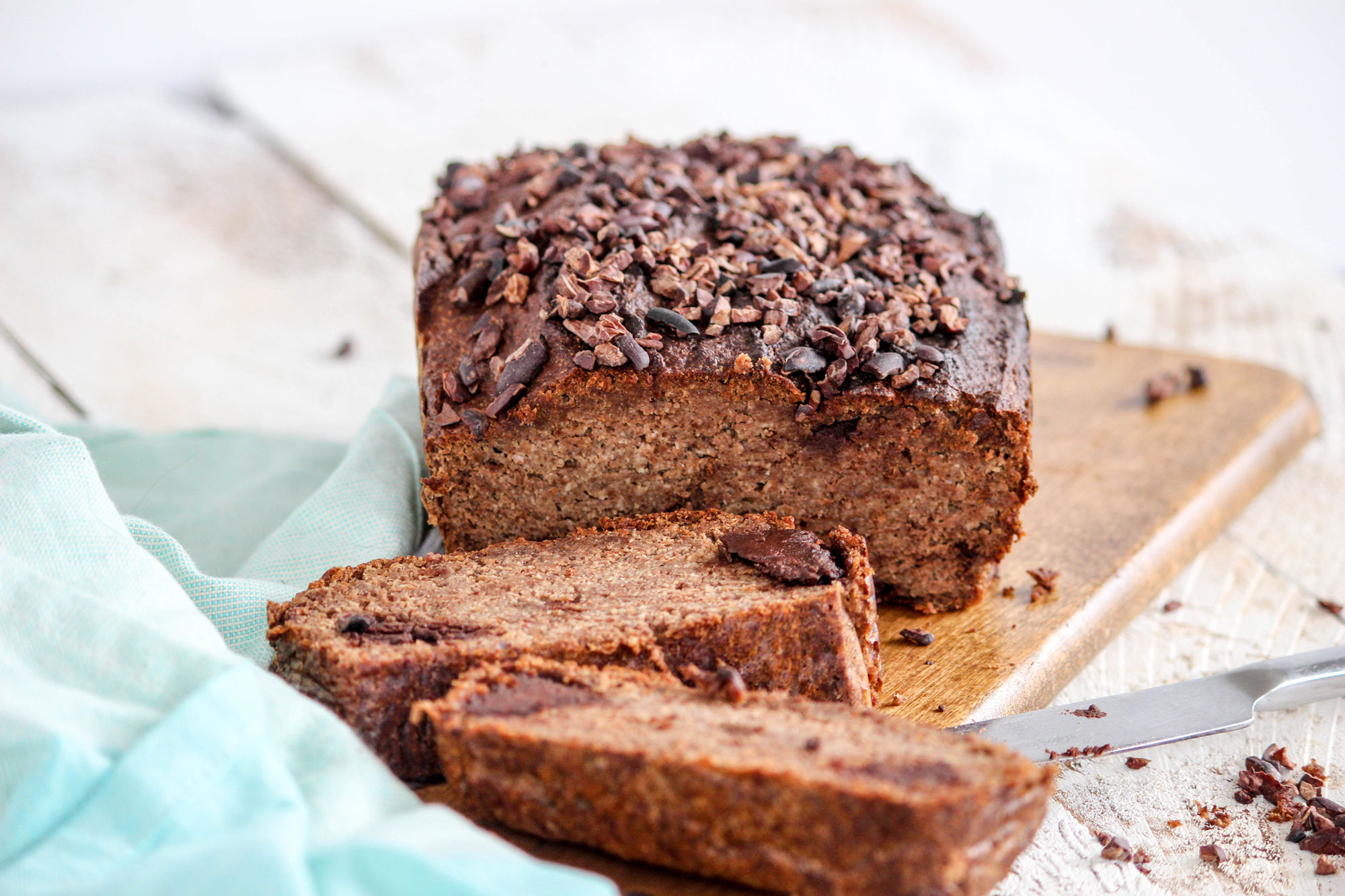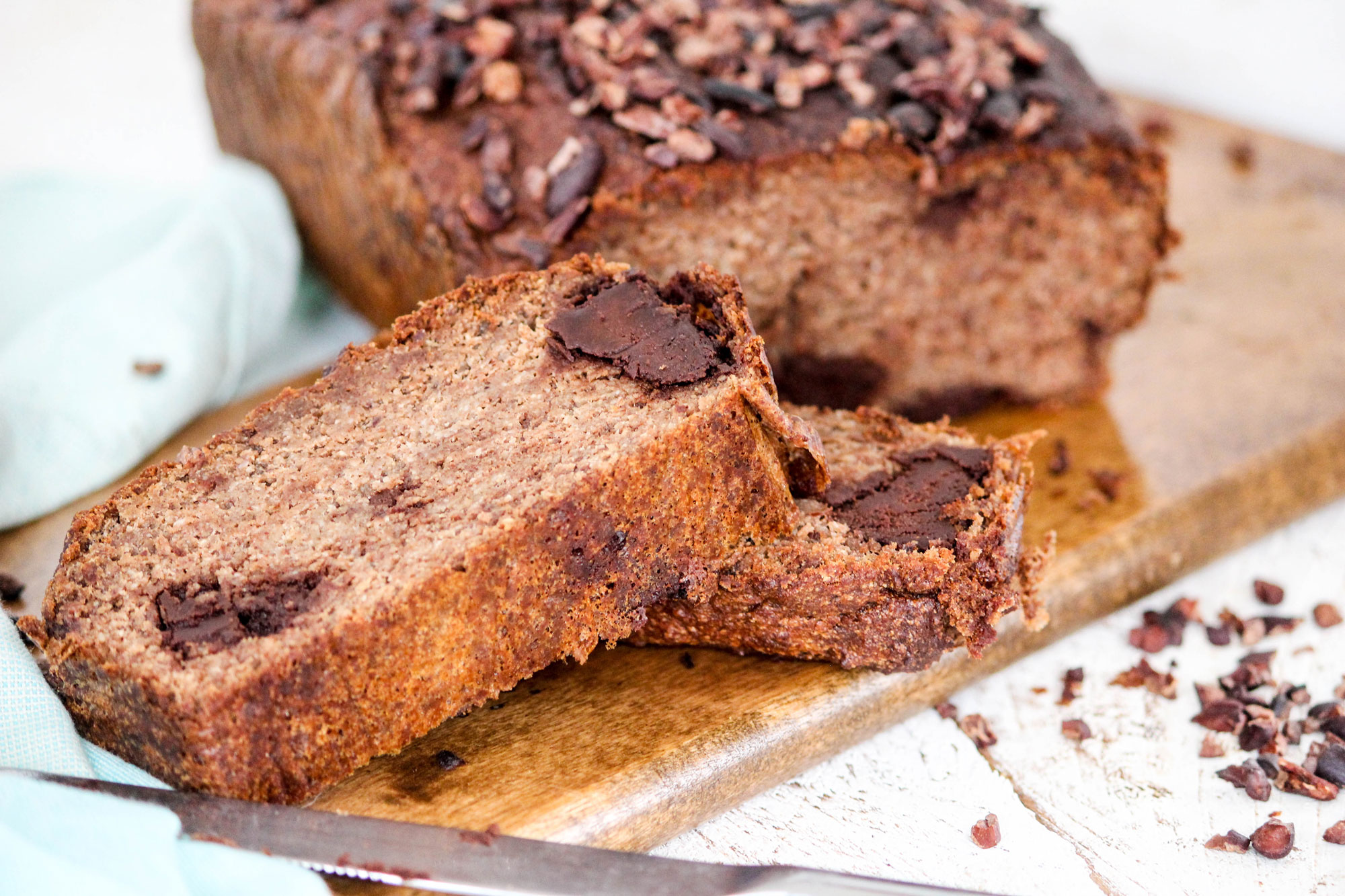 Ingredients
Chocolate Chunks:
1/2 cup cacao
1/2 cup coconut oil
1/8 cup coconut butter
2 tbsp honey
Banana Bread:
-Wet ingredients-
3 eggs, separated
1/2 tsp baking powder
3 large bananas
5 dates
1/2 cup coconut oil
-Dry ingredients-
2 cups almond meal
1/2 tsp baking powder
1 tbsp cinnamon
Method:
Place all ingredients for your chocolate chunks in a high speed blender and blend until smooth.
Pour chocolate out into a rectangular silicone mould (we picked one up from Kmart for a few dollars!) & freeze for 20 minutes or until set.
Once set, break apart into large chunks (just using your hands) & place back in the freezer until your ready to add them to your loaf.
Preheat oven to 170C & line a loaf tin with parchment paper.
In a big bowl, mix all dry ingredients until combined.
Next, place all wet ingredients into a food processor except egg whites & baking soda (we'll be using these in just a second) and process until combined.
Now place egg whites & 1/2 tsp baking soda in an electric mixer with a whisk attachment and whisk on the highest setting until firm peaks appear. How do you know when firm peaks appear? The ultimate test is to lift the bowl over your head (upside down!) – if they stay put you're good to go! :p
If you don't have an electric mixer you can whisk by hand super fast… it just takes a bit more effort!
Once your egg whites have turned into firm peaks you want to move fast. The faster you move the higher your loaf will rise and the fluffier it will be. Here's what to do:
Mix your wet ingredients from the food processor into your dry ingredients. Do this quite gently with a baking spatula, but again, you want to move fast & make sure it is all combined. Now grab your chocolate pieces from the freezer & add them to your batter. Gently mix through.
Once your wet & dry ingredients are combined & the chocolate pieces have been mixed through, gently fold your egg whites through the batter by again using a baking spatula. It's important to do this gently as you don't want to knock all the air out. Did I mention it's also important to move quickly :p
Now place batter into your prepared loaf tin (using your spatula) and smooth out the top.
Bake in oven for 50 minutes. Then switch oven off, open the oven door and let it cool in the oven. (As per my notes – I've found this gives it a better texture)
Once cooled, enjoy your Paleo Chocolate & Banana Bread! 🙂 xo