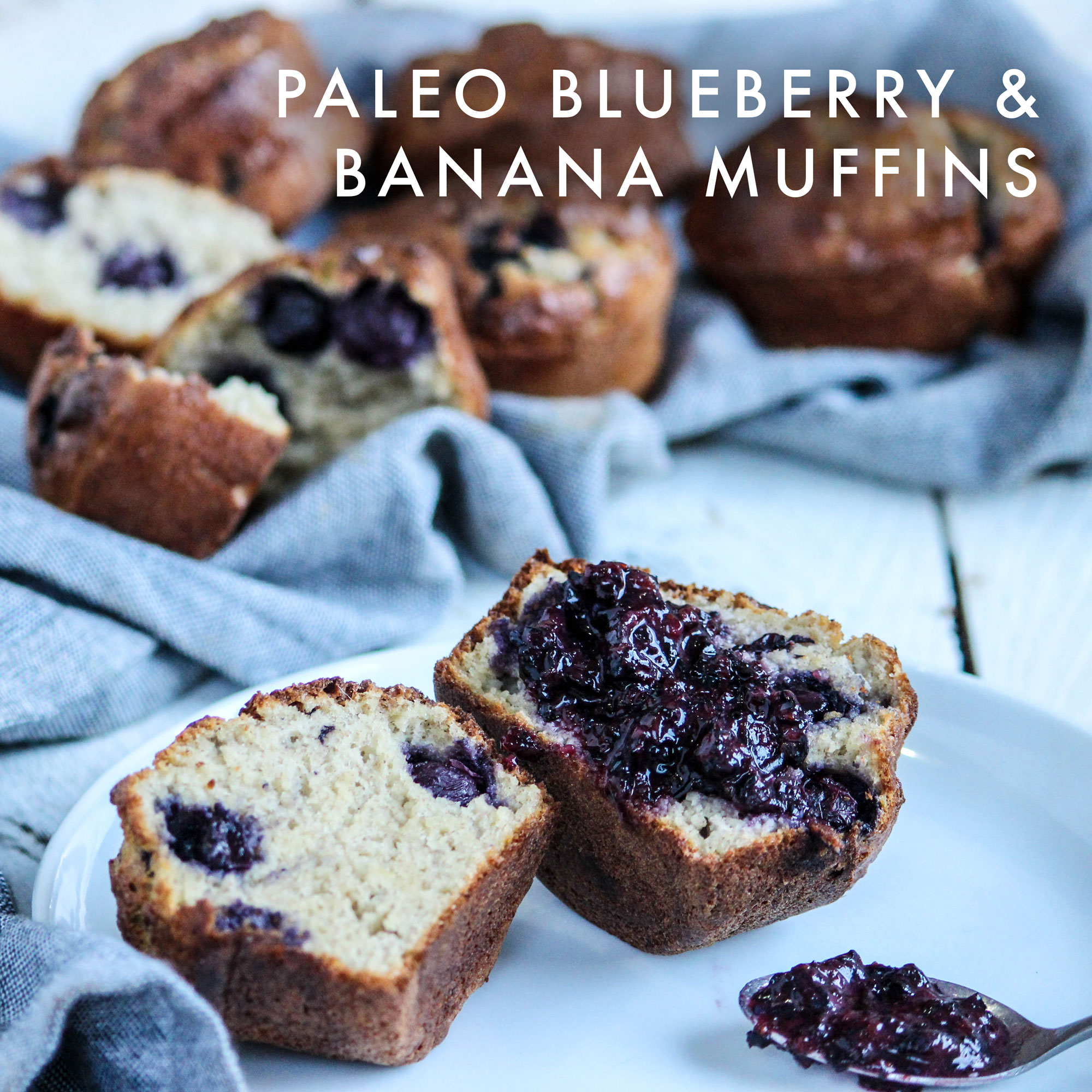 Paleo Blueberry & Banana Muffins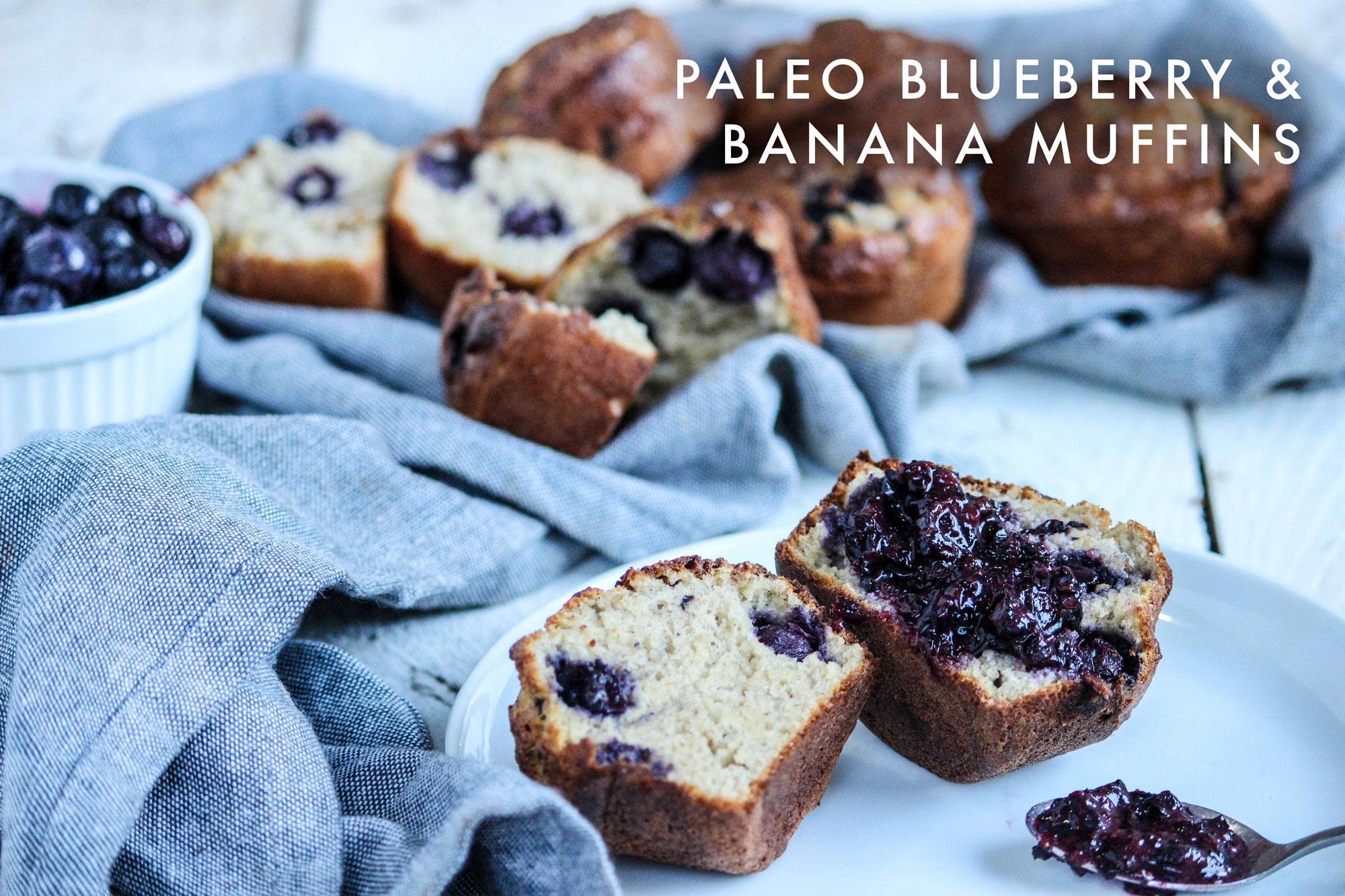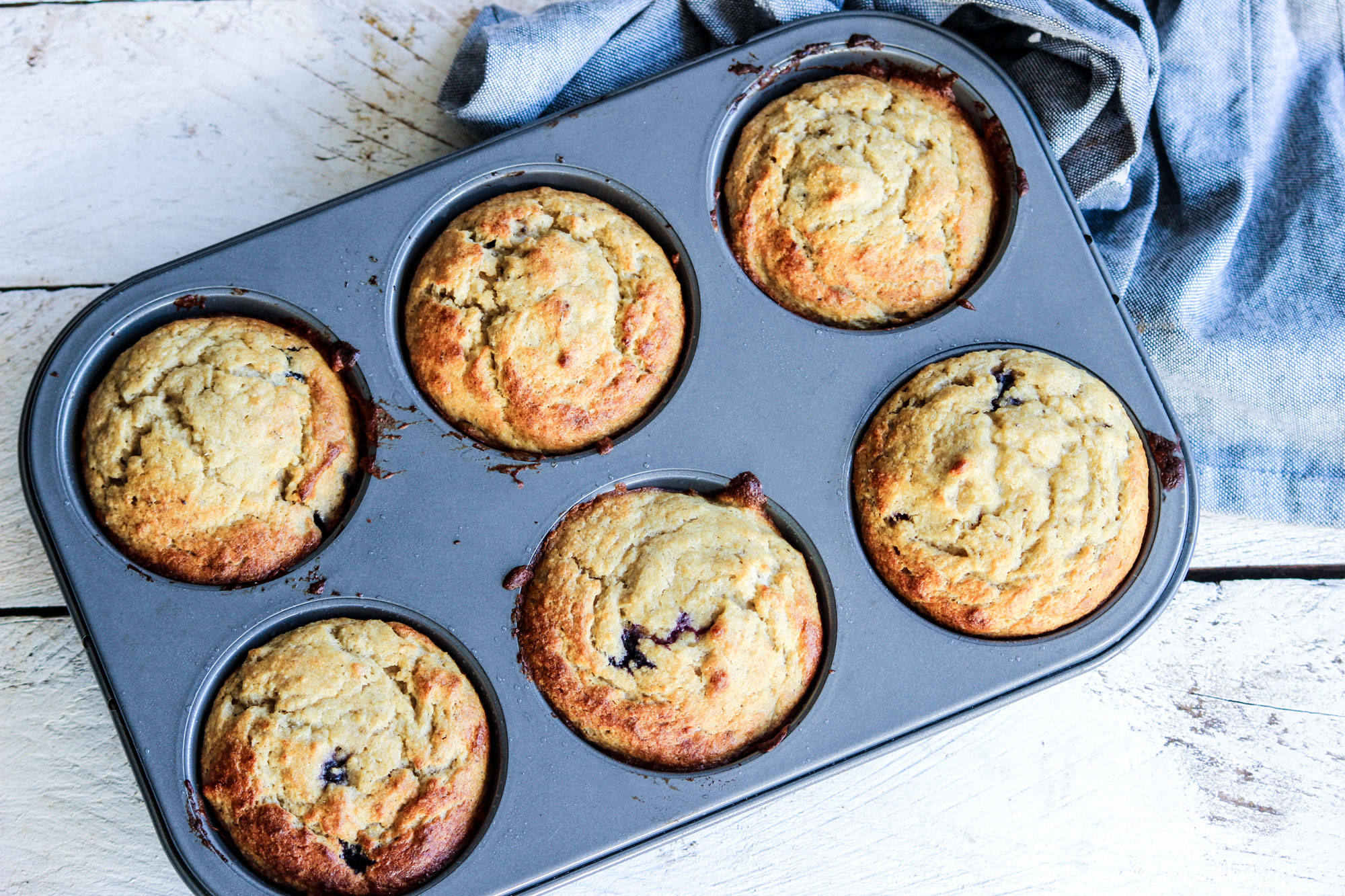 As the weather gets cooler & the days get shorter, baking batches of beautiful, moist & delicious muffins seems to take priority in our household!
The obsession goes back to when I was a kid… Once the cool weather hit I'd be straight off to the store purchasing my Betty Crocker Wild Blueberry Muffin mix. It even came with a little tin of 'fresh' blueberries – I thought it was the coolest!
What I didn't know back then though, was that those blueberries were sitting in a pool of High Fructose Corn Syrup & the muffins were a mix of bleached flour, sugar & vegetable oil.
Argh! In fact, here is the full list of ingredients:
Bleached Flour, Sugar, Blueberries Canned In Light Syrup (Blueberries, Water, High Fructose Corn Syrup), Partially Hydrogenated Soybean and/or Cottonseed Oil, Modified Corn Starch, Vital Wheat Gluten, Baking Soda, Sodium Aluminum Phosphate, Salt, Propylene Glycol Monoesters of Fatty Acids, Mono and Diglycerides, Corn Starch, Maltodextrin, Sodium Stearoyl Lactylate, Citric Acid, Cellulose Gum, Xanthan Gum, Artificial Flavor, Modified Cream.
Pretty scary right?
And so incredibly unnecessary!!
Because it's totally possible to create delicious beautiful muffins that nourish your body at the same time!
And our Paleo Blueberry & Banana Muffins are by far one of our favourites! In fact, the batch that I made for this blog post lasted less than an hour. Yeah – they're good! :p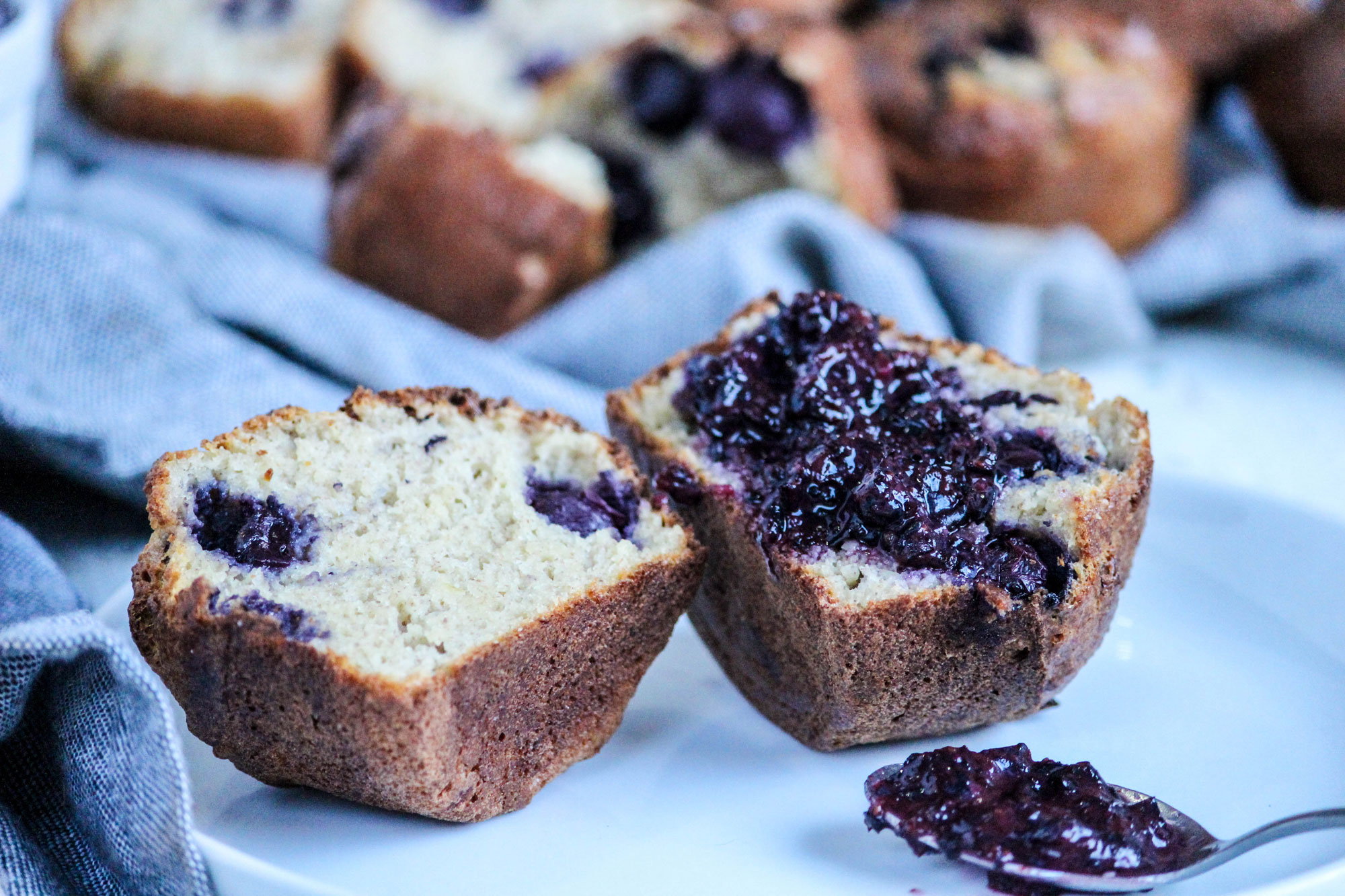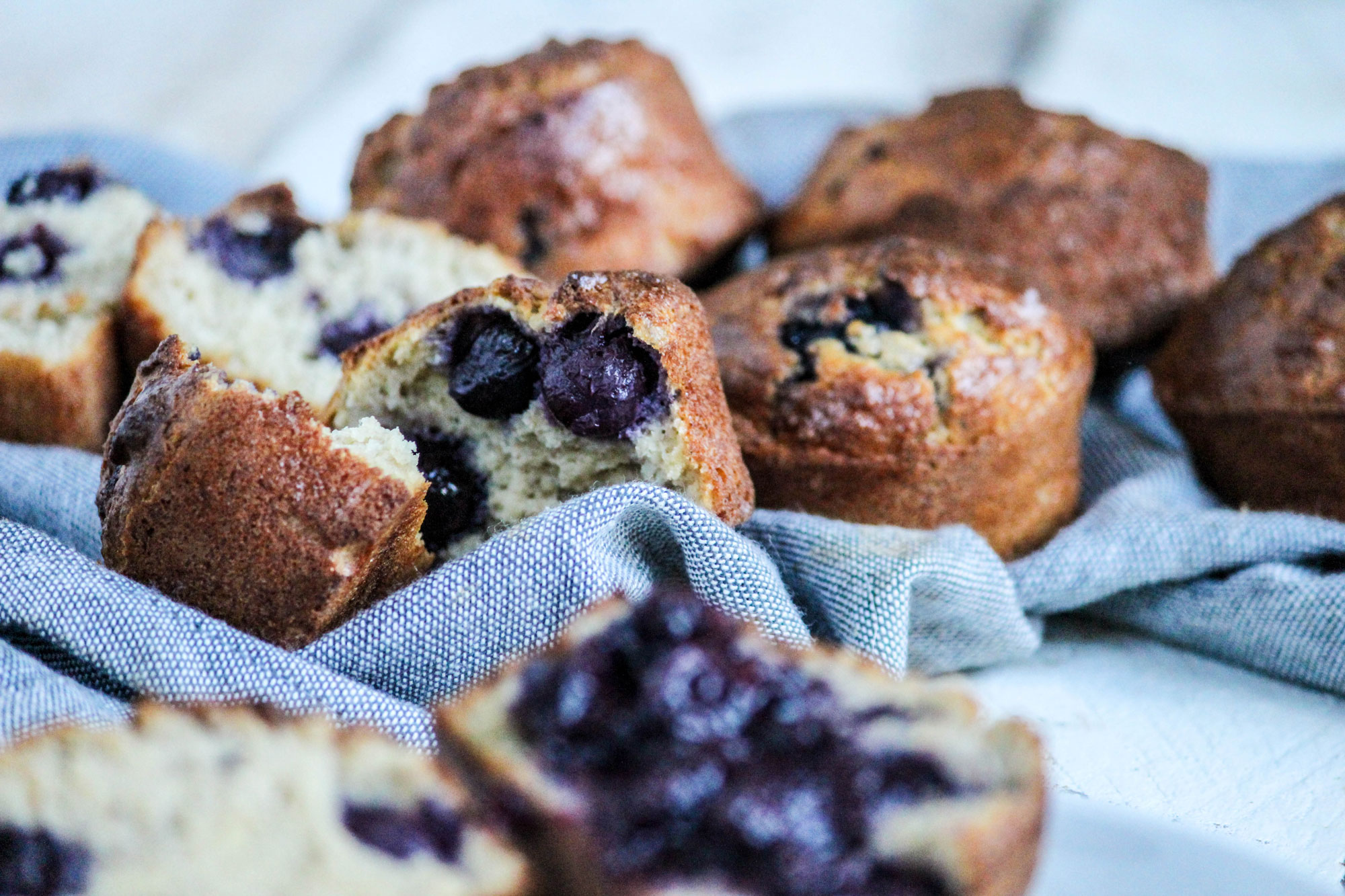 These babies taste incredible (SO MUCH BETTER than ol' mate Betty's!) & are super simple to make!
As with many of our baking recipes, you're simply whisking the egg whites into peaks, mixing the wet & dry ingredients together, & then folding the egg whites through. After that you're adding the blueberries & then baking.
Super simple.
No honey or additional sweeteners have been added to these muffins as the sweetness from the bananas & blueberries are enough on their own.
They're super moist, the blueberries are beautiful & juicy… + the best bit is you can pack them up & take them on the road with you! (which sometimes isn't the easiest things to do with recipes lacking gluten & grains… things can get very crumby very quickly!)
So why Blueberries & Bananas?
Bananas are loaded with potassium (super important for maintaining healthy blood pressure & circulation), fibre, vitamin B6 & vitamin C.
Blueberries (our favourite superfood) are PACKED with powerful phytonutrients that act as antioxidants. They contain anthocyanins, flavonoids & phenols that help to protect the body from cell damage & fight the growth of cancer. They also promote healthy brain function, digestion & reduce inflammation
Plus as a little bonus, both of these wholefoods are super easy to find organic! Even Woolies & Coles seem to be stocking them. (You know the drill… If we don't grow it ourselves or can't find it organic – we don't get it. No compromises.)
Alright – let's get our bake on!
PALEO BLUEBERRY & BANANA MUFFINS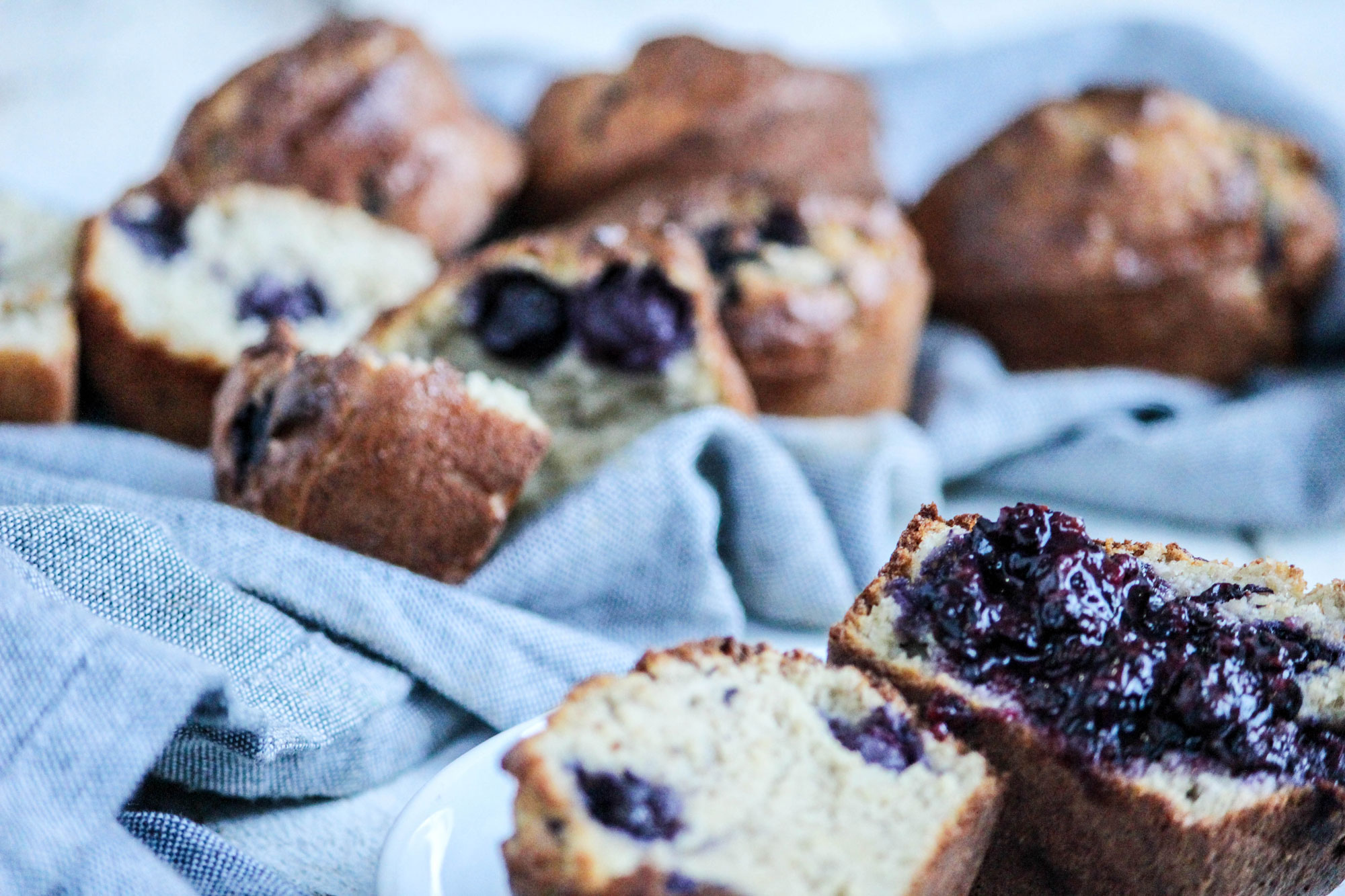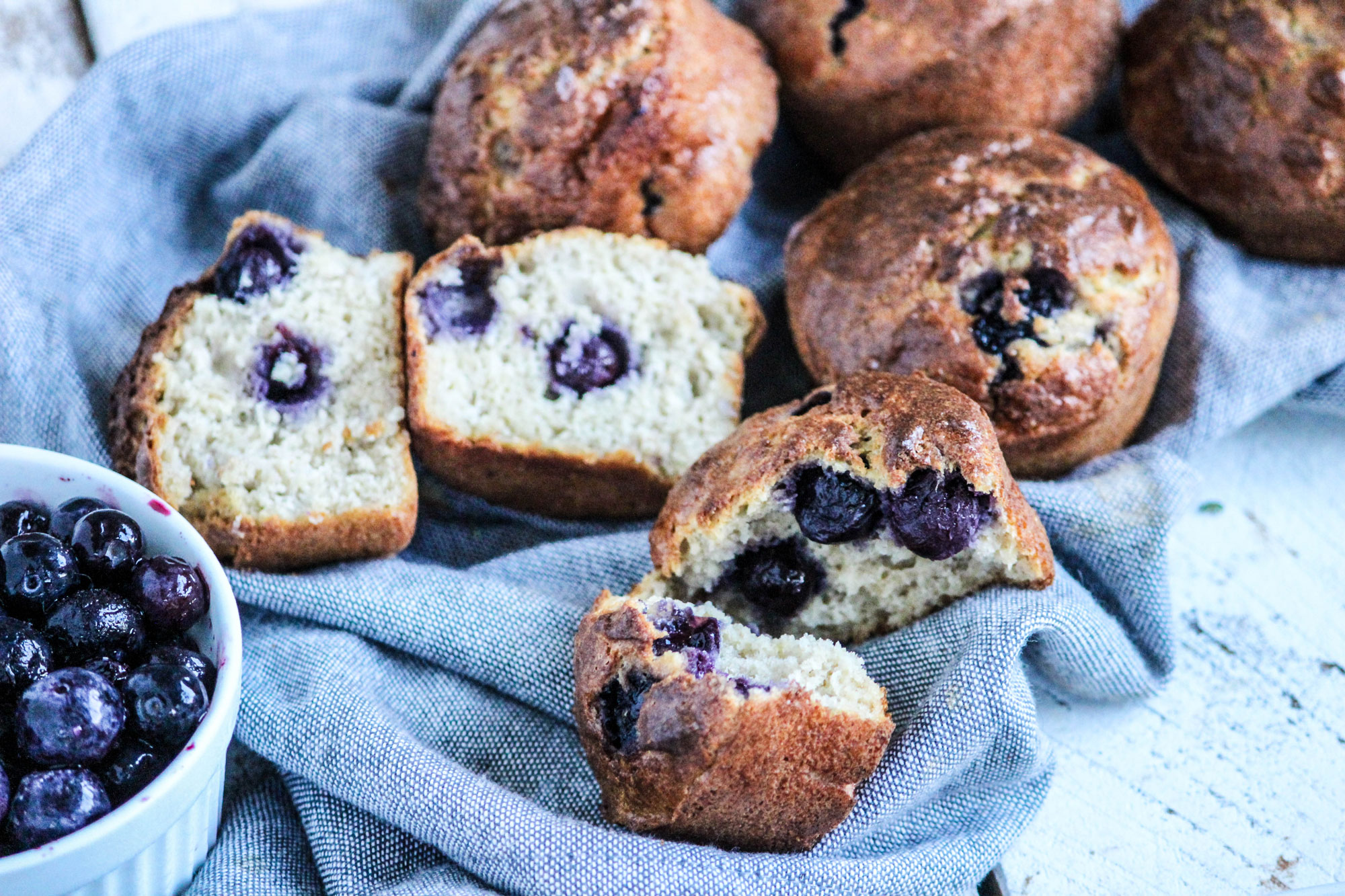 INGREDIENTS
Wet Ingredients
3 large bananas
4 eggs, separated
1/2 cup coconut oil (+ a little more for greasing muffin pan)
1/2 cup blueberries
1/2 tsp baking powder
Dry Ingredients
1 1/2 cups blanched almond meal/almond flour
1/2 cup arrowroot
1/2 tsp baking powder
Optional
1/2 cup blueberries (additional)
METHOD
Preheat oven to 175C and grease an extra large 6 cup muffin pan (or alternatively grease 2 normal size 6 cup muffin pans) with a little coconut oil.
Place egg whites & 1/2 tsp of baking powder in an electric mixer with whisk attachment & whisk on medium until firm peaks appear (you should be able to place the bowl upside down over your head without the egg whites moving!)
Whilst your egg whites are forming into peaks, it's time to get the rest of the muffin batter ready!
In a big bowl, combine all dry ingredients (blanched almond meal, arrowroot & baking powder).
Now, place all of your wet ingredients EXCEPT blueberries (banana, egg yokes & coconut oil) into a food processor & process until smooth.
By now, your egg whites should be formed into peaks. Note that once they turn into peaks, you need to work super fast because they can start to separate & turn into a watery mess.
Fold the wet ingredients into the dry ingredients, & then fold through the egg whites.
Be careful when folding the egg whites through your muffin batter because if you go too hard you can knock out the air. This means your muffins won't rise properly.
Evenly spoon out muffin batter into your prepared 6 cup muffin tin. Now get your blueberries & place a small handful on top of each muffin. Push the blueberries into the batter & then smooth out the top of each muffin with your finger or the back of a baking spatula & place in oven.
Bake for 30 minutes & leave to cool or enjoy warm!
If you'd like to serve your muffins with an extra bit of blueberry goodness (as shown in the photos), place another half a cup of blueberries into the food processor & process until you have the consistency of chunky jam. Spread onto muffins & enjoy!