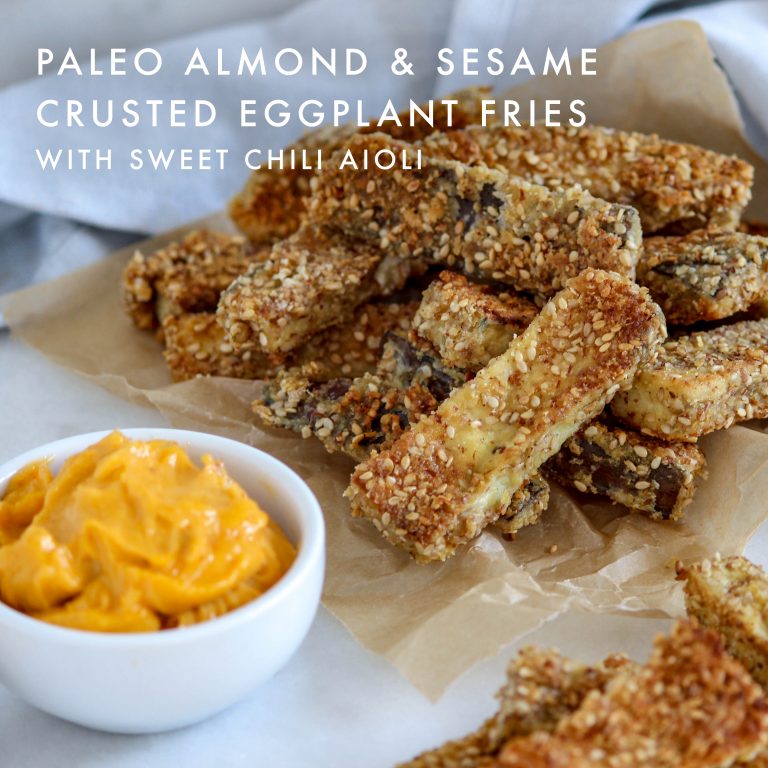 Paleo almond & sesame crusted eggplant fries with sweet chili aioli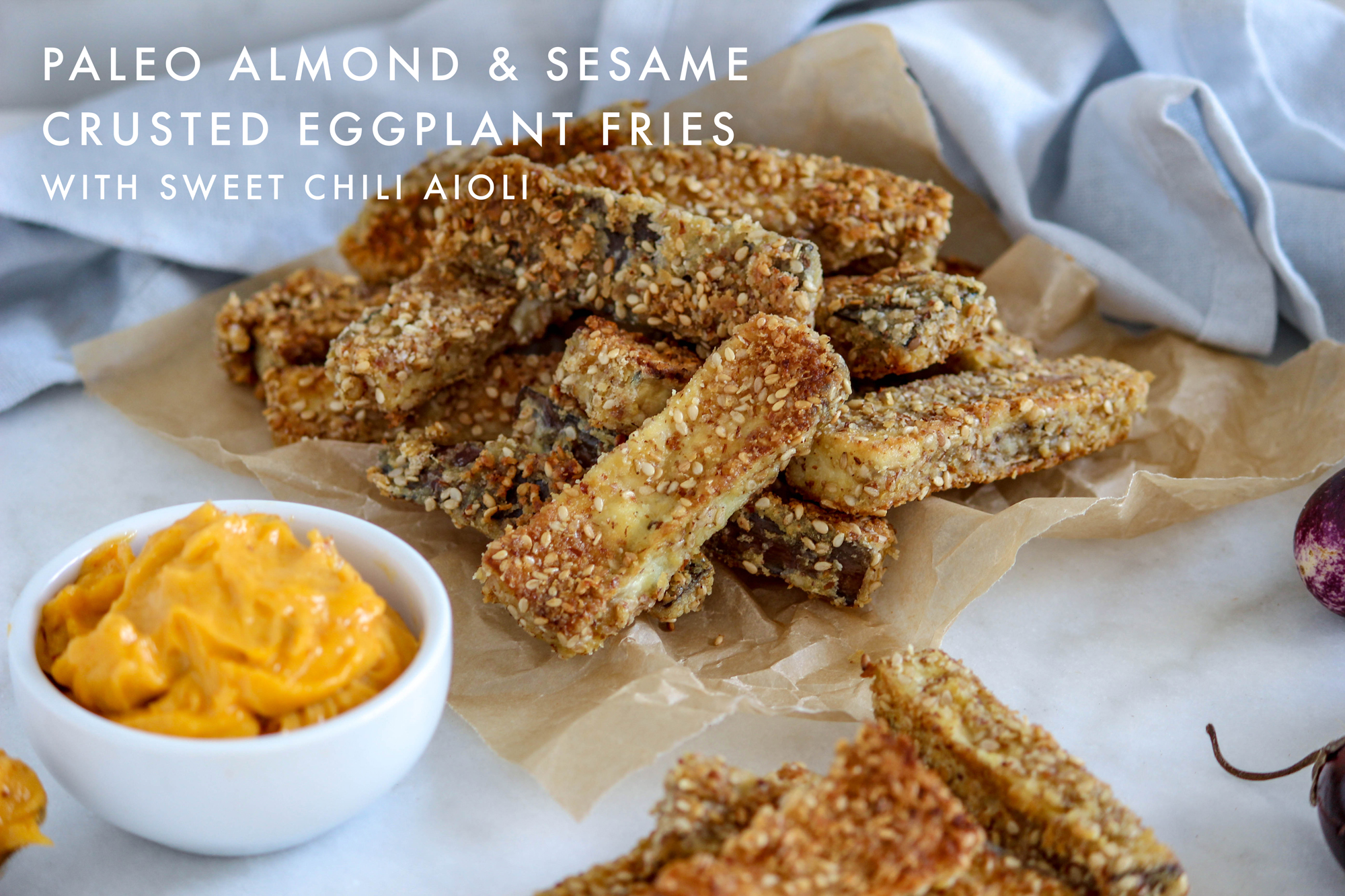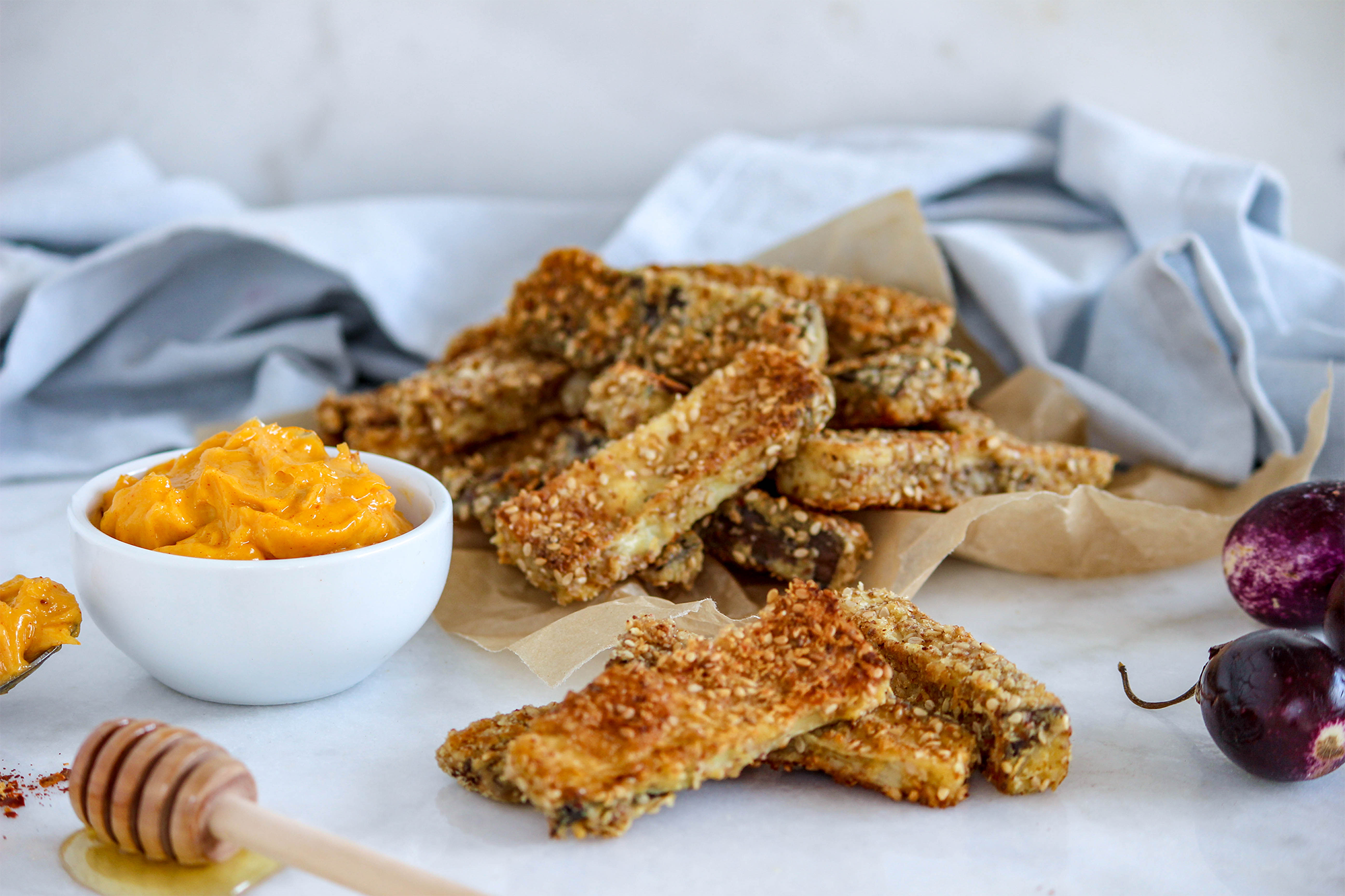 Oh how we LOVE our almond & sesame crusted eggplant fries!
These babies make the PERFECT snack OR accompaniment to your dinner, are super simple to make & the aioli is thick, creamy & delicious!
Both the fries & aioli are really versatile. If you're not a fan of nightshades for your fries you can swap out the eggplant for another veggie such as zucchini.
If you're not a fan of sweet chili, you can omit the the honey & chili & just make a simple garlic aioli. Whatever floats your boat!
So what are the health benefits?
Eggplant – Eggplant contains a variety of vitamins, minerals & phytonutrients. The stand out for this awesome veggie is a type of anthocyanin (the compound that gives eggplant its purple colour) called nasunin. Nasunin is a powerful antioxidant that reduces free radical damage, protects DNA as well as the fat in brain cells from damage & helps to make iron more absorbable.
Almonds – Almonds are a great source of healthy monounsaturated fatty acids (MUFAs), antioxidants & other important nutrients. Almonds support heart health, promote healthy brain function & keep your skin looking young & healthy.
Sesame Seeds – Sesame seeds have a great number of important nutrients including fat, fibre & minerals like magnesium, phosphorous & manganese. They also contain lignans (a type of phytonutrient) that can help to balance hormones & fight cancer.
Extra Virgin Olive Oil – Olive oil is loaded with polyphenols, which is a type of phytonutrient that helps to keep the brain & heart healthy. It's a great source of healthy fats, especially MUFAs (the same kind found in almonds) which can help to balance hormones, slow ageing & improve your mood. EVOO is also is packed with powerful antioxidants that reduce inflammation in the body.
Pretty cool right?!
Alright, now let's move onto notes! 🙂
NOTES:
– As mentioned above, if you don't want to use night shades, zucchini makes a great alternative.
– If you're on a keto diet & you don't want to use the arrowroot you can omit it completely, both ways work, however the arrowroot ultimately allows the batter to stick better & the overall texture is a lot better too (i've found they 're way more crunchy with arrowroot)
– If you don't have nutritional yeast you can just use more almond meal in it's place – but nutritional yeast does improve the flavour. (It gives it more of a cheesy taste).
– When it comes time to frying your fries you don't want to over crowd the pan or you won't achieve a great texture! It's best to cook them in batches – I've found 3 batches work perfectly!
– When making your aioli you MUST MUST MUST pour the olive oil in SUPER SLOW… Otherwise it WILL NOT emulsify – meaning the oil & egg-yoke mixture won't combine together properly & it won't become thick & creamy like a good aioli should be. It should take you a couple of minutes to pour the oil into your processor & your aioli will gradually thicken up.
Alright – let's get to the recipe! 🙂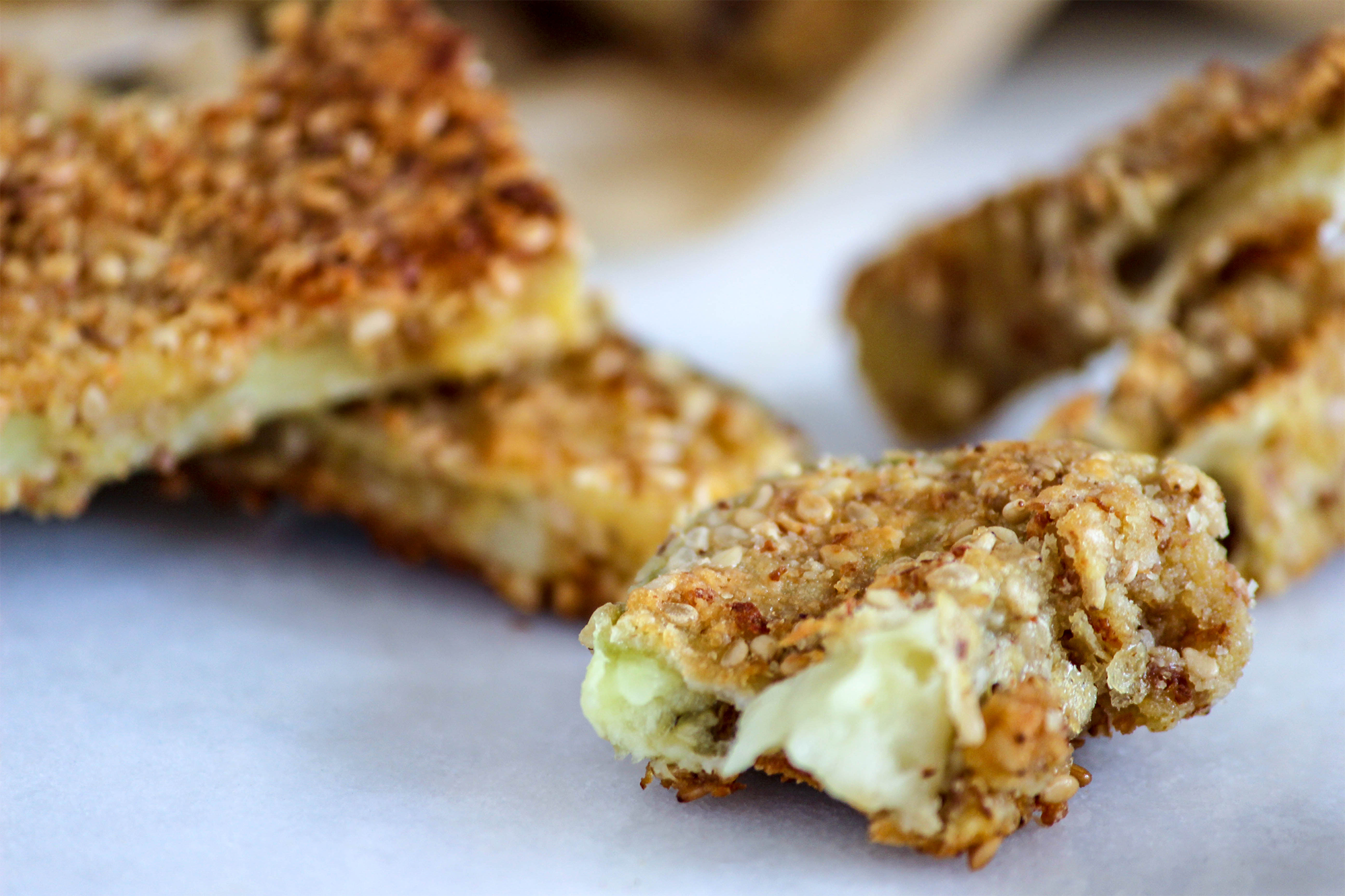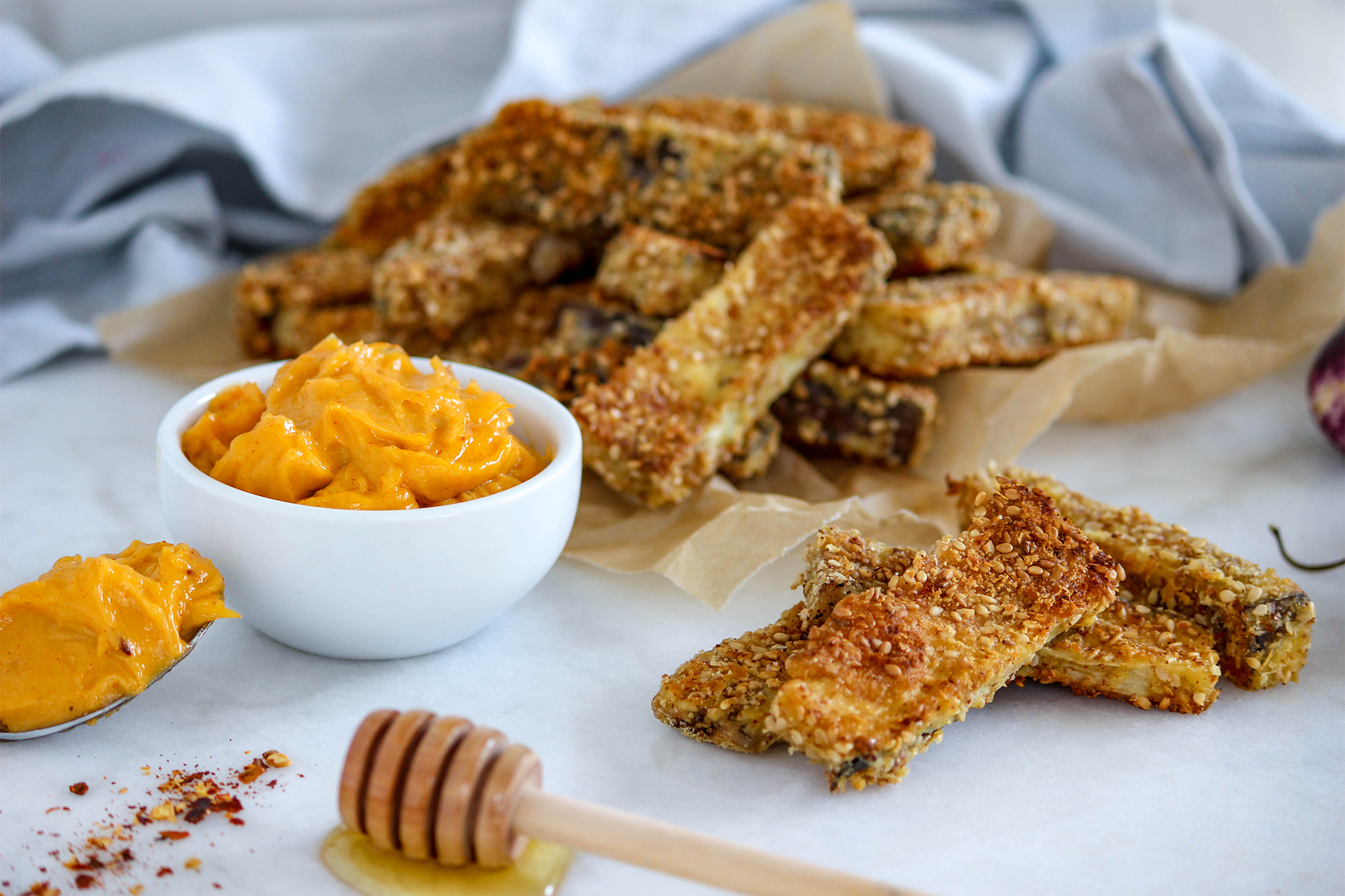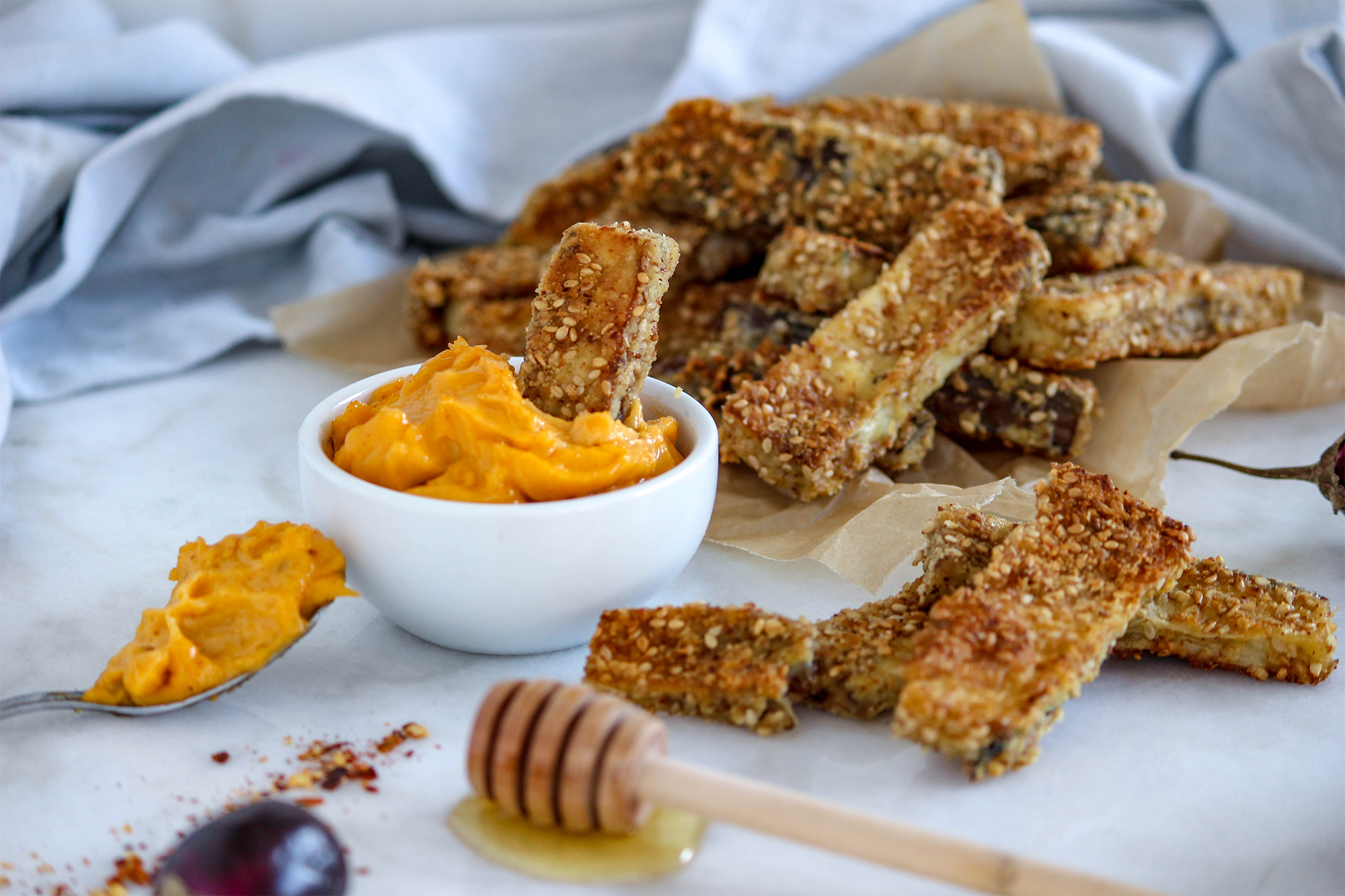 Paleo almond & sesame crusted eggplant fries with sweet chili aioli
Ingredients
Almond & Sesame Crusted Fries:
1 medium size eggplant, cut into fries.
4 tbsp arrowroot flour
1 organic free range egg, whisked
1/2 cup almond meal
3 tbsp sesame seeds
3 tbsp nutritional yeast
2 big pinches of pink salt
6 tbsp coconut oil/high quality fat.
Sweet Chili Aioli: 
2 room temperature egg yokes (we use the egg whites to make cloud bread)
2 cloves garlic, minced
3/4 cup olive oil
1 tablespoon lemon juice
1/2 tsp smoked paprika
1 tsp chili flakes
1 pinch pink salt
1 tsp honey
Method
For the Sweet Chili Aioli: 
Place yokes, lemon juice, garlic, honey, chili, paprika & pink salt into a food processor & process until combined.
Whilst processor is still running, very slowly (over the course of about 2-3 minutes – refer to notes above!) pour the olive oil down the shoot. If you poor the olive oil too fast it will not emulsify – meaning it will be thin & oily – not what you want.
As the oil gets added your aioli will gradually start to thicken.
Once all olive oil has been added your aoili will be thick and creamy.
Now its time to transfer to a mason jar & refrigerate
Once in the fridge, it's time to make your fries!
For the Almond & Sesame Crusted Fries:
Once eggplant has been cut into fries, place arrowroot flour in a shallow bowl, your organic whisked egg in another shallow bowl, & then finally your almond meal, sesame seeds, nutritional yeast & salt in another.
Mix almond meal, sesame seeds, nutritional yeast & salt until properly combined.
Now coat each piece of eggplant in arrow root, then the egg, & then in the almond & sesame mixture. Try to make sure that each side is covered evenly with the mixture.
Place 2 tbsps of coconut oil/high quality fat in a pan over medium heat & allow to heat up.
Once oil is heated, carefully place a 3rd of your eggplant fries into the pan. Fry for 2 -3 minutes on each side until both sides are golden brown.
Repeat with the next 2 batches of fries (as per notes above).
Once all batches have been cooked, take aioli out of the fridge & enjoy with a cold kombucha!