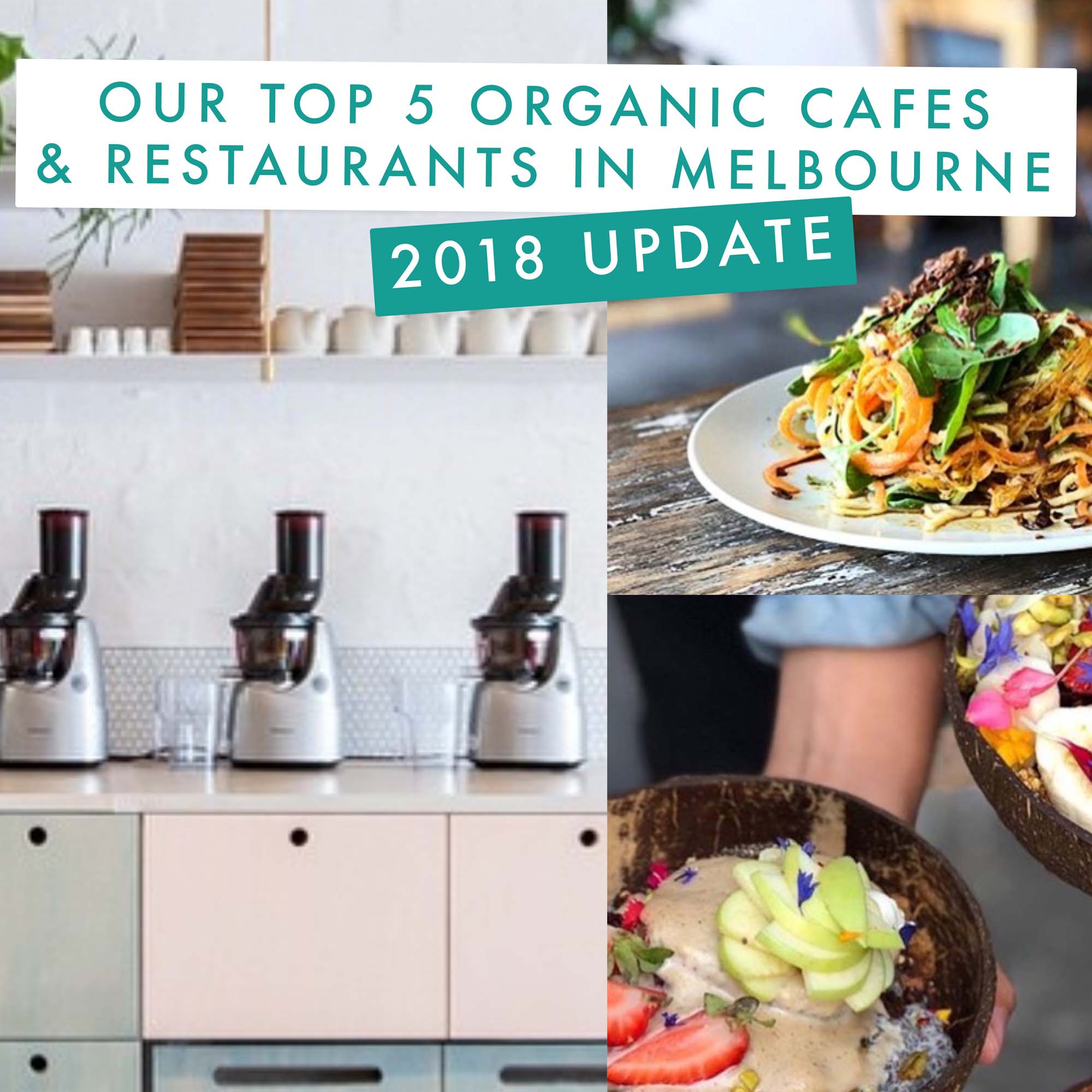 Our Top 5 Organic Cafes & Restaurants in Melbourne – 2018 UPDATE
Eating out at the latest swish place in town & ordering a bottle of their finest (so they could pour it into a pretty looking decanter of course!) used to top our list when it came to – well – living really.
"Let's order a double serving of that extra cheesy garlic bread"… "Omg that creamy mushroom gnocchi, thats the one!"… "Let's share that extra rich chocolatey tart for desert – actually let's have one each!"
…So suffice to say – when we made the switch to a diet of Organic Wholefoods, things became a bit tricky.
In fact (as you may have guessed) – we stopped going out all together.
And even though everyone thought we were nuts (Come on… you won't even go out for a pizza!? You guys are so bloody fussy!)…
As we were ridding our bodies of anything conventional or processed, our need for sugar laden processed foods went down… & our urge for nutrient dense nourishment went up to an all time high.
Which actually made it pretty easy to give ol' mate cheesy garlic bread a miss! 🙂
What we did miss though?
Getting dressed up… not having to do the cooking… & letting someone whip up a small masterpiece just for us.
Arghh – if only we could have the best of both worlds!
Well… After a few good years of asking many many questions to many many frustrated restauranteurs (Can you cater for organic/SF/DF/GF?… What kind of oil do you cook in?… Where do you get your produce from?… – yeah – we're a little hardcore) – we now have a handful of restaurants & cafes in Melbourne that are serving up nothing but the best quality food.
Winner Winner (Organic) Chicken Dinner!
Now before we get started, I actually wrote a blog post many many moons ago about my top 5 organic eateries in Melbourne which i've found some other websites have shared… So if you find that one on the googs, disregard it! Why? It pains me to say that some of them aren't organic anymore!
In fact – I was horrified to learn that one of them had even started serving GMO Soy (Seriously?? Insane.)
Which is what's fuelled me to write this blog post last year (2017)… Because even though some restaurants have a healthy vibe… it doesn't necessarily mean they are using quality ingredients.
But unfortunately since writing this blog post last year… we've lost even more of our eateries to the big bad world of conventional produce & rancid seed oils. Hence, it was time for another update!
So back to our Winner Winner (Organic) Chicken Dinner – here are our updated 2018 top picks for Organic, nourishing & oh so delicious restaurants & cafes in & around Melbourne.
---
#1. O.MY 
(Degustation only – You'll wanna dress up for this one!)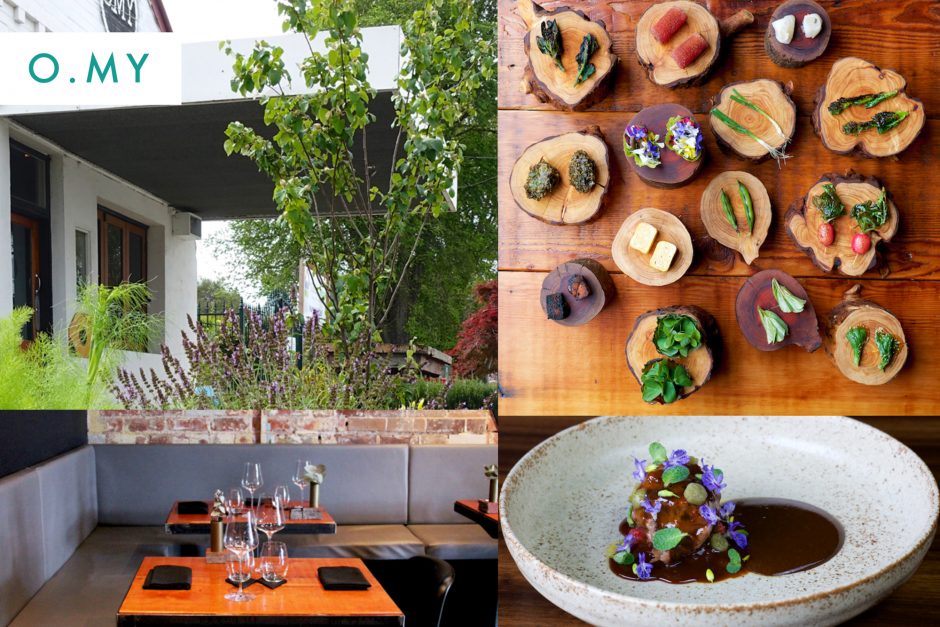 O.MY is hands down our favourite restaurant. Ever.
And i'm happy to report O.MY has held the number 1 status since I started writing these!
We go there every year for our birthdays or any time we have something big to celebrate.
O.MY is owned by 2 (super cool) brothers & ALL of their produce is grown on their OWN farm – organically!
The majority of their dishes are slow cooked (one of the healthiest cooking methods) & the attention to detail, styling & love that goes into every dish they serve is like no other.
They aren't predominately GF, SF or DF – However they EASILY cater for this & don't make you feel like a weirdo for asking!
They are Degustation only (meaning they create a series of INCREDIBLE dishes for you, without you looking at a menu) & they have an incredible selection of organic & biodynamic wines if you fancy a glass.
They also offer some awesome 'non alcoholic' beverages like their housemade kombucha.
O.MY is located in Beaconsfield VIC so it's a fair whack out of the city (about 40 minutes from the CBD) but in my opinion – It's completely worth the drive!
Word of advice though – book far in advance – they book out in the blink of an eye.
http://www.omyrestaurant.com.au/
#2. Walk Don't Run
(SUPER CUTE with a killer brekky menu)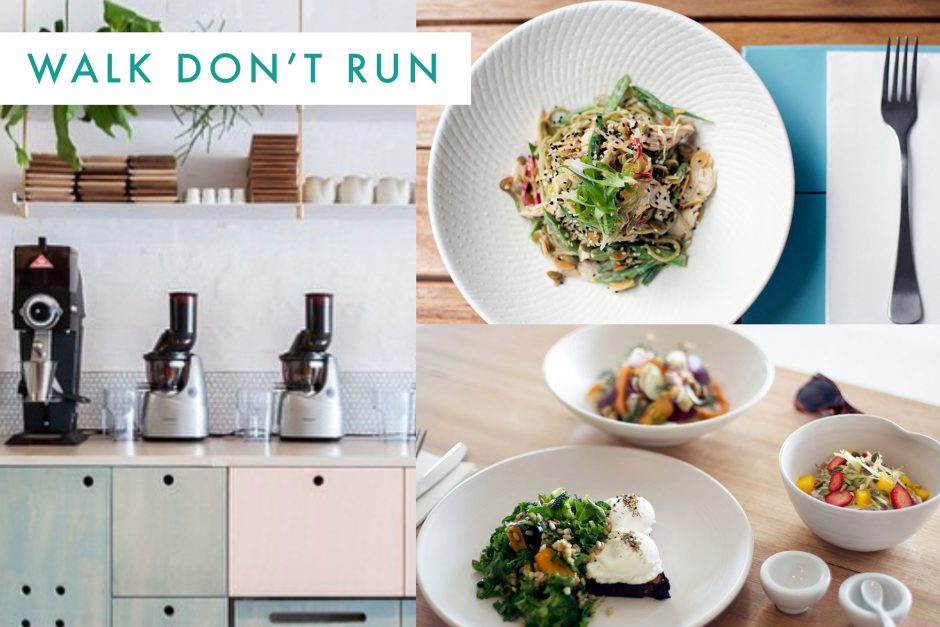 This is our favourite cafe located about 10 minutes out from the city in Armadale.
Whilst you do have the choice to order gluten breads like sourdough or rye, their main bread is the most delicious gluten free loaf I reckon I've ever tasted… it's called 'life loaf' – isn't that an awesome name!
The best bit though, is that they only use super quality 100% organic produce & their dishes taste incredible! Our go-to is the slow braised beef brisket benedict – if you're paleo you're going to love this one – it's incredible!
Walk don't run is super tiny (but super cute!!) & you have the option to sit indoors or outdoors. You can also go with a group of people (we have all our birthday lunches here with about 6-8 people) but ring in advance to book the 'big window table'. The staff in their are super lovely & accomodating… and really… we just LOVEEE it here!
#3. Raw Trader
(Best organic & raw dessert bar…ever!)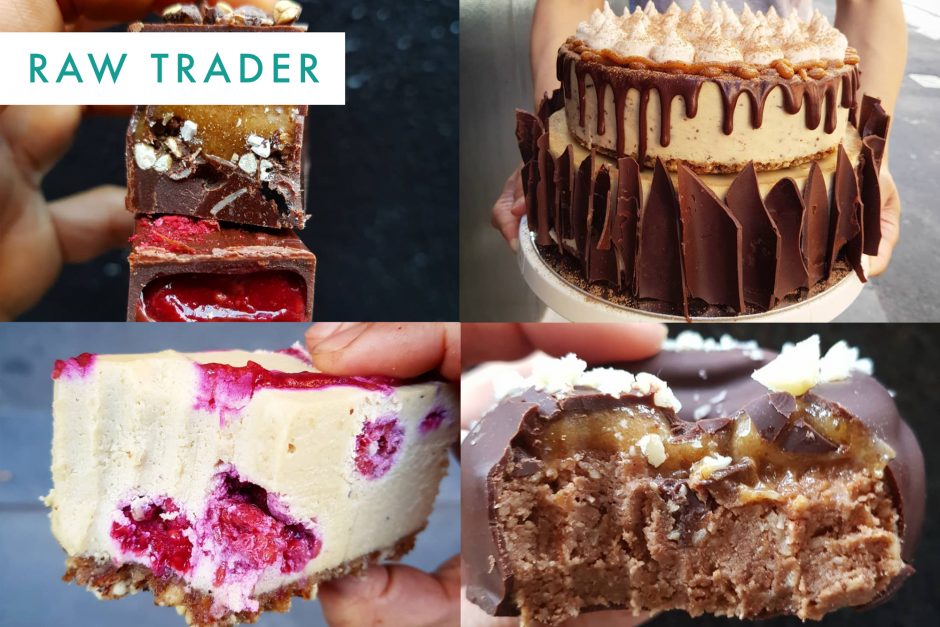 Raw trader… this might just be our favourite little hangout that we visit about once a week… yeah we're addicted!
Raw Trader have an INCREDIBLE range of delectable little cakes, donuts & other sweet treats waiting for you to devour behind their cute little counter (think white chocolate & raspberry cheesecake… smores cake… rocky road cheesecake…salted caramel donuts.. & the list goes on & on!).
And here's where it get's good… They're all organic, gluten free, dairy free & refined sugar free!!!! Well obviously I wouldn't be listing them here if they weren't… but it's still very exciting! Another thing I love about these guys is they don't use peanuts (they have a 'peanot' butter cup :p) – remember, peanuts aren't nuts! They're lectin containing legumes!
You can also order special event/birthday cakes from them if you have something spesh coming up. In fact here's the unicorn cake Anth ordered for my birthday this year… IT WAS INCREDIBLE!
At the moment they have 2 locations – the city store where you can actually eat in (there a handful of tables at the back… & if you're going to sit in, get a tea because they serve them in really cute teapots!!) OR Chadstone, which is located downstairs near their new swanky food court. We ALWAYS go to the Chadstone location because it's closer to home, we love a good shop + they seem to have more of a selection at Chaddy.
#4. Combi
(Super casual & chill)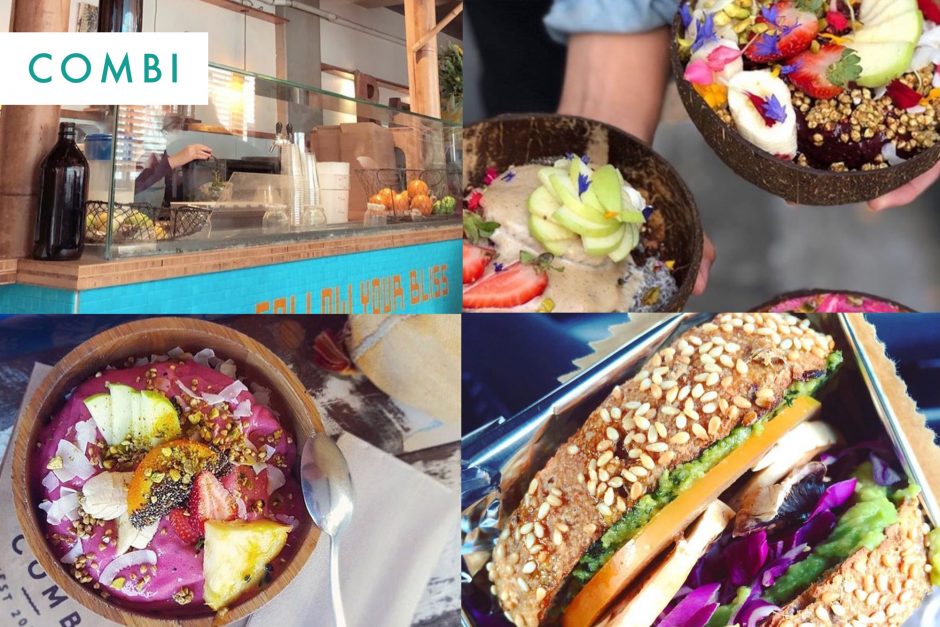 Combi – The first organic place we ever ate at!
It's super duper chill & reminds us of a cute little decked out 'surfy' bar that could seriously be situated in the middle of an island somewhere. Except they're in Elwood!
You won't find any super fancy hot breakfasts here – but if you're a lover of vibrant smoothie bowls, insanely delicious superfood smoothies or avo & pink salt on fermented sprouted gf bread – then Combi is your place!
Although Combi is predominately meat free – they do offer a beautiful toastie with slow smoked cured ham.
Word to the wise – If you get there on a Saturday, expect to be waiting for a table. These guys are only little & the line is usually huge!
#5 Shoku Iku
(Superfoods at a whole other level!)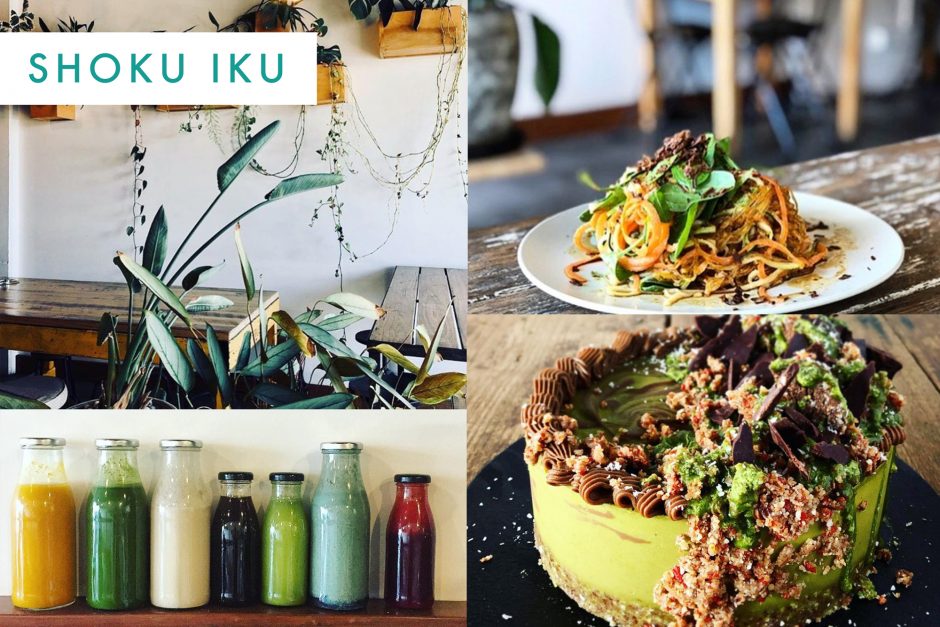 Shoku Iku (which means "food education" in Japanese) is a gorgeous little place on high street in Northcote boasting sustainable, natural & modern decor (hey – looks are important too, right?!)
Shoku Iku specialise in raw vegan food so if you're after a big juicy organic steak or a bacon & egg style brekky – this is probably not your place… but if you're into your superfoods – prepare to be amazed. These guys take it to a whole other level.
Although they don't have a wide range of food to choose from, their smoothie & tea menu is quite unreal.
From gynostemma (adtaptogen), hercampuri (detoxification) & pau d'arco (anti fungal) teas to astragalus (anti-aging), reishi (immunity) & phytoplankton (cell regeneration) smoothies – There's definitely no shortfall when it comes to their incredible & powerful elixers!
P.S If you do go here, make sure you also visit Terra Madre a few shops down on the other side of the road – this is by far THE BEST organic health food store in the world… not even a health food store… it's an organic supermarket – trust me, you'll be amazed!
---
…And thats a wrap.
As more come in (which I hope they will), I will continue to update this post.
But for now – Get your clothes on, grab the keys & head on out to one of these 5 awesome little places – a little masterpiece is waiting to be made just for you! (I didn't assume you were naked by the way… that would be a bit weird wouldn't it?)
Enjoy!
Crystal x