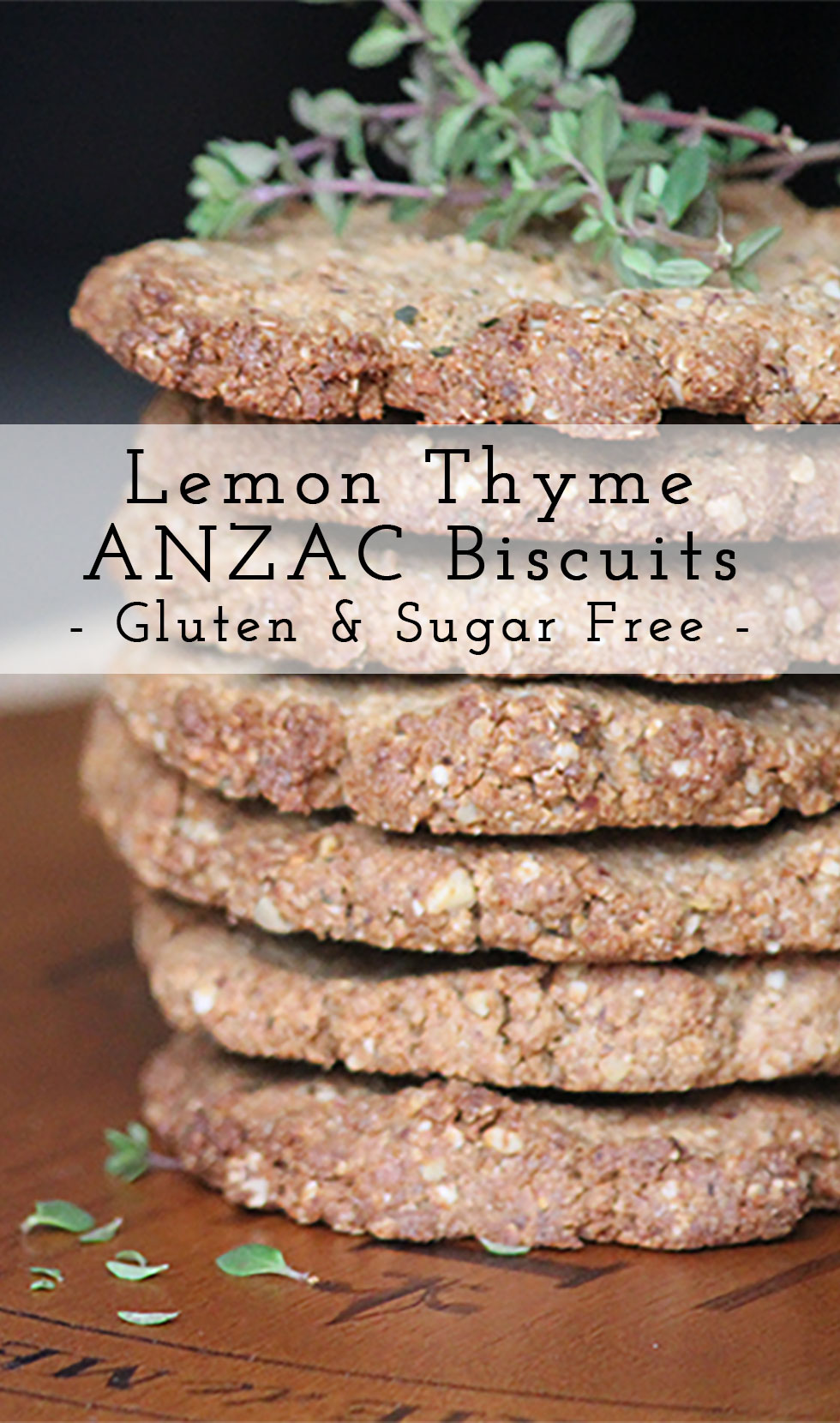 Lemon Thyme ANZAC biscuits
Whilst the normal ANZAC biccy is predominantly made with Rolled Oats, white flour and refined sugar
– 3 ingredients that I have parted ways with –
It's super easy to make a batch of deliciously healthy ANZACs with a kick that will keep you coming back for more! (Is that a good thing?… Well… all the ingredients are super high in vitamins & minerals so I'm going to say Sure! Why the hell not!!)
This time round, we went out to our Healthy Patch & decided to add one our fave herbs to the mix…
LEMON THYME!
Not only does Lemon Thyme offer you a big POP of flavour… it's also packed with nutrition!
Why Lemon Thyme Rocks Our Socks
♥ It's packed with Vitamins & Minerals
♥ It has one of the highest antioxidant levels
♥ It contains the essential oil Thymol which has antiseptic & anti fungal characteristics
♥ It's super high in B complex vitamins, as well as A,C,K & E
These awesome little health benefits we're taken straight from our eBook "Wholesome Healing Herbs You Can Grow In The Cooler Months" – Get your hands on this for free right here 🙂
Another star ingredient we have chosen to use in our ANZACs is Quinoa!
Why we think Quinoa is pretty spiffy… 
Quinoa is a COMPLETE PROTEIN (meaning it contains all of the essential amino acids) – this doesn't happen a lot when we're talking plant foods. It is also packed with B Vitamins & Trace Minerals.
It was all the rage last year due to its awesome nutritional profile + the high amount of energy it gives you when you eat it, but a few people that I know (especially my old man) are still a bit iffy on the taste.
Cooked alone, yeah it ain't great!
BUT… It can make the perfect substitute for white rice, white flour, or in this case, rolled oats, when we dress it up with a few other star ingredients equaling an end result of  YUM!
Now before I continue… just a quick word on why we don't eat oats…
Whilst oats do have a high nutritional profile (just under quinoa) they are generally referred to as a gluten grain… even though they technically don't contain gluten.
The issue is that oats are generally grown in rotation with gluten grains + produced using the same equipment as gluten grains.
Unfortunately this is where cross-contamination occurs – making it very hard to get your hot little hands on gluten free oats.
Alright…shut up Crystal, give me the recipe already!
LET'S DO IT!
Lemon Thyme ANZAC biscuits
Makes 16 small biscuits or 8 Large Biscuits
Ingredients:
1 1/2 cup quinoa flakes (AKA rolled quinoa)
1/2 cup desiccated coconut
3/4 cup LSA or almond meal (we use LSA… Linseeds, Sunflower seeds & Almonds crushed up into a powder)
1/4 cup of freshly picked Lemon Thyme (we throw in the sprigs & all but you can just use the individual leaves if you prefer)
2 heaped tbsp. coconut oil
3 tbsp. manuka honey
1 egg
Optional Extras for an extra kick

1 tsp. coconut butter (AKA coconut paste)
1/2 tsp. cinnamon
1/2 tsp. vanilla bean powder
Method:
Preheat oven to 150c
Throw everything into a food processor & process into you get a nice & slightly wet ball of dough. (It should all be sticking together nicely)
Place dough onto baking paper* & cut divide into 8 (or 16 small) equal portions.
Roll them into balls & flatten them down using the palm of your hand until you have your desired consistency. (You can make them really flat or a little chunky – up to you!)
Place on a baking tray, pop in the oven and cook for around 15 minutes. (the longer you leave them in, the harder they will be).
Remove from oven & place on a wire rack until cooled.
Like any biscuit – they will harden up while they are cooling down, so if you want them a bit chewy – make sure they are still quite soft when you take them out.
Now go & enjoy your healthy lemony ANZAC biscuits!
*Most baking papers can be quite toxic as they are filled with bleach and chlorine. We love the brand 'If you care' which is unbleached, chlorine free & compostable.
Any questions – let me know! 🙂
C x