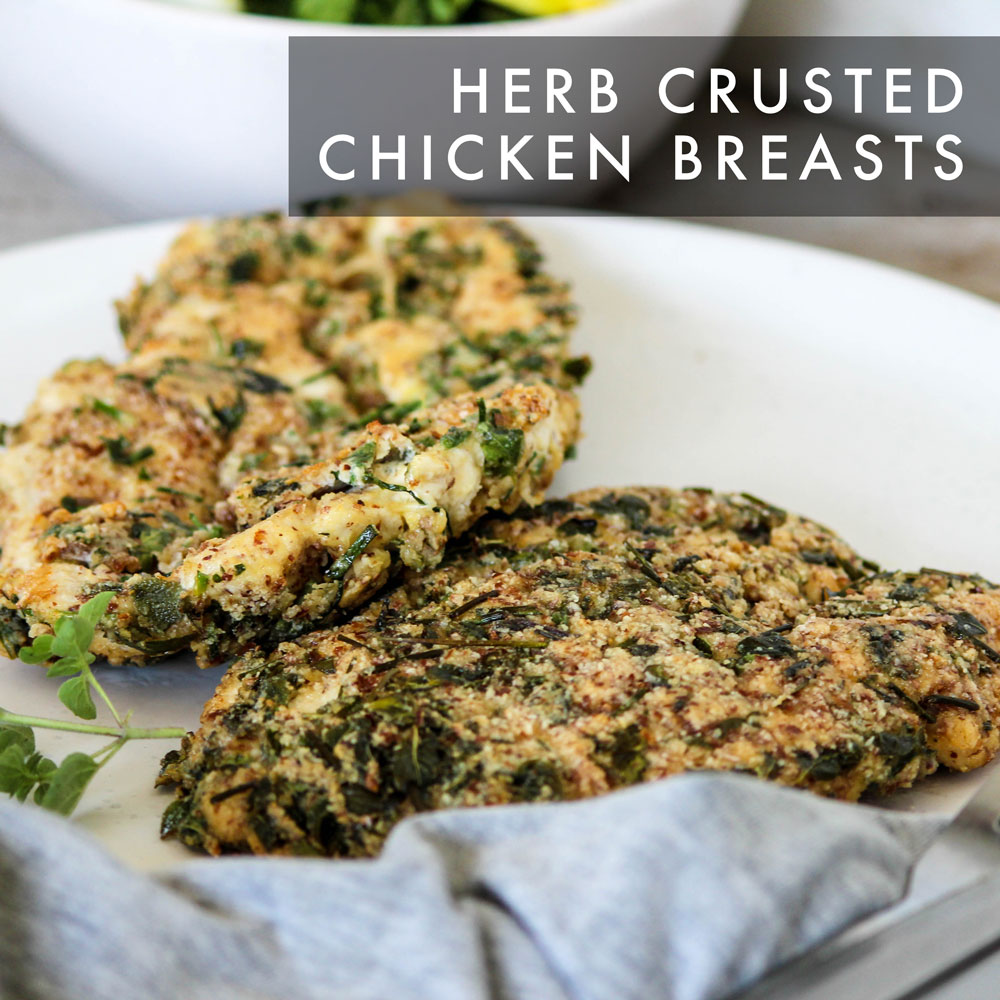 Herb crusted chicken breasts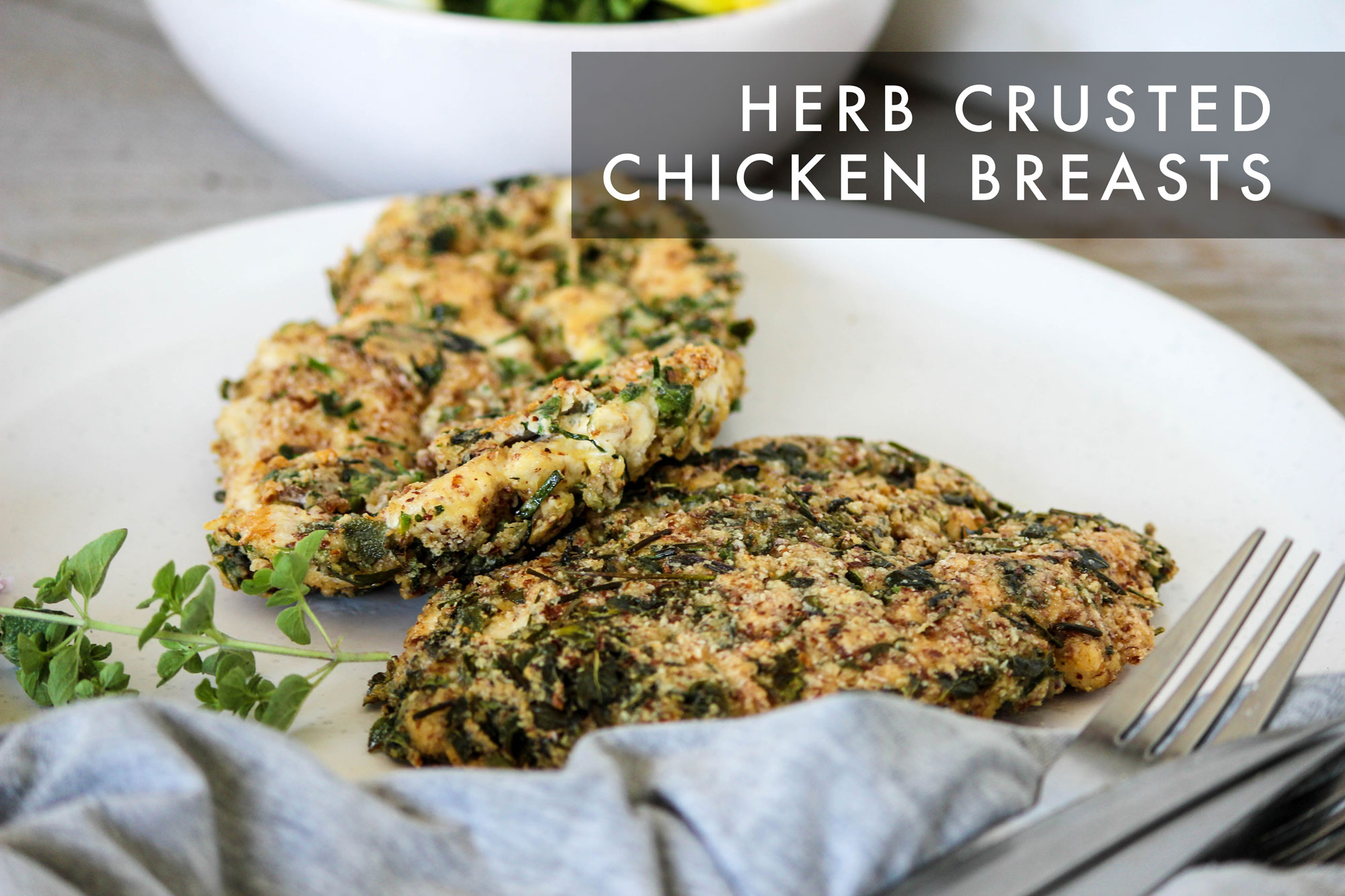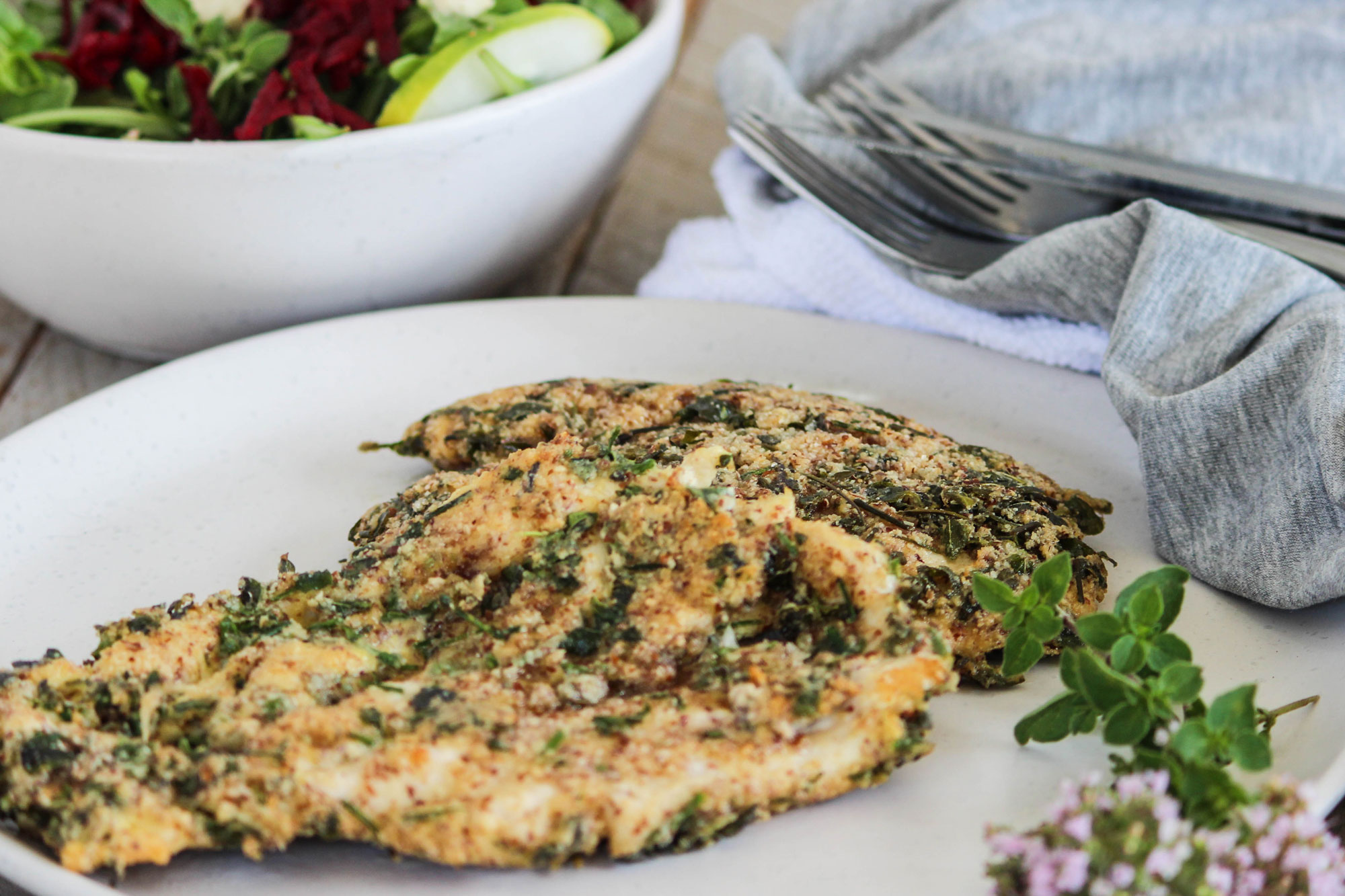 You're going to love these herb crusted chicken breasts!
It's one of my absolute faves for a simple, nourishing & quick dinner that tastes INCREDIBLE!
I used to coat my chicken breasts in just almond meal, however this dish came about when I only had a tiny bit remaining… & needed something else to add to it so I could bulk it out & cover the whole breast!
Of course something that we always  have an overload of is herbs – specifically chives, oregano & sage. They grow like weeds in our patches. So that was my replacement until I got some more almond meal….
Until I tasted the chicken.
Oh my goodness…… it was a billion times better than any almond crusted anything + herbs contain a heap of body loving phytonutrients to give it an awesome nutritional boost.
Check this out…
Chives are an awesome source of vitamin K + contain powerful antioxidants like lutein, zeaxanthin & allicin
Oregano contains rosmarinic acid which is a powerful antioxidant, & carnosol which is a phytonutrient with cancer fighting properties.
Sage contains anti-inflammatory compounds + beneficial flavonoids like apigenin & luteolin
Suffice to say – we never went back to just plain ol' almond meal!
Serve it with a big green salad & a bit of cashew cheese or apple sauce (which we simply make by blending apples & cinnamon in a blender) & you're laughing!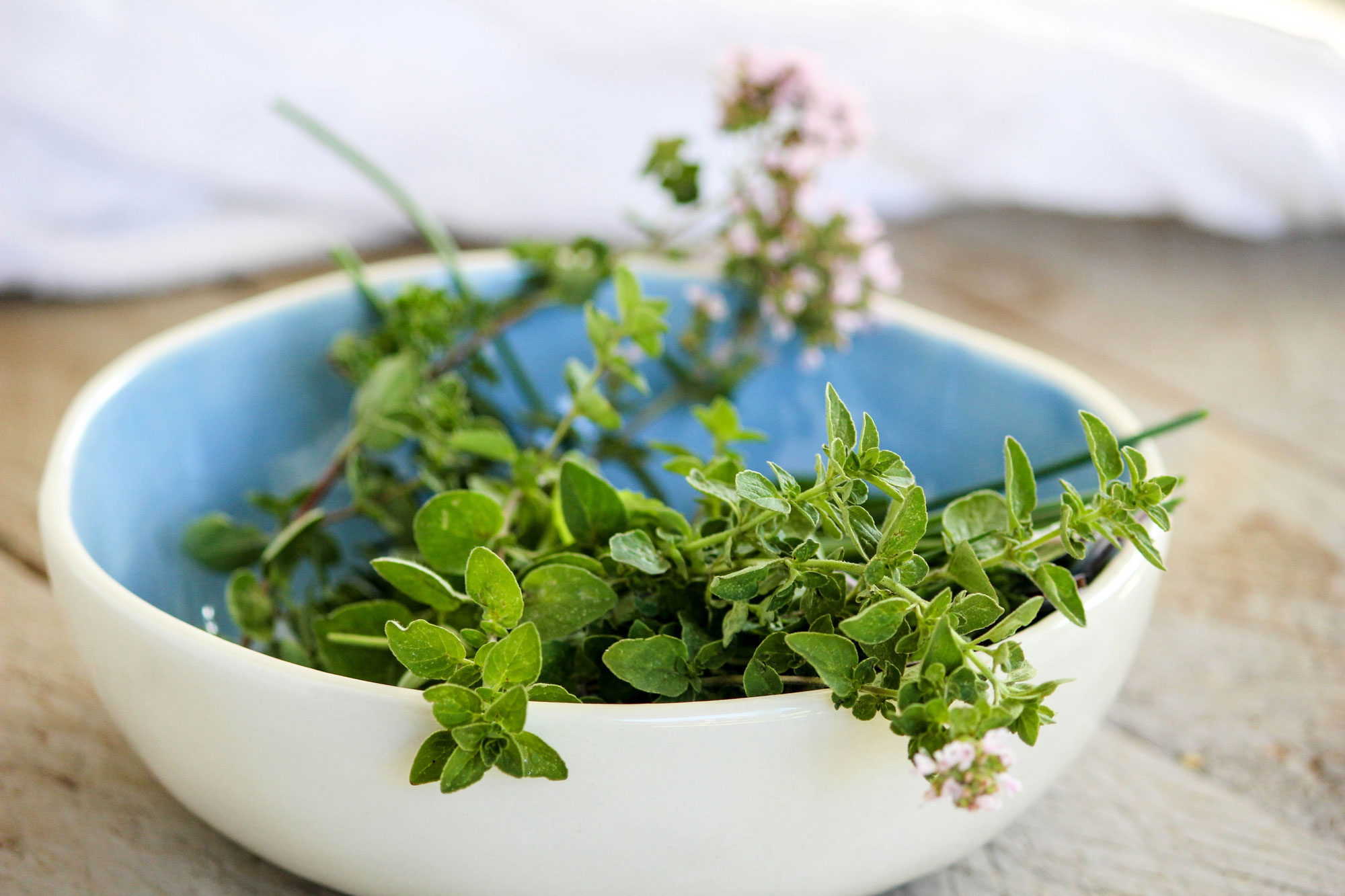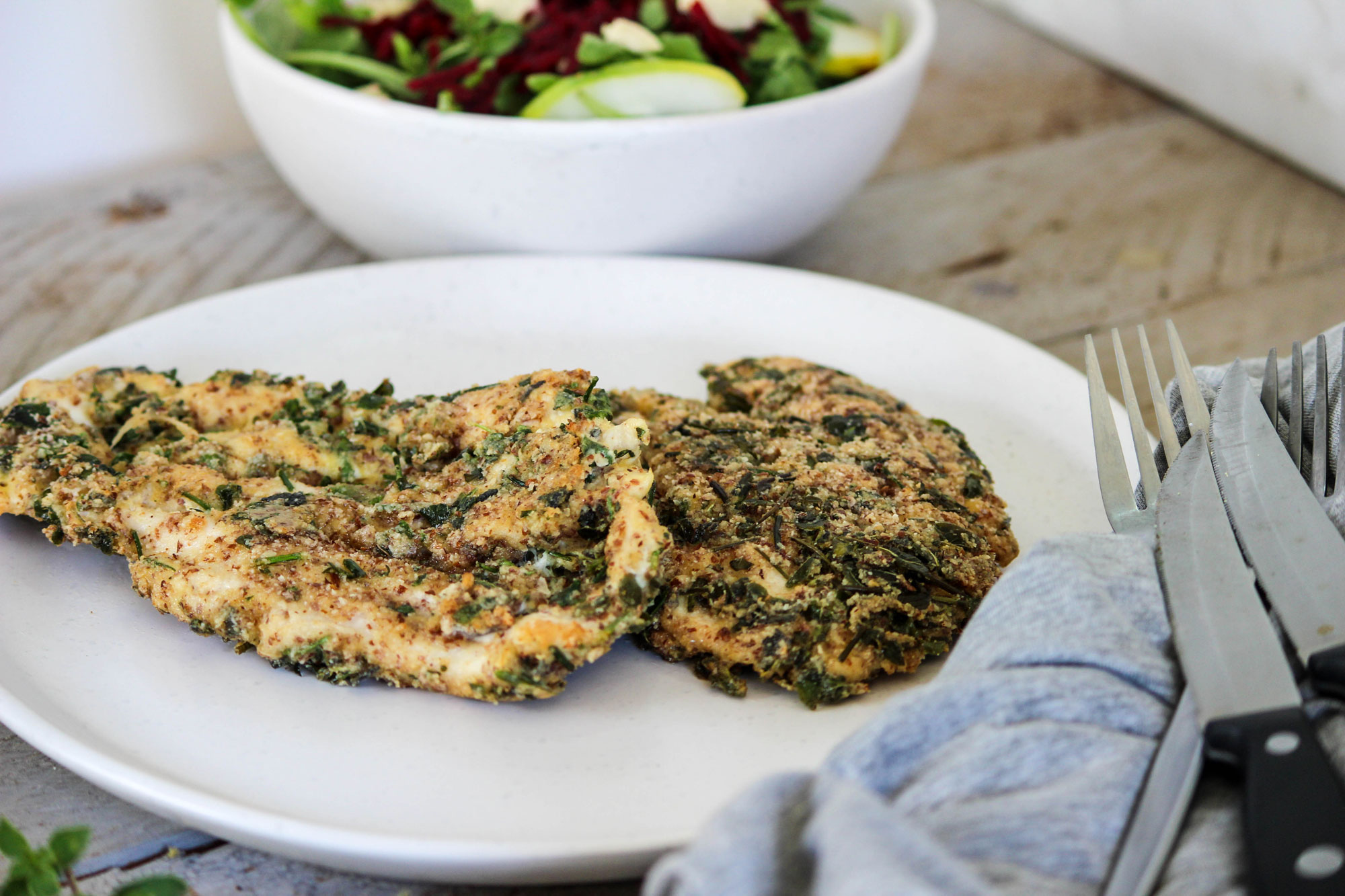 Now we still use half a cup of almond meal mixed into the herbs  just to give it a gorgeous texture – however if you want to use 100% herbs thats fine too – they both work! (Just use more herbs that I've listed down in the ingredients)
A few additional tips before we start as well…
TIPS:
Don't skimp on the egg! You want to cover your chicken breasts in a nice coating of egg as this will hold your herb coating in place! Try to use the whole egg for your 2 chicken breasts
Use shallow bowls, as opposed to a normal bowl for coating your chicken. You'll get a much more even coverage this way..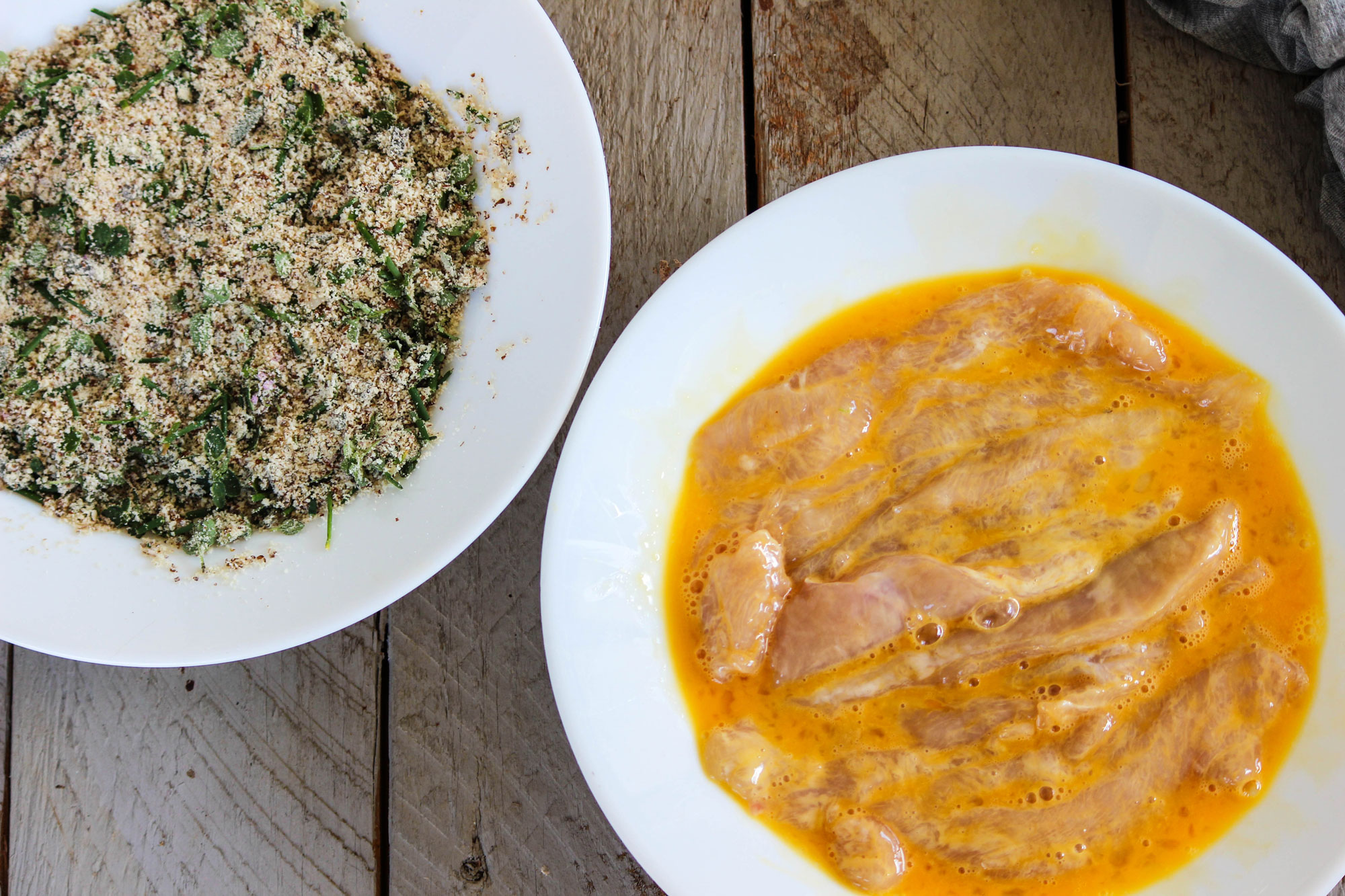 Make sure you let your fat/oil heat up before you place your chicken breasts into the pan – this will help with the texture and make it go nice & crispy.
Be careful when turning your chicken over. You don't want to lose your herb coating! I've found the best way is to use a pair of tongs.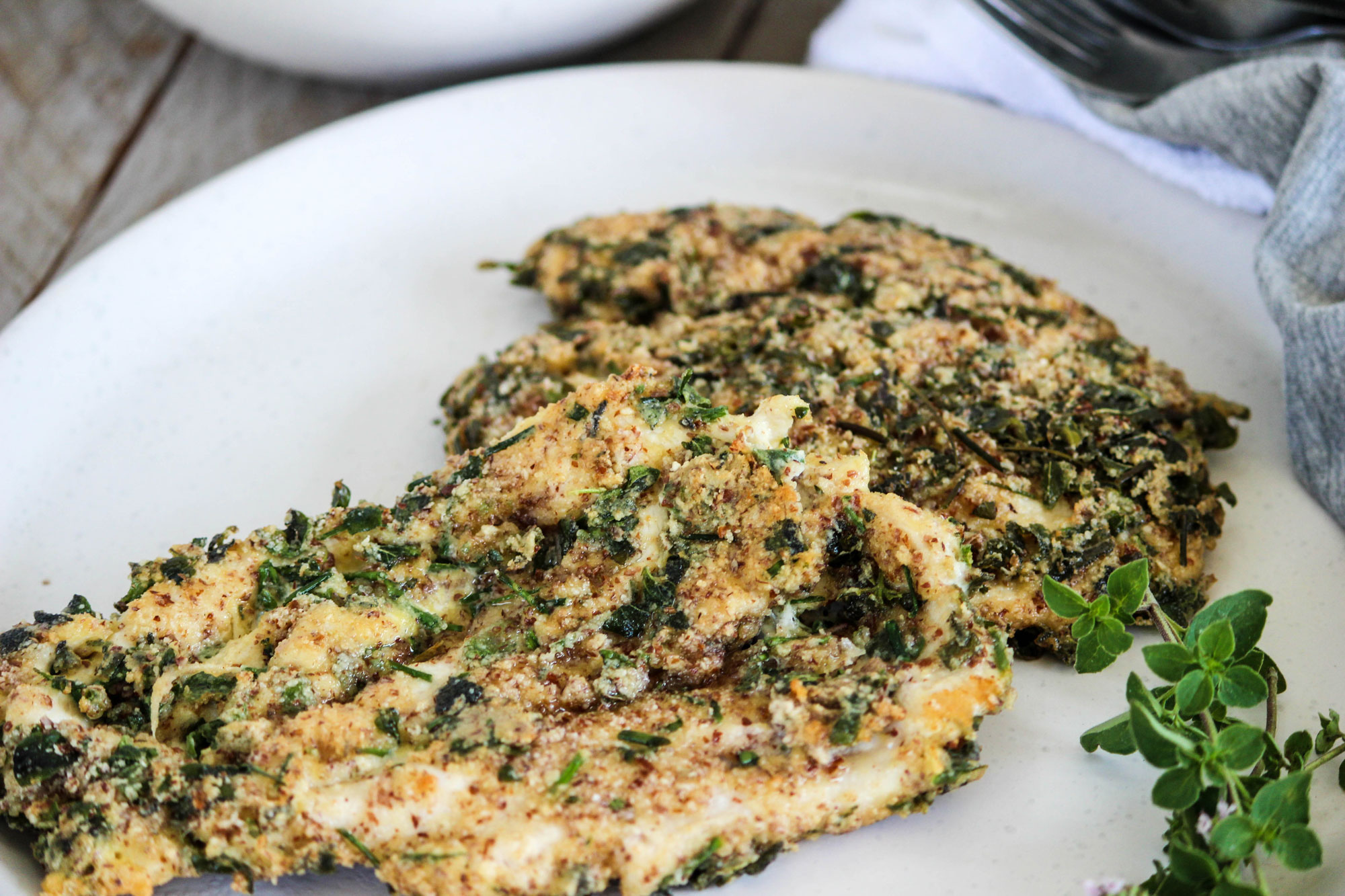 Okay – let's get to the recipe!
HERB CRUSTED CHICKEN BREASTS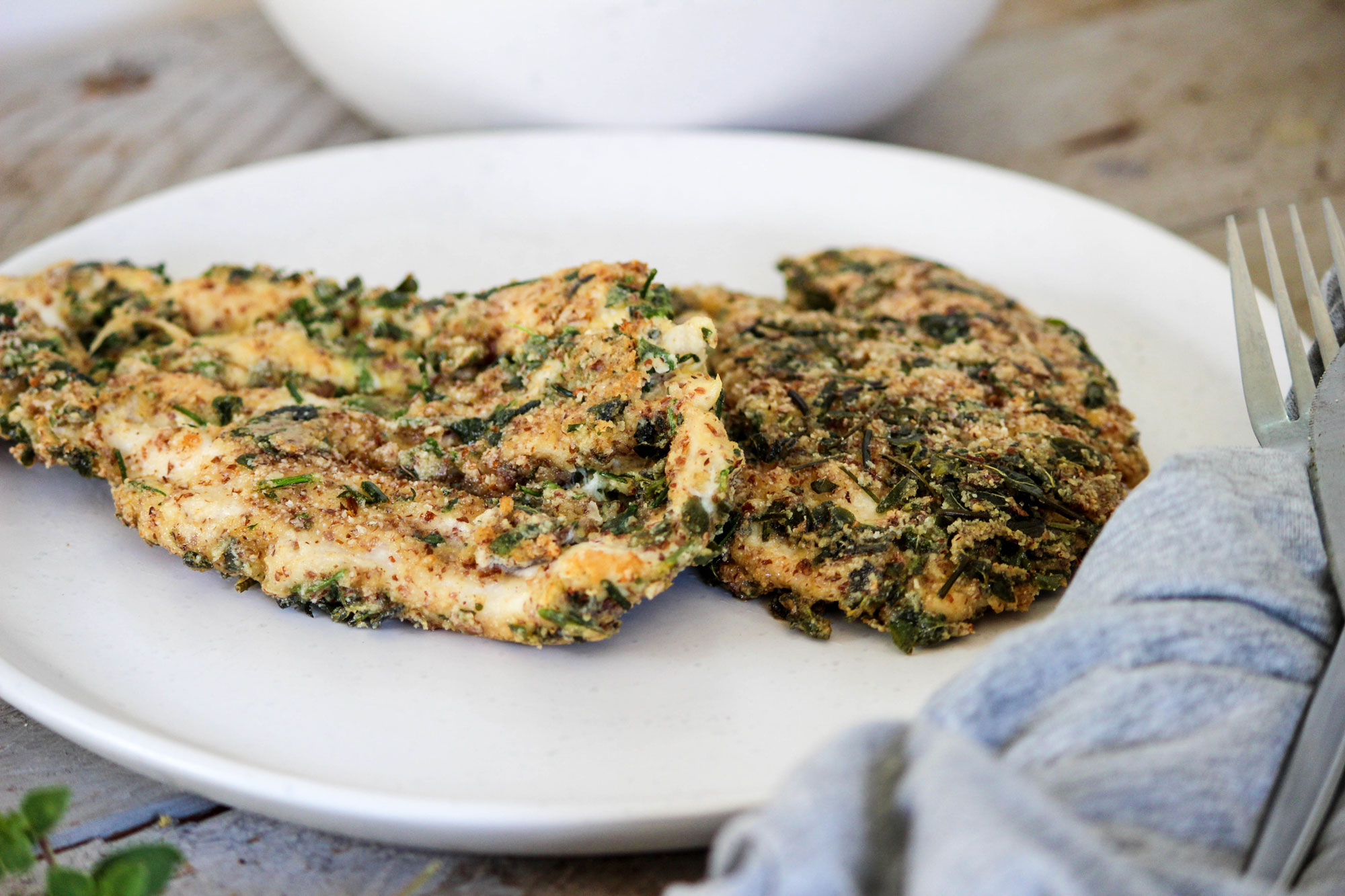 INGREDIENTS
2 organic chicken breasts (we get ours from Cherry Tree Organics in Beaconsfield VIC)
2 tbsp. organic arrowroot powder
1 organic egg
1/2 cup organic almond meal
5 heaped tbsp. finely chopped herbs (we've used chives, oregano & sage)
3 tbsp. good quality animal fat or coconut oil (we've used duck fat)
A good pinch of pink salt
METHOD
Butterfly your chicken breasts to make a heart shape.
Coat each breast with arrowroot (using 1 tbsp per breast). Pat the arrowroot down into the chicken & make sure each side has been coated.
Crack your egg into a shallow bowl (as shown in the picture above) & whisk.
Dip/place your chicken breasts into the bowl with the whisked egg and completely coat each side in the egg.
Place almond meal & herbs into another shallow bowl & toss to combine (as shown in picture above).
Now dip/place your chicken breasts into the bowl with the almond meal & herbs, pressing the breasts down into the mix until both sides are completely covered. You should have no herb mix left by the end.
Place quality animal fat/coconut oil into a pan on medium heat & let the fat heat up.
Once heated, carefully add the breasts into the pan and cook on each side until golden brown (this usually takes us around 3-4 minutes per side)
Once crispy and golden, place onto nice plates, season with a good pinch of pink salt & serve with a big salad & cashew cheese or apple sauce.
Enjoy!