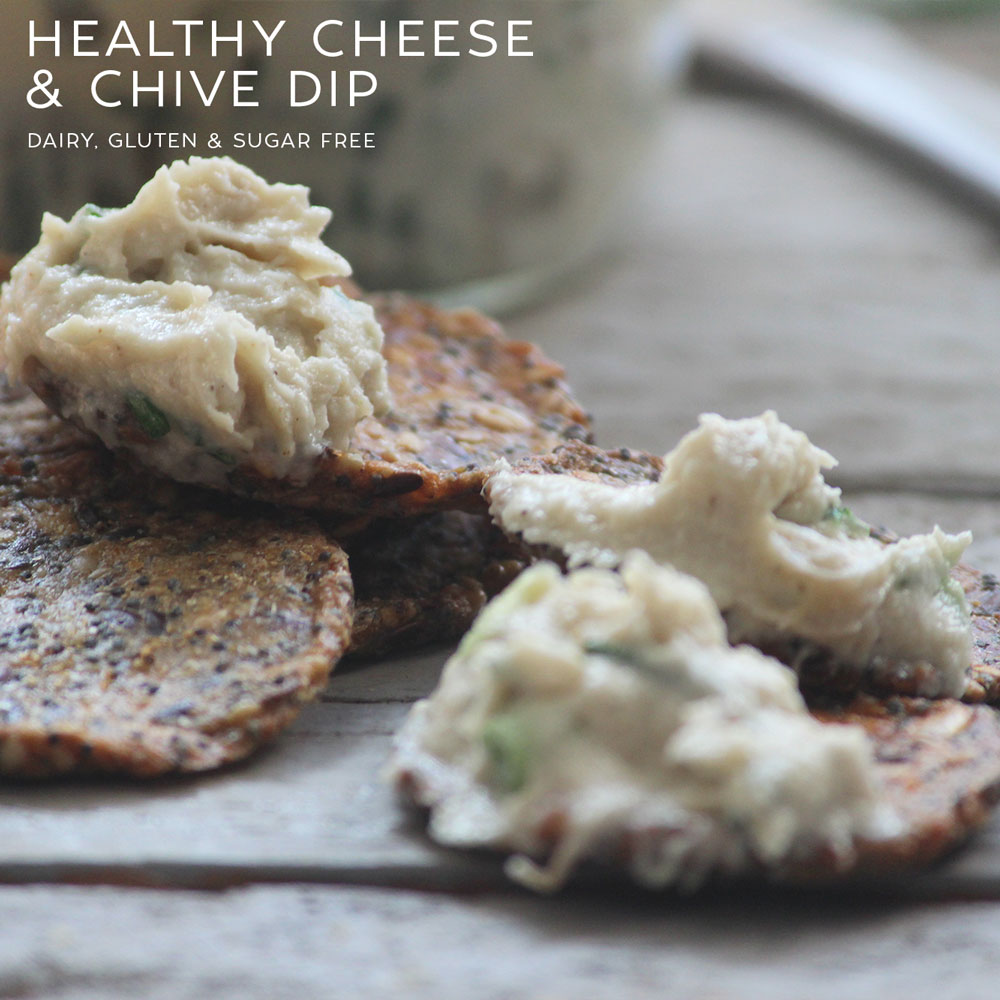 Healthy Cheese & Chive Dip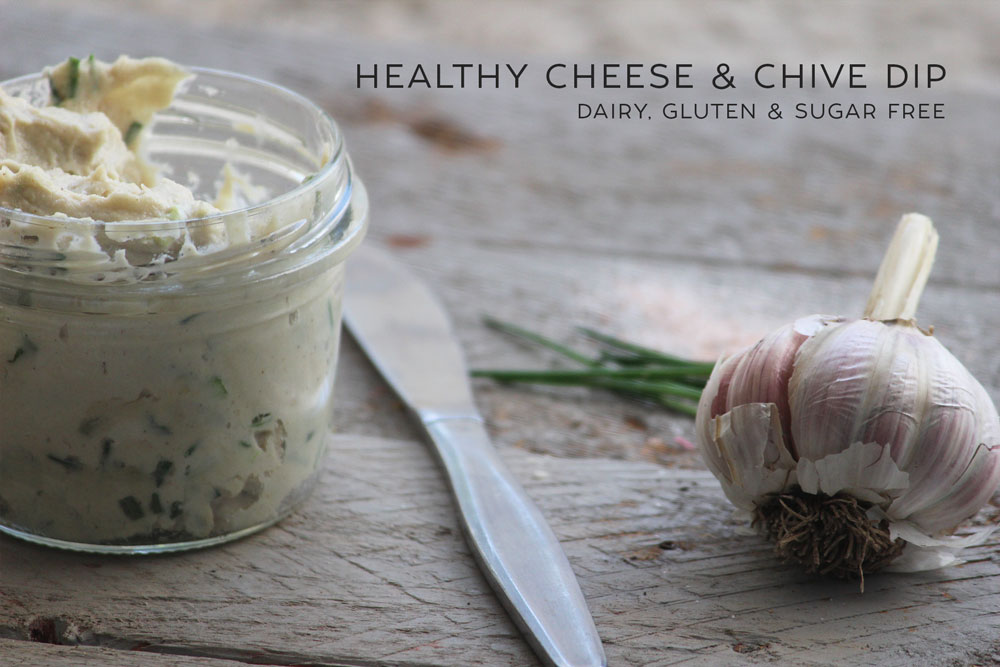 Back in the day, my go to dip was always Cheese & Chive.
Every weekend…
And in fact most weekdays after work too!
Of course when we decided to only eat real food, the dip was thankfully out!
And I say thankfully because take a look at the ingredients…
Milk, Cream, Milk Solids, Salt, Vegetable Gum (410), Food Acid (270), Skim Milk, Canola Oil, Water, Mustard Seeds, Sugar, Food Acid (260), Onion, Chive (0.3%), Food Acid (330), Preservatives (202, 211).
So whilst the fact that there's .3% of chives in the cheese & chive dip is quite funny… the ingredients are bloody appalling!
Cue in our HEALTHY cheese & chive dip!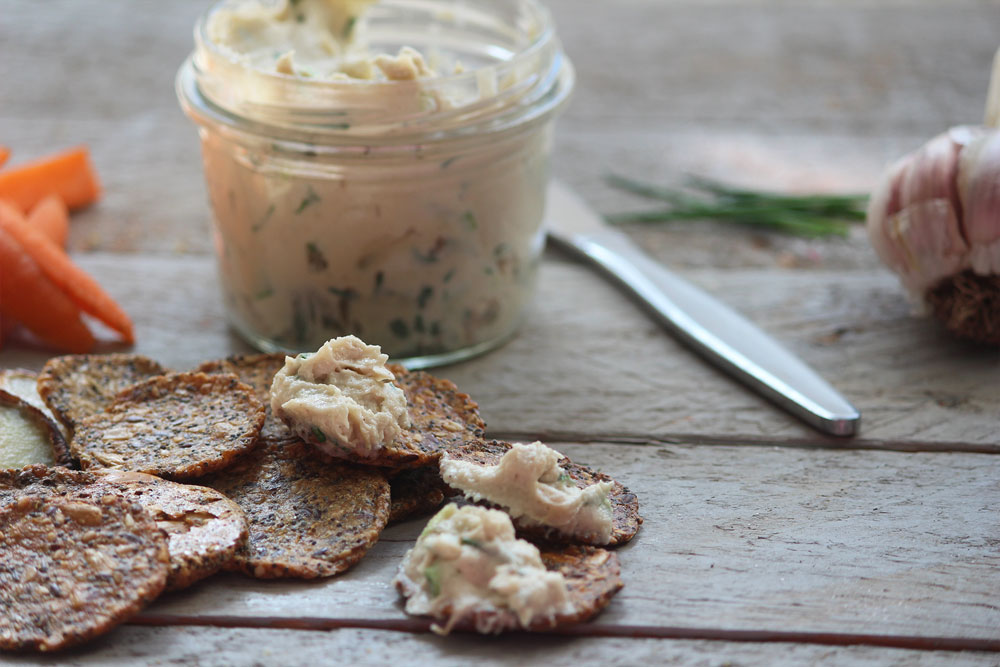 Sugar free. Gluten Free. Dairy Free…. And actually good for you!
Have a look…
Cashews: Cashews are an awesome source of healthy fats & protein + they're rich in a number of essential minerals including copper which promotes healthy brain function & helps collagen production.
Chives: Chives are packed with vitamin K which is crucial for bone structure & healthy blood flow. They're also a great source of vitamin A, C & sulfur – a very important but overlooked mineral that plays a vital role in detoxification!
Spring Onion: Spring onions are rich in fibre which helps keep your gut healthy & your bowels clear. They're also a great source of vitamin C, K & A + being a member of the allium family, they also contain sulfur.

Garlic: Garlic is a great source of manganese & vitamin B6. It also contains a number of sulphur containing compounds that do amazing things for our immune system, cardiovascular system, endocrine system & liver function. Crush or mince your garlic a few minutes before you cook it for an enhanced effect.
Pink Salt: Pink salt is an incredibly pure form of salt & contains between 60 & 84 minerals. It also helps with digestion & respiratory issues.
Gelatin: Grass fed Gelatin supports your gut lining & digestion. It helps with joint pain & has even been shown in studies to help people who have trouble with both daytime drowsiness & with falling asleep at night.
Not too shabby hey?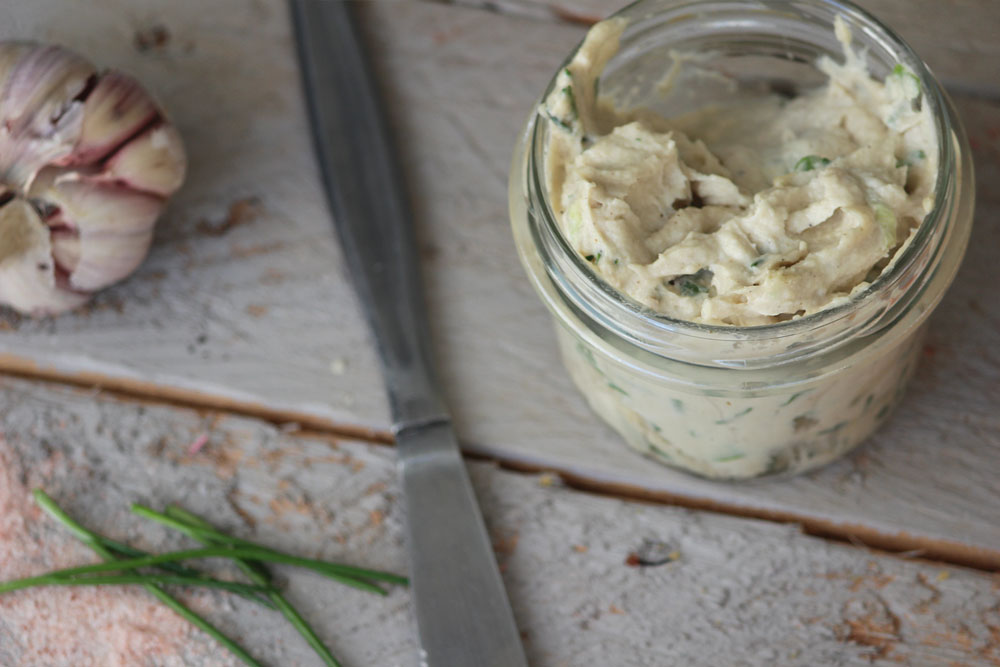 Alright so before we start – let me give you some notes.
* Apple cider vinegar gives it a really nice cheesy flavour – however you can also substitute with coconut vinegar
*  We use 1 tsp. of gelatin in this recipe as we like our dip quite thick, but if you want it a little thinner, only use ½ tsp.
* You can omit the gelatin altogether, however I find that the dip binds together a lot better and has a much better consistency with the gelatin.
* I've put down 6 cloves of garlic, but if you don't like a strong garlic taste – use less cloves…. Although I'm yet to meet someone who doesn't like a strong garlic taste!
Ok – with all of that said… let's get to the recipe!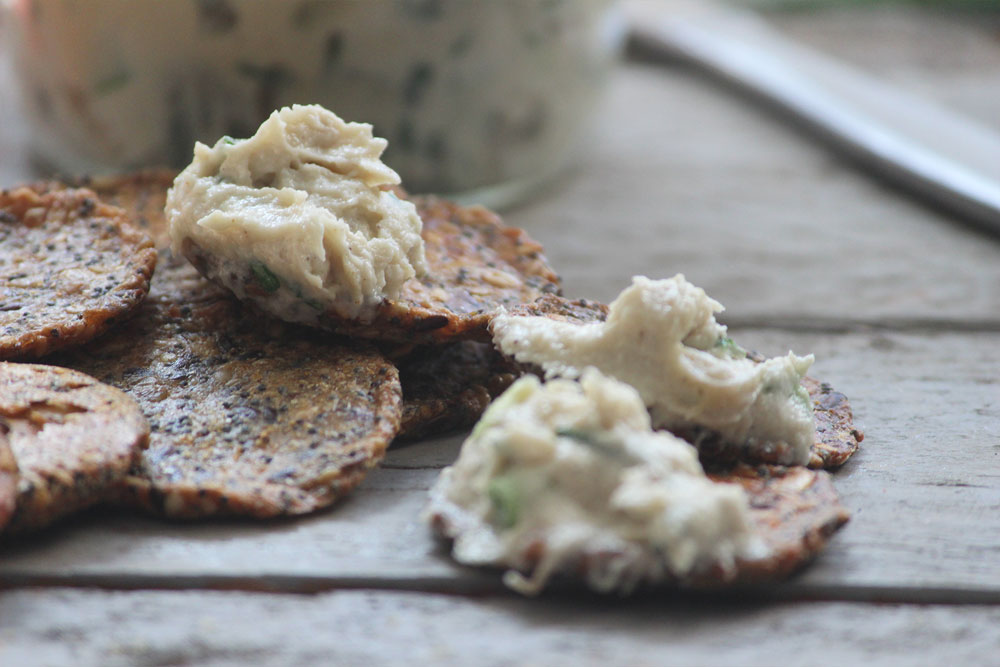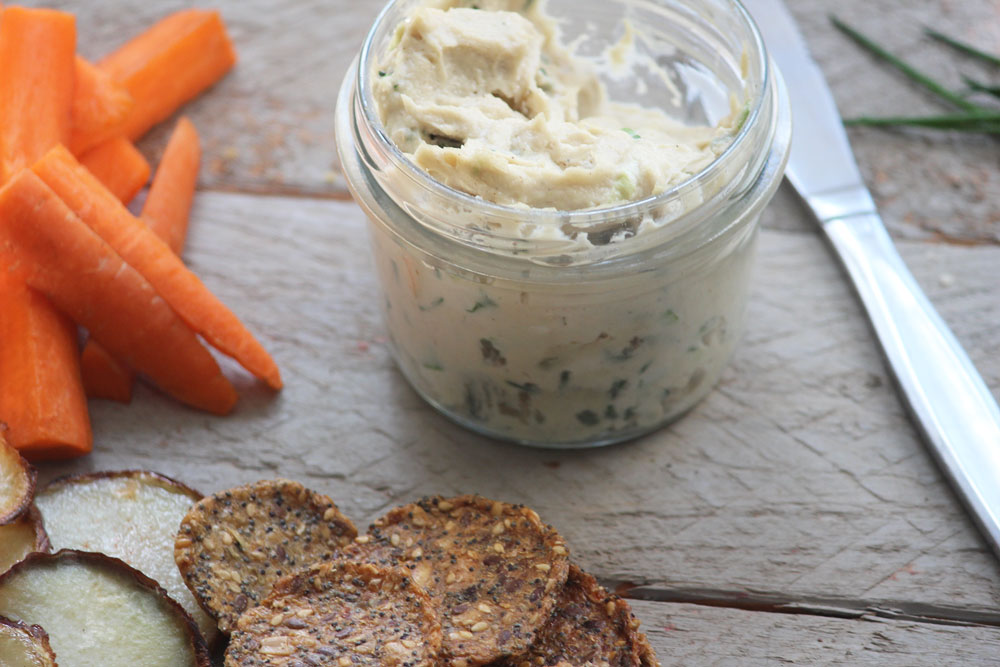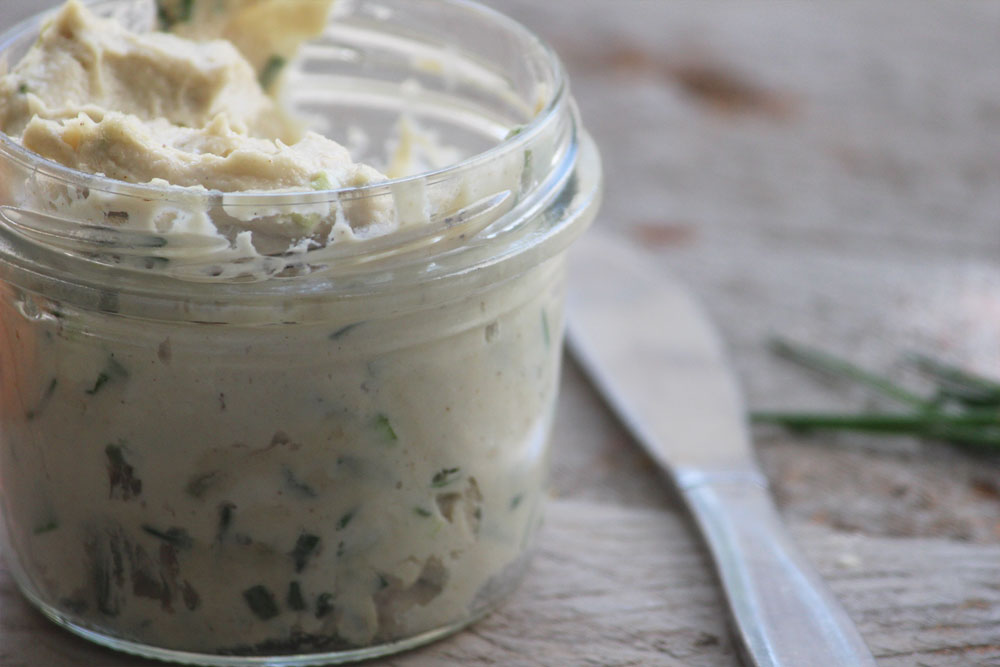 Ingredients
2 Tbsp. Organic Apple Cider Vinegar
6 Garlic Cloves, peeled
1 Cup Cashews
1/2 tsp. Gelatin (We have used 1 tsp. as we like a thick dip!)
2 BIG pinches of pink salt
1/4 Cup Filtered water
1 Heaped tbsp fresh finely chopped Chives (we have used Garlic Chives)
1 Spring Onion, finely chopped
Method
1. Place all ingredients except Spring Onion & Chives into a high speed blender & blend on high until smooth.
2. Refrigerate overnight to thicken up as per photo below.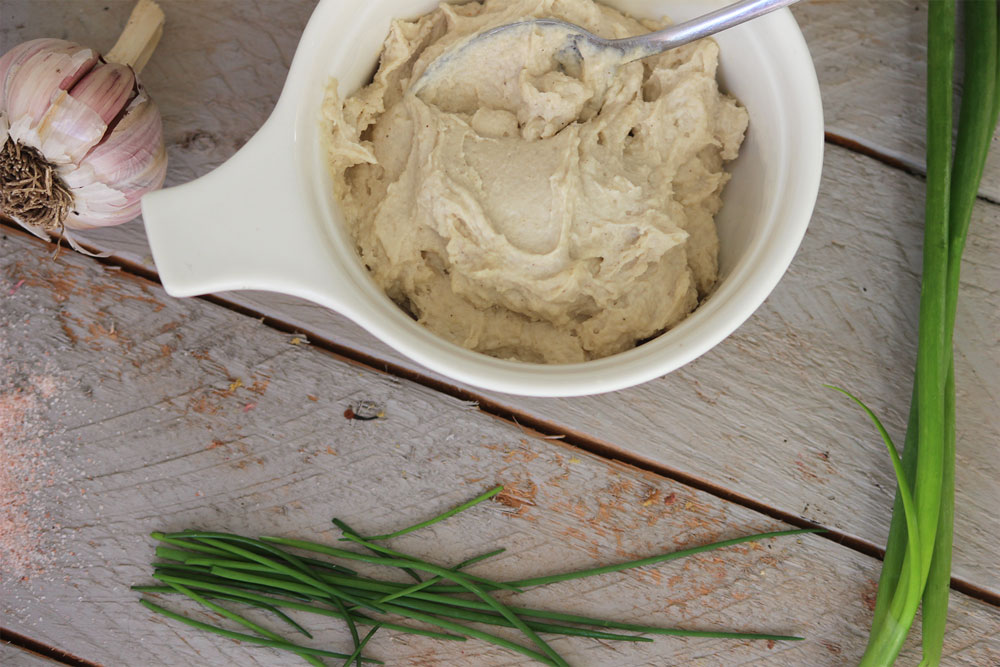 3. Mix in Spring Onion & Chives with a spoon.
4. Serve with mixed veggies or seed crackers & enjoy!