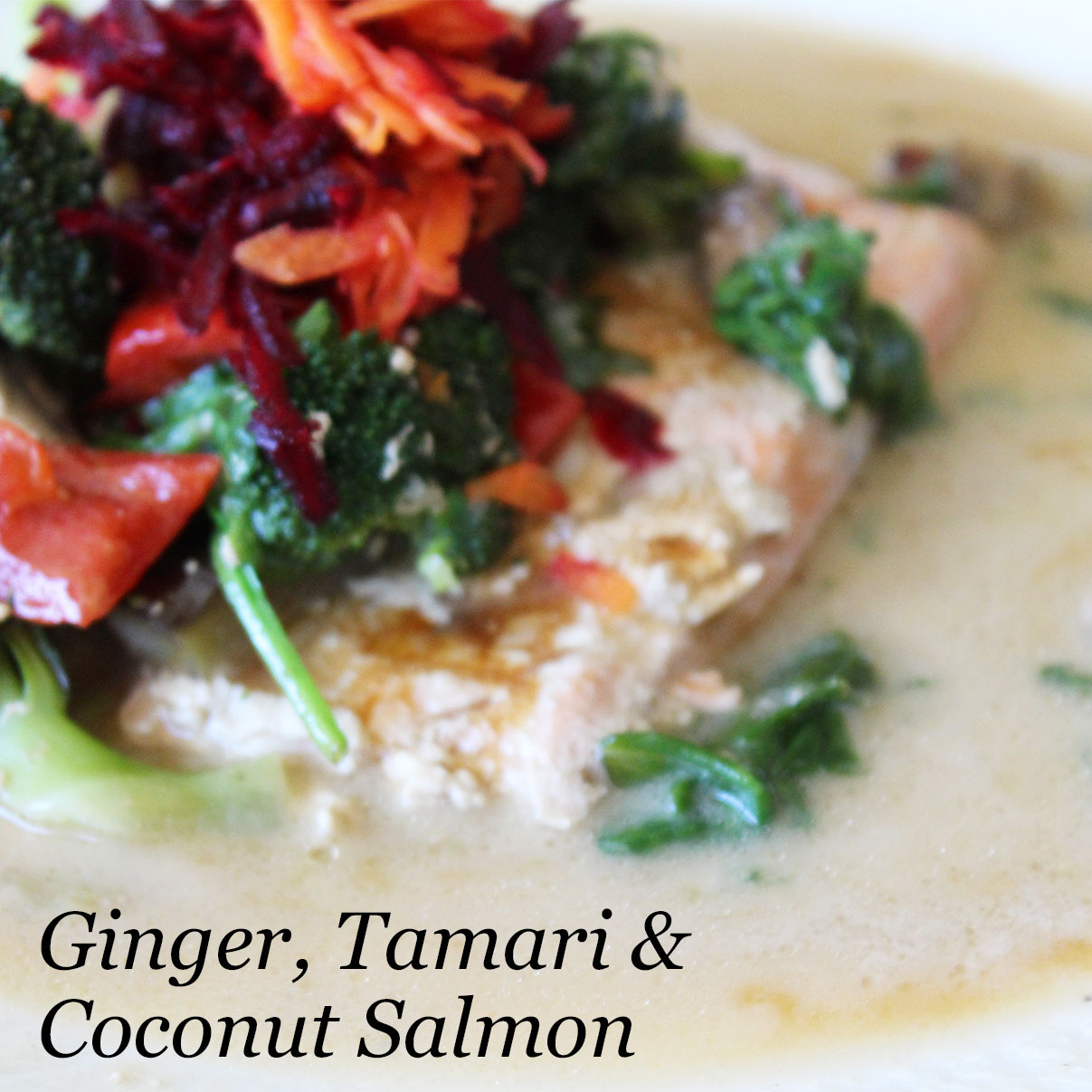 Ginger, Tamari & Coconut Salmon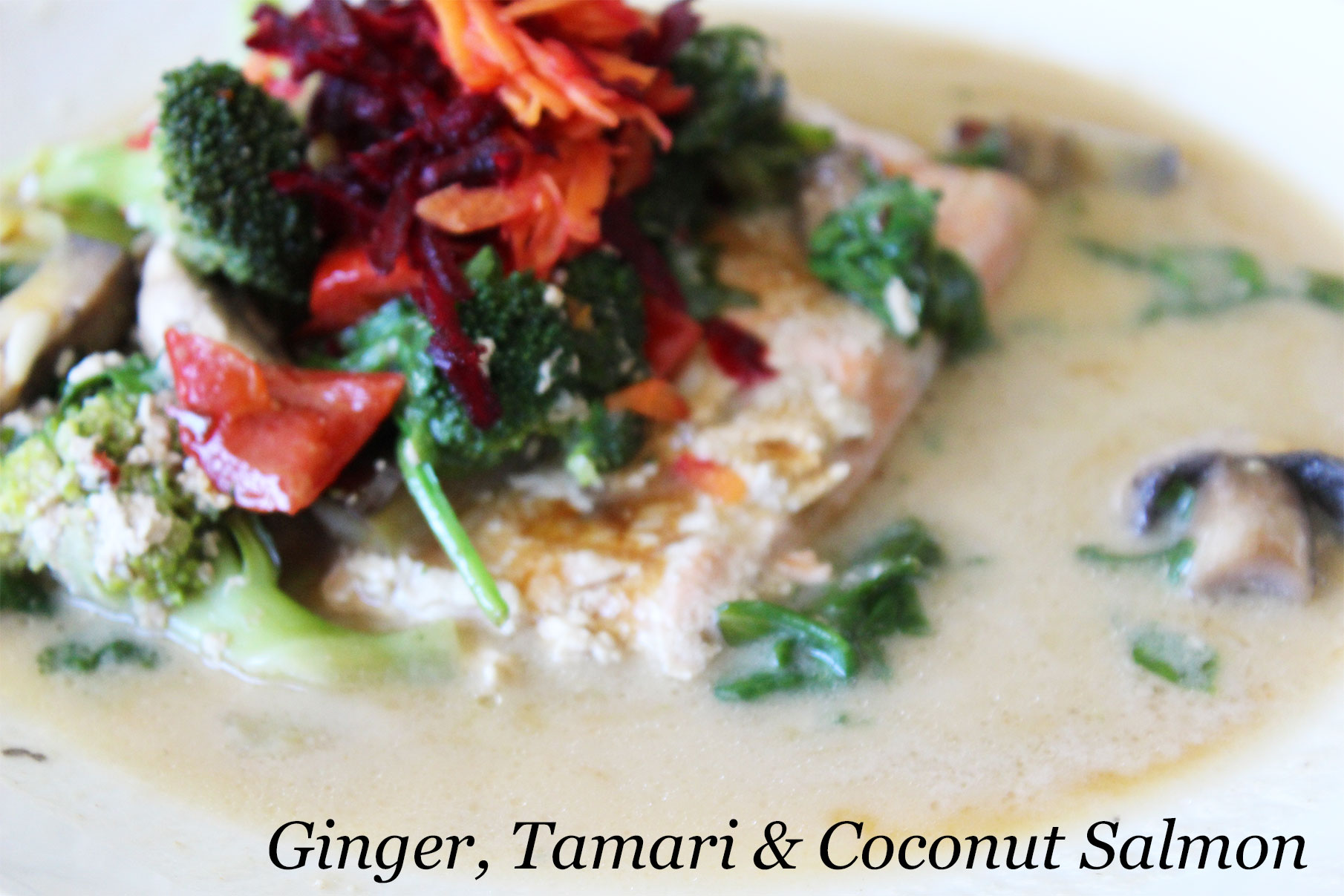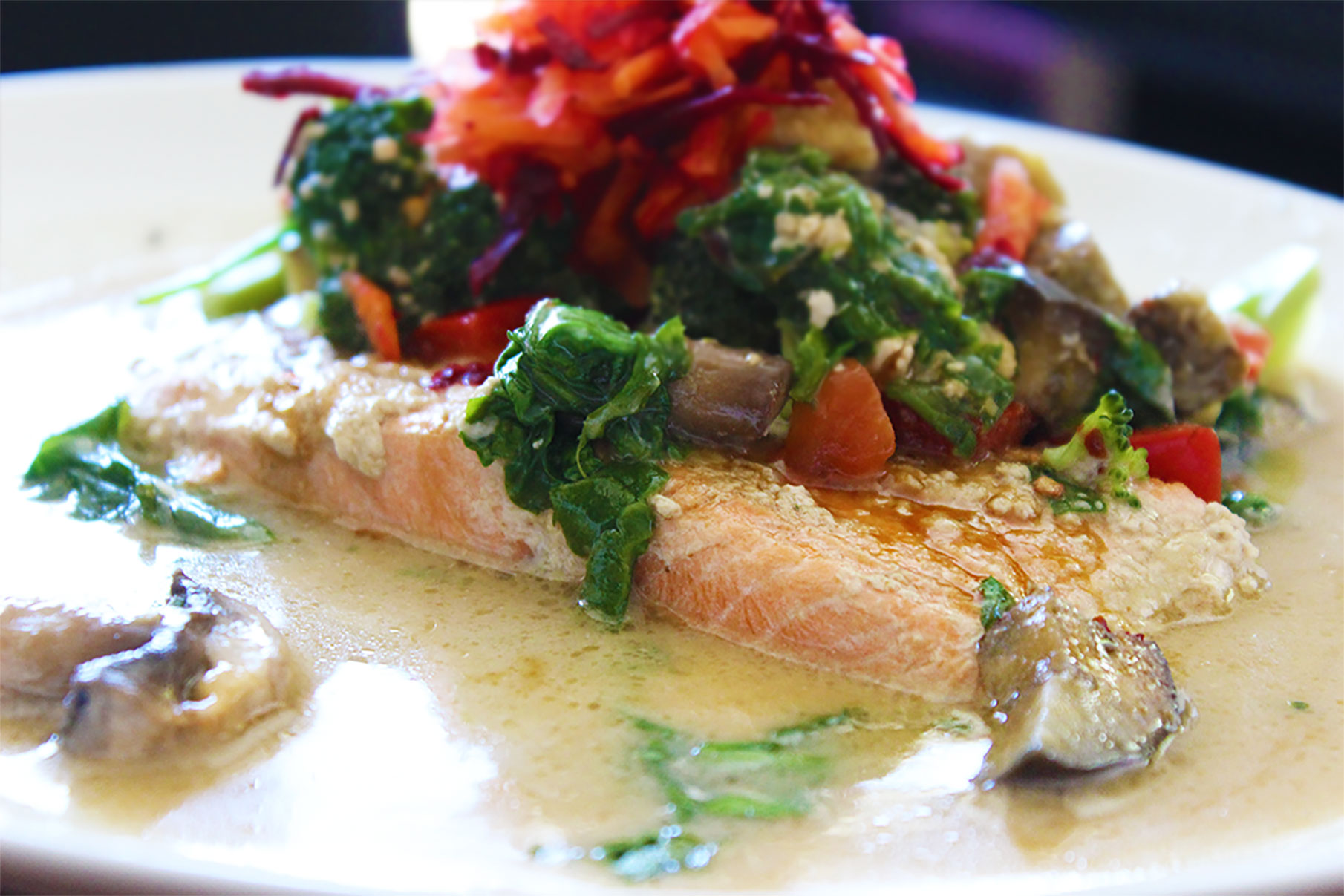 When I first started on my health journey, I so desperately needed to amp up my essential fatty acid intake, especially as I had been depriving my body of them for SO many years…
No matter how much "deep moisturising" cream I was putting on, my skin was always super dry, lips always bleeding, scalp always flakey, oh & cracked elbows & heels.. it was a lot of fun.
Queue in Essential Fatty Acids.
EFA's play a HUGE role in our skin repair, the moisture content & how our skin handles environmental conditions.
But here's the kicker…
Our body CANNOT produce it's own EFA's.
WE must get them through our diet!
and of course – what better way to do that than Salmon?
Only problem was… unless it was smoked… I just wasn't a massive fan.
So little persistent me kept whipping up dish after dish until I hit the fish-pot! (Get it?)
Ginger, Tamari, Coconut, Salmon – oh boy do these ingredients get on like a house on fire! 
Not only does it taste awesome – the whole dish is just screaming with nourishing goodness!
On with the recipe…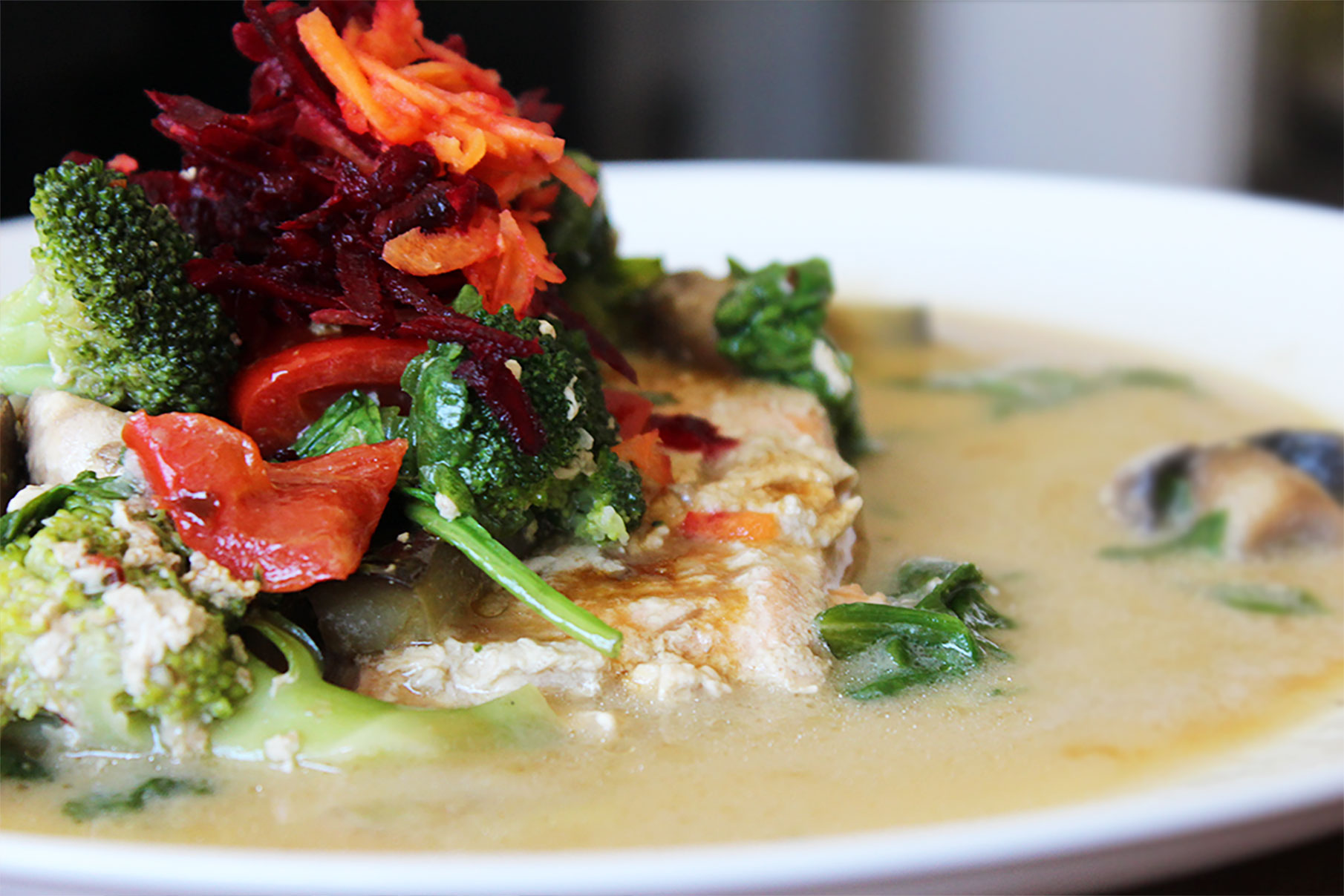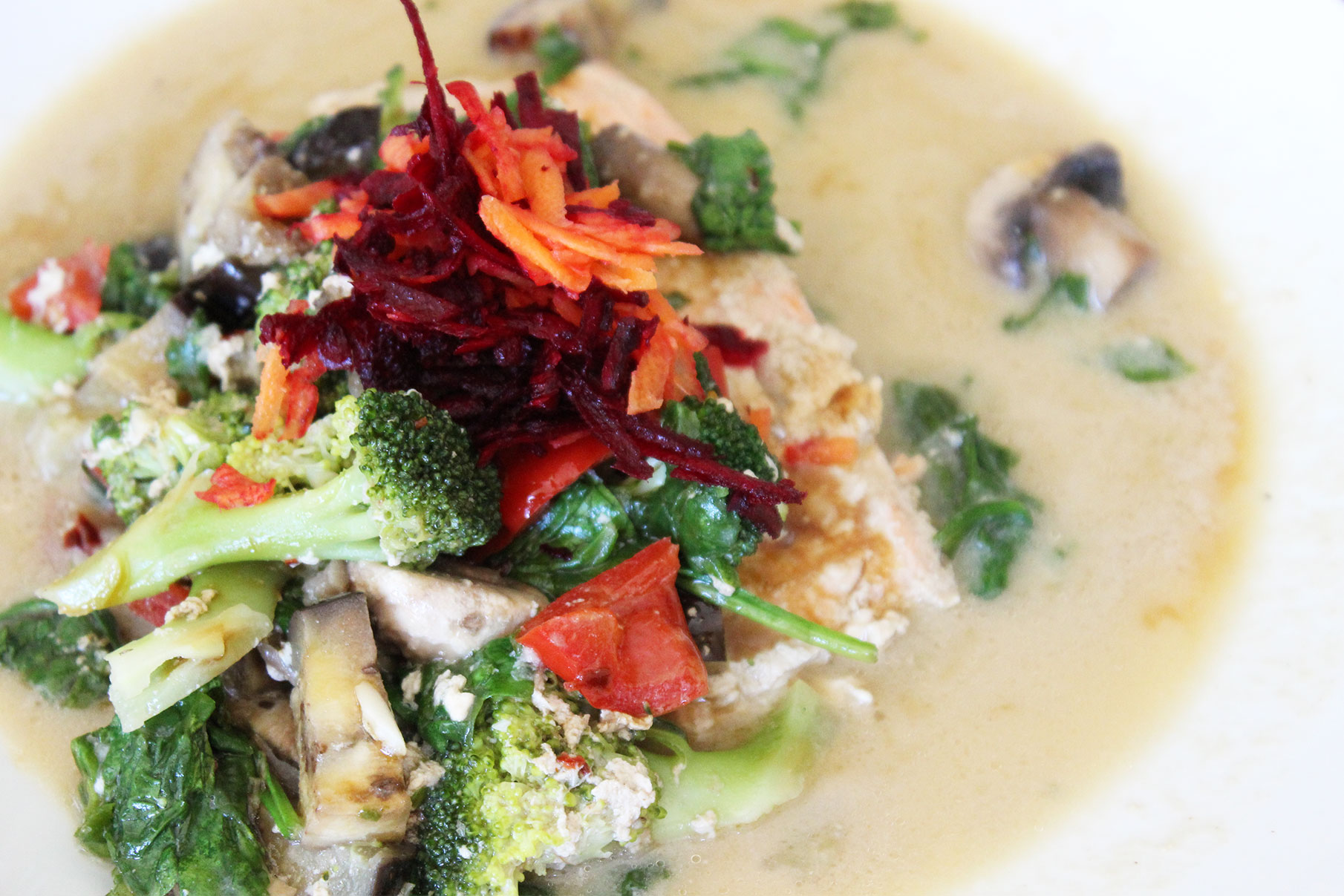 Ginger, Tamari & Coconut Salmon (Serves 2)
Ingredients
2 Salmon Steaks (or fish of your choice)
1 Can BPA Free Coconut cream
1/4 Cup Tamari
3 Garlic cloves, minced
1 Thumbsize Knob of Ginger, grated
1 chili, diced
2 Tbsp. Sesame Seeds
4 Cups of seasonal organic veggies (make sure to include some green)
 Crunchy Slaw for top of Fish
1 Large Carrot, grated
1 Large Beetroot, grated
1 small apple, grated
Method
Pour a 1/4 of the coconut cream in a pan on medium heat.
Add the garlic, ginger & chili into the cream & cook for a few minutes.
Add salmon steaks & then veggies, positioning the veggies around the sides the salmon.
Add the rest of the coconut cream, tamari & seasme seeds.
Cook for 5 minutes  & then flip salmon. Cook for another 5 minutes or until Salmon has cooked through.
Mix Carrot, Beetroot & Apple together & serve on top of Salmon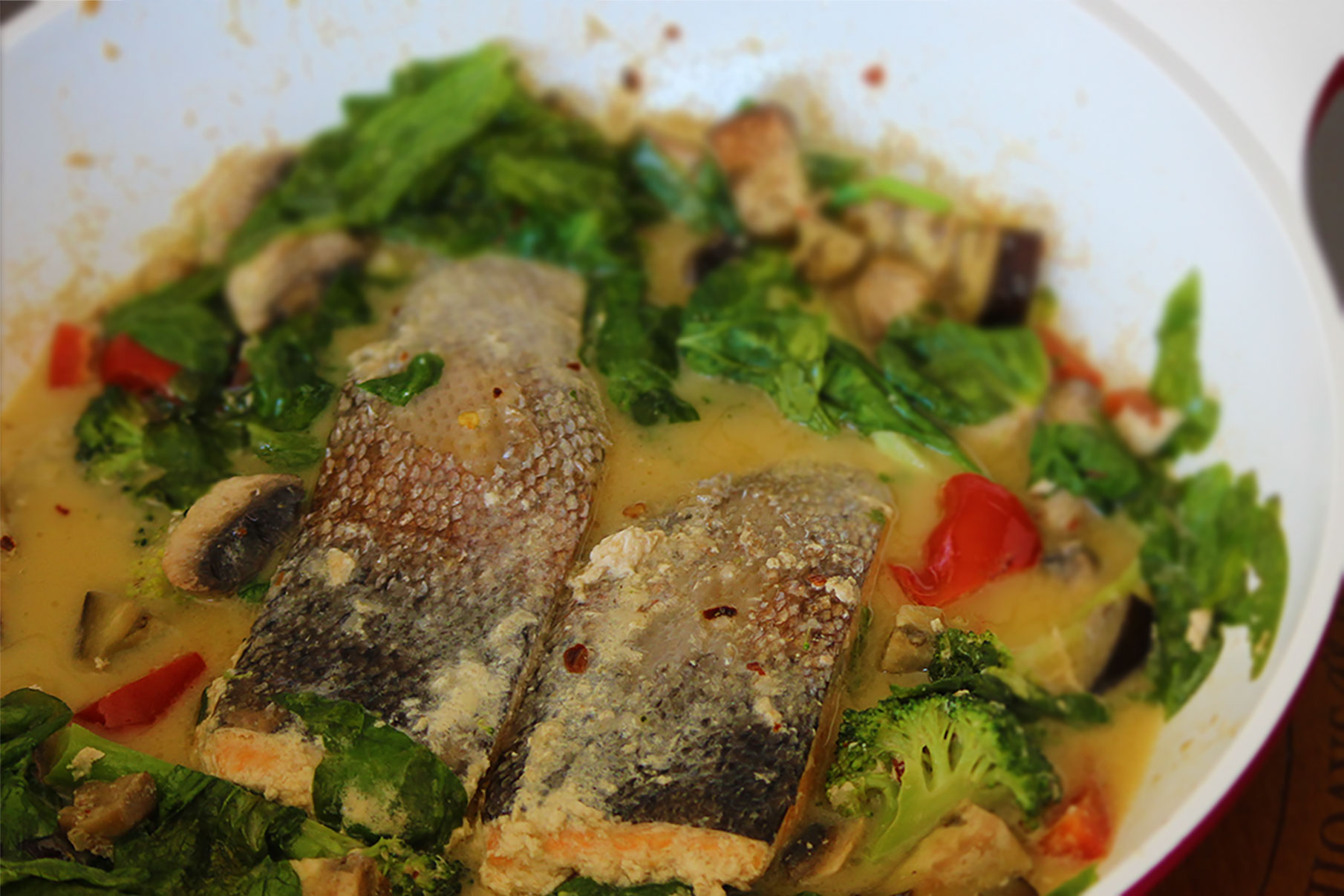 – Healthy Notes – 
Wild Salmon is extremely difficult to get in Australia (even if you see it in your "fresh" fish shops – it's most likely farmed. We purchase our Salmon frozen from a brand called "This Fish" which is Certified Organic!)
Other Good fish choices include Snapper & Barramundi
Make sure you get a BPA Free can of coconut cream – we use OnRich Organic Coconut Cream 
Leave the minced garlic out for 10 minutes before you use it, this will activate its anti-bacterial properties
---
Any Qs, please let me know!
If you like, please share with your friends & fam 🙂
C xo