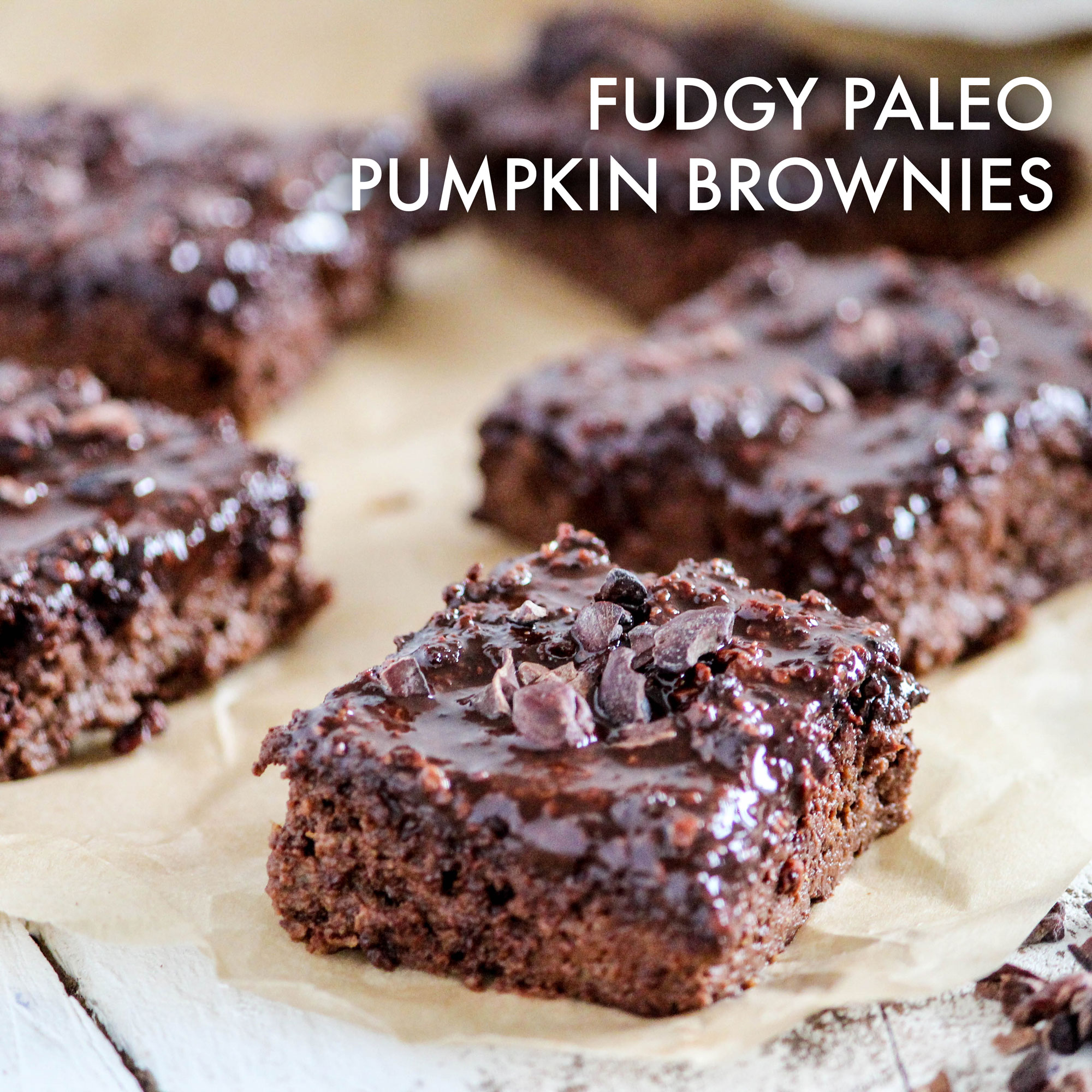 Fudgy Paleo Pumpkin Brownies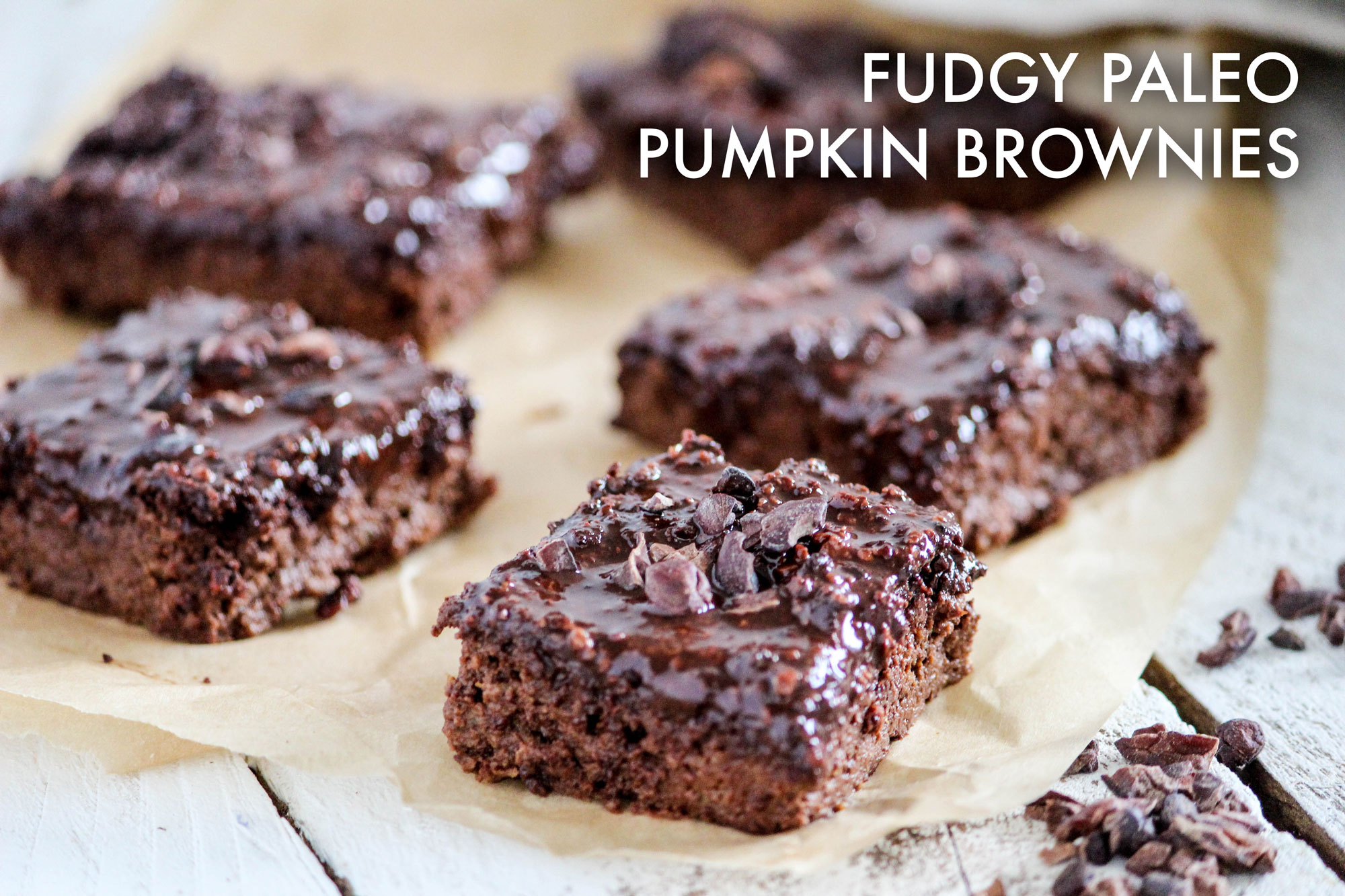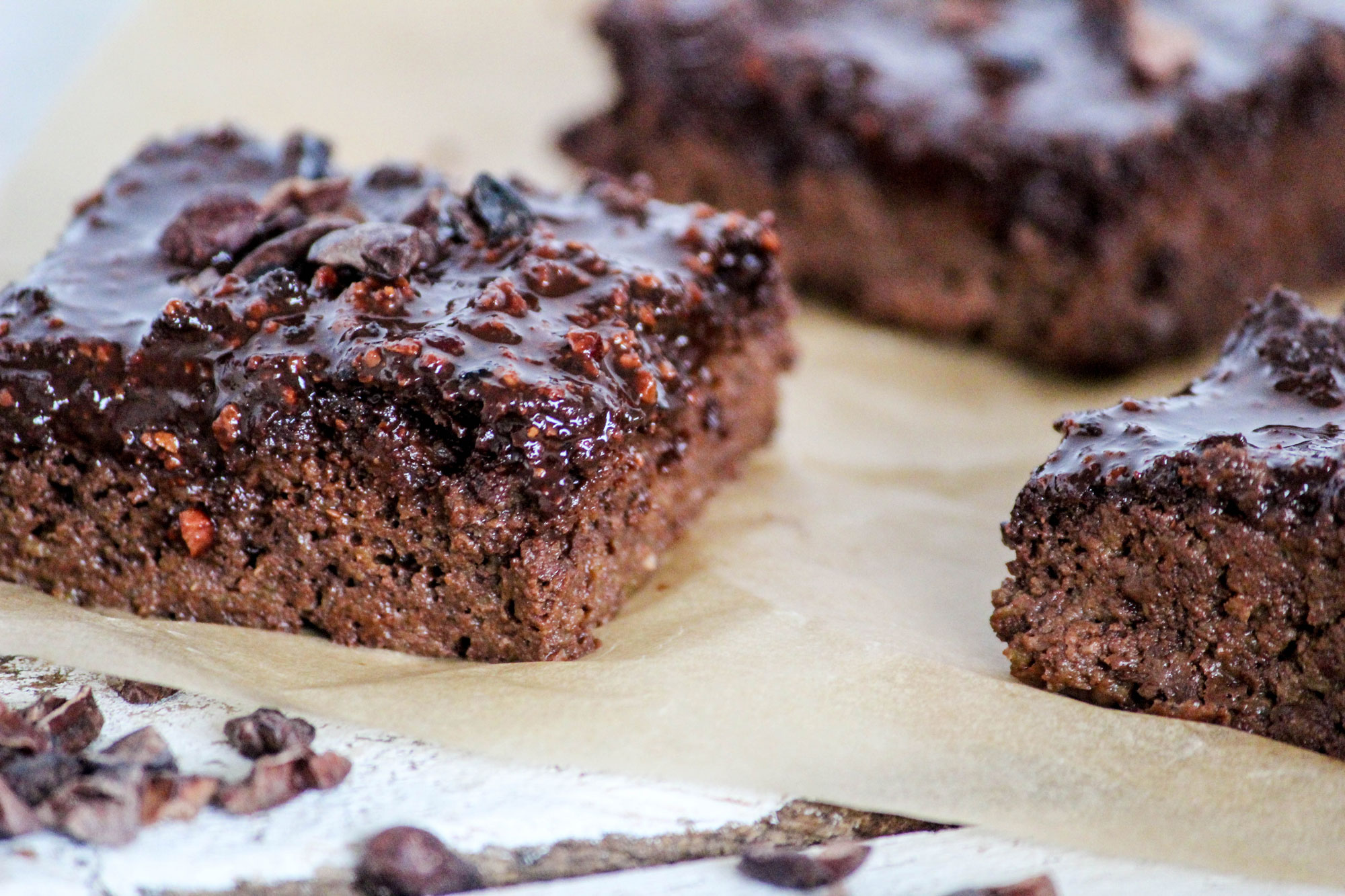 As we're now in beautiful Autumn & my beloved summer veg are coming to an end, I have an overhaul of pumpkins that I need to use up.
Combine this with my love for rich chocolate & naturally I wanted to make brownies out of them!
I know a lot of people have jumped on to the 'Sweet potato' brownie train – so why not pumpkin!
Sweet pots are awesome, I love them… but just quietly, we love pumpkin a little more because they're lower in sugar!
The other thing about sweet potato brownies is that they all call for A LOT of nut butter. Now don't get me wrong… I absolutely LOVE nut butter (NOT peanut butter – peanuts are NOT nuts!), you'll find nut butter in A LOT of my recipes – but A. it's bloody expensive & B. I didn't have any on hand & wasn't willing to wait. :p
So, without planning to put these babies up on the blog, I raided my pantry & mixed a few bits & bobs together wondering if the combination would actually taste any good.
Well – not only was it really easy to whip up… but they tasted AWESOME! Anth (like usual) ate the majority so I had to make them again.
And they again tasted AWESOME! So awesome that I really wanted to share it with you!
In fact they're going to become a standard sweet treat in our house now because they are quick, cheap & easy! Exactly what you want it a wholesome dessert!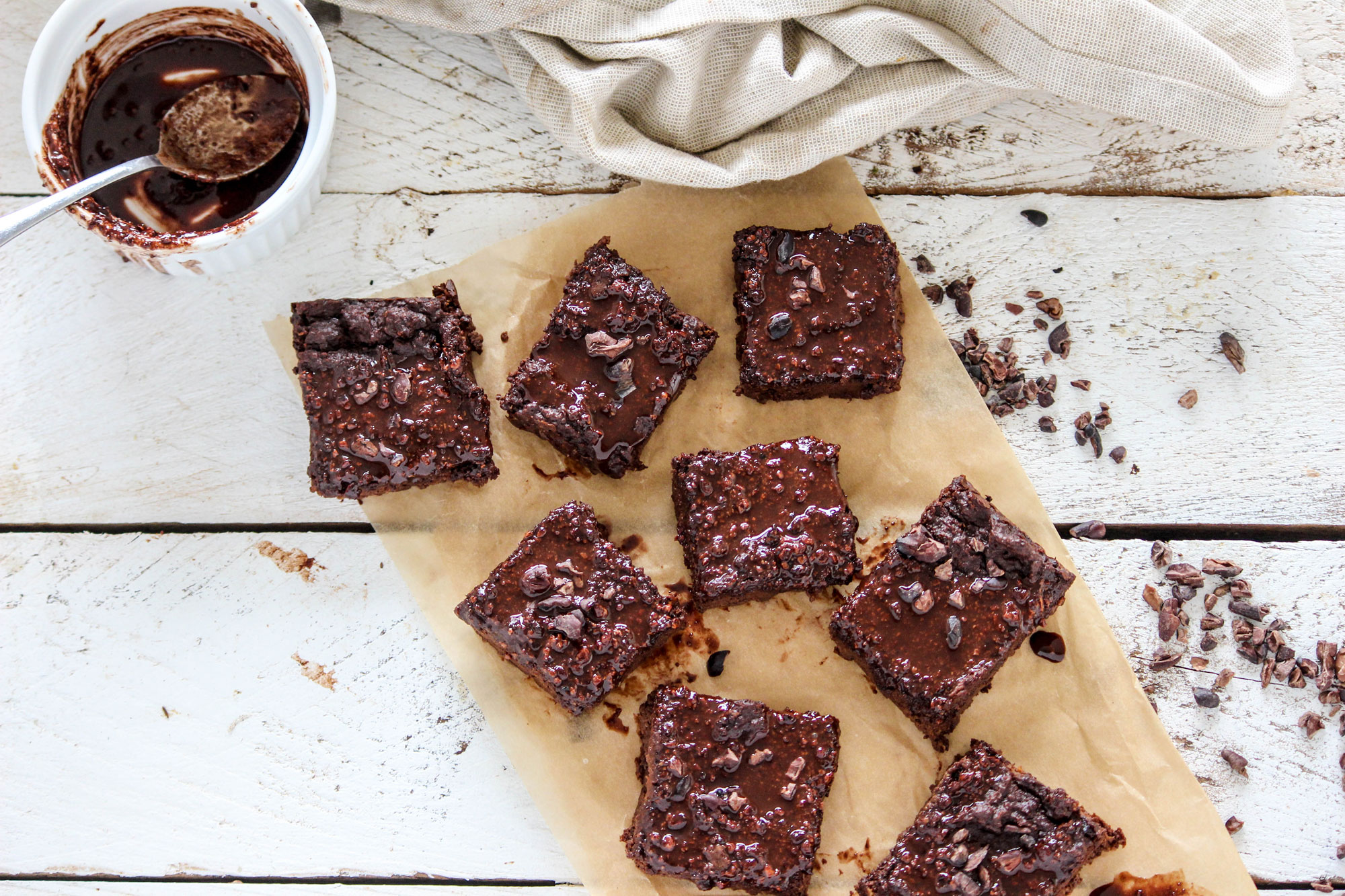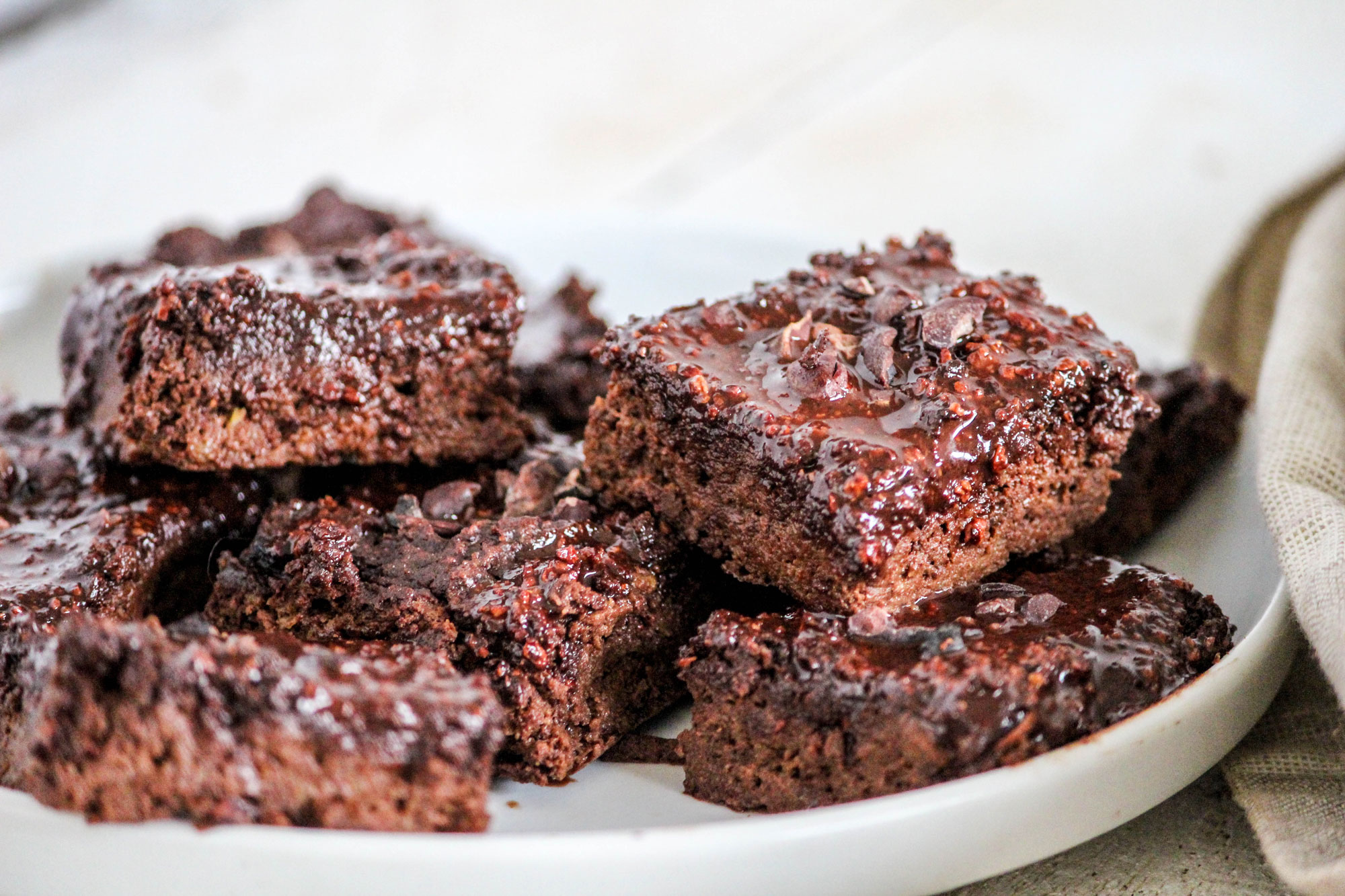 Alright – so before we get started with the recipe, let me give you some notes.
Brownie Notes:
* You want to squeeze the excess moisture out of the pumpkin before blending it up with the rest of the ingredients. I've tested both & the taste + texture of the brownie is a lot better when the pumpkin isn't watery! To do this, simply grate the pumpkin and put it in a nutmilk bag, then squeeze out the liquid. Alternatively you can just squeeze with your hands!
* The recipe calls for 2 cups of pumpkin, this is 2 cups once the moisture has been squeezed out.
* Once the brownies have baked for 30 minutes, they might feel a little under cooked. This is perfectly normal for brownies as they are meant to be gooey & will continue cooking a little whilst cooling down. Unless they feel very undercooked I urge you not to put them back in the oven! Have trust in them :p
* In the photos you will see pieces of chocolate on top of the chocolate sauce. These are 'cacao nibs' which can be purchased from health food stores. I always add a sprinkle to my 'chocolatey' creations however this is totally optional! 🙂
* If you want to make these brownies completely nut free, just substitute the macadamia oil for coconut oil.
Chocolate Sauce Notes:
* The longer you blend, the thinner the sauce will be. This is because as the blender heats up, the coconut butter will heat up & begin to liquify. If the sauce is too runny to place over your brownies just place it in the fridge until it thickens up. Easy!
* If you don't have coconut butter you can just add more coconut oil instead – if you go down this route you will need to refrigerate the sauce to let it thicken up a bit before spreading on top of brownies. You may also want to add a little more honey as the coconut butter adds sweetness to it – the coconut oil will not.
Okay – let's get to the recipe 🙂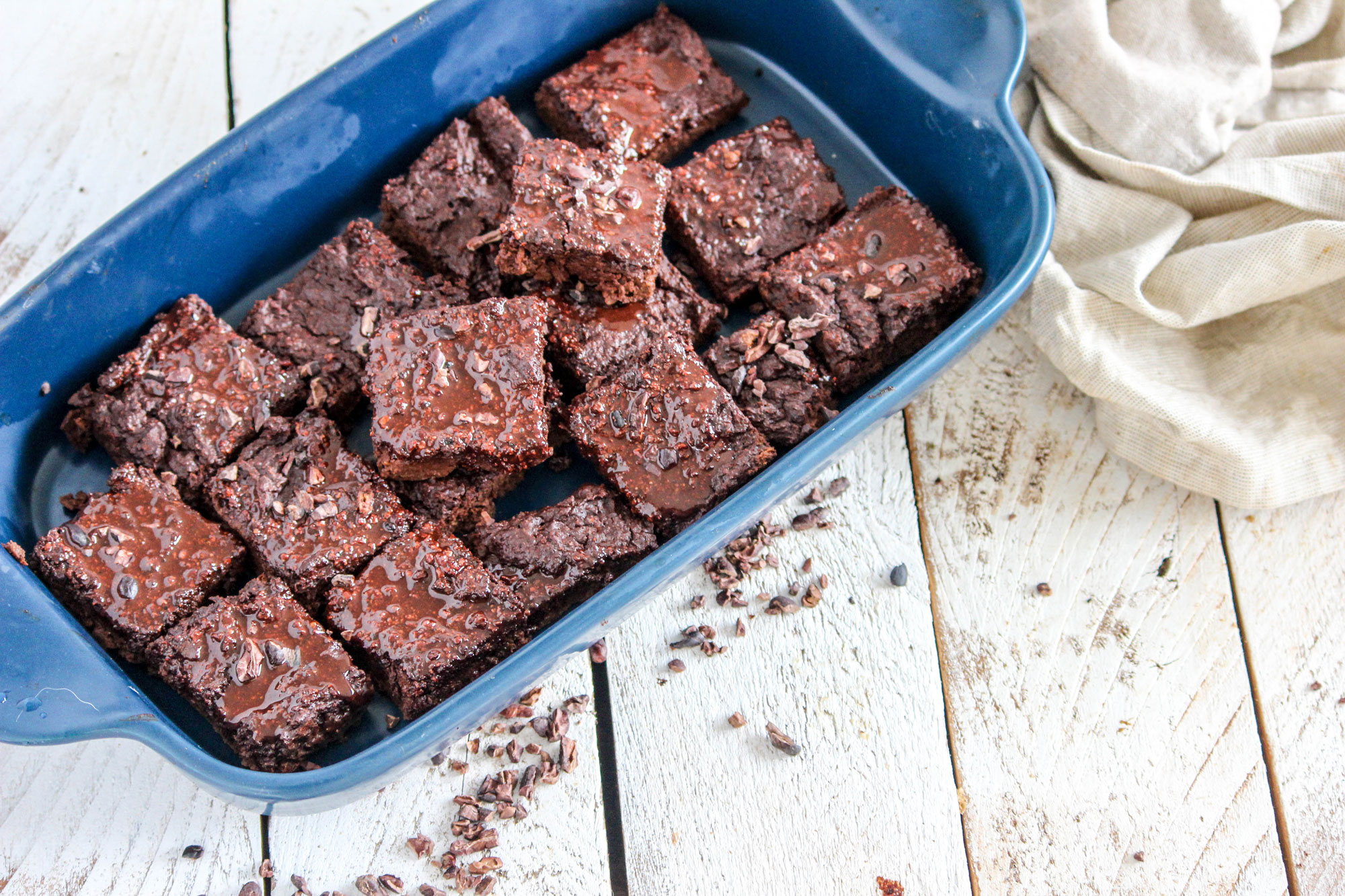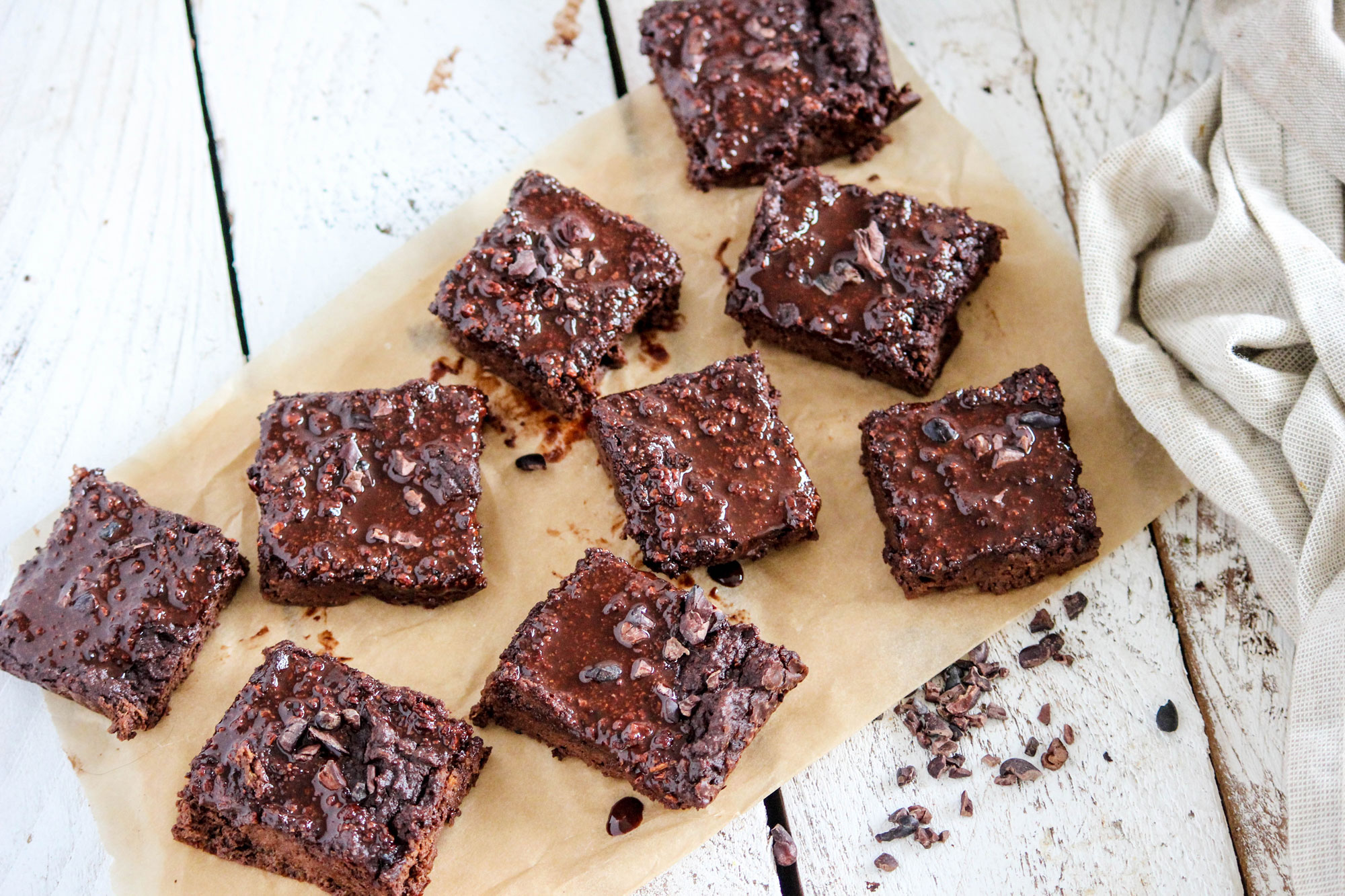 INGREDIENTS
Wet Ingredients
2 cups grated pumpkin *see note above
1/4 cup macadamia oil
1/4 cup coconut oil
2 eggs
3 tbsp raw honey
Dry Ingredients
3/4 cup cacao
2 tbsp coconut flour
1 tsp gluten free baking powder
Chocolate Sauce
1/2 cup cacao
1/2 cup coconut oil
1/2 cup coconut butter *see note above
2 tbsp raw honey
METHOD
Preheat oven to 185C. & line a rectangular baking dish with parchment paper.
Place all wet ingredients into a food processor & process until smooth.
Place dry ingredients into a medium-large mixing bowl & mix to combine.
Pour the wet ingredients mixture into the bowl with the dry ingredients & gently fold through until well combined.
Spoon out mixture into prepared baking dish and even out with a baking spatula.
Place in oven & bake for 30 minutes.
Take out of oven & leave to cool in baking dish – now it's time to make your chocolate sauce for the top!
Place all ingredients into a high speed blender & blend until smooth.
Once brownies have cooled down, top with chocolate sauce & cut into squares.
Enjoy your brownies!