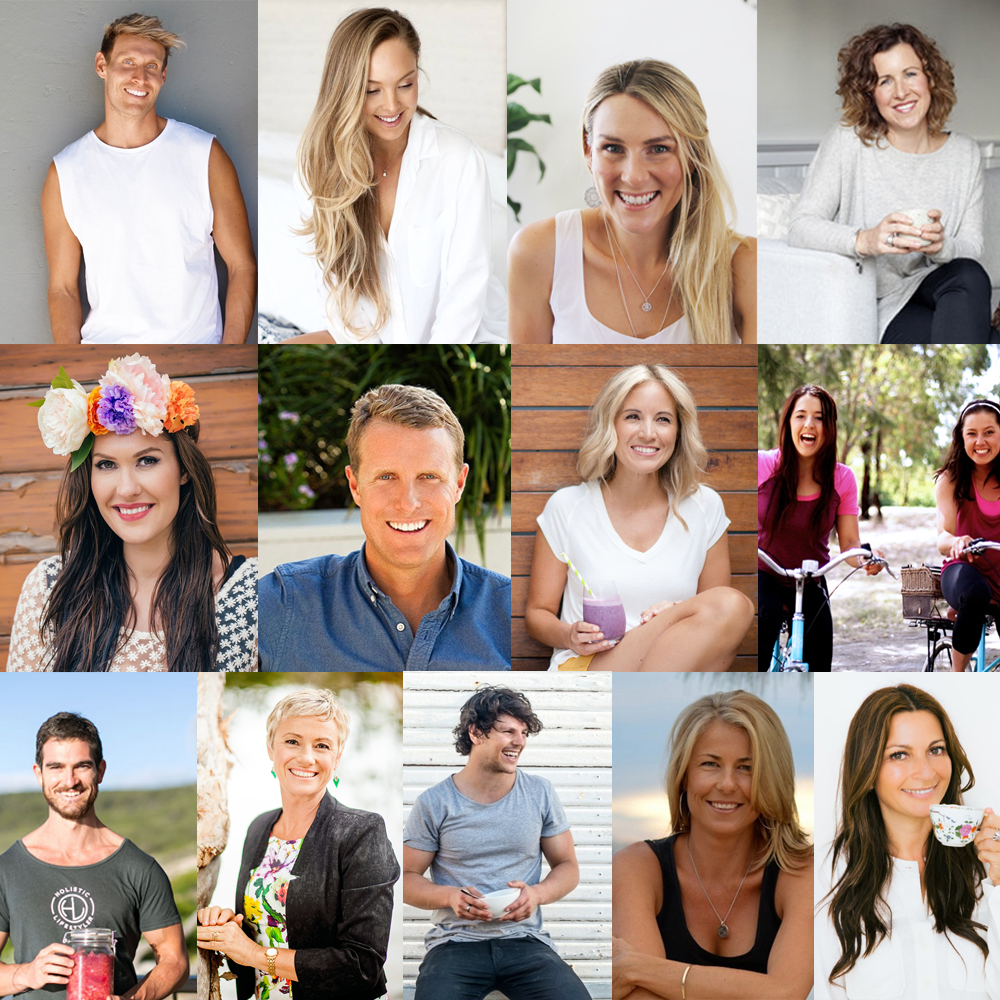 13 of your favourite Aussie Health Bloggers share their #1 tip to look & feel YOUR BEST! 
Yep, we've asked 13 of Australia's most popular health bloggers (they are pretty freaking fantastic!) to let us in on their top tip to look & feel your best….
Because let's face it – we know this will rock your socks just as much as it does ours!
Whether it be so you can have more energy in your day-to-day life… have clearer, brighter skin… fit into those spunky looking jeans over there or just feel more calm & centred – We thought we'd put the call out to see how the wellness rockstars are doing it.
Not surprisingly… each tip compliments each other! …Coincidence? We think not!
Start making some of these small changes in your life & BANG – you're on your way to a healthier, happier & glowingly gorgeous you!
Okay – you've heard enough from us… Let's get into these power packed tips already!
---
"Stress less! It's time to put less pressure on yourself – in all areas of your life.
One major way I've reduced anxiety in my own life is by switching off once a day.
For at least 30 minutes, I switch off my phone, close the door and take some time for myself.
I might read a book or take a bath, or I'll go for a walk or meditate.
I believe it's essential for us to practice this every day to maintain balance."
"Balance. A lot of people make wonderful choices with what they eat, but it is really important to remember to celebrate & encourage health and wellness in the other areas of your life.
For me, I believe we can truly be our best selves & function optimally when we find synergy between not only what we eat, but how we move & the way we think.
So be sure to spend equal time celebrating the most nutrient dense foods on the planet, moving your body in a way that you enjoy, & thinking positively & practicing mindfulness.
Having balance enables us to thrive incredibly well and it radiates profoundly into all the other areas in our life."
"Always make choices based on what your body is telling you! We have become so disconnected from our bodies, moods, feelings, cycles and energies, and get caught up in the external.
When we check in with ourselves and ask:
"What do I need right now?"
"What food should I nourish myself with?"
"What will help me get what I need?"
We are always given the answer. Listen close, your body is talking to you."
"Get back to mother nature & grow some food for yourself. It doesn't matter if you live in an apartment or a big house, there are opportunities to connect back with the earth again.
There is nothing like planting a seed and being rewarded by Mother Nature with some care.
From herbs to a full-grown veggie patch, connecting with the circle of life has an emotionally healthy reward – it requires you to be patient – and a physically healthy reward…
Not only is eating anything organic super awesome for your body, but the more you get your hands dirty the healthier your microbiome (your village of bacteria in your gut).
Also, there's nothing like sitting down for a meal where any component of it is grown by you. Re-wild yourself."
"Get educated! Education, above anything else, helps to shift your beliefs about how the body heals and how to best nourish it depending on where you are and what your goals are for getting healthy.
Education shifts beliefs, beliefs shift actions & the actions you take on a daily basis completely changes the quality of your life!"
"Simplify your diet. As far as possible buy (or better still, grow) whole foods & eat as nature intended it. Whole foods don't come with a set of numbers on the back that we don't understand. They don't come with hidden additives, chemicals & a low nutrient value as a result of over processing. Whole foods are perfectly designed to heal our bodies, quite unlike the pill you'll find at the bottom of a pill bottle. Disease goes away as a byproduct of getting healthy. Feed your body the goodness it deserves."
"Go back to culture and tradition. Due to my interest in health, I've always loved traditional foods.
Because my mum was from both American and German heritage, sauerkraut and pickles were foods that we had a lot of growing up.
My mother used to put a pot of stock on after every meal with the leftover bones.
She would freeze the stock & then use it for the base of most of her recipes – but little did we know then that her ferments & broths were keeping us out of the doctor's office.
I've noticed as each generation passes they're getting sicker and sicker as their own microbiomes are being decimating from things such as antibiotic overuse, herbicides, chemicals consumed from food and water, environmental toxins, chronic stress as well as the highly refined foods laced with many dubious ingredients like preservatives, colours and flavours. Being aware of the problem is the first step.
Fixing the problem is easy for some, but for others it is going to take a lot of work to get back the health of their microbiome.
The fermentation of foods and liquids increases nutrition and digestibility & allows access to many nutrients that are sometimes locked up in the food without this process.
If we just learn from our culture and tradition and do what our ancestors did in order to survive millions of years, we just might be able to help future generations."
"Decide to ONLY nourish your body with real food that is also delicious & super fun…
Enjoy the shopping, the cooking, the eating (duh!) and even the cleaning!
You'll never feel restricted or as if you're on a diet!
We'd call it bringing a little merry into every bite!"
"When it comes to looking and feeling great one of the biggest principles I'm a massive fan of is doing what you love… You are more likely to fulfill every day with excitement passion and serious tastiness 🙂
You will succeed as you will want to get up every day and do what it is you want to and your mindset will be super happy and clear.
It is a wicked long term approach that extends the notion that your happiness is the key to your health"
"I believe that the intricacies of  the way we eat seem to have become the big picture & a source of stress for so many (which really defeats the purpose).
If you're simply able to enjoy delicious home cooked meals made from fresh, seasonal and local produce, relax a little and move your body regularly; I think you're in a pretty good place."
"Fermented Foods. Fermentation is essentially the continuation of the natural process of organic farming- what's largely not visible to the naked eye – all the microorganisms symbiotically doing their magic in the soil to produce the nutrient dense produce. All we are doing is uprooting the vegetables, putting them in a specific environment to allow the microorganisms to once again work their magic & transform them into a preserved raw probiotic & nutrient dense superfood we call fermented foods 🙂
Good quality fermented foods starts with good quality organic/biodynamic produce."
"Meditate. I'm amazed at what a difference having a consistent (twice) daily practice is making to so many areas of my life – from sleeping better, to feeling calmer, more energised, & resilient to stress. It also helps me gain clarity on things I need to address or eliminate.
The key to making this a regular practice has been realising there's no such thing as a bad meditation – it's making the time to do it that counts, & that it's natural for the mind to wonder."
We also managed to get a sneaky last minute tip from Lee Holmes while she was in lock down writing her next book (thanks Lee!)
"Eat according to your own needs & make sure to include yoga or meditation into your day! – Super important!"
Oh…
& an even sneakier bonus tip from A-dog Alice just because we love her so much 😉
"Eat the rainbow (as long as it's real food!).
It seems so simple, but really, if you eat rainbow-range whole natural foods like fruits and veg and herbs, nuts and seeds, free-range, organic or grass-fed animal products (if you're so inclined) and imbibe in water when you're thirsty, then you're going to be setting yourself up for good health.
Different colour fruits and veg have different nutrients.  A great, balanced meal has multiple colours and eating the rainbow allows you to get a balance of nutrients that you need to thrive."
---
There you have it – The experts have spoken!
14 power packed tips that can help you look & feel your best every day.
Any other tips that you swear by that you'd like to share with us? Let us know in the comments below!
Think these tips might be of benefit to someone you know – we would love you to share it with them!
And on the note of good health – We're off to make a jar of fermented sauerkraut 😉
Have a great week!
Anth & Crystal