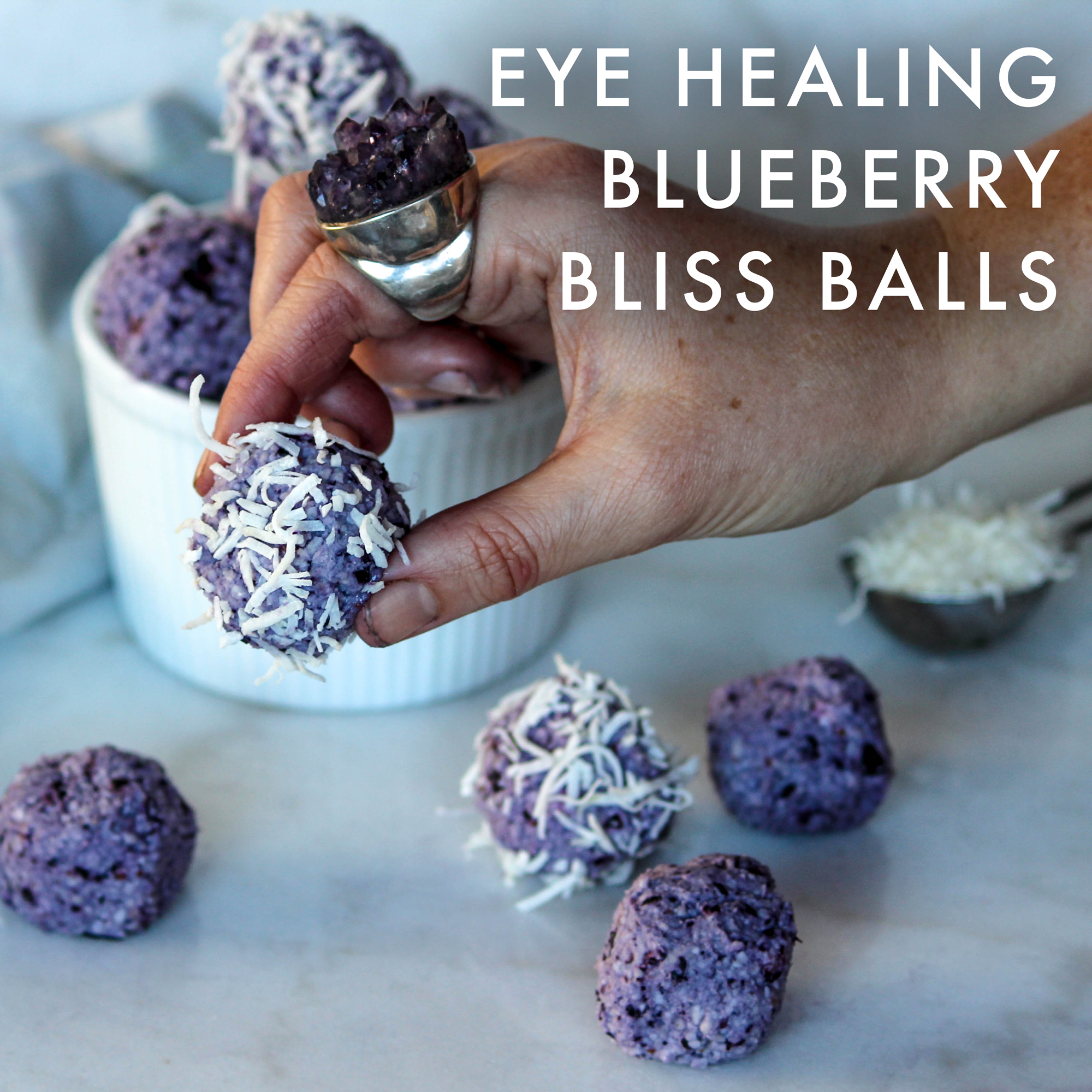 Eye Healing Blueberry Bliss Balls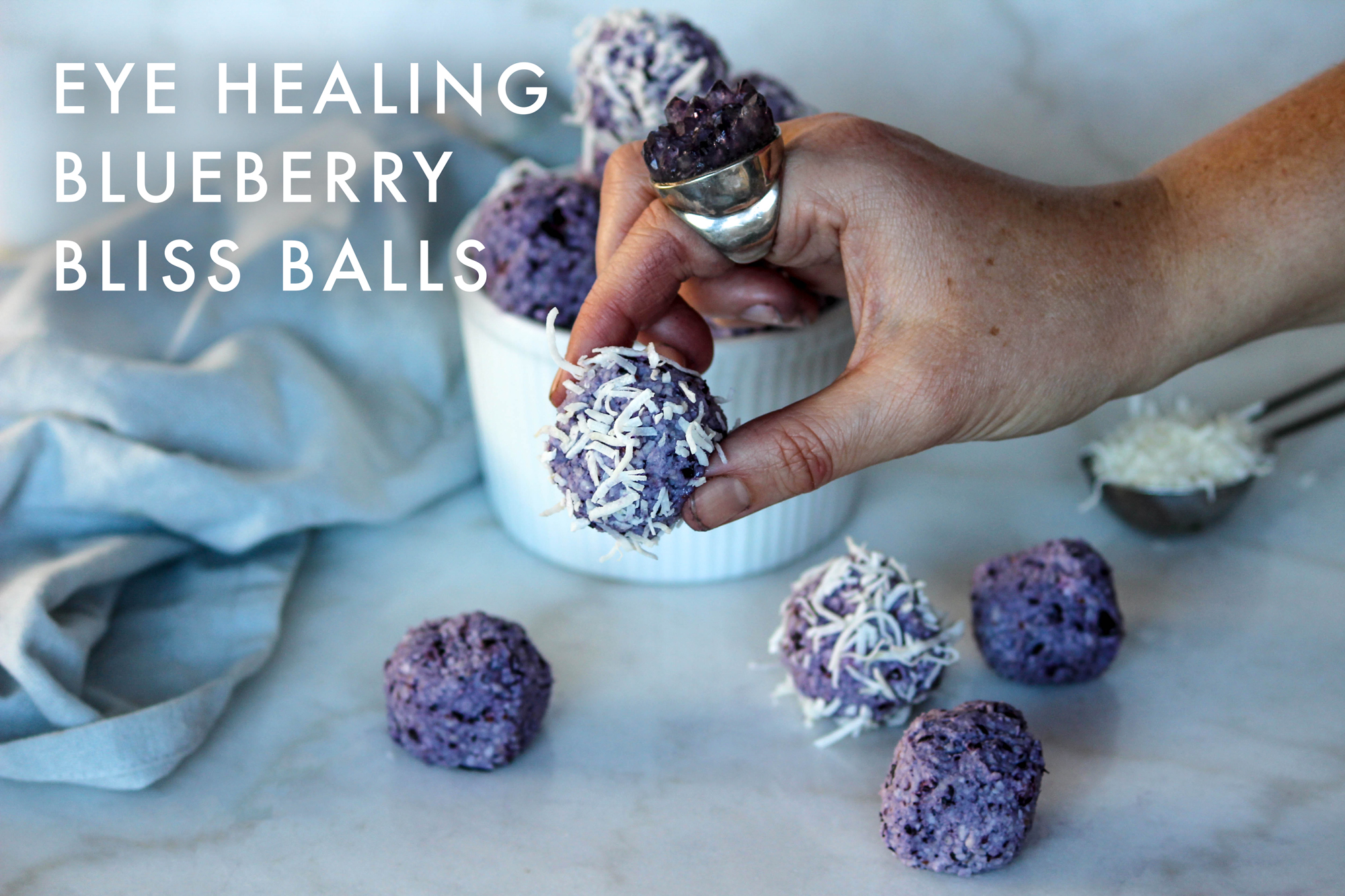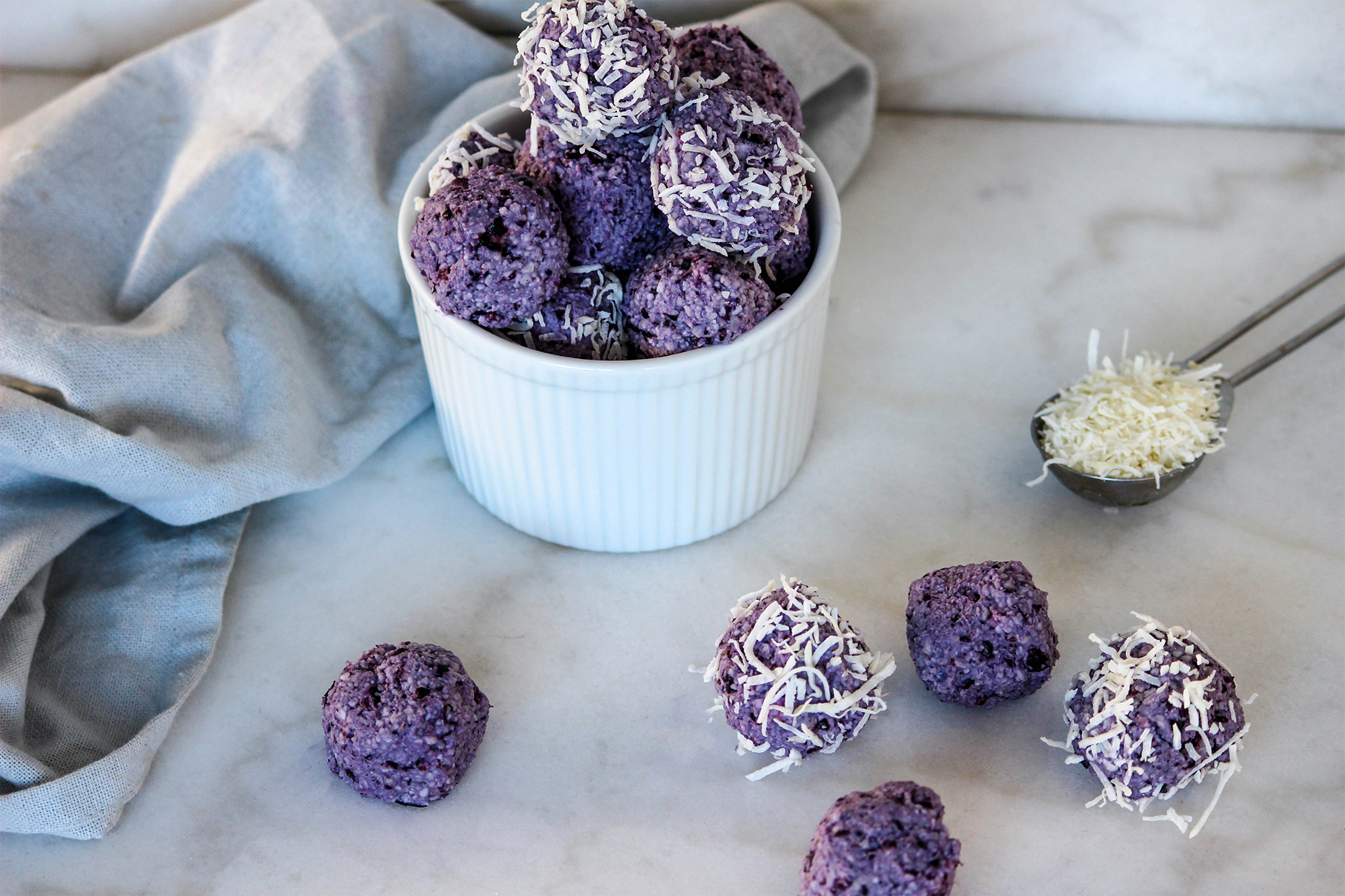 Our health journey started a while back… about 5 or 6 years ago now… & in that time we've healed our leaky gut, balanced out disrupted hormones, cleared up bad skin, lost a tonne of weight, & taken back our lost energy that used to stop us from even getting through the day!
We like to say that we moved from surviving to thriving 🙂 & it opened up some incredible doors for us, because regardless of whatever you want to do with your life, if you don't have your health… it's going to be a lot harder to get it!
So, as you may already know, we solved each & every one of those health concerns with food. Removing all problematic foods (sugar, gluten, dairy, grains, processed, sprayed & GM) & replacing them with 100% organic whole foods changed everything for us.
We'd finally taken the burden off our bodies & allowed our bodies natural healing abilities to do their thing! The body is such an amazing thing & its ability to heal (when it's allowed to do so) is incredible!
So, something else about us that you might not know… is that we both wear glasses (well, we were given prescriptions for glasses, but we don't actually wear them, I'll explain more in a minute)…
We were told that we're both short sighted (our prescriptions are almost identical) & that we wouldn't be able to see long distance without them.
At the time we just accepted that we had bad eye sight & needed glasses. But then a little while ago we realised, if we were able to heal all of our old health issues using food, why couldn't we heal our vision too?
So, we started researching all the ways to naturally repair eyesight (what foods to eat, exercises to do, thoughts to have) & two of the most healing foods we could find when you want to improve the health of your eyes… are blueberries & coconut
Blueberries are one of the richest sources of antioxidants out there, especially anthocyanins which help to protect your eyes from oxidation & free radical damage.
Coconut is one of the best dietary sources of medium chain fatty acids, a type of fat that has been shown improve eye health as well as brain function. The fat in the coconut also allows you to better absorb the antioxidants in the blueberries (fat should always be consumed with antioxidants), so the 2 foods work together to give you healthier eyes!
Pretty cool right? Which meant that we needed a way to make sure we were consuming these eye-loving wholefoods everyday!
Enter our eye healing blueberry bliss balls!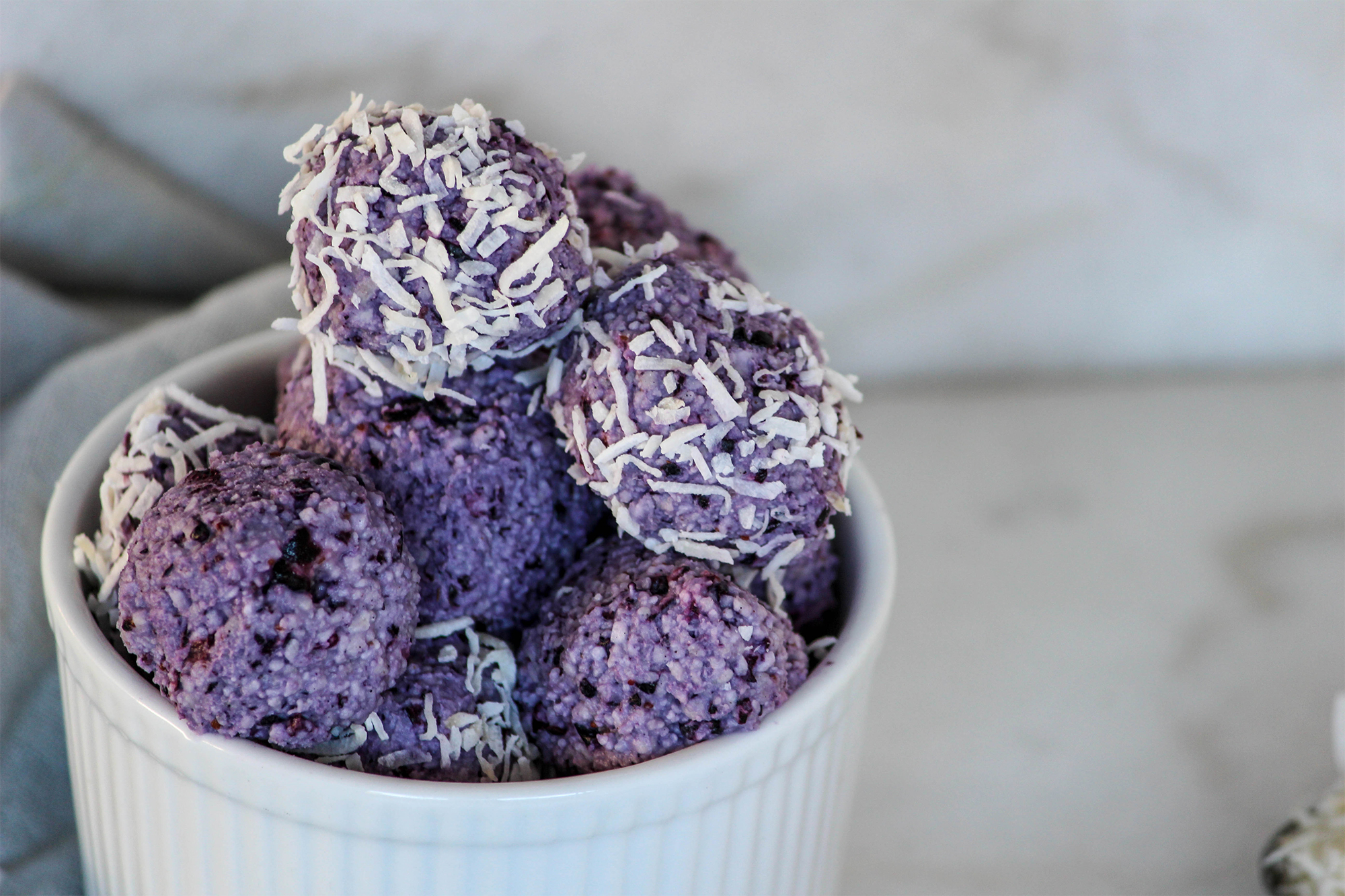 These babies are SO EASY to make, they taste INCREDIBLE, they're super satiating… & of course – the star ingredients are blueberries & coconut!
Now of course, even if your eyesight is PERFECT these balls will still do wonders for your body – but for those of us who need a little help in the vision department, these balls are where it's at!!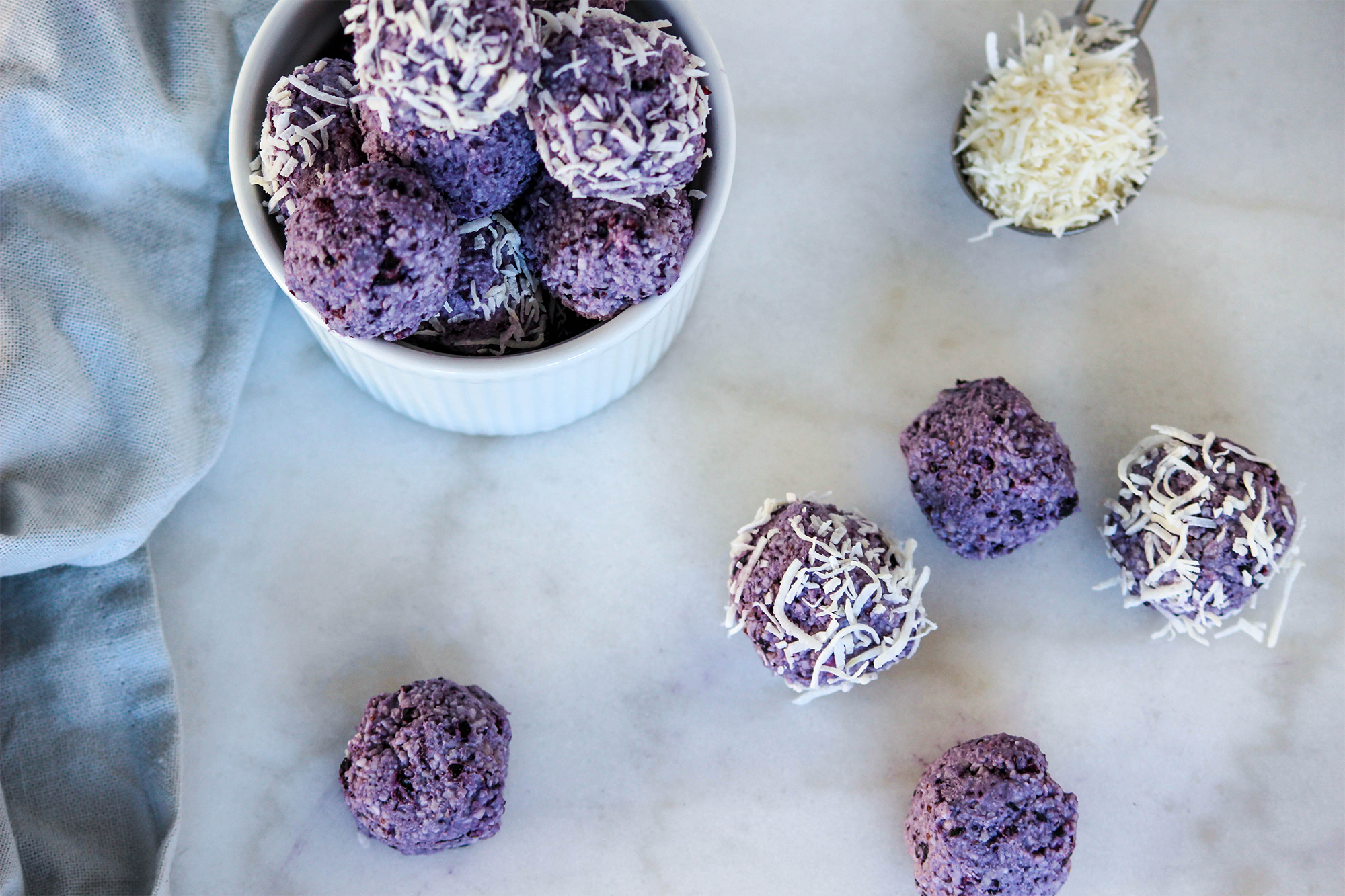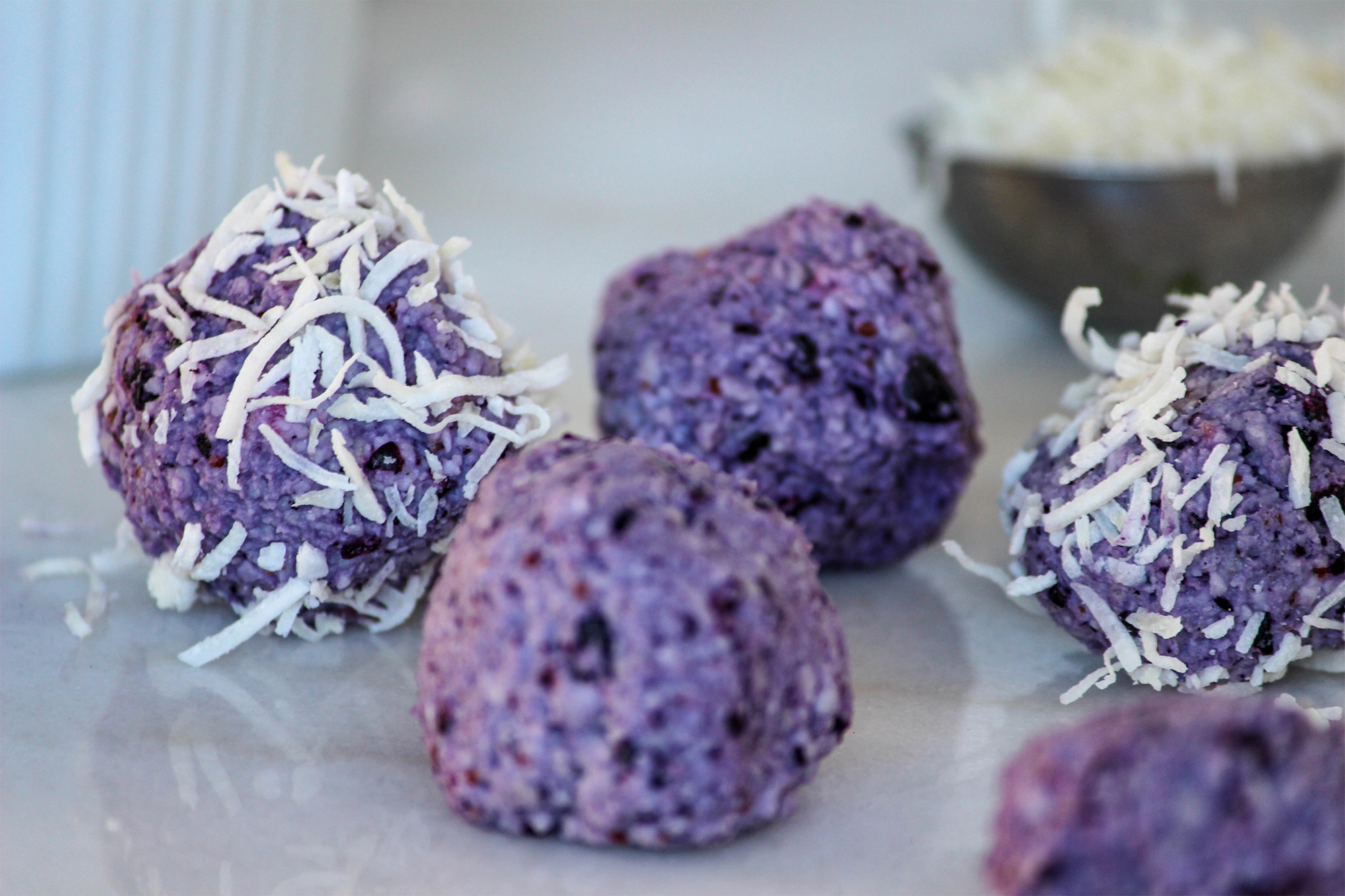 Alright let's get to the recipe shall we?
Eye Healing Blueberry Bliss Balls (Serves 2)
INGREDIENTS:
– 1 cup shredded coconut
– 1/2 cup coconut butter, packed
– 1/2 cup almond meal
– 2 large handfuls of blueberries
– 1/4 tsp vanilla bean powder
– 1/2 cup coconut cream*
METHOD:
Place shredded coconut, coconut butter, almond meal & vanilla bean powder into a food processor & process until crumbs form.
Now add blueberries & coconut cream & process again until all well combined.
Roll batter into little balls, coat with a little more shredded coconut if desired & place in freezer until set (this usually takes around 15 minutes).
Now enjoy your beautiful blueberry bliss balls!
NOTES:
If you're using coconut milk instead of coconut cream (which is much thinner in consistency) you might want to use a little less than 1/2 a cup. The coconut cream helps everything stick together but you don't want your batter to be soaking wet. 🙂
If you're using store bought coconut cream, try to make sure it just contains coconut – no other fillers/ingredients.