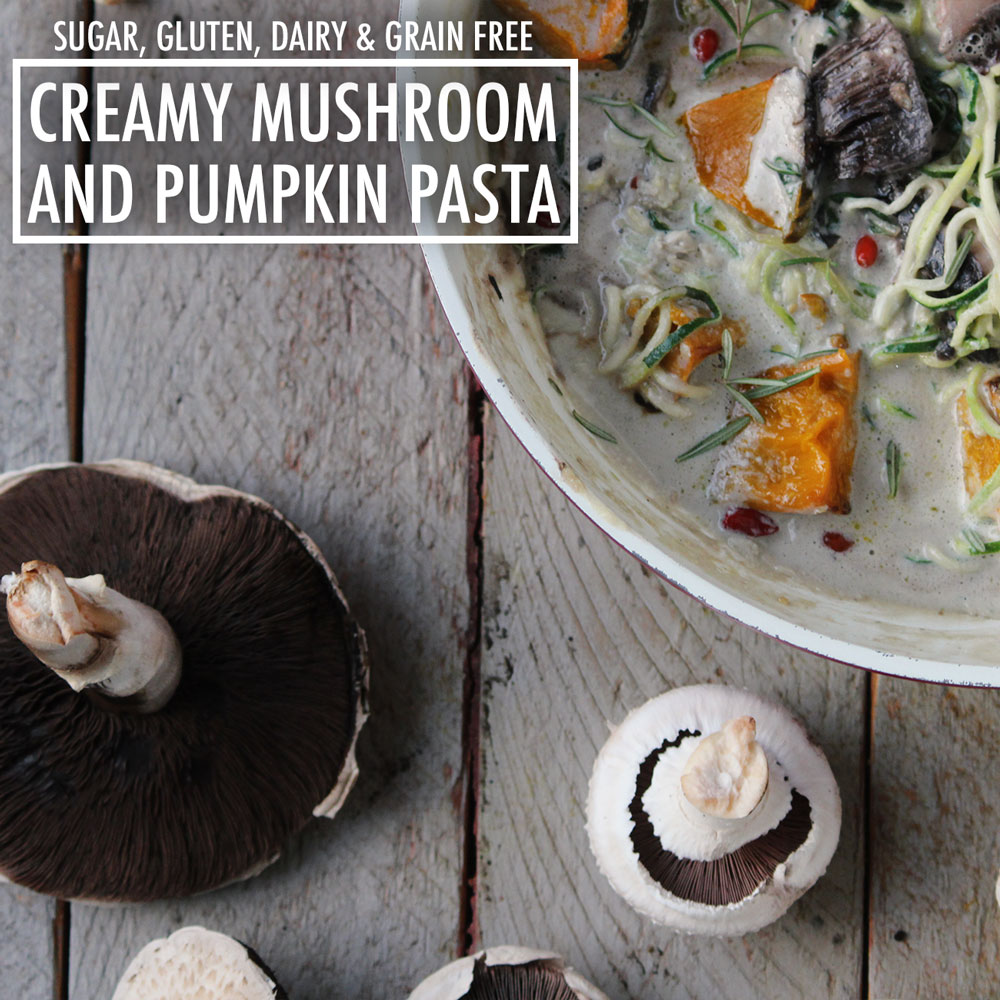 Creamy mushroom & pumpkin pasta…made entirely out of wholefoods!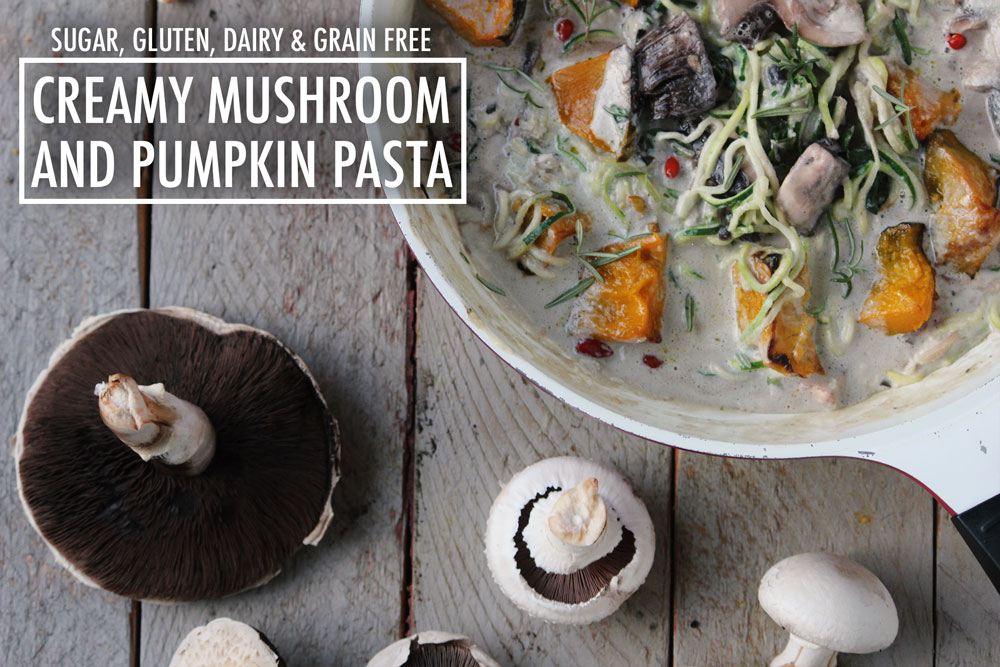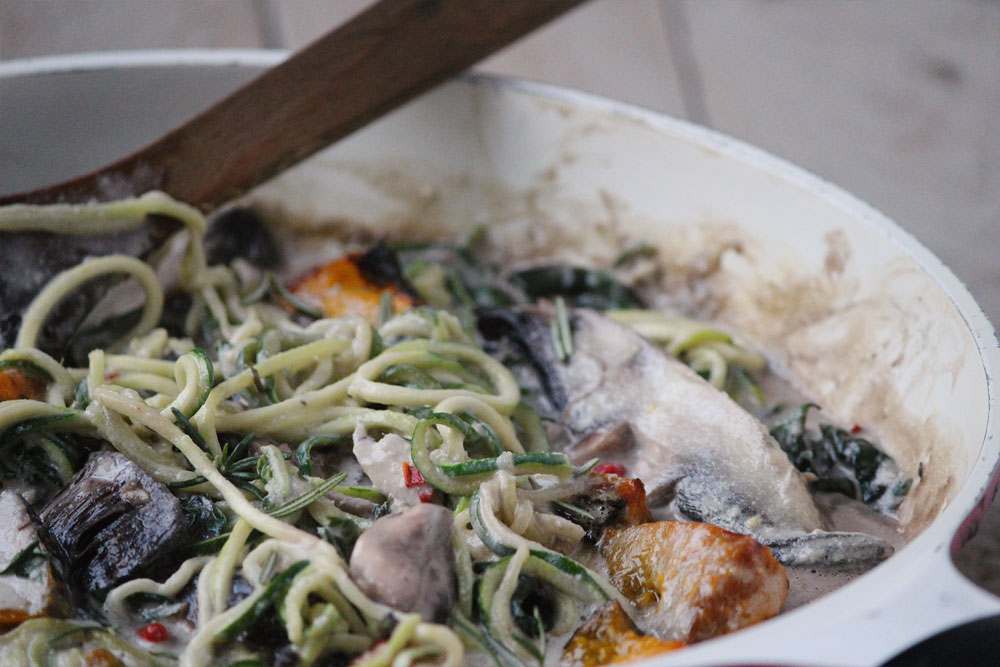 Here it is – my creamy mushroom & pumpkin pasta…
My all time favourite dinner!
Not only because it tastes amazing… but also because I never thought it was possible to have a creamy, insanely delicious pasta that was actually incredibly healthy.
See, before I switched to an organic diet of wholefoods, creamy pasta was my weakness.
I literally had it every weekend… & whenever we would go out to eat… & really – whenever I could get my hands on it!
Of course that creamy pasta was filled with refined, gluten laden wheat pasta & pasteurised cows dairy… 2 things that my body REALLY didn't appreciate it.
In fact whenever I finished my pasta I literally used to look pregnant – I would laugh about it at the time… but by golly i'm glad those bloating days are over!
Okay… so whats so good about this pasta then?
Well it's entirely made out of whole foods 🙂 No refined or pasteurised anything in sight 🙂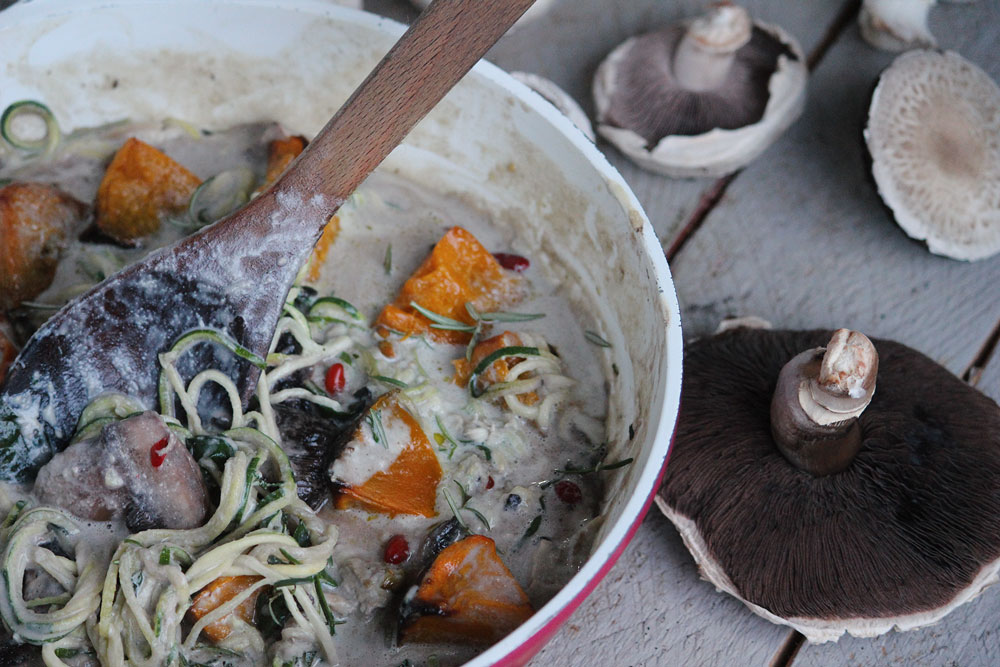 Here are the star ingredients:
Mushrooms: Mushrooms are a great source of B vitamins which help you to break down & draw energy from your food. They also help mental performance, treat acne & help you to deal with stress.
Pumpkin: Pumpkin is a great source of vitamin A & vitamin C which are important for your eyesight, healthy skin & a strong immune system.
Zucchini: Zucchini is packed with vitamin C, B vitamins & potassium which lowers blood pressure & regulates your heart rate. It also contains Pectin – a type of fibre that reduces inflammation & helps to maintain the health of your arteries.
Silverbeet: Silverbeet is a very rich source of vitamin K which helps with wound healing & bone strength, it's also a good source of vitamin C & is high in antioxidants which help regulate blood sugar, prevent diabetes, reduce inflammation & even combat cancer cells.
Not too shabby hey 🙂
Alright – on to the recipe!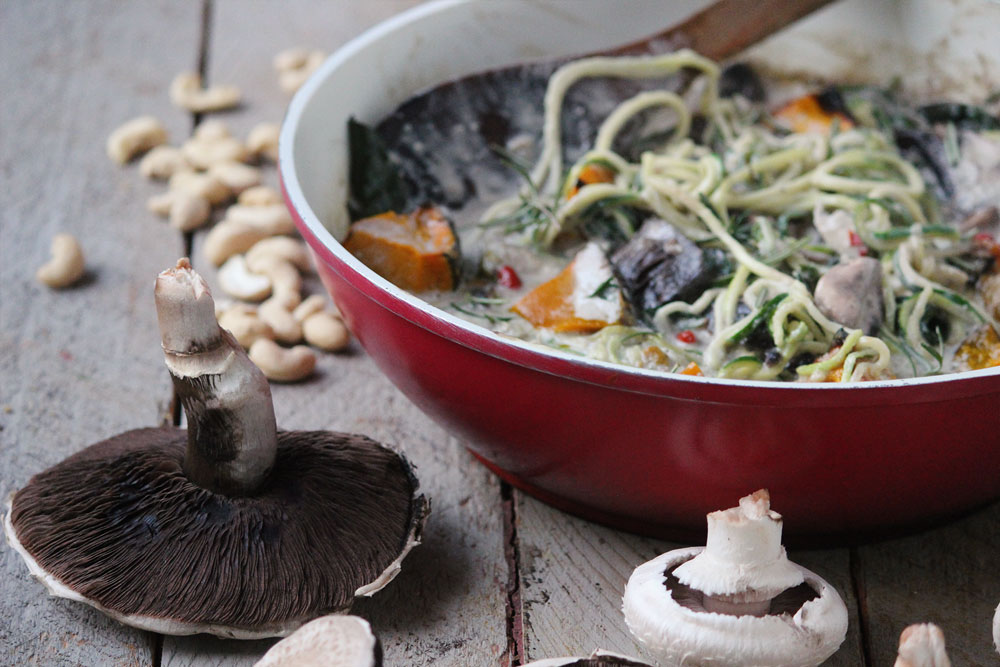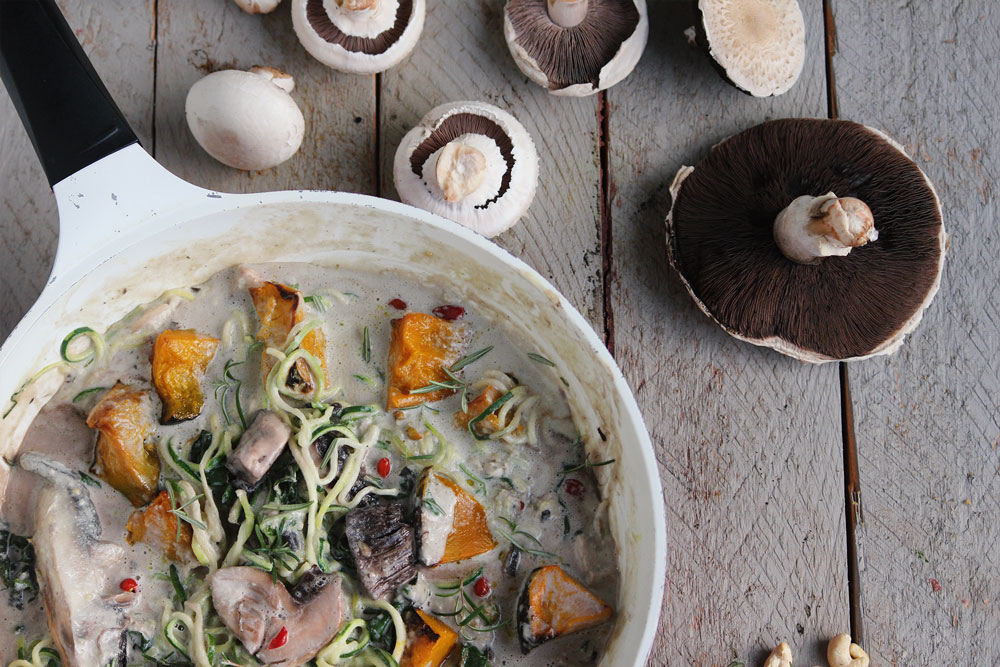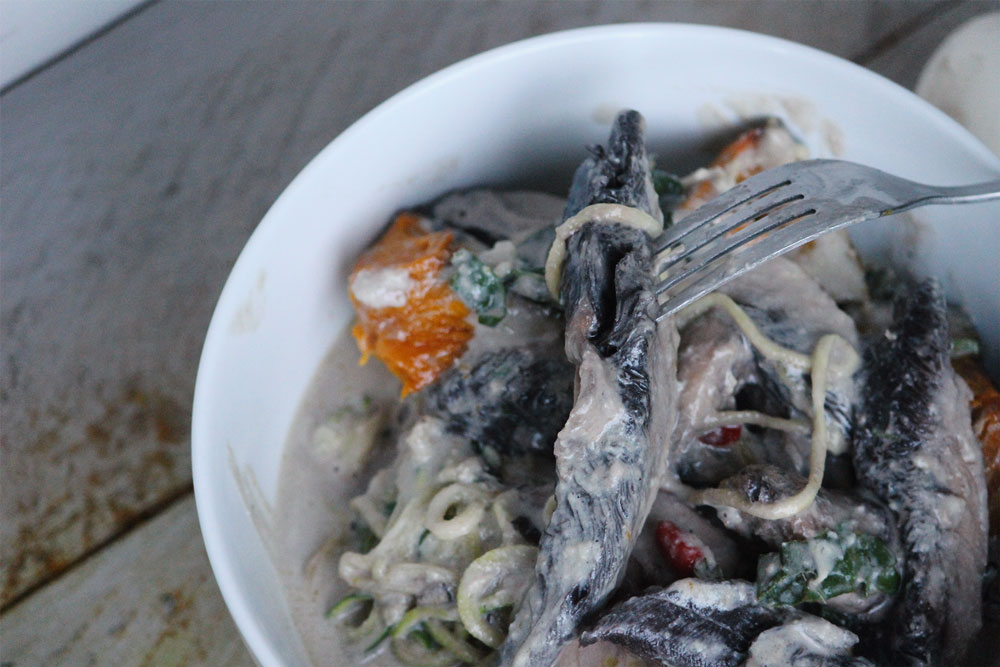 Creamy Mushroom & Pumpkin Pasta | Serves 4
Ingredients:
2 Onions, diced
3 Zucchinis
4 Cups Pumpkin, diced
4 Cups Mushrooms, cut into large slices or left whole if preferred
1 small bunch of silverbeet leaves, stalks removed, roughly chopped
4-6 chilies, finely diced
3-4 Chicken breasts, sliced
4 sprigs of rosemary
1 tbsp Coconut Oil.
Cream Sauce
3/4 Can Coconut Cream
1/2 Cup Cashews
6 Garlic Cloves
1 Egg
2 big pinches of Pink Salt
2 big pinches of Peppercorns
Method:
Preheat oven to 200C and roast pumpkin until tender & crispy
Whilst pumpkin is roasting, place a pan on medium heat & melt coconut oil. Add onion to pan & cook for around 5 minutes, preferably with a lid on.
Add chicken & cook for a few more minutes.
Using a spiralising tool (we use the Baccarat Pete Evans Spiraliser), spiralise zuchhini into pasta.
When the chicken has whitened up but hasn't cooked through yet, add mushrooms, silverbeet, rosemary & zucchini pasta.
Leave to cook a little longer whilst you make the sauce.
Place all ingredients for sauce into a highspeed blender (we use a vitamix) and blend on high until smooth & creamy.
Now add sauce to pan
Remove roast pumpkin from oven and add to the pan with your pasta & sauce.
Toss all ingredients so everything is nicely covered with the sauce and leave to cook for a few more minutes until sauce starts bubbling.
Serve up in beautiful bowls and drizzle olive oil over the top if desired.
Enjoy your pasta!