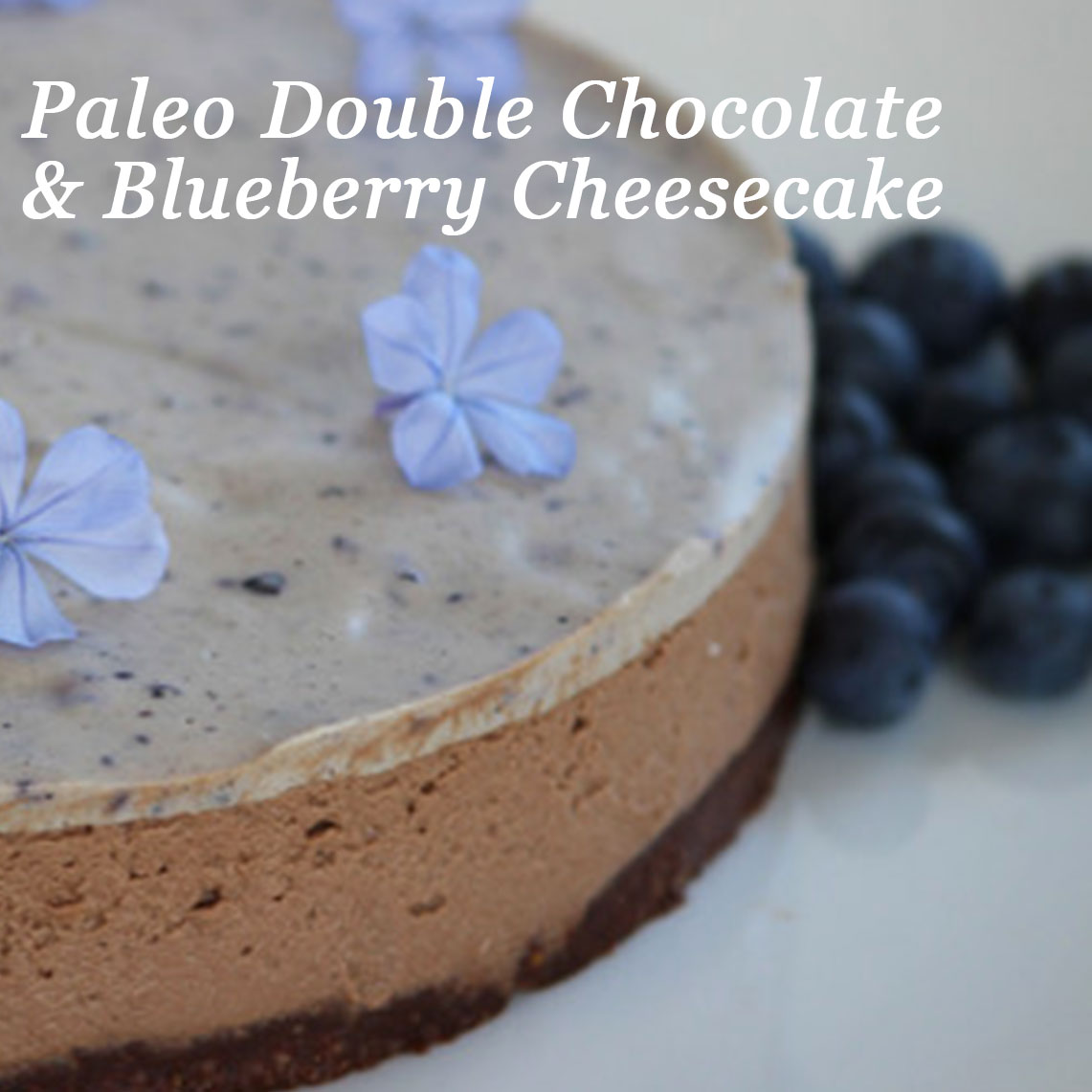 Paleo Double Chocolate Blueberry Cheesecake
Although we gave refined sugar the boot many many moons ago & our diet is very low in natural sugars… We're quite aware that all celebrations call for cake (we hope you are too!!!)
So what are we celebrating?
THP's 6 Month anniversary!
What an AMAZING 6 months it has been!!
What an AMAZING company The Healthy Patch is growing into (get it… growing?)…
& lastly… what an AMAZING cake we get to celebrate with! 😉
One of our favourite ways to celebrate is of course with beautiful food (especially cake) – but remember – just because you're celebrating or eating cake, doesn't mean you can't pack your food with nutrition!
As one of our favourite sayings goes – Every Time You Eat Is An Opportunity To Nourish Your Body. 
And we firmly believe this should apply to every meal!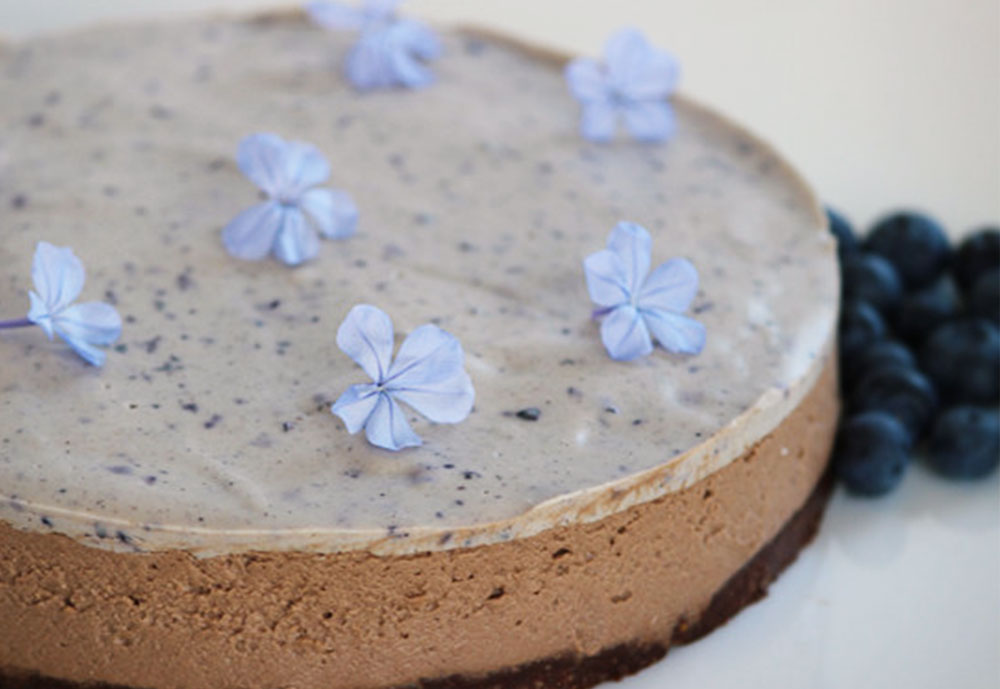 So let's take a look at some of the rock star ingredients shall we 🙂
Blueberries – Packed with beneficial plant compounds that provide protection from free radical damage, as well as containing a number of other essential minerals
Cacao – The highest food source of magnesium available, everything is better with cacao
Coconut Cream – Could source MCT (medium Chin triglycerides) a fatty acid that's absorbed in a unique way to other fatty acids makes it available to be used as energy by the body quicker.
Cashews – Cashews are packed with iron, selenium, magnesium, phosphorus, zinc & also contain phytochemicals, antioxidants & protein.
Manuka Honey – Manuka Honey has an incredible nutritional profile & strong antibacterial properties.
Mesquite – Contains a number of vitamins, minerals & protein.
Ready for the recipe?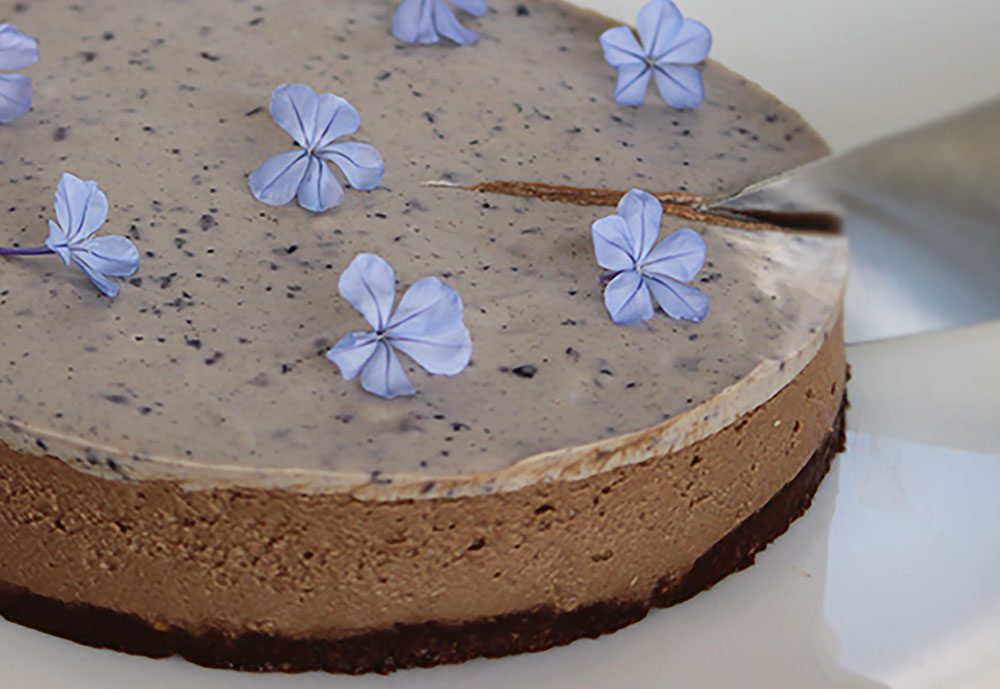 Paleo Double Chocolate Blueberry Cheesecake
Ingredients
Base:
1 cup almond meal or LSA
1/4 cup cacao
1 tbsp. mesquite powder
½ tsp. cinnamon
½ tsp. bee pollen (optional)
1 tbsp. manuka honey
2 tbsp. coconut oil, melted or soft
Filling:
400 ml coconut cream (1 can)*
1 cup cashews, soaked in water overnight, drained
1 tbsp. manuka honey
1/4 cup cacao
1/2 tbsp. cinnamon
Blueberry Cream (top layer):
1/4 cup cashew, soaked in water overnight, drained
1/2 cup coconut cream
1/4 tsp. vanilla bean powder
1 tsp. manuka honey
1/4 cup blueberries
* Make sure to find a good brand of Coconut Cream that doesn't contain anything other than Coconut – we love OnRich Organic Coconut Cream
Method:
Base:
Load up all the ingredients into a food processor & mix until you're left with basically crumbs, you want to be able to form the mixture into a ball easily & if you have any trouble keeping the mixture together just add more coconut oil.
Take an 18cm loose base cake tin, add the mixture & firmly press it down until smooth & even. Chill for at least 30 mins before adding the filling.
Filling:
Add all the ingredients for the filling to a high speed blender (we use a vitamix) & blend on high until smooth. Once it's done pour it straight onto the base & leave to firm in the fridge overnight (or for at least 4 hours if you're having it that day)
Blueberry Cream (top layer):
Put the blueberries to one side for now, take the rest of the ingredients, add it to a high speed blender & blend until smooth. Now add the blueberries & blend for another 30 seconds. Pour into the cake tin (on top of the chocolate filling) & pop it back into the fridge to firm up (1-2 hours)
Garnish with blueberries & have a freaking ball eating your cake 🙂
A & C x