THE HEALTHY PATCH FORMULA
EVERYTHING YOU NEED TO GROW YOUR OWN INCREDIBLE WHOLEFOODS FOR INCREDIBLE HEALTH, EASILY!
READY TO MAKE HEALTHY, ENERGISED LIVING SIMPLE & NOURISH YOUR BODY WITH THE BEST QUALITY ORGANIC WHOLEFOODS EASILY – EVEN WITH VERY LITTLE TIME ON YOUR HANDS?
EASILY GROWING YOUR OWN NUTRIENT DENSE WHOLEFOODS CAN TRULY BE LIFE CHANGING...
AND WE DON'T SAY THAT LIGHTLY...
We know this because we've experienced it first-hand.
Chronic migraines, thinning hair, leaky gut syndrome… Weight gain, anxiety, pure exhaustion…
These are just some of the things that we were dealing with before we made the switch to real, chemical free wholefoods.
But here's the thing… Growing our own nutrient dense wholefoods didn't just provide our bodies with the nutrition it needed to heal – a life changing benefit on its own!
IT MADE LIVING A HEALTHY LIFESTYLE FEEL EASY & EFFORTLESS
IT MADE MORNINGS BRIGHT WITH EXCITEMENT
IT EVEN CHANGED THE WAY WE LOOKED AT FOOD
Being able to harvest your own fresh, clean & vibrant wholefoods at any time of the day… Being able to create simple, delicious & healthy meals from food you've grown yourself easily… Feeling inspired & excited come dinner time to cook up a nourishing meal from your own edible garden that truly tastes amazing…
It's one of the most rewarding things you can do for yourself & your body!
Which is why we would love for you to join us in The Healthy Patch Formula.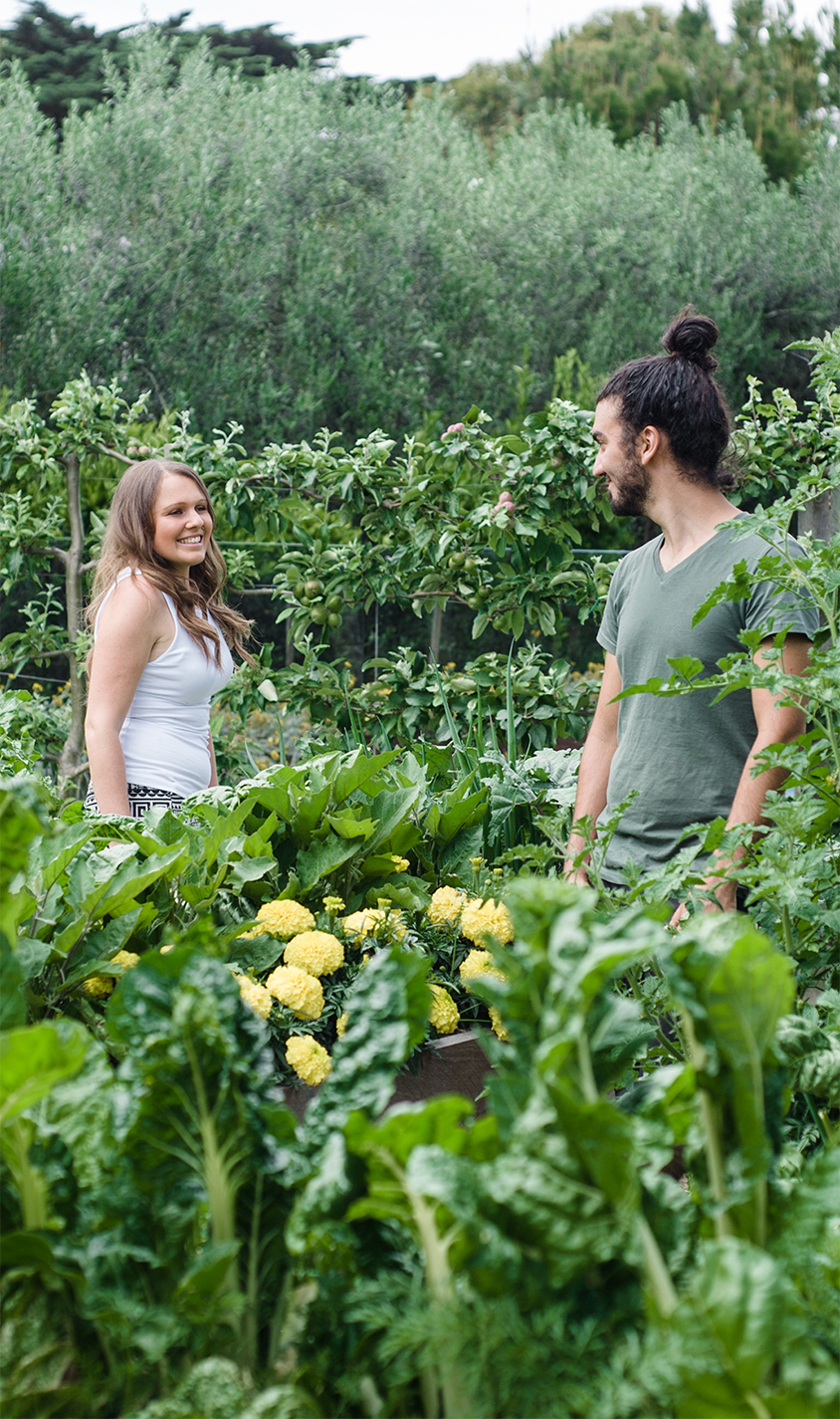 THE HEALTHY PATCH FORMULA
is our 6-week easy to follow, step by step, completely online program, designed & created from the ground up, to show your health-conscious self, exactly how to start growing your own nutrient dense wholefoods easily, to better support your health.
REGARDLESS OF IF YOU ONLY HAVE ONE SQUARE METER OR 100'S OF ACRES...
REGARDLESS OF YOUR TIME COMMITMENTS OR YOUR EXPERIENCE...
WHAT WE KNOW, IS THAT ANYONE CAN GROW THEIR OWN NUTRIENT DENSE WHOLEFOODS EASILY – YOU JUST NEED THE RIGHT FORMULA.
See, without proper guidance or the right knowledge, creating a vibrant organic edible garden that provides you with a bounty of nourishing food & energising health can actually be stressful, expensive, overwhelming… & in the end… not even that healthy.
The Healthy Patch formula removes all of those roadblocks & allows you to create an abundant, nourishing & healthy edible garden (AKA a Healthy Patch), easily...
Not only so you can have big & vibrant, beautiful wholefoods at arm's reach, but also to allow you to truly nourish your body with the freshest chemical free, nutrient dense foods so you can ultimately feel your best.
Thousands of people from all over the world have now joined The Healthy Patch Formula and the results have been life changing... and we would love nothing more than for you to join us too!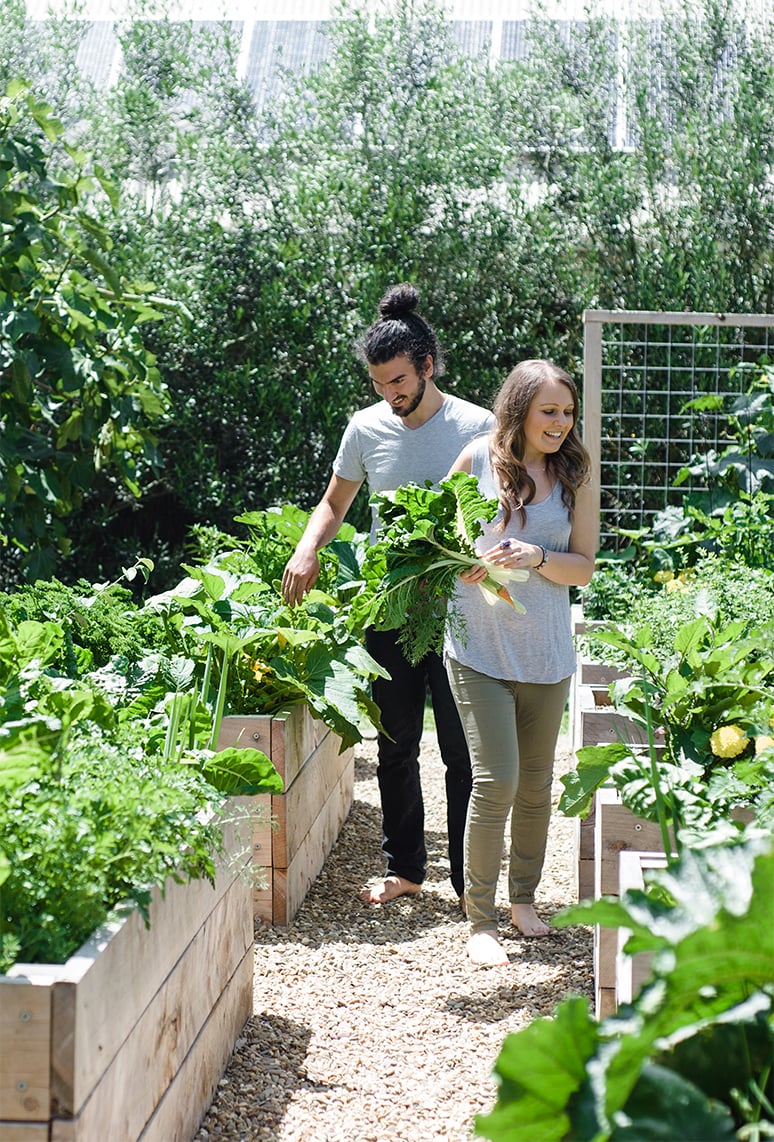 HOW DOES THE HEALTHY PATCH FORMULA WORK?
The Healthy Patch formula is a completely online video training program - meaning you can access everything in this program from anywhere around the world - & the outcome can be life changing.
All course materials (such as videos, pdfs & eBooks) are housed within your very own exclusive & beautifully designed members portal which you'll get access to as soon as you've joined.
The Healthy Patch formula is rolled out over a 6 week period & takes you through the 6 core pillars built around growing your own nutrient dense food, easily.
Each of these pillars have been broken up into 6 weekly modules & each module contains a series of easy to follow, step by step video lessons that – by the end of week 6 – will give you the exact knowledge you need to be able to grow your own nutrient dense, incredible wholefoods easily, without the need for a lot of time or effort.
The Healthy Patch Formula does not contain 'homework', 'assignments' or 'workbooks' for you to fill out – instead - we simply give you all the tools, knowledge & resources you need for success, allowing you to create a super low maintenance, thriving edible garden (AKA a Healthy Patch!) that will allow you to fuel your body with truly incredible food.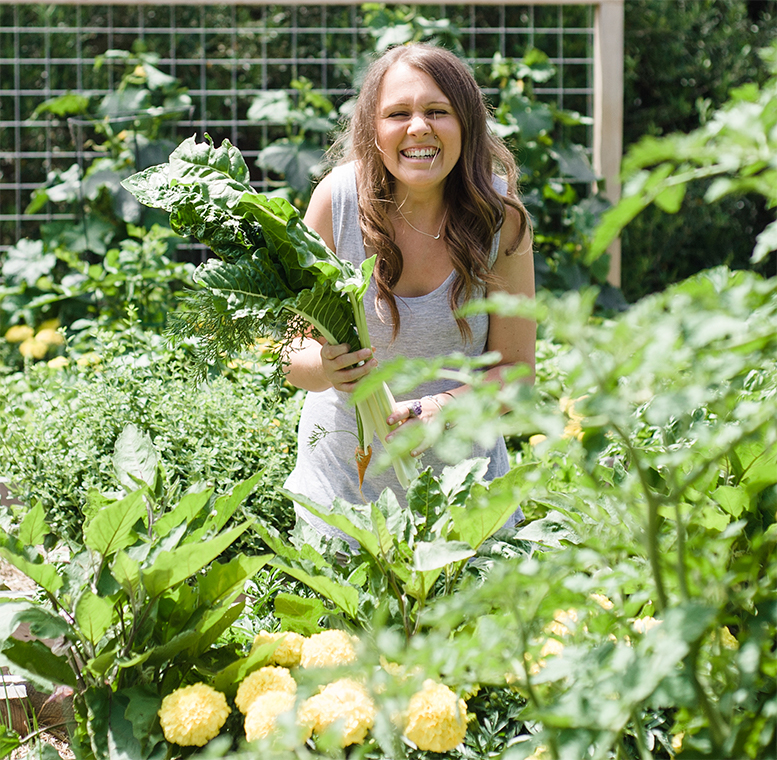 Even though The Healthy Patch formula is rolled out over a 6-week period, once you join, you also have lifetime access to this program.
Lifetime access means you can choose to go through the training videos & materials each week as they're released over the 6-week period, or if you prefer, take it nice & slow & access the modules at a later stage when it suits you.
In short - if you're a little busier than usual or you fall behind at any stage because hey, life happens - as long as the program exists, you can login to your members portal & watch any video in any module whenever you like, as many times as you like!
Lifetime access also means that you get any new updates, bonuses or content we add to the program over time. This is our way of making sure you only ever have the best!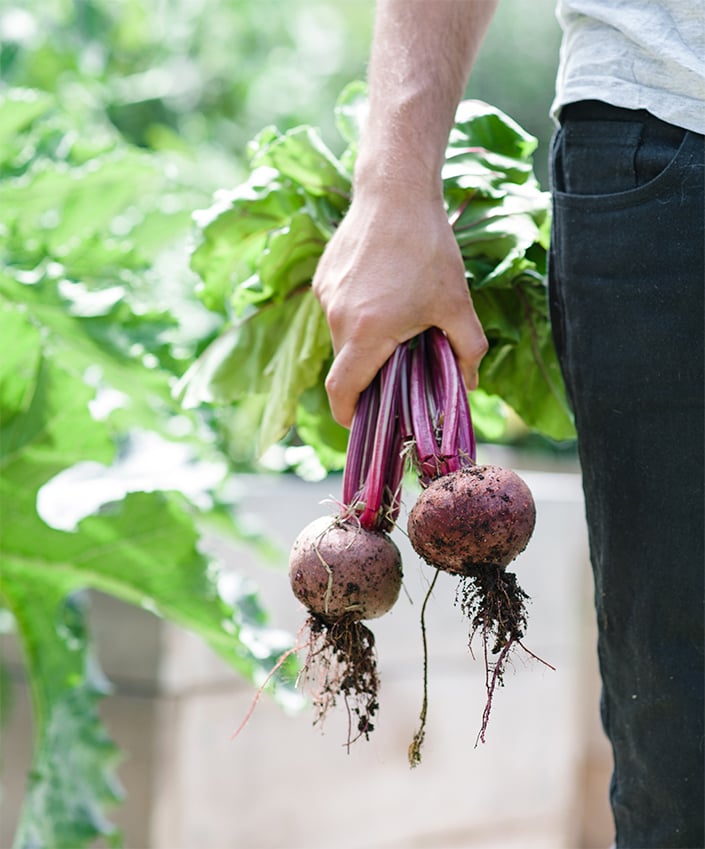 The Healthy Patch formula contains a pre-course with 2 epic downloadables to get you started, 6 core video training modules + additional resources & bonuses to help you further along your journey to incredible, energising health!
As soon as you join The Healthy Patch Formula, you'll be given immediate access to your exclusive members only portal along with a few simple welcome videos showing you around!
You'll also be able to access your pre-course downloads, your bonuses and the best bit - Module 1 - straight away!
The remaining 5 modules will then be released over the next 5 weeks, with one new module opening up each week (every 7 days). Each module contains around 4 – 7 video lessons + additional resources & downloadables.
Once the 6 weeks are up & every module has been released, you will have access to the entire program & can access any video or resource whenever you like!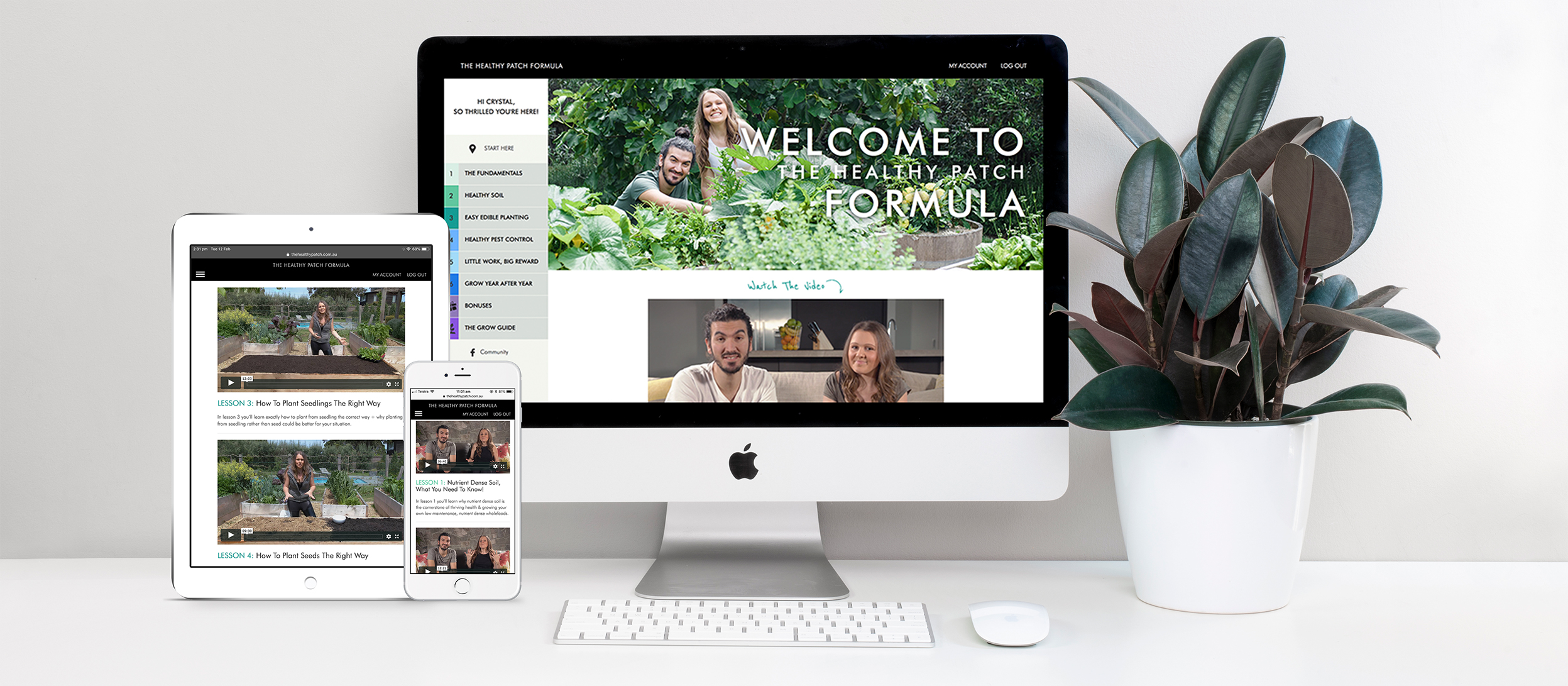 The Healthy Patch Formula is years & years of our research, knowledge, trial & error – all condensed into one simple program, giving you everything you need to grow your own incredible wholefoods easily!
We've broken down all of the fundamentals, must know tips & crucial knowledge you need to create your own healthy edible garden into 6 easy to follow, step by step modules.
Each module compliments the next & lays out the information in a clear, concise, easy to digest way, taking you through exactly what you need to know to get you growing & experiencing the benefits ASAP.
Here's an overview of each of the 6 modules that make up the core of the course:
Module one is all about getting those crucial fundamentals & foundations put in place which in the long run – will save you time, money & frustration!
Once you've completed module one, you'll be able to create a beautiful, quality, & healthy raised edible garden bed that's perfect for your situation, you'll be able to place it on any flat surface – such as a balcony – a deck – or of course in your garden + you'll be able to position it in the best possible spot for your wholefoods to thrive. You'll also have a complete understanding of exactly how much sun your edible plants will need, how much sun you personally get + what you can do if you have more shade than anticipated.
Now if you've already got your edible garden bed set up but it's been created out of one of the materials we don't recommend, you'll also know exactly how you can "healthify" it to make sure you're growing only the best… And if creating your own garden bed doesn't sound like your cup of tea, we'll give you heaps of pre made options too! Whatever your situation… Module 1 has you covered!
MODULE ONE:

THE FUNDAMENTALS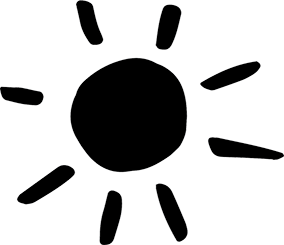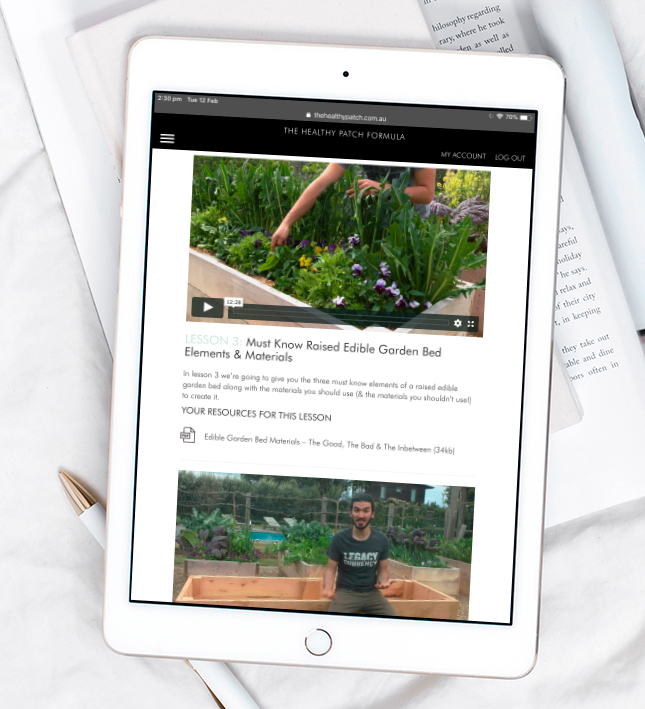 ADDITIONAL DOWNLOADABLE RESOURCES INCLUDE:
Your Shade Tolerant Edibles Guide

Edible Garden Bed Materials - The Good, The Bad & The Inbetween + Alternative Materials

Pre-Made Edible Garden Bed Options

How to "Healthify" Your Existing Edible Garden Bed

DIY Healthy Edible Garden Bed Materials & Instructions

DIY Healthy Edible Garden Bed Trellis Materials & Instructions

DIY Healthy Edible Garden Bed Lid Materials & Instructions

DIY Healthy Edible Garden Bed Timber Suppliers
Module 2 is where the real fun starts! This is where we give you the 3 crucial fundamentals for nutrient dense soil, big vibrant plants & quality wholefoods to nourish your body + our exact nutrient dense soil formula that we get asked about daily. We take you through exactly what you need, why you need it & where to source it + how to layer it all up properly to boost the nutrition & get you planting straight away.
We also show you how to "healthify" your pre-existing soil if you've already got an edible garden going… And if you're not quite ready to create a full blown edible garden yet, we also show you exactly how you can use our soil formula in pots too! Lastly, If you can't find a particular ingredient that we recommend in your area or country, we also give you alternatives for each ingredient so that no matter where you live, you'll be able to create only the best soil!
After module 2 is complete, you're going to have nutrient dense, mineral rich soil that will allow you to grow big, vibrant & nutrient dense wholefoods to get you feeling amazing!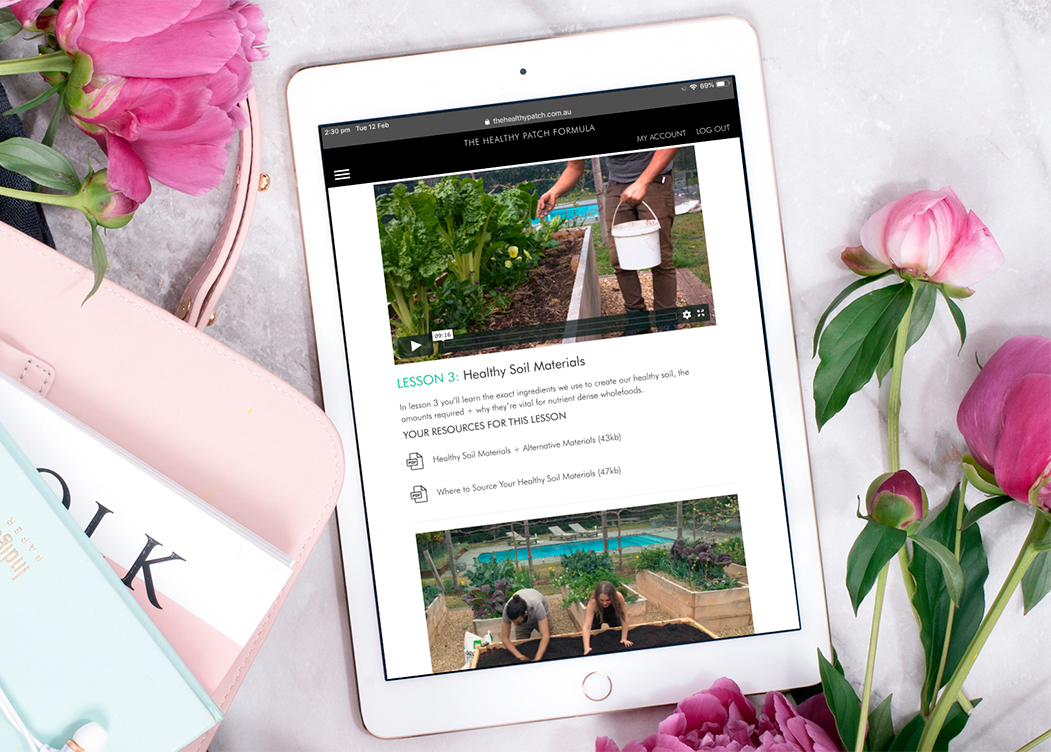 ADDITIONAL DOWNLOADABLE RESOURCES INCLUDE:
The 3 Fundamentals of Healthy Soil

Healthy Soil Materials + Alternative Materials

Where to Source Your Healthy Soil Materials

Healthy Soil Recipe & Instructions

How to Healthify Your Existing Soil

Healthy Soil Recipe - Pot Edition
Now that your edible garden bed & nutrient dense soil have been created, it's time to plant! Knowing how to plant your edibles the right way so they thrive from the very get go + making sure you're taking advantage of all your growing space is an absolute must!
In module 3 you'll learn exactly how to easily plant from seed & seedling the correct way, how to easily raise your own seedlings indoors, the best time to plant out, the nourishing wholefoods you should be growing in your location + our very best space saving techniques that will allow you to get the most out of any space – big or small. To make things even easier for you, you'll also receive our planting templates which will help you to figure out where everything should go, how many plants you'll be able to fit in your beds, how far apart they should be spaced & how you can get the most productive set up possible!
Once module 3 rolls around – you'll also get access to something incredibly special called The Grow Guide. More on this in a minute!
MODULE THREE:

EASY EDIBLE PLANTING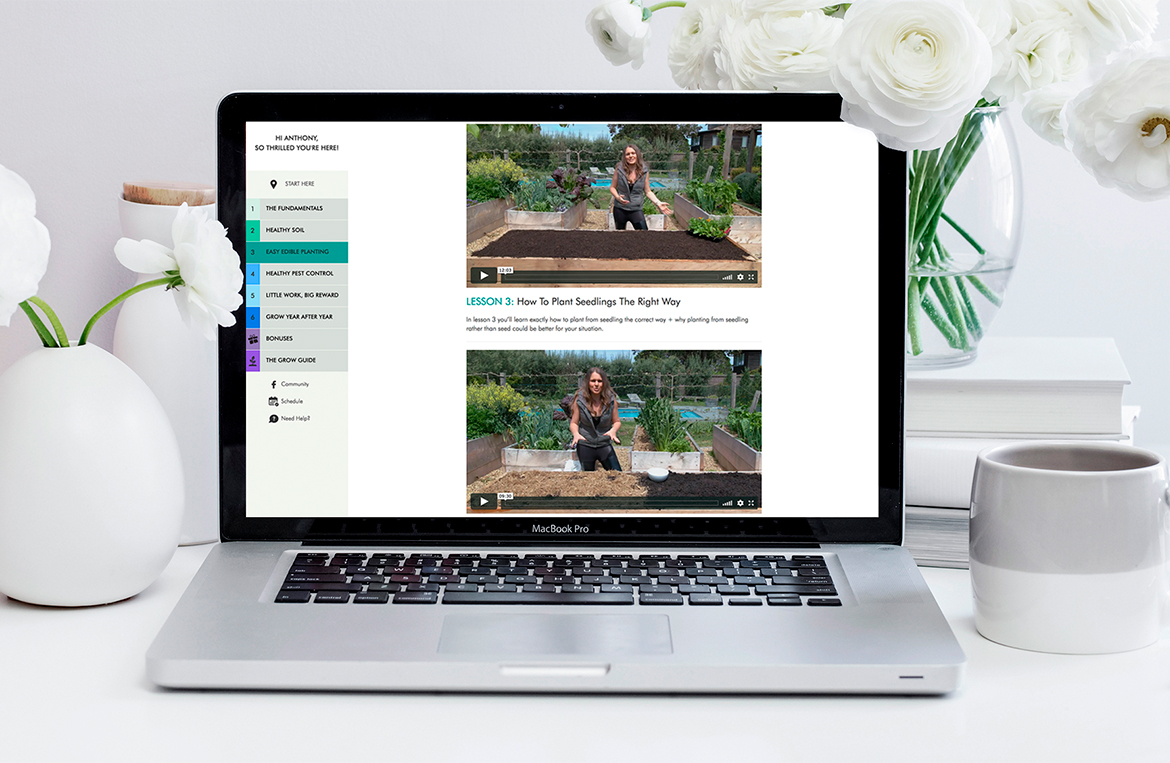 ADDITIONAL DOWNLOADABLE RESOURCES INCLUDE:
How To Plant Seedlings The Right Way

How To Plant Seeds The Right Way

How To Raise Seedlings Indoors

How To Maximise Your Growing Space Cheat Sheet

"Done For You" Easy Planting Templates
Even though your edible plants will already be super healthy, hardy & able to fight off many pests on their own thanks to your nutrient dense soil creation, depending on the time of year & what wholefoods you plant, sometimes your edibles may need a bit of extra support in the pest department.
In module 4, we show you exactly how to set up your edible garden to help repel pests even further + show you how to get rid of any pests naturally & organically if they ever do become a problem. After module 4 is complete – you'll not only know the top 4 methods to attract the good & repel the bad insects, the insects that you actually want in your edible garden & which ones you don't… but you'll also know ALL of our potent (but of course still healthy) sprays, powders & other solutions you can use to get rid of any serious pest problems once & for all!
MODULE FOUR:

HEALTHY PEST CONTROL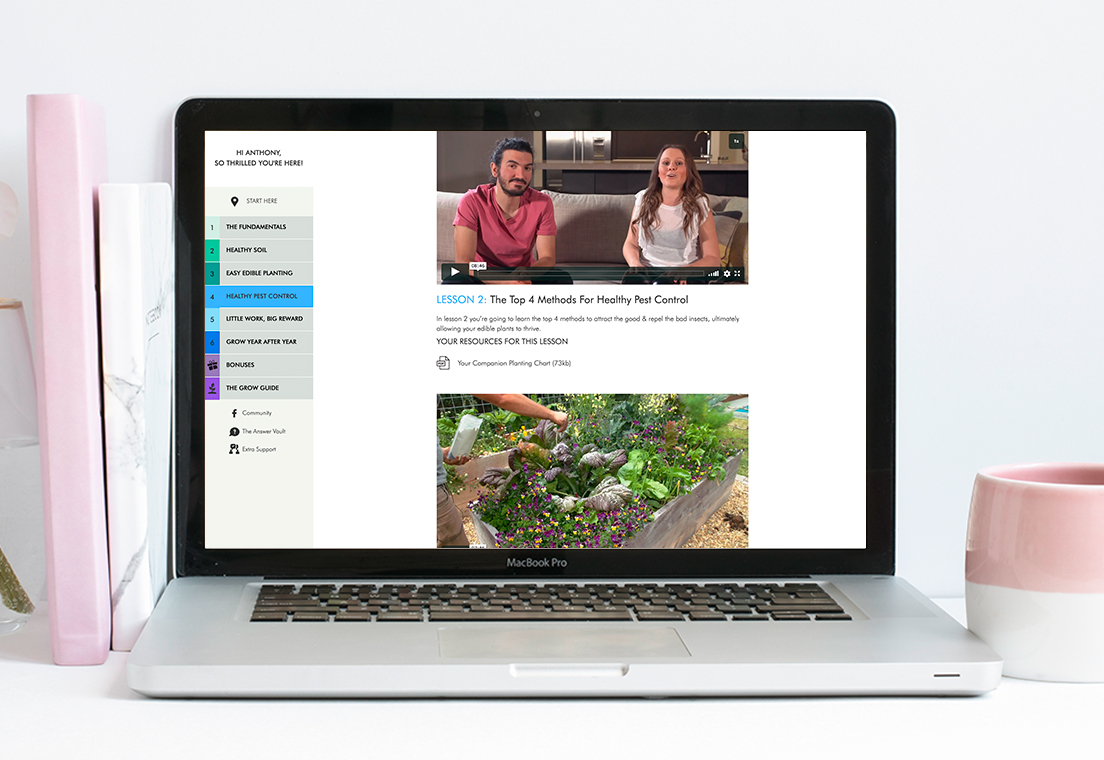 ADDITIONAL DOWNLOADABLE RESOURCES INCLUDE:
Your Detailed Guide to Bad & Beneficial Insects

Your Companion Planting Chart

Damage Control (The Healthy Way) Cheat Sheet
Here's the deal - growing your own nutrient dense wholefoods does NOT need to be time consuming! As we like to say, your edible garden should be working for you… not the other way around!
In this module, you're going to learn exactly how to easily maintain your edible garden, without the need for a lot of time or fuss + the crucial (yet incredibly easy) things you must do to keep your plants thriving, so they can practically take care of themselves throughout the season!
After module 5 is complete you'll know exactly how to water your plants the correct way (something that many people get wrong), how much you should be watering & the easily avoidable but common pitfalls that can cause unnecessary havoc on your plants. You'll know the 5 simple yet important actions you can take throughout the growing season to make sure you're getting the biggest & best harvests possible + you'll know the ins & outs of proper harvesting, the common harvesting mistakes that you can easily avoid and how you can get the very most out of your harvest every single time!
MODULE FIVE:

LITTLE WORK, BIG REWARD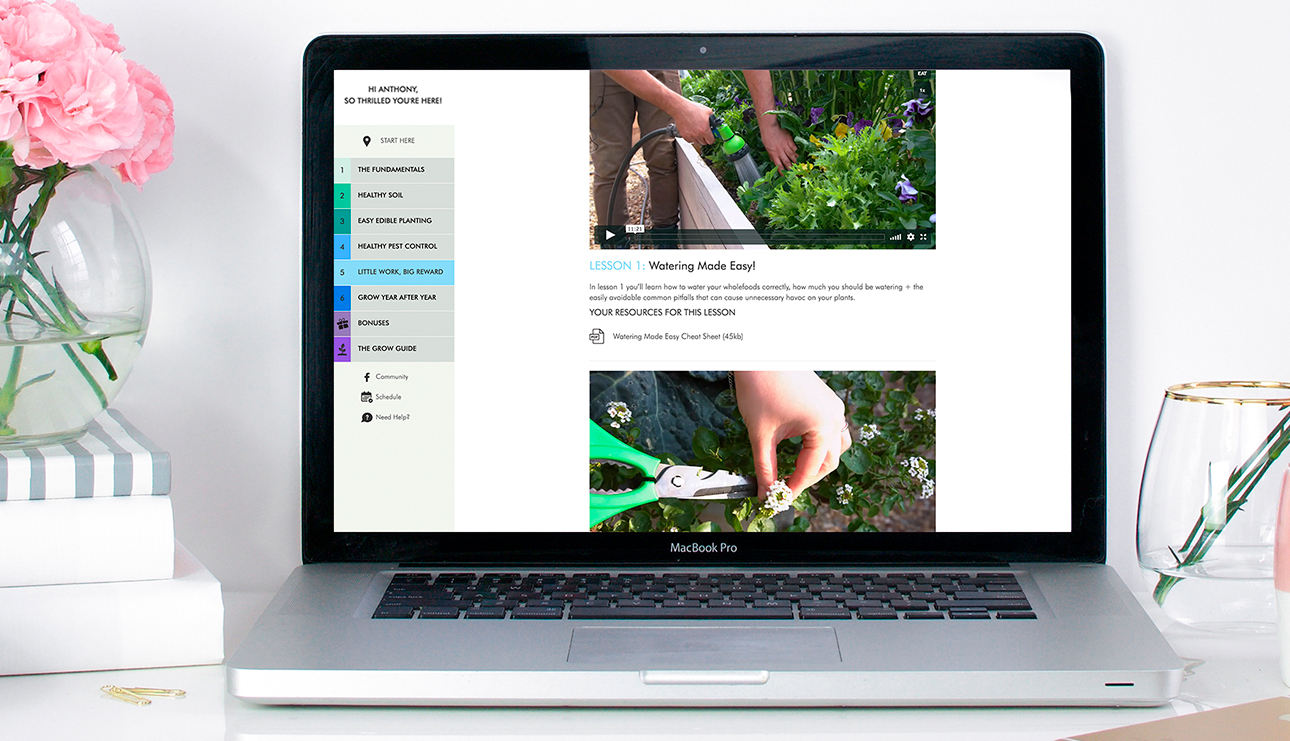 ADDITIONAL DOWNLOADABLE RESOURCES INCLUDE:
Watering Made Easy Cheat Sheet
Easy Maintenance Cheat Sheet
Better, Longer Harvesting Cheat Sheet
The key to continuing a thriving edible garden that gives you bounties of incredible wholefoods year after year with very little effort from you, is knowing how to easily 'reset' it at the end of the growing season. (And if you're not sure what a growing season is, don't worry, once you've joined THPF, you will be!)
In this final module, you'll not only learn exactly how & when to 'top-up' your edible garden, give it a big boost of nutrients for the new growing season & continue to grow incredible wholefoods throughout the years easily… You'll also learn how to create your own quality & healthy non-plastic compost bin, the 2 different types of compost you can create & which one is better for your situation + the 4 rules of compost that will allow you to effortlessly create a nutritious compost using your own wholefood scraps!
Once module 6 is complete, you'll have everything you need to keep on growing your own nutrient dense, body-loving wholefoods year after year without fail!
MODULE SIX:

GROW YEAR AFTER YEAR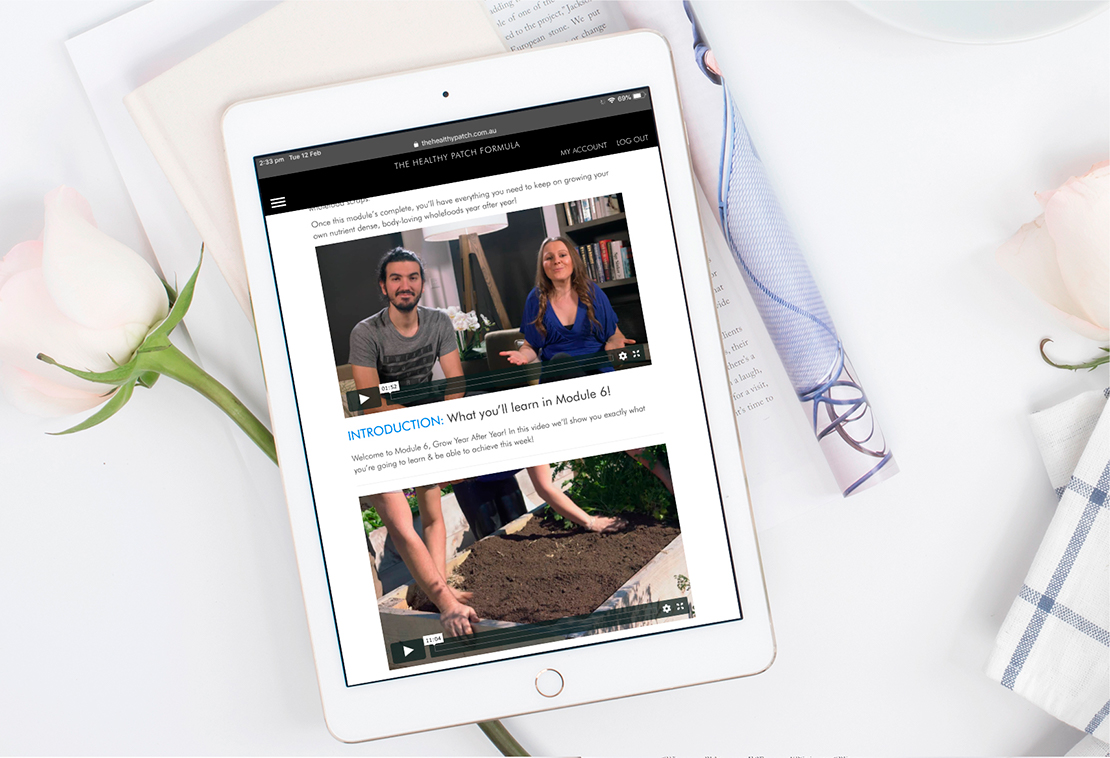 ADDITIONAL DOWNLOADABLE RESOURCES INCLUDE:
Top Up Materials & Instructions

Easy Composting Cheat Sheet

What You Can & Can't Compost

DIY Healthy Compost Bin Materials & Instructions
As soon as Module 3 rolls around, you'll be able to access The Grow Guide. The Grow Guide is an interactive area in your exclusive members portal that lets you see exactly what you can grow in your specific area throughout any month of the year.
Simply click on your location, along with the current month & it will show you exactly what herbs, veg, fruit & edible flowers you can grow in your specific location for that month.
On top of this, each plant is clickable & when clicked - it will tell you the incredible health benefits that you can get when you eat this plant, specific growing tips for the plant & how you can use it in the kitchen & beyond. If you click on a flower, it will also tell you the beneficial insects that it will bring into your edible garden!

*While THPF can be taken anywhere around the world, please know that The Grow Guide currently covers all locations across Australia & New Zealand only. We'll be updating The Grow Guide with more countries ASAP – & remember – you have lifetime access to the program so as soon as your country goes live you can access it straight away! In the meantime, we've put together a general grow guide pdf for you if you live outside of these countries.

WHAT ELSE WILL YOU GET WHEN YOU JOIN US IN THE HEALTHY PATCH FORMULA TODAY?
Along with the core training videos + The Grow Guide, we've created & packaged up some incredible additional resources & bonuses that you will get completely free access to when you join The Healthy Patch Formula!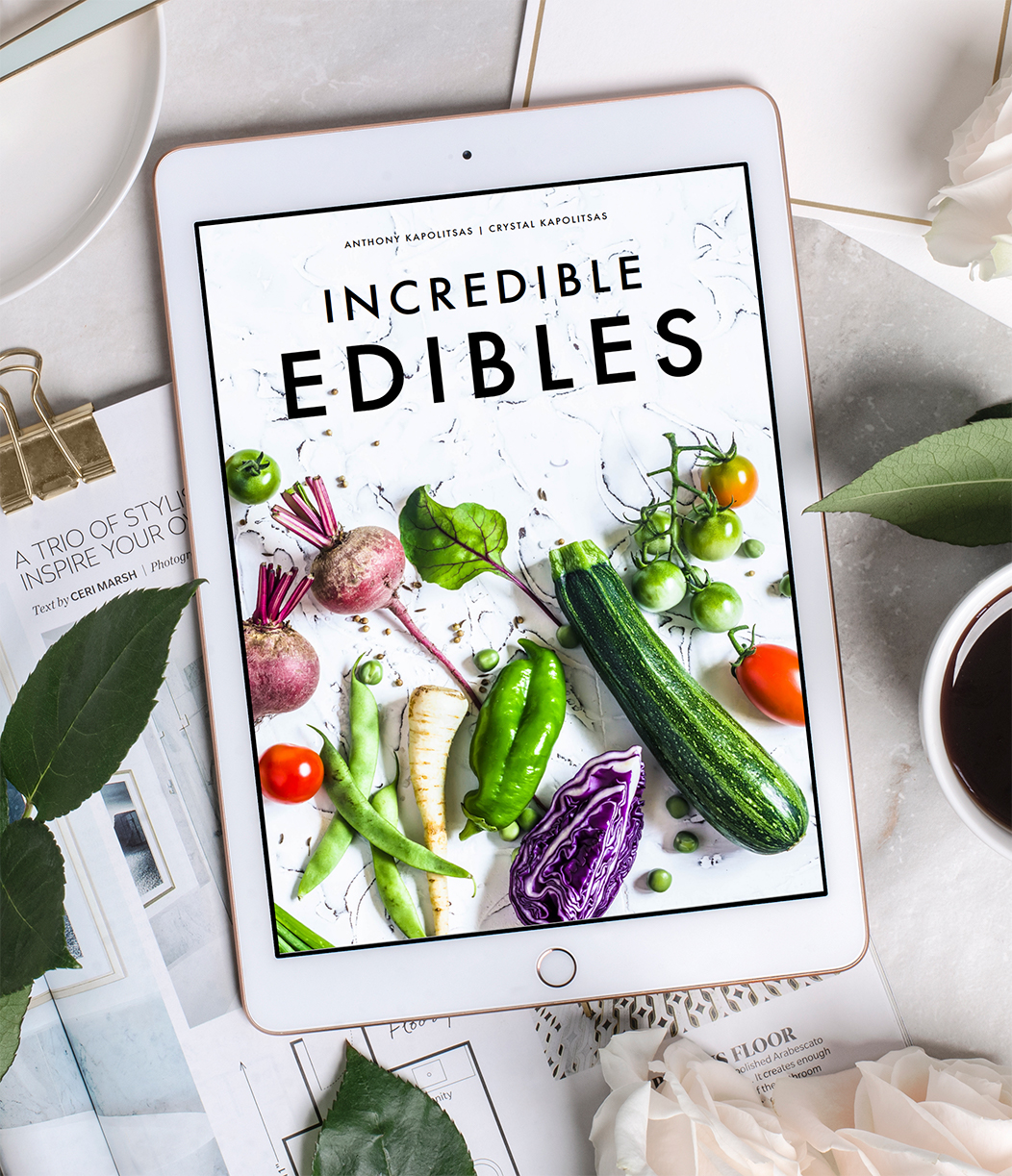 As soon as you join The Healthy Patch Formula you'll get immediate access to the pre-course. The pre-course contains 2 downloadables designed to not only help you get familiar with the terms of the edible gardening world, but also allow you to see just how many incredible, body-loving wholefoods you can start growing ASAP to better support your health – which is of course, what it's all about!
Here's a closer look at what the pre-course includes:
INCREDIBLE EDIBLES e-Book
Incredible Edibles is a collection of the nutrient dense edibles you'll be growing, the amazing families they belong to, as well as the vitamins, minerals & powerful plant based compounds they bring to the table.
THE EDIBLE GARDEN GLOSSARY pdf download
The edible garden glossary is a beautiful downloadable where we've easily explained all of the main edible gardening terms you'll most likely come across in your journey to growing your own incredible wholefoods!

SEED SPROUTING THE EASY WAY!
Sprouts are some of the best detoxifying foods you can get your hands on - did you know broccoli sprouts contain up to 50 times more of the cancer fighting compound sulforaphane than mature broccoli?
The best part about sprouting seeds, is that even if you've never done it before, once you've learnt the basics – it's incredibly easy, effortless & just takes up a little space on your kitchen bench!
Seed Sprouting Made Easy is a simple, step by step training video, that shows you exactly how to easily sprout your own seeds for optimal health, as well as how to avoid those common pitfalls that hold so many people back!
This training video is such a hit among the thousands of other students in the program and we know you're going to love it too!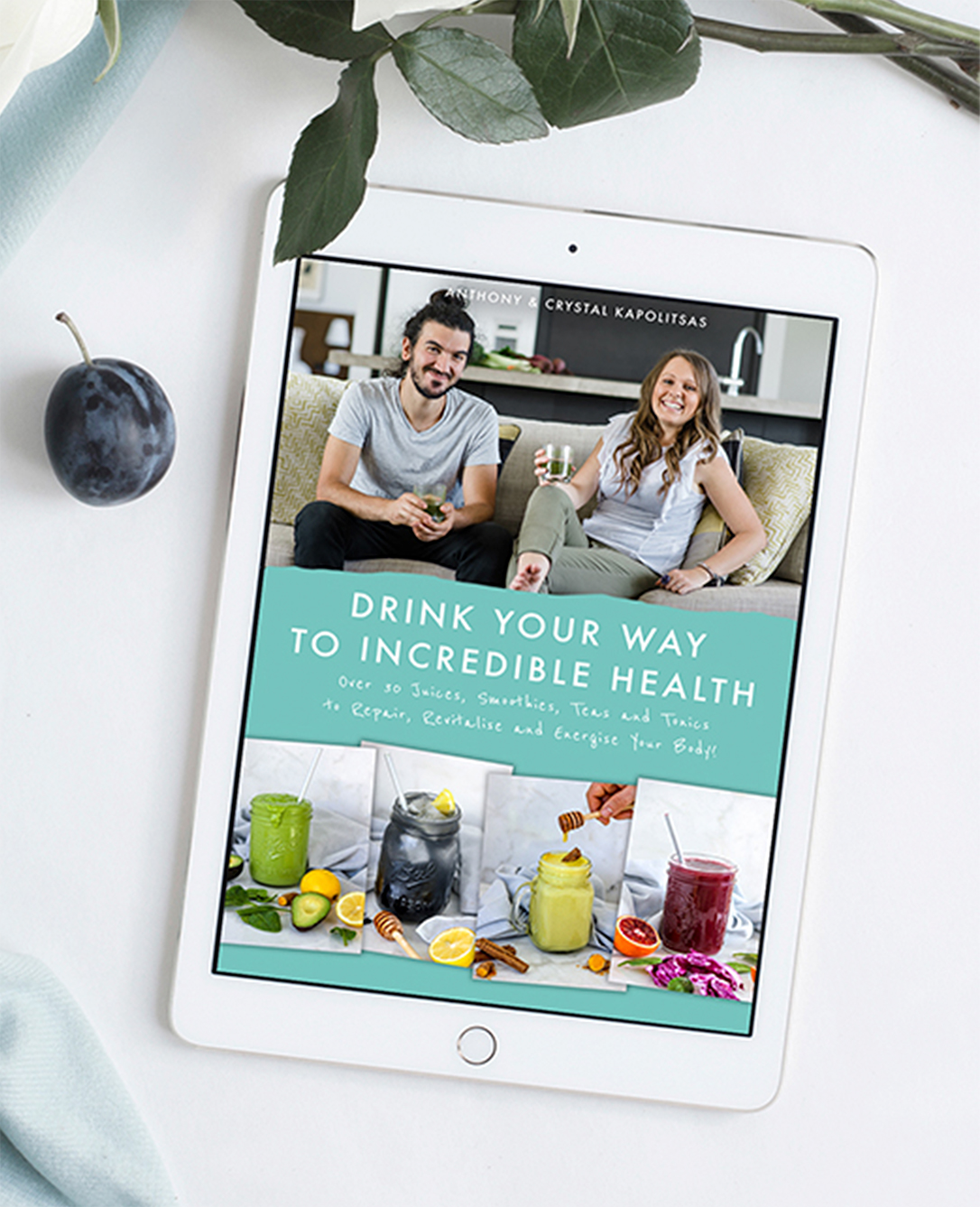 DRINK YOUR WAY TO INCREDIBLE HEALTH
Early on in our health journey we discovered the amazing power of homemade juices, smoothies, teas & tonics! We desperately wanted a way to easily & quickly maximise the amount of wholefoods we were consuming daily to heal our bodies ASAP - and by far did these glorious liquid nutrition powerhouses deliver!
Not only are they simple & quick to create, but they allow you to easily consume WAY MORE nutrient dense edibles than you could ever fit onto your plate!
Drink Your Way To Incredible Health celebrates over 30 incredible body-loving juices, smoothies teas & tonics helping you easily load up on all those beautiful vitamins, minerals & phytonutrients that you need for thriving health. Whether you're after more energy throughout the day, a better sleep, improved digestion or maybe better skin or hair health... or all of the above... there's a juice, smoothie, tea or tonic for it! All of which you'll find in this book!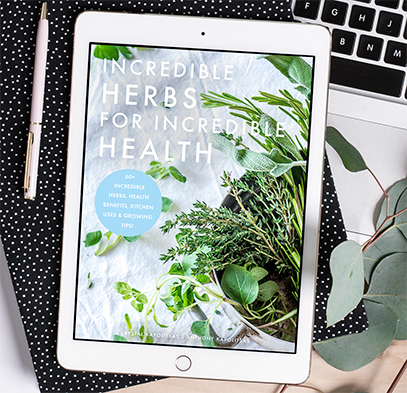 INCREDIBLE HERBS FOR INCREDIBLE

HEALTH
Herbs are some of the most healing foods on the planet & in fact, herbal medicine has been practiced by humans for thousands of years. Herbs contain incredibly powerful healing properties and as a bonus - are also some of the easiest edibles that you can grow yourself!
Incredible Herbs For Incredible Health takes you through more than 60 of our favourite herbs, why they're so important & why you want to include them in your diet. Everything in this book is backed by scientific research & all of the references & studies have been included for further reading!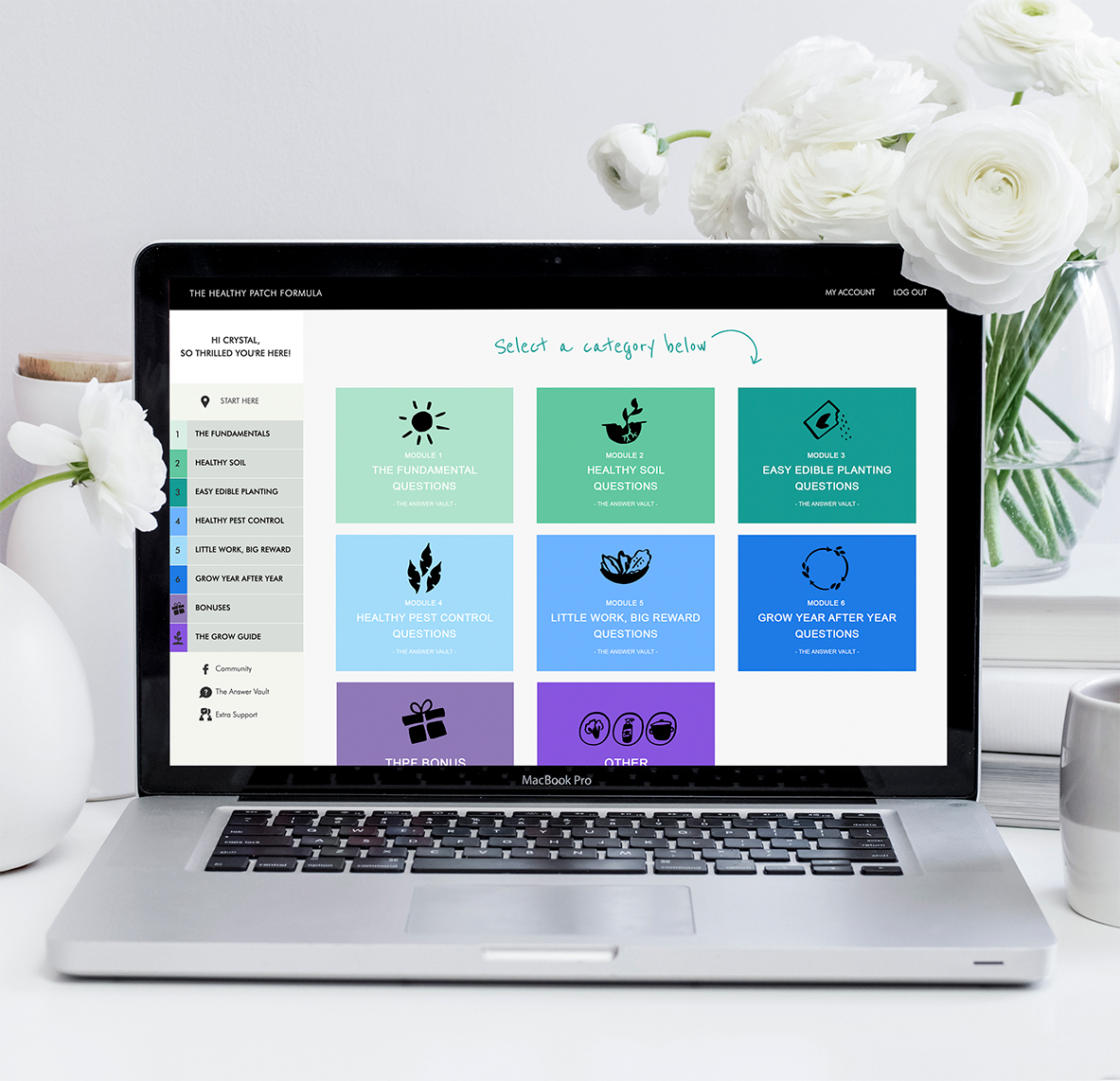 The answer vault is a section in your members portal which contains over 100 questions from other students which we have answered in detail to take you to the next level!
From wicking beds, to worm farms, to which plants to grow for specific health issues, to how glyphosate desiccation works… The Q&A's in the answer vault will give you even more incredible knowledge to further support your journey!
Just another way of making sure that you have everything you need to succeed!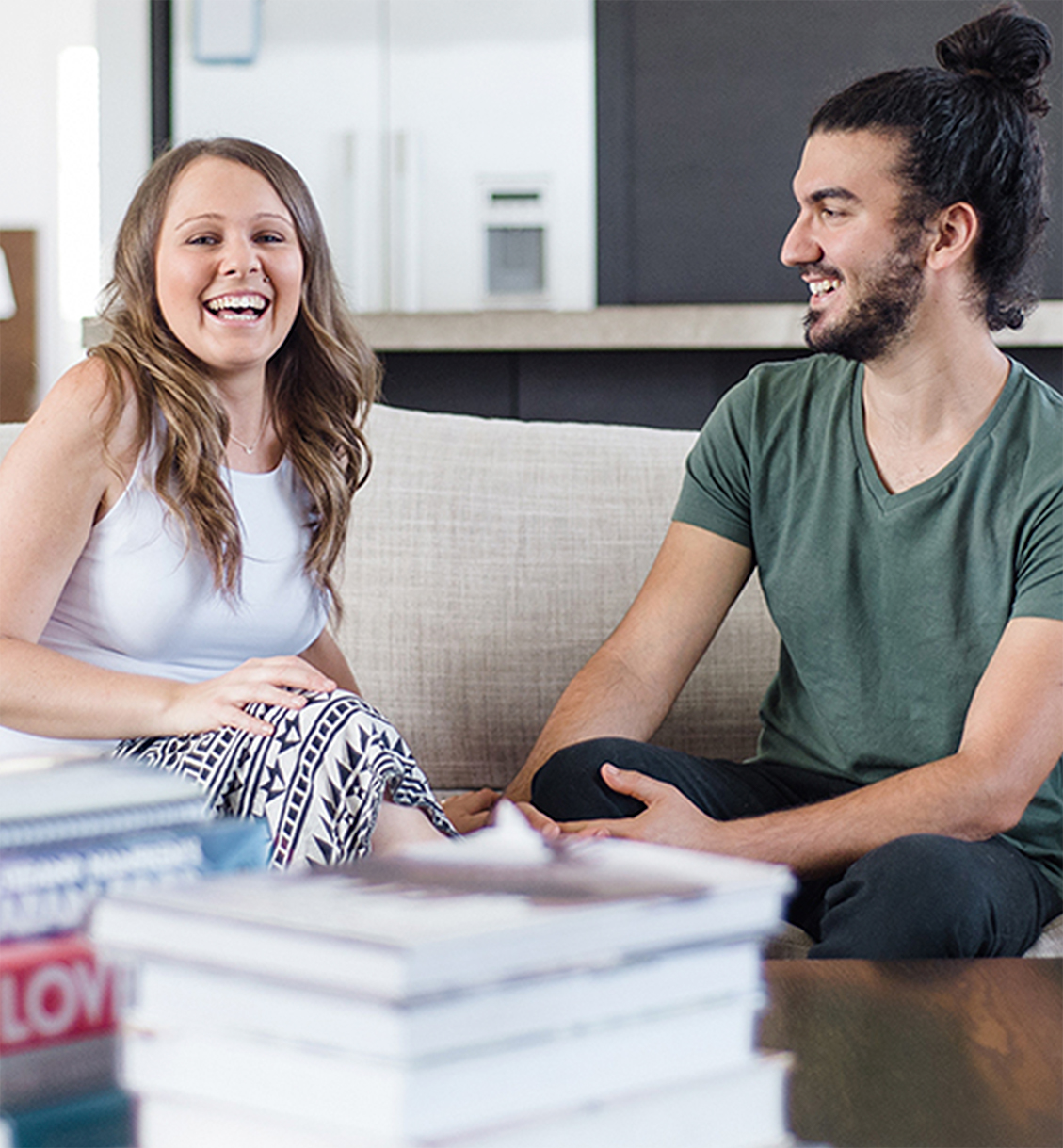 LIFETIME ACCESS TO THE HEALTHY PATCH FORMULA PRIVATE COMMUNITY
When you join The Healthy Patch Formula, you aren't just signing up for a life changing program, you're becoming a part of an incredible community of like-minded, health conscious people.
In this exclusive, members only private facebook group, you'll not only be able to connect with others going through the program with you, you'll also be able to ask any questions, get any support that you need, connect with us & share your amazing homegrown experience with everyone. You'll find us hanging out in here regularly (yep, you can get direct access to us!) & we cannot wait to see you there!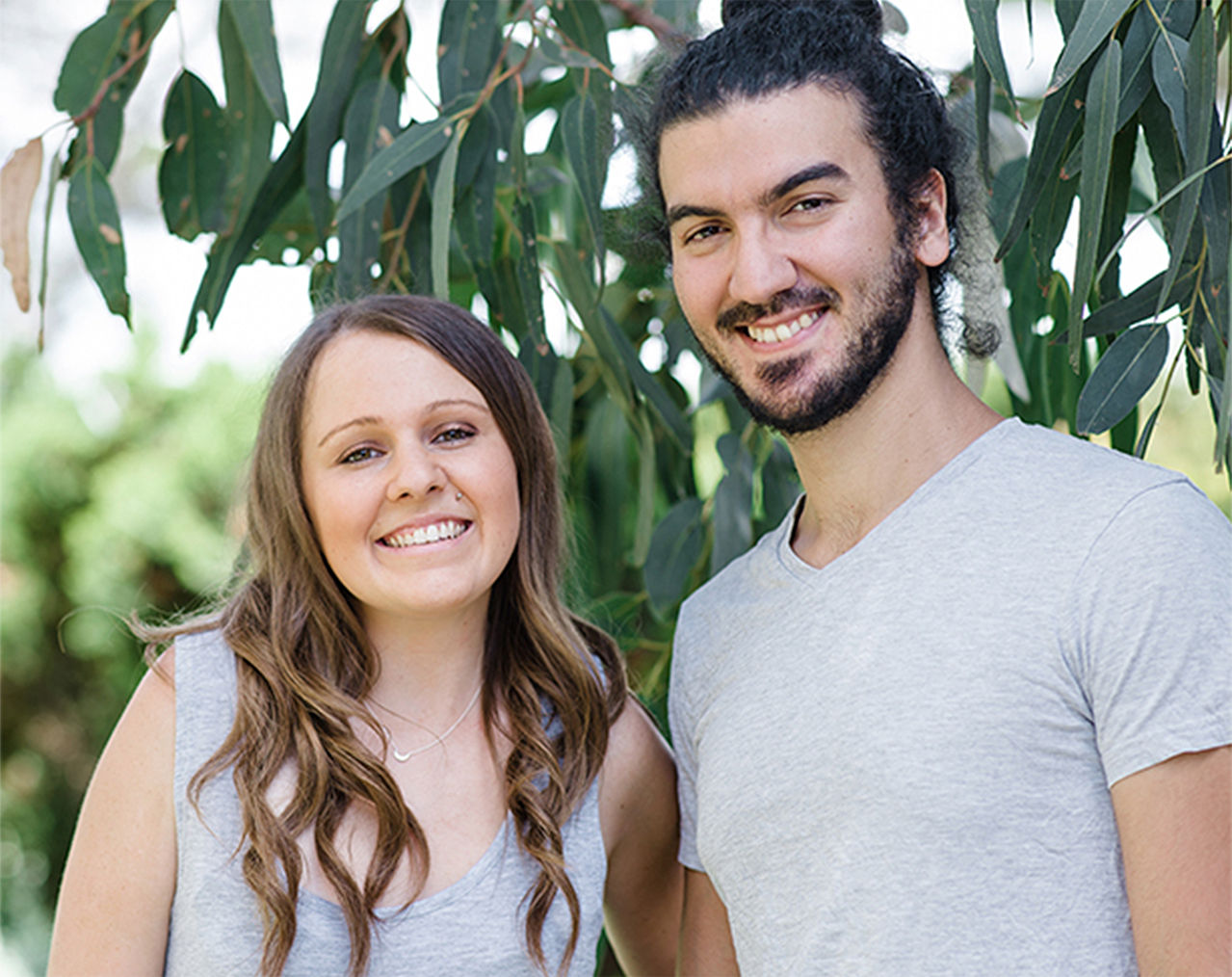 If Facebook isn't your thing & you're worried that you might not get your questions answered because you're not in the group, we have you covered!
On top of the resources, answer vault and facebook group, you also receive unlimited email support as well!
So if you ever have a question for us that hasn't been covered - we'll be right here to answer it for you!
100% RISK-FREE SATISFACTION GUARANTEE
Even though we've put an incredible amount of time, effort & love into this program, have had thousands of people reap the incredible benefits of growing their own food with this program + are incredibly confident that if you follow the program & implement the teachings you'll benefit greatly, your satisfaction is really important to us!
If in the first 14 days, you feel that we haven't brought you any value, we ask you to send us an email with why you didn't like this program + what didn't work for you. We'll also ask you to answer a few short questions so we can improve from your feedback & you'll be issued with a full refund.
In saying that, we've never had a single refund request for The Healthy Patch Formula & are confident that you will love this program just as much as we do!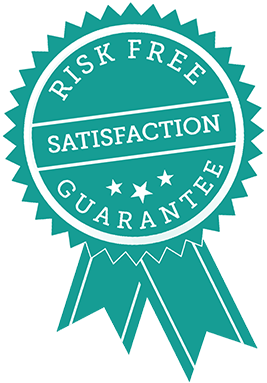 A FINAL RECAP OF WHAT YOU GET WHEN YOU JOIN THE HEALTHY PATCH FORMULA TODAY
THE SIX CORE TRAINING MODULES & PRE-COURSE + LIFE TIME ACCESS WITH ALL NEW UPDATES
SEED SPROUTING THE EASY WAY VIDEO TUTORIAL
DRINK YOUR WAY TO INCREDIBLE HEALTH
INCREDIBLE HERBS FOR INCREDIBLE HEALTH
30+ JUICES, SMOOTHIES, TEAS & TONICS TO REPAIR, REVITALISE & ENERGISE YOUR BODY
60+ INCREDIBLE HERBS, KITCHEN USES, HEALTH BENEFITS & GROWING TIPS
THE HEALTHY PATCH FORMULA PRIVATE COMMUNITY
DON'T TAKE OUR WORD FOR IT...
SEE WHAT OTHERS ARE SAYING!
"The Healthy Patch Formula really is the most simple formula if you want to have convenience & nutrient rich food on your doorstep... literally! Wait till you try it, you'll never look back! "
"Whether you want to have easy access to oodles of incredible food, amp up the number of vegies in your diet, have inspiration to create nourishing meals… The Healthy Patch Formula is a must!"
THE PALEO CHEF, AUTHOR & TV PRESENTER
NUTRITIONAL BIOCHEMIST, AUTHOR & SPEAKER
"You'll be so excited when you go outside & find that you can just cut your own veggies… they're organic, they taste amazing & they're fresh! The Healthy Patch Formula really is a no brainer if you want to grow your own nourishing food easily!"
"If you want to start growing your own beautiful nourishing foods with ease to support your health… join The Healthy Patch Formula! It can seriously change your life, it will feed your soul, you won't regret it!"
CREATIVE DIRECTOR OF PANA CHOCOLATE
CO-FOUNDER OF GREENE ST JUICE CO
"The Healthy Patch Formula is giving you the opportunity to really nourish your body! It's the way to eat well, feel well & have everything your body needs on a daily basis… So what are you waiting for?"
"For anyone wanting to create their own edible garden with amazing produce easily, The Healthy Patch Formula is a must! Go & do it now, you won't be disappointed!"
NATUROPATH & CLINICAL NUTRITIONIST
"Even if you've never grown anything in your life or notoriously kill everything like I used to... The Healthy Patch Formula will give you everything you need to grow your own nutritious food really easily & allow you to start nourishing your body with organic food!"
DOCTOR OF TCM, AUTHOR & SPEAKER
"Am love love loving my HP gardens!! These were planted just under four weeks ago (the front three beds) and already I'm enjoying healthy salads for lunch along with a green smoothie at some stage throughout the day. Cannot believe I am able to grow such healthy looking nutritious food and every day it blows me away how fantastic my garden looks - have never been able to achieve anything even remotely like this before! Thanks so much Anthony and Crystal - this course has transformed my garden and subsequently also my health I'm sure!!"
"I can't recommend The Healthy Patch Formula highly enough! Since implementing the Healthy Patch formula and following the planting tips we've had more amazing quality produce than we know what to do with!! We could just about keep the neighbourhood fed with leafy greens! Crystal and Anthony are so enthusiastic and generous with their time and the information is so fantastic, really simple to follow and so useful.
Thank you both for your wonderful program!"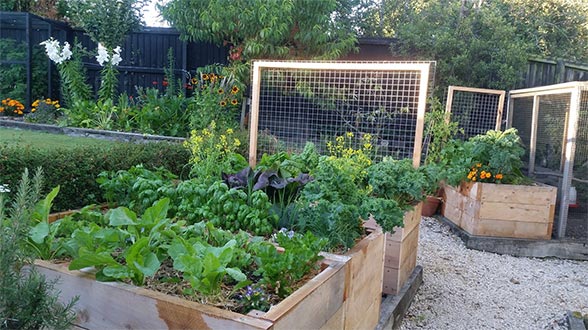 "Being part of THPF is one of the best things I have ever invested in!

It doesn't matter what question the community ask Crystal and Anth, they always go above & beyond to find the answer for us. Honestly blows my mind away!

My garden has NEVER grown in such abundance & all the beautiful & luscious herbs & vegetables I pick on a daily basis are absolutely delicious! I tell you my work colleagues are LOVING eating from my garden as well! I share my tomatoes, cucumbers, capsicums & chilies with them almost every day!
There is really not enough words to describe how grateful I am for the knowledge I have gained & how amazing my garden has become thanks to THPF! On top of all of this, Crystal and Anthony are such AMAZING, CARING and absolutely BEAUTIFUL human beings. So so grateful for being part of this wonderful community"
"What a fantastic, well delivered program The Healthy Patch Formula is! So very concise, easy to follow & literally everything you can think of is covered in this course. It's also so great to be able to ask questions and know that I'll be a part of this community for life!
It has been such a great learning experience for me, I was a total novice with anything edible gardening related, & now I'm teaching other people! Something I NEVER thought I'd be doing. It is such a great feeling to be able to create such amazing wholesome food from scratch, in a totally natural way that is safe for my family, and it definitely adds a whole new level of appreciation for our food. Thanks so much again to Anth and Crystal for such a fantastic program, they are such beautiful people & I cannot recommend this program highly enough!"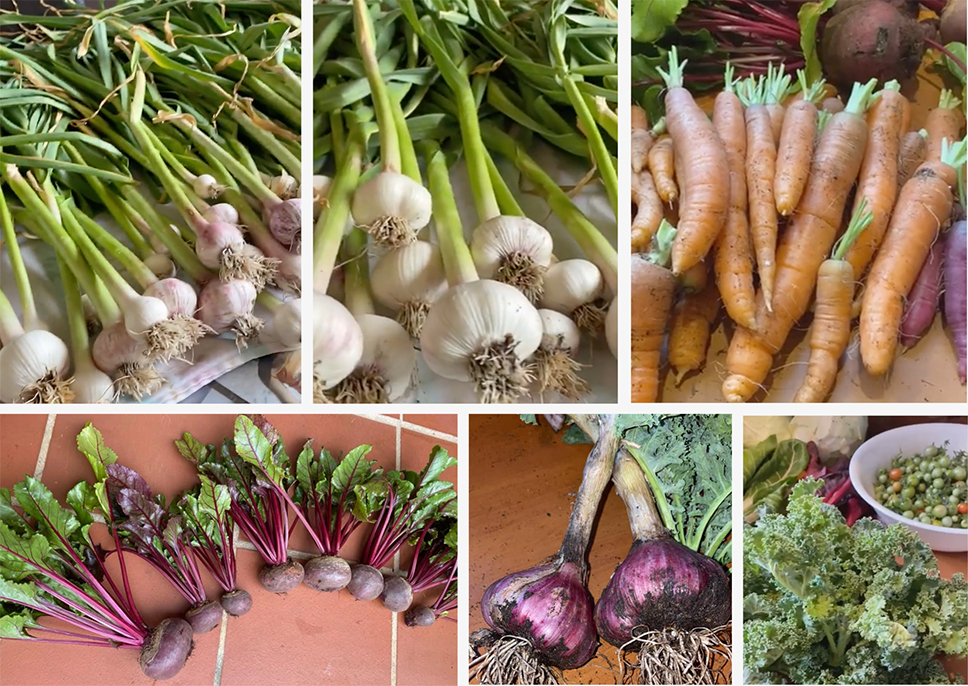 "I'm literally sitting here watching the videos in The Healthy Patch Formula & shaking my head in disbelief at HOW MUCH WORK YOU GUYS have put into this, how much information there is, & how simple and clear you have made it all for us!
I AM IN LOVE WITH THIS PROGRAM! Thank you so much Anth & Crystal!"