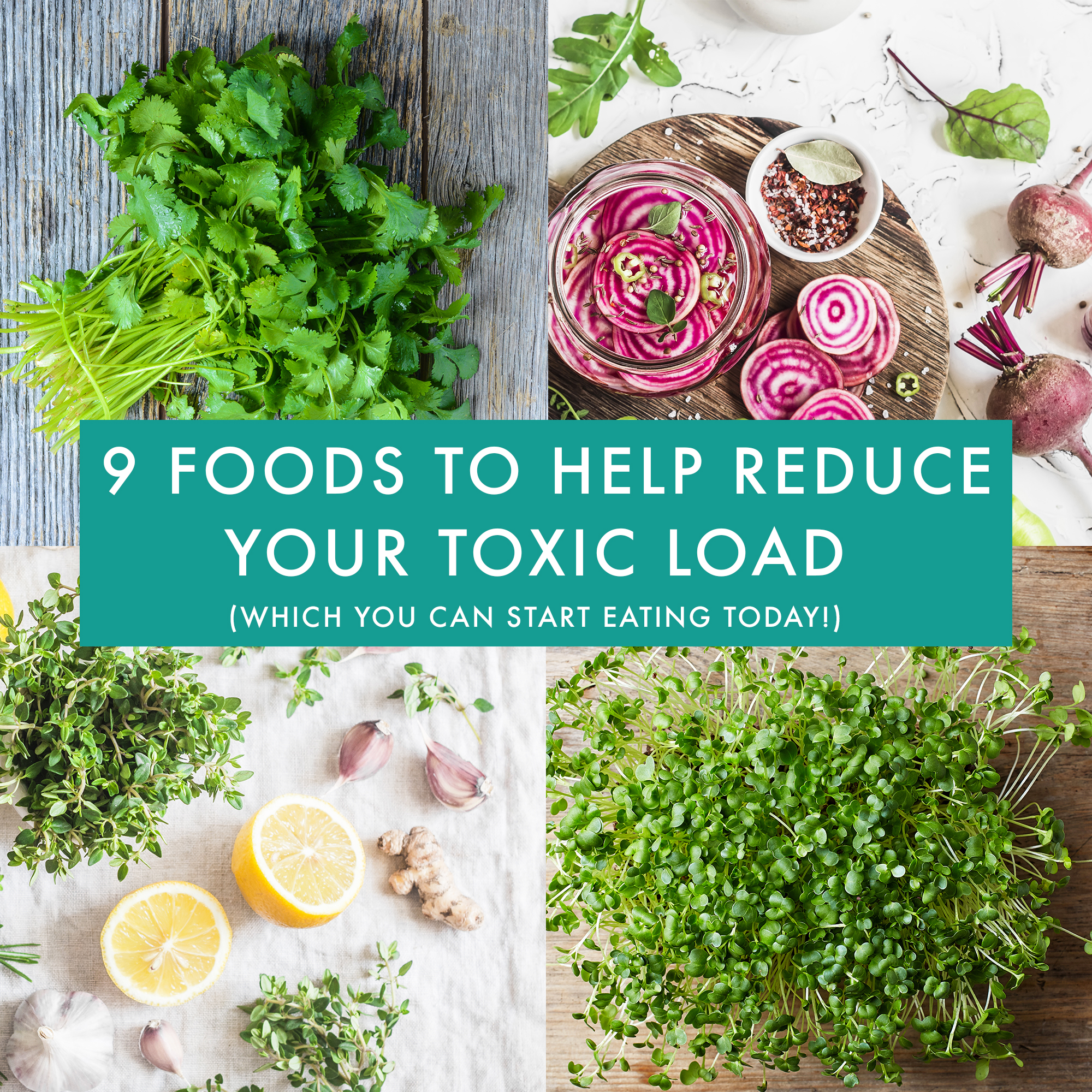 9 Foods To Help Reduce Your Toxic Load (which you can start eating today!)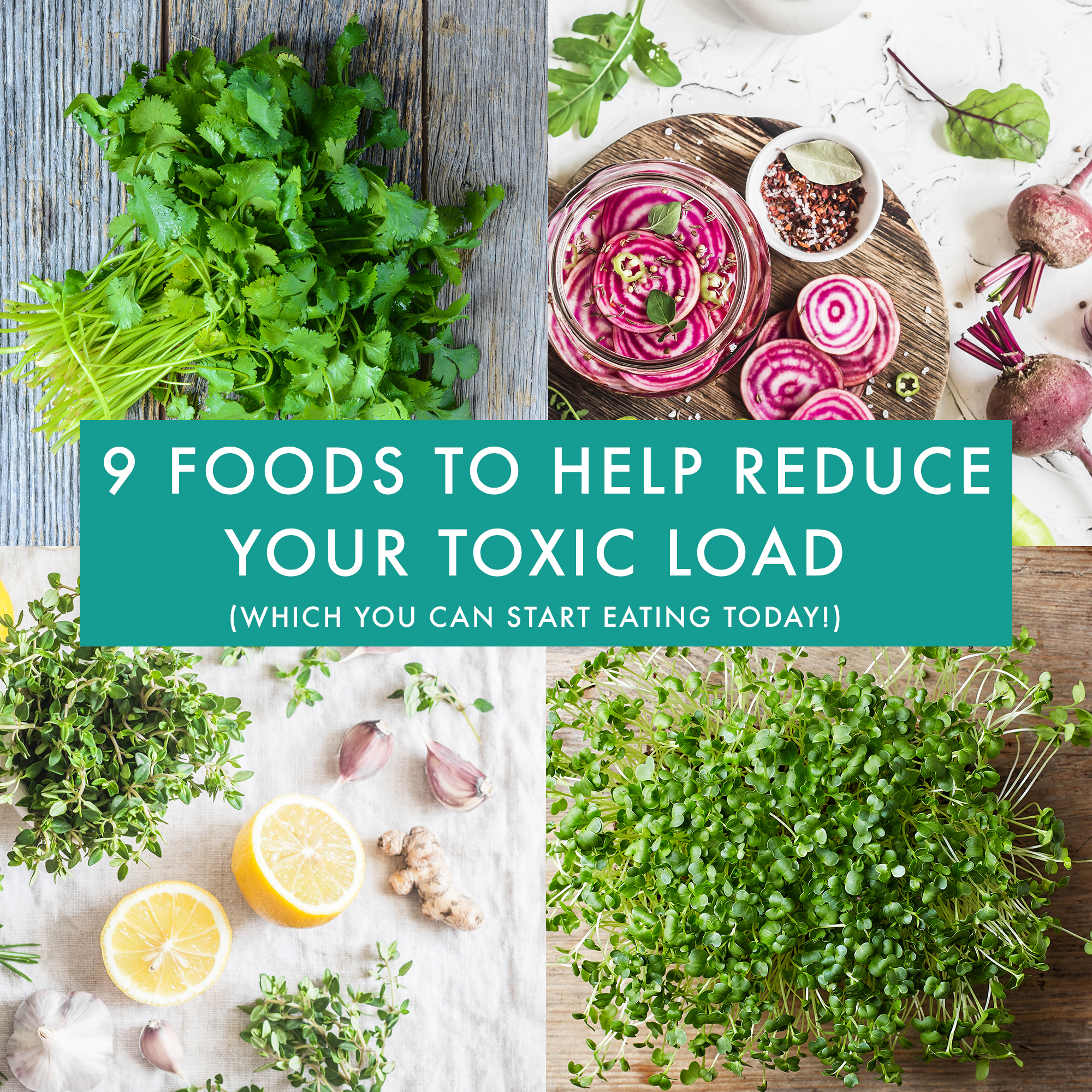 We live in a toxic environment…
Every single day we're exposed to pesticides, pollution, heavy metals & synthetic chemicals that can wreak havoc inside our bodies & compromise our health.
Being exposed to these environmental toxins for long enough can put you in the firing line of all kinds of health problems from digestive issues & fatigue to cancer & organ failure!
It's never been more important to do whatever you can to reduce your toxic load & the good news is you can easily do this yourself with what you choose to put on your plate each day.
One thing we learnt really early on in our own health journey is that food truly is the best form of medicine – there aren't many health concerns that can't be addressed with diet.
Before we dig into the 9 foods you're going to want to start amping up asap to reduce your toxic load, let's take a look at the most common sources of environmental toxins:
COMMON ENVIRONMENTAL TOXINS & HOW YOU'RE BEING EXPOSED
Pesticides (Especially Glyphosate – the most widely used pesticide in the world!)
Heavy metals like lead (From old paint & pipes) & mercury (From metal fillings)
Car fumes
Air pollution
Cigarette smoke
Radiation
EMFs (From your phone, tablet, laptop, desktop, fridge, alarm clock, even your hair dryer & electric shaver – seriously! Those last 2 are some of the worst because they are held so close to the skin when being used)
Conventional household cleaning products
Conventional cosmetics & personal care products
Plastic bottles & containers
Conventional foods
Processed foods
Water contaminated with heavy metals
Pharmaceuticals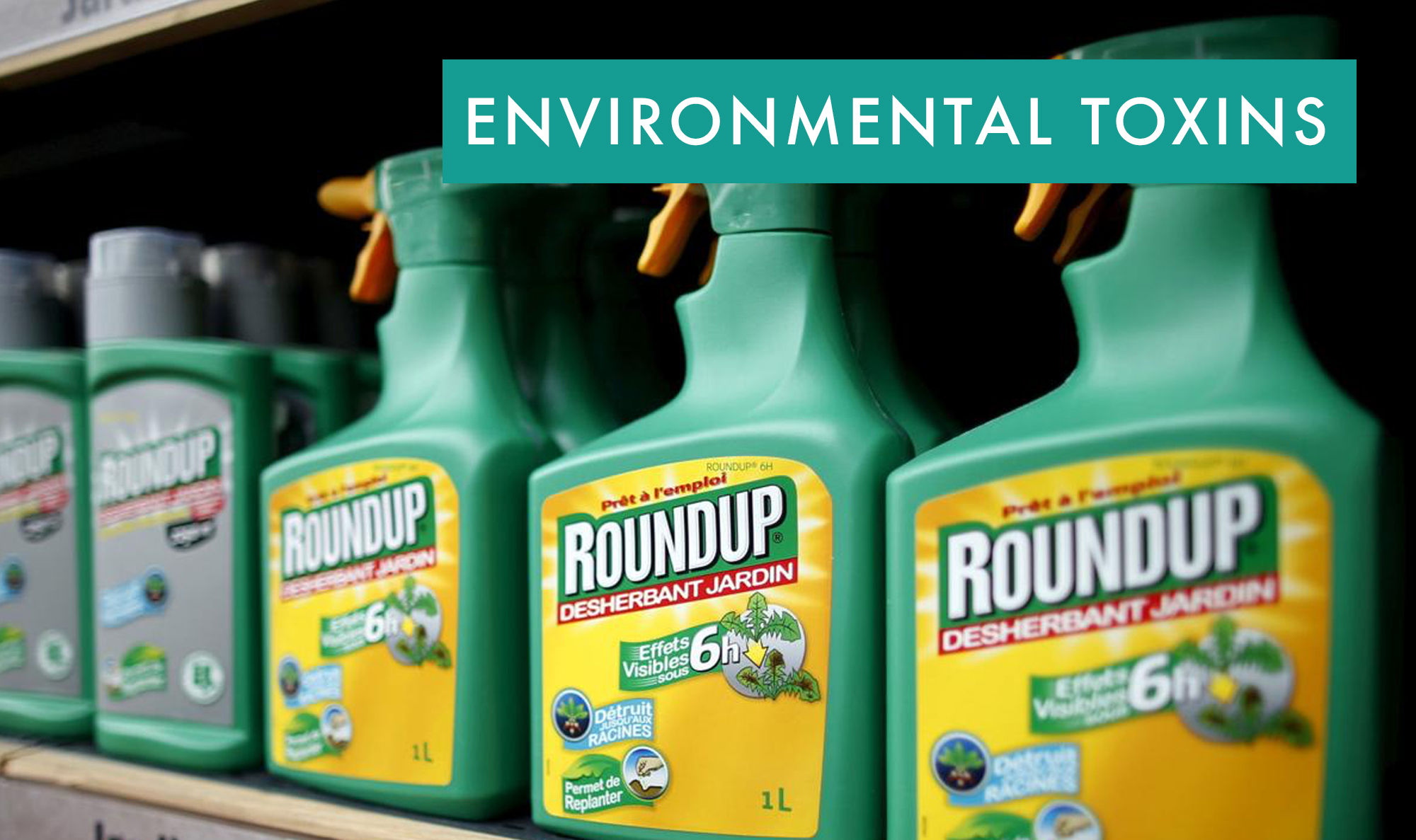 So as you can there are plenty of ways you're being exposed every single day & it's pretty much impossible to avoid all exposure… unless you run off & join one of the uncontacted tribes living deep in the amazon rainforest – but I hear they don't get great reception out there…
The point is, you're going to be exposed no matter what. So you might as well do something to reduce the damage right? If you don't, you're putting yourself at risk of some pretty nasty health issues…
WHAT ARE THE RISKS OF ENVIRONMENTAL TOXIN EXPOSURE?
Digestive issues
Chronic fatigue
Skin issues
Brain fog
Insomnia
Depression
Anxiety
Hormone imbalance
Infertility
Cancer
Organ failure
Nasty stuff right?
Now, I know what you might be thinking… because we hear this from time to time…
DON'T OUR BODIES HAVE SYSTEMS IN PLACE THAT TAKE CARE OF THOSE TOXINS FOR US?
Sort of… yes we have a liver & kidneys whose job it is to remove toxins from the body. The problem is they were never designed to deal with the sheer amount of toxins that we're exposed to day in & day out.
So to put yourself in the best position to achieve thriving health, try amping up the following foods & start supporting your body's natural detox systems!
9 FOODS TO HELP YOU REDUCE YOUR TOXIC LOAD & BOOST DETOXIFICATION
Kale – Kale has been the mascot for healthy clean eating for years, & for good reason! It's not only packed with nutrients like vitamin K, C, B6, copper, calcium & magnesium – it also contains powerful phytonutrients known as isothiocyanates which help the body to destroy & remove toxins. Isothiocyanates are found in pretty much all members of the cruciferous family, so whichever member you choose, you can't go wrong!
Broccoli sprouts – Broccoli sprouts are one of the richest sources of isothiocyanates out there, they contain up to 100x more than the mature broccoli plant! They're amazing for the detox process & have been shown to be incredible at pulling carcinogens like benzene out of the body. The best bit is they're super easy to grow yourself. All you need is a bench, jar & water!
Garlic – Garlic contains a powerful phytonutrient called allicin that helps glutathione production (glutathione is known as the master antioxidant which is important in helping the body to deal with toxins) & helps the liver in the detox process.
Beetroot –The body clears out toxins from the blood via the kidneys & urine, beetroot is a powerful blood builder which helps in this process. Beetroot also helps to boost liver function, double detox whammy!
Dandelion – It's funny to think that the same plant that gets labelled as a weed, is actually one of the most powerful foods you can eat when it comes to detoxification! Dandelion isn't just a great source of vitamin K, C, calcium & manganese… it also supports liver & gallbladder function which are 2 key players in the detox process.
Coriander – Coriander does an amazing job of binding to & removing heavy metals from the body. It's actually able to take hold of heavy metals that have become lodged deep inside tissue & eliminate them from the body.
Eggs – Organic, pasture raised eggs are a great source of sulfur. Sulfur plays a key role in detoxification as it helps the body to produce glutathione, one of the body's most important antioxidants. Avoid cage eggs (& any factory farmed animal products in general) as these animals are fed antibiotics, growth hormone & pesticides which will only add to your toxic load. Not to mention the horrible conditions these poor animals are forced to live in.
Lemon – Lemon helps to improve digestion & liver function. The juices inside the lemon are actually similar to the body's own digestive juices which helps you to breakdown your food & better absorb the nutrients (the whole point of eating right?) It also helps the liver to clear away toxins.
Turmeric – Turmeric contains the powerful phytonutrient curcumin, it's another one of nature's superfoods that supports detoxification by promoting healthy liver function & protecting the liver from damage – super important if you want to be able to detox properly!
OTHER WAYS YOU CAN HELP YOUR BODY TO DETOX
Omega 3 supplements – Arctic Krill Oil, fish oil, organic & grass fed animal foods are excellent sources. Plant based sources like flaxseed are not ideal as they need to first be converted from the parent form (Alpha Linolenic Acid) & we humans aren't very good at this conversion process at all. 
MORE WAYS TO HELP DETOXIFICATION
Sauerkraut
Milk Thistle
Glutathione
MSM
Chlorella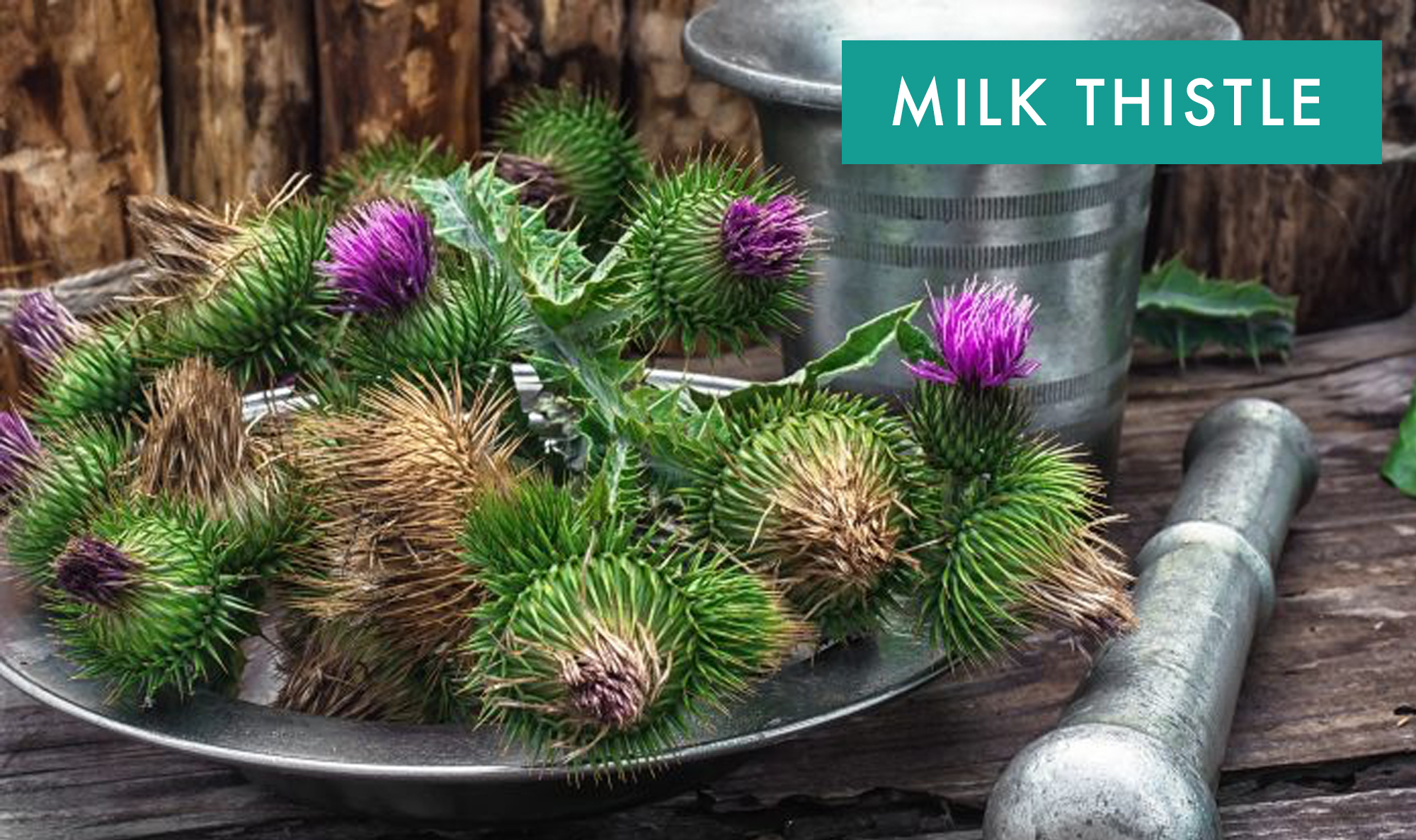 So as you can see, while there are so many ways we're being exposed to environmental toxins every day, there are just as many ways that you can boost your body's natural detoxification processes & help to reduce your toxic load.
Which ones will you amp up on today? Anth x